When going through a course of therapy, patients who are affected by pain may find it difficult to perform activities. To reduce this discomfort, therapists should be up to date about the latest pain management technologies and how to optimize their effects. Explore this section and discover the benefits and advanced features of some of the latest technologies developed to address pain symptoms, including therapeutic laser, electrical muscle stimulation, hot and cold therapy products, topical analgesics, and all-in-one units that provide multiple modalities.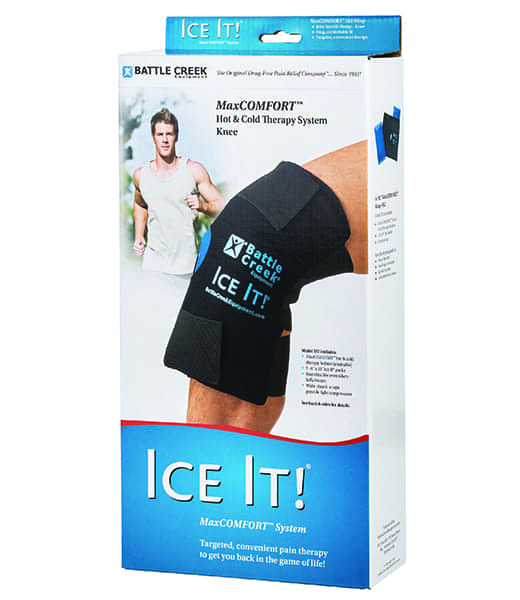 Pain Relief for the Knee
Battle Creek Equipment Co, Fremont, Ind, is the manufacturer of Ice It! MaxCOMFORT System for the Knee, which features an articulated design that surrounds the entire knee for maximum therapeutic benefit. A comfortable, secure fit can allow the user to relax or continue performing activities during therapy sessions. Each product is sold in a box that contains two 6-inch x 12-inch cold packs, a holster, and three hook and loop straps. The company offers Ice It! MaxCOMFORT Systems designed for use on virtually any joint or area of the body.
For more information, contact Battle Creek Equipment Co, (800) 253-0854; www.BattleCreekEquipment.com

Reusable Hot/Cold Therapy
Southwest Technologies Inc, North Kansas City, Mo, manufactures Elasto-Gel hot and cold therapy products, which consist of more than 40 different shapes and sizes to provide the best fit for a person's individualized needs. Elasto-Gel products may be used for either hot or cold therapy, and are manufactured so they will not leak if punctured. When heated, the products provide moist therapy heat, and when used cold, the products provide soothing cold.
For more information, contact Southwest Technologies Inc, (800) 247-9951; www.elastogel.com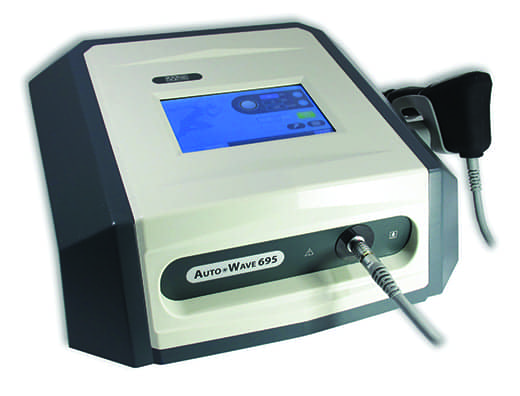 Pressure Pulse Therapy Device
Mettler Electronics, Anaheim, Calif, introduces the Auto*Wave 695, Radial Pressure Pulse Therapy Device. The high-energy acoustic waves, generated by compressive forces created by the device, trigger the body's healing response, reduce pain, and help increase circulation. Treatment parameters are easy to set using the color touch screen. Treatment protocols with images are included in the product. The ergonomic handpiece allows the clinician to deliver the treatment comfortably to the patient.
For more information, contact Mettler Electronics, (800) 854-9305; www.mettlerelectronics.com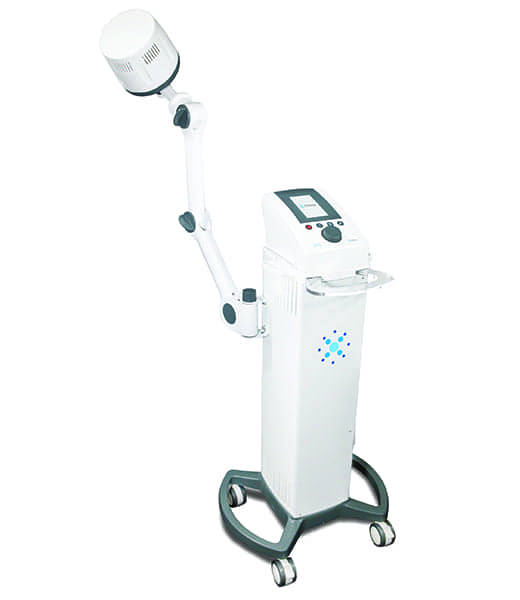 Shortwave Diathermy
The TheraTouch DX2 Shortwave Diathermy unit by Chattanooga, Tenn-based Richmar, a Compass Health Company, is engineered to provide innovation in safety and efficiency. The device has six thermal dosimetry programs with scientific dosage control (SDC), and introduces Dose III SDC (moderate) and Dose III SDC (high). It is also made to provide two additional doses with a tighter titration than traditional diathermy, and SDC that can provide a continuum of dosing parameters with a gradual thermal ramp up to satisfy varying patient populations. Features include H.E.A.T High Efficiency Auto Tuning Monode with auto resonance tuning for maximum energy transmission without a higher power output, in addition to efficient coupling to the body for shorter treatment times. Additional features include 100W max power in continuous mode; 200W peak power in pulsed mode, and ability to heat up extremely fast.
For more information, contact Richmar, a Compass Health Company, (888) 549-4945; richmarweb.com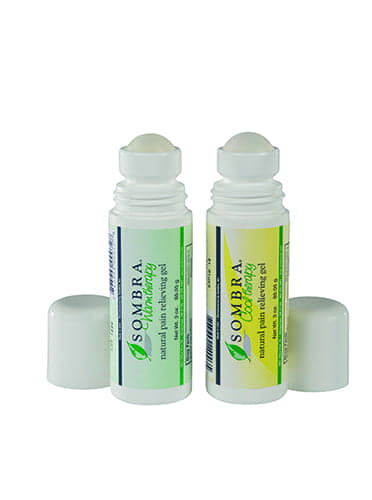 Roll-On Pain Relief
Sombra Professional Therapy Products, Albuquerque, NM, offers roll-on applicators for its warming and cooling gels. Easy to apply, without leaving residue on a therapist's hands, Sombra's roll-ons are made to be ideal for PTs who move between several patients at once. Warm Therapy, with 3% menthol, 3% camphor, and a trace of capsaicin, reduces chronic pain in joints and muscles. Cool therapy, powered by 6% menthol, alleviates acute pain. With no added colors or alcohol, Sombra products are formulated to not stain or irritate skin, and to absorb quickly with no greasiness. Natural, citrus oil ingredients provide a pleasant aroma.
For more information, contact Sombra, (800) 225-3963; www.sombrausa.com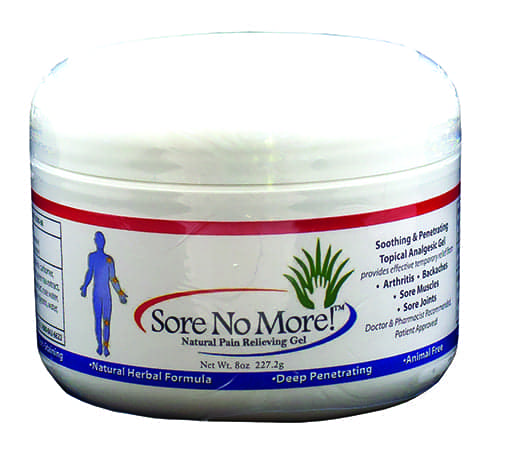 Fast-Acting Topical
Sore No More from Moab, Utah-based Sore No More, provides a blend of plant extracts engineered to offer effective relief for muscle aches, soreness, and more. The topical anesthetic effect of Sore No More depresses cutaneous sensory receptors. The formula is made to absorb quickly and deeply, producing a synergistic effect that detoxifies tissues, relieves tight and tender joints, soothes muscle soreness, and reduces inflammation. Sore No More can provide effective pain relief for a variety of conditions, including rheumatoid arthritis, fibromyalgia, migraines, muscle aches and pains, muscle spasms, overexertion, fatigue, tendinitis, and diabetic neuropathy.
For more information, contact Sore No More, (800) 842-6622; sorenomore.com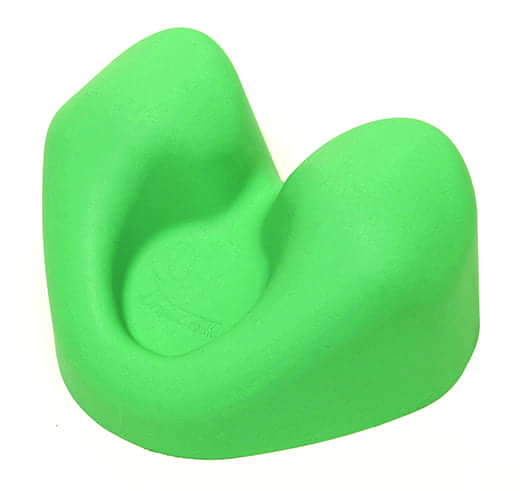 Home Therapy System for Pain Relief
The CranioCradle from Kiss Life LLC is an easy-to-use therapy tool that effectively releases muscle aches and pains related to whiplash, TMJ, and chronic head, neck, and spine issues. Versatile, the CranioCradle can be used under occipitals, rhomboids, thoracic, lumbar, and/or sacrum to encourage joints to decompress and cramped, tense muscles to gently release. Based on osteopathy, craniosacral, and massage therapy techniques, the CranioCradle's unique foam formulation and specialized design create the sensation of skilled therapeutic hands underneath the body. Use in treatment; recommend for home use.
For more information, contact CranioCradle, (888) 380-6748; www.craniocradle.com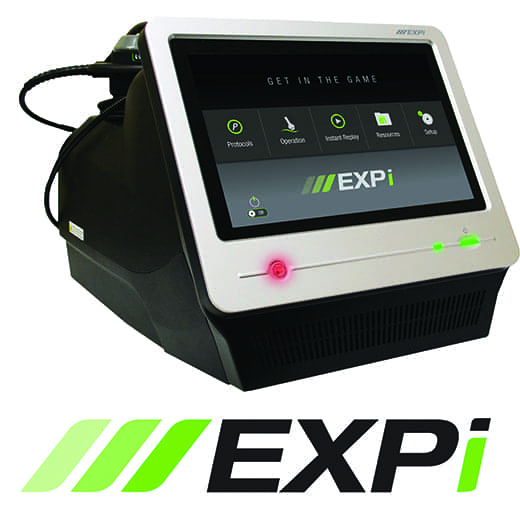 Deep Tissue Therapy Laser
LightForce Therapy Lasers, Newark, Del, is a therapeutic laser manufacturer offering advanced rehabilitation solutions to healthcare providers. With excellent customer service and an ongoing investment in research, LightForce strives to provide its customers with superior products designed to improve therapeutic outcomes. The EXPi Therapy Laser is a high-power technology (0.5 W to 25 W) that allows clinicians to deliver treatments quickly and efficiently. Optimized for outcome improvement, the included influence technology is engineered to offer the flexibility of custom treatment options (both on and off contact) while ensuring consistent results.
For more information, contact LightForce Therapy Lasers, (877) 627-3858; www.lightforcelasers.com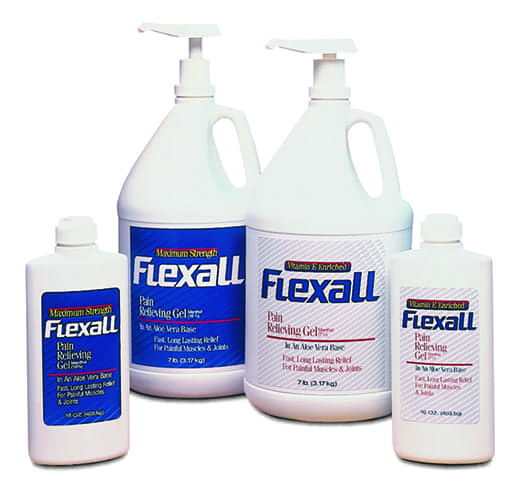 Topical Pain-Relieving Gels with Aloe Vera
Flexall topical pain-relieving gels from Ari-Med Pharmaceuticals, Tempe, Ariz, are formulated to be an invaluable tool for the clinical and training room settings by helping increase patient compliance while augmenting ultrasound, cryotherapy, TENS, and massage therapies. According to the company, recent studies report that a 25:75 Flexall and ultrasound gel mixture delivers heating results equal to 100% ultrasound coupling gel with the enhanced analgesic benefit of warmth. Flexall (7% menthol) and
Maximum Strength Flexall (16% menthol) are aloe vera gel formulas that aim to provide fast, long-lasting relief from arthritis, backache, bursitis, tendonitis, muscle strains and sprains, bruises, and cramps. Flexall gels are made to absorb quickly and completely. They are greaseless, non-staining, and formulated to be gentle on the skin. Professional sizes are available.
For more information, contact Ari-Med Pharmaceuticals, (800) 527-4923; www.ari-med.com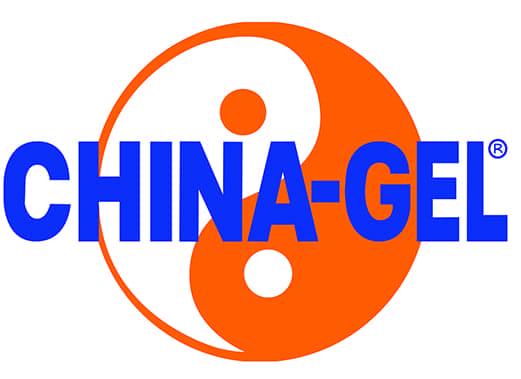 Topical Pain-Relieving Gel
China-Gel is an herbal topical pain-relieving gel offered by Arlington Heights, Ill-based China-Gel, that incorporates modern technology with ancient pain-relieving concepts of Chinese medicine. Formulated to resemble a fine hand cream, China-Gel spreads on evenly and then absorbs completely into the skin without staining clothing or leaving a greasy residue. It is made with a pleasant and soothing lavender/menthol fragrance on application that ultimately becomes odorless as the gel is absorbed. It can also be used as a coupling agent with ultrasound and in conjunction with instrument-assisted soft tissue treatments. It is available in a variety of sizes for clinical and home use.
For more information, contact China-Gel, (800) 898-4435; www.chinagel.com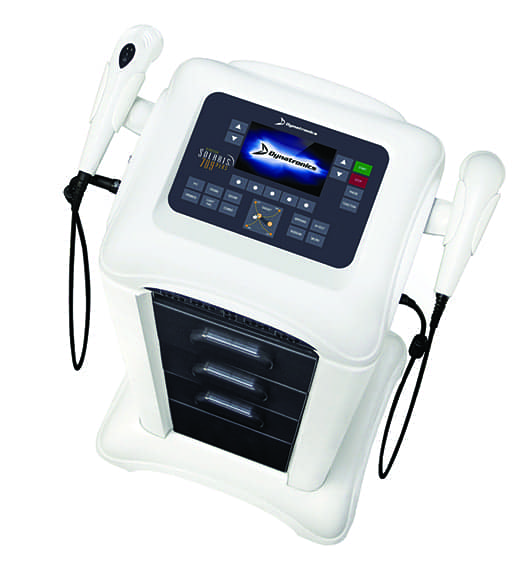 Modalities to Improve Treatment Outcomes
For clinicians who are looking for solutions, Dynatronics, Salt Lake City, provides products that can help. With 38 years of experience in the medical and rehabilitation fields as well as holding the sole distributorship for Zimmer Systems—Dynatronics has answers. For therapists who are hoping to find solutions for improving treatment outcomes, Dynatronics can demonstrate the recently patented ThermoStim Probe, a soft-tissue mobilization tool that treats with cold, heat, and electrical stimulation, all-in-one tool—or—show Dynatronics' Tri-Wave Therapy, which can deliver three wavelengths of light (red, infrared, and blue) individually or in any combination. Demonstrations are available.
For more information, contact Dynatronics, (800) 874-6251; www.dynatronics.com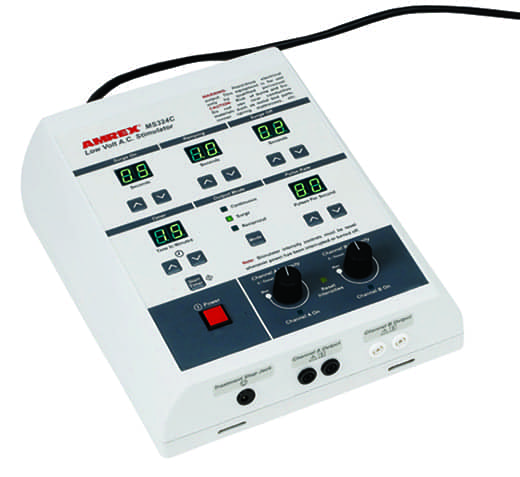 Muscle Stimulator
The MS324C, by Amrex, Paramount, Calif, is designed for the application of low-volt AC muscle stimulation. The MS324C is a dual-channel, four-pad, low-voltage electrical muscle stimulator that produces pulsation, tetanize, surge, and reciprocal output. The low-volt AC muscle stimulator is a microprocessor-controlled unit equipped with a 115/230 Vac 50/60 Hz power supply. Low-voltage electrical muscle stimulation may be applied separately or combined with therapeutic ultrasound simultaneously through the SynchroSonic U/50 ultrasound transducer.
For more information, contact Amrex, (800) 221-9069; www.amrexusa.com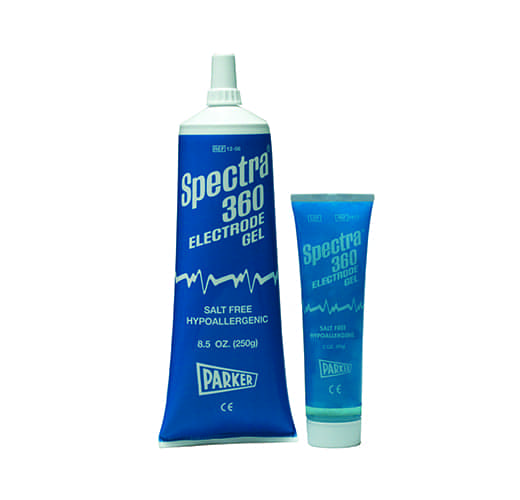 Electrode Gel
Spectra 360 Electrode Gel, available from Parker Laboratories Inc, Fairfield, NJ, is salt-free and is recommended for all electromedical procedures. Its unusual stay-wet properties work by wetting the skin, thereby reducing skin resistance, as well as by its electrolytic properties. The product's crystal-clear formulation and no-salt properties make it especially suitable for such long-term applications as TENS.
For more information, contact Parker Laboratories Inc, (800) 631-8888; www.parkerlabs.com