Physical therapists sometimes work with clients and patients whose circumstances require a niche product to meet their needs. This section spotlights a variety of specialized products therapists may find helpful in such situations, including variable-height desks, cup holders designed for individuals affected by disabilities, reference information for joint manipulation, automated door opening systems, and more.
ORBIT Patient Transfer Lift
EZ-ACCESS, Algona, Wash, offers the ORBIT Patient Transfer Lift as a safe, convenient device to assist in lifting and transferring individuals who have limited mobility. This patient transfer lift features an articulating arm and single-post pivoting stanchion that both rotate 360 degrees and offer a reach of up to 5 feet in all directions, which can provide precise, all-around flexibility, even in tight spaces. The ORBIT's non-obtrusive design allows the unit to be placed in small bedrooms and bathrooms and can be used with a wide variety of beds. ORBIT's range of motion allows patients to be easily positioned wherever needed.
For more information, contact EZ-ACCESS, (800) 451-1903; www.ezaccess.com
Cup Holder
The Unbreakable Cup holder from DIESTCO Manufacturing Corp, Chico, Calif, is designed to make everyday life easier for people affected by disabilities. These cup holders are made from high-quality 600 x 300 polyester, with a 300-yard reflective safety tape affixed to the front. They fit drink containers ranging from 1-inch circumference all the way up to a 32-ounce beverage. Users can enjoy a drink on the go with these cup holders.
For more information, contact DIESTCO Manufacturing Corp, (800) 795-2392; www.diestco.com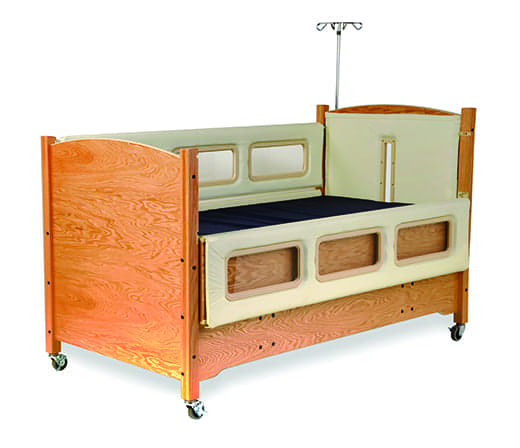 Special Needs Beds
SleepSafe Beds, available from SleepSafe Beds Inc, Bassett, Va, are built to be an ultra-safe solution to address problems with entrapment and falls for those with special needs, particularly children with physical and cognitive challenges. Three models, with safety rail height protection ranging from 8 to 36 inches above the mattress, are available in twin, full, and queen sizes. With more than 25,000 combinations available, each SleepSafe Bed is tailored to the safety and medical needs of the individual. The beds are designed to meet or exceed FDA guidelines on the seven Zones of Entrapment.
For more information, contact SleepSafe Beds Inc, (866) 852-2337; www.sleepsafebed.com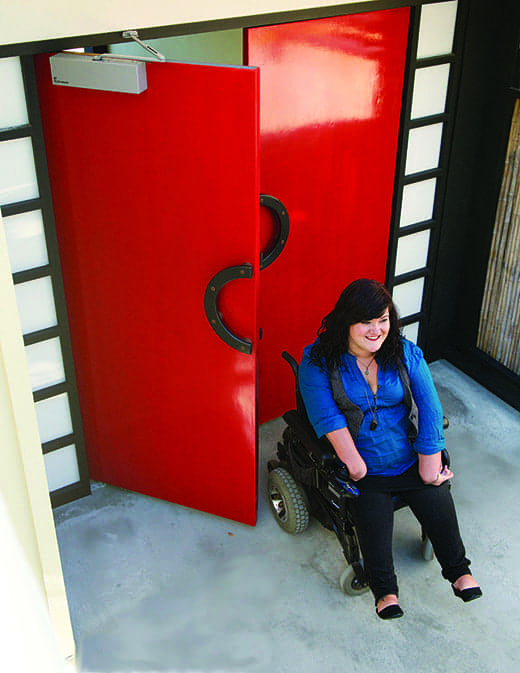 Door-Operating System
Manufactured by Open Sesame Door Systems Inc, San Leandro, Calif, the Open Sesame automatic door opener is engineered to easily attach to an existing interior or exterior residential door. The system is low voltage and uses a plug-in 24-volt transformer. The device can be operated from a wheelchair-mounted remote control for easy entry and exit. Special activation devices are also available for individuals who have little hand function. The door remains locked and secure, and no change of door hardware or keys is necessary. Attendants may use an exterior keypad (optional) or existing keys. For safety, the system continues to operate during a power outage on internal battery backup for several hours.
For more information, contact Open Sesame Door Systems Inc, (888) 973-7263; www.opensesamedoor.com
Standing Desk
The VARI ProDesk 60 Electric, from Vari, is made with commercial-grade materials and is designed to assemble in less than 5 minutes while being stable at any height. Each desk features a heavy-duty laminate finish as well as a sturdy steel frame with a stability crossbar. This desk also offers ample work space and has three programmable settings to easily and quietly adjust to heights up to 50.5 inches.
For more information, visit Vari, (800) 207-2587; www.vari.com/desks-and-tables/standing-desks
Thrust Joint Manipulation Skills for the Spine
This new clinician book shows when and how to effectively perform thrust techniques for patients affected by musculoskeletal dysfunctions in the spine. Thrust Joint Manipulation Skills for the Spine, exclusively from OPTP, Minneapolis, familiarizes therapists and students with the concept of focusing to engage the barrier for patient comfort, addressing clinician stance, use of core muscles, patient position, drills for proficiency, and more. Access to videos demonstrating 45 techniques is also included. Written by Emilio Puentedura, PT, DPT, PhD, and William O'Grady, PT, DPT, FAPTA. Book is 224 pages.
For more information, contact OPTP, (800) 367-7393; www.optp.com