Accurate analysis is essential for physical therapists who must make treatment decisions from an informed position. High-tech equipment that helps make those analyses is sought after and in demand. Among these technologies are sensor-equipped electronic walkways, pressure mapping devices, force-measurement systems, and biofeedback instrumentation that can help assess a variety of disorders and injuries. Among the features buyers may want to look for in such technologies are user-friendliness, data accessibility, and device portability and durability. Review this section to understand some of the clinical advantages this equipment offers.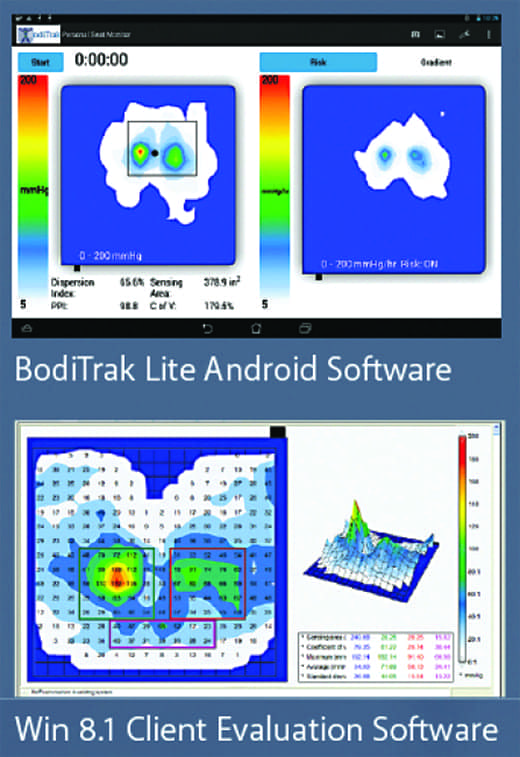 Balance System
Vista Medical Ltd, Winnipeg, MB, Canada, offers the new BodiTrak Balance System, designed to assess, train, and document a patient's balance. It features a rugged, portable, and flexible sensing mat for seat and bed pressure mapping systems, and is built to easily assess clients and generate progress reports. The BodiTrak Balance System is also built to function as an intuitive biofeedback tool.
For more information, visit Vista Medical Ltd, (800) 822-3553; www.boditrak.com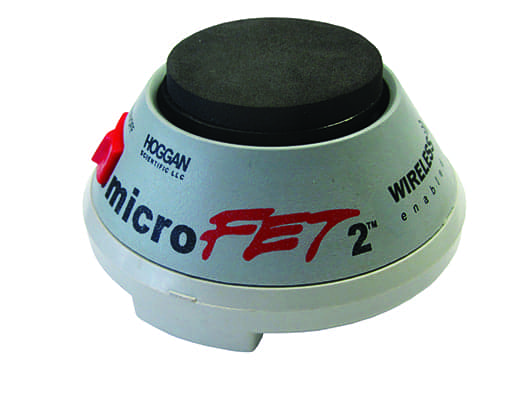 microFET2 Muscle Tester
The microFET2 digital handheld dynamometer by Hoggan Scientific LLC, Salt Lake City, is a handheld ergonomic device to objectively quantify muscle strength. The muscle tester, which fits comfortably in the palm of the hand, features a maximum force capacity of 300 pounds; easy-to-read displays that show peak force and duration/time; selectable units of measure in pounds, Newtons, or KGF; low and high threshold settings; save/recall tests; a rechargeable lithium-ion battery; and three test attachments. The microFET2 can be used as a standalone device or with available clinical or data collection software. Hoggan also offers digital handgrip strength and range of motion measurement devices, and push pull force gauges.
For more information, contact Hoggan Scientific LLC, (800) 678-7888; https://hogganscientific.com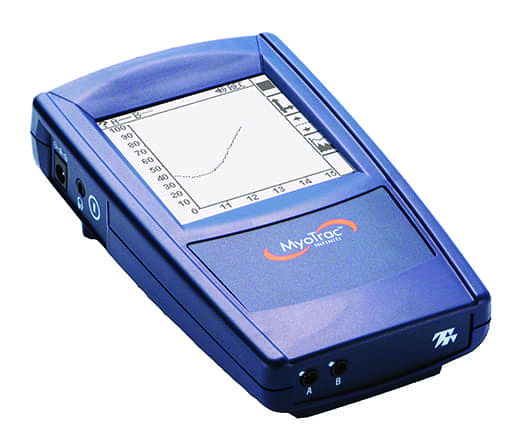 MyoTrac Infiniti
The MyoTrac Infiniti from Thought Technology Ltd, Montreal, is a portable dual-channel Surface Electromyography (sEMG)—Muscle Stimulation (STIM) combination unit used in muscle rehabilitation and urinary incontinence. It is built to deliver targeted and customized treatment for a variety of applications, including patellofemoral pain, low back pain, range of motion, disuse atrophy, and circulation. The total integration of the two modalities of sEMG and NMES in a single device provides a third modality of treatment—sEMG-STIM, with capabilities for EMG-Triggered Stimulation and Alternating EMG & STIM. Physical therapists all over the world are using sEMG biofeedback to improve their client's rehabilitation, and increase their engagement in their treatment. The setup is fast and easy, and can provide additional insights about a client's ability to contract and relax muscles.
For more information, contact Thought Technology Ltd, (800) 361-3651; www.thoughttechnology.com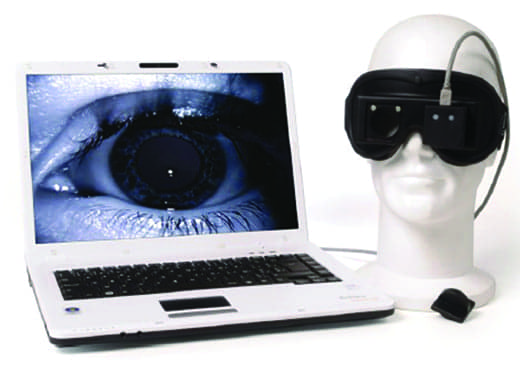 Infrared Goggles
Natus Medical Inc (NeuroCom), San Carlos, Calif, offers VideoStar Infrared Goggles, built to be ideal for observing eye movement and recording video during Canalith Repositioning maneuvers. Video-recorded eye movements are also used for teaching, patient education, and in medical/legal cases. Using a high-quality infrared camera and targeting comfort through an ultra-light goggle, the VideoStar is designed to be an extremely comfortable system. VideoStar Infrared Goggles are engineered to serve as an ideal complement to NeuroCom Balance Solutions.
For more information, contact Natus Medical Inc (NeuroCom), (800) 767-6744, Option 3; www.natus.com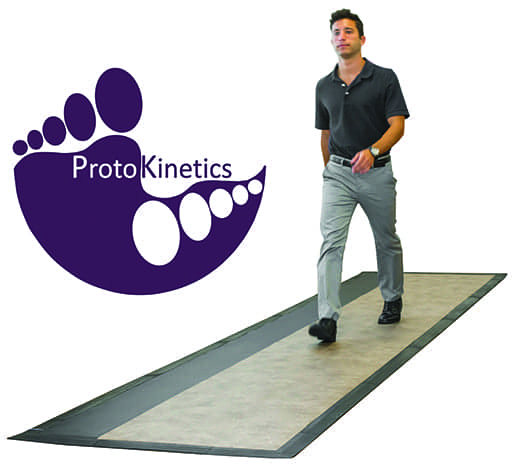 Zeno Electronic Walkway System
Havertown, Pa-based ProtoKinetics promotes their Zeno Walkway and PKMAS software based on outstanding quality, support and services. Managing and synthesizing accurate gait data is essential to outcomes-driven healthcare, however, every successful system purchase demands an equally successful system implementation. In addition to the standard, most common temporal spatial parameters, four unique PKMAS measurements are: Symmetry of Propulsion (SoP), center of mass estimated (COMe), the enhanced Gait Variability Index and the PKMAS Primary Gait Screen (PGS). ProtoKinetics products are utilized by hospitals, universities, private clinics, device manufactures and several pharmaceutical companies.
For more information, contact ProtoKinetics, (610) 449-4879; www.protokinetics.com