Growth in the population of adults age 65 years and older in the United States is steadily rising as lifespan continues to increase and Baby Boomers age into retirement. With the expansion of that demographic, there will be an uptick in the potential for falls, strokes, neurological conditions, and injuries that may impair ambulation. In this year's gait and balance section, some of the latest technologies for treating issues with balance, gait, and walking ability are spotlighted. Take this opportunity to become informed about advanced features that provide feedback, help therapists analyze data, and provide safe, comfortable tools for practicing locomotion.
Gait Trainer 3
The new Gait Trainer 3 with an instrumented deck and visual biofeedback of footfall was developed by Biodex, Shirley, NY, with the aim of helping improve patient outcomes. Biodex merged the Gait Trainer 3 with a Music-Assisted Therapy package of music therapist-informed compositions, based on research about the power of music in treating movement disorders. This music integration aims to provide an effective tool for physical therapists, occupational therapists, and neurologists to enhance treatments for patients affected by Parkinson's disease and stroke. The device is built to provide the right music, biofeedback, and repetition to help reinforce neuroplasticity and get patients better.
For more information, contact Biodex Medical Systems Inc, (800) 224-6339; www.biodex.com/gait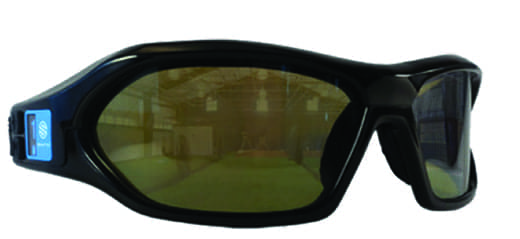 Strobe for Performance Improvement
The Senaptec Strobe from Exertools, Petaluma, Calif, is designed to train the connections between an individual's eyes, brain, and body. Using liquid crystal technology, the lenses flicker between clear and opaque, removing visual information and forcing the individual to process more efficiently. The Senaptec Strobe can be integrated into existing sports training drills and exercises, or be added to vision therapy protocols as an uploading technique. As an athlete, the strobes can help move training to a higher level. The curved liquid crystal lenses provide a full 180-degree field of view that allows users to enhance their visuals skills in the training room, or on the field of play.
For more information, contact Exertools, (800) 235-1559; www.exertools.com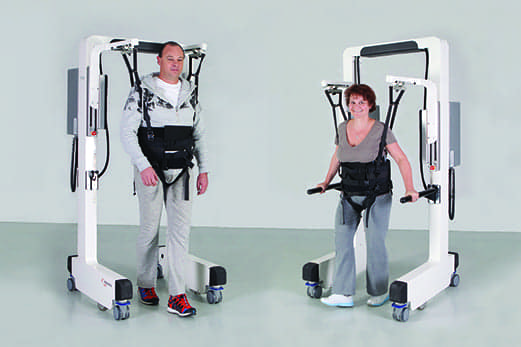 Safe and Free Overground Gait Training
Andago, available from Hocoma Inc, Norwell, Mass, is engineered to bridge the gap between treadmill-based gait training and free over-ground walking with intensive and versatile overground gait therapy, active patient-following, self-directed gait with body weight support, and safe, efficient therapy with upright hands-free gait. Andago provides flexible use from room to room with no infrastructure modification. Details about Andago are available on the company website where Hocoma's entire continuum of rehabilitation solutions and services can be explored.
For more information, contact Hocoma Inc, (877) 944-2200; www.hocoma.com
Gait Analysis System
Strideway, from Tekscan, South Boston, is designed to simplify the gait analysis process and features easy access to essential gait parameters and a platform that is flexible in length. Strideway provides pressure information, as well as spatial, temporal, and kinetic parameters for a complete gait analysis. Performing an evaluation is simple and takes only a few minutes to complete. With a wider active area and flush surface, Strideway minimizes trip hazards and easily accommodates patients with mobility aids or gait dysfunctions.
For more information, contact Tekscan, (800) 248-3669; www.tekscan.com/strideway
Portable Gait Analysis
GAITRite, from CIR Systems Inc, Franklin, NJ, is a truly portable single-layer pressure-sensitive walkway measuring temporal spatial parameters, providing easy identification of gait anomalies. The system is built to set up in 75 seconds. It is available in various lengths, allows for rear guarding, use of various assistive devices, and records and analyzes multiple gait cycles in a single walk. The GAITRite simultaneously collects video from up to two cameras. GAITRite readily synchronizes with other systems, including video, EMG, etc. The GAITRite system comes in a wheeled case that allows for easy portability and storage. GAITRite is engineered to provide robust reporting and web publishing options to document current conditions and track recovery/rehabilitation.
For more information, contact CIR Systems Inc, (888) 482-2362; www.gaitrite.com
Video Recording Goggles
Observe and record one or both eyes during assessment of a dizzy patient or while performing vestibular rehabilitation therapy with Chatham, Ill-based Micromedical Technologies Inc's RealEyes xDVR. The company has written special software for this product to allow clinicians to input patient demographics and digitally record eye movement videos. Available in monocular and binocular configurations, RealEyes xDVR video goggles are designed to be ideal for eye movement observation and recording during Canalith Repositioning maneuvers or BPPV Therapy. The software also controls the built-in fixation light and allows single-click centering of the eyes while a room camera provides a picture-in-picture display.
For more information, contact Micromedical Technologies Inc, (800) 334-4154 or (217) 483-2122; www.micromedical.com
Balance System
The PROPRIO Reactive Balance System from Perry Dynamics Inc, Decatur, Ill, features a multi-directional, multi-planar reactive platform with camera motion analysis to evaluate, train, and challenge a person's ability to maintain their center of mass over their base of support. The therapist can select more than 60 pre-designed protocols. The use of these progressive protocols up-train the vestibular and somatosensory systems as well as sensory integration. Biofeedback capabilities are included.
For more information, contact Perry Dynamics Inc, (217) 872-1530; www.perrydynamics.com
Q-Pads
Q-pads, available from Mobility Research, Tempe, Ariz, are an interactive rehabilitation system providing the user and clinician visual feedback via a pressure-sensitive surface and bright multi-colored LED lights. Appropriate for children and adults, upper and lower limbs, in sitting, standing, or quadruped. Both fun and challenging, they are easy to set up, strong enough to step on, and even magnetic for vertical use. Each pad measures between 10 and 330 pounds of force, has auto-turn-off, and cleans easily. Different functions are available, allowing the therapist to customize activities using multiple pads to tailor to the various needs of each user.
For more information, contact Mobility Research, (800) 332-9255; https://www.litegait.com/products/Q-pads
Combination Foot & Heel Lift
For clients who require more than 12 mm of lift due to hip or knee replacement, the Clearly Adjustable Combination Lift from G&W Heel Lift, Cuba, Mo, is designed to provide just the solution. With its overall thickness of 18 mm, this lift provides minimal ankle angulation by using a 6 mm foundation at the length of the foot and 12 mm at the heel. By keeping the foot as level as possible, there is a reduction in gait change, foot pressure, and tendon length. The lift is adjustable in 1 mm increments to create an accurate fit. It is available in various sizes for both the left and right foot.
For more information, contact G&W Heel Lift Inc, (800) 235-4387; www.gwheellift.com
Track System
The Solo-Step Track System, from Solo-Step Inc, North Sioux City, SD, consists of a high-performance, overhead aluminum track and trolley mounted to the ceiling. An attached harness provides support for patients during all aspects of physical therapy, including sit-to-stand, gait training, and balance training. These therapies can be performed with just one therapist, reducing staff time and workers' compensation claims.
For more information, contact Solo-Step, (866) 631-1117; www.solostep.com
Rehab Reinvented
Gorbel Medical, Victor, NY, reports that Rehab Centers nationwide are choosing the SafeGait 360 Balance and Mobility Trainer to reinvent their delivery of rehabilitation. During traditional rehab, therapists manually provide support and fall prevention, often requiring multiple therapists to work with a single patient. SafeGait 360 is a bodyweight support and fall protection system that minimizes risk of injury and facilitates a productive 1:1 therapist/patient interaction. The SafeGait 360 is an all-in-one system that supports safe locomotion and gives therapists the ability to challenge patients in functional "real-world" scenarios, which are often difficult or too risky to simulate.
For more information, contact Gorbel Medical, (844) 846-8744; www.safegait.com
Body Weight Support Over Treadmill or Ground
LiteGait is a gait training device that simultaneously controls weight bearing, posture, and balance over a treadmill or overground. Offered by Mobility Research, Tempe, Ariz, LiteGait creates an ideal environment for treating patients with a range of impairments and functional levels. Its harness design not only permits unilateral or bilateral support, allowing progression of the weight-bearing load from non to full weight bearing, but also allows the clinician to manually assist the legs and pelvis. LiteGait provides proper posture, reduces weight bearing, eliminates balance concerns, and facilitates training of coordinated lower extremity movement.
For more information, contact Mobility Research, (800) 332-9255; www.litegait.com