The ever-expanding market for pain relief products provides a myriad of choices available to physical therapists to help relieve their patients' aches and pains without the risk of addiction to opioid medications. These noninvasive pain relief options include electromedical tools, hot and cold therapies, and topical analgesics. Not only are they easy to use and readily available, they are delivered via technologies that therapists can provide. Physical Therapy Products shines a spotlight on some of the latest products from manufacturers across the country designed to help relieve and manage pain. These brief profiles detail the products' highlights, with more expansive information and pricing available by visiting the manufacturers' websites.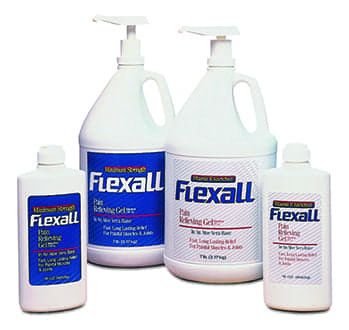 TOPICAL PAIN-RELIEVING GELS WITH ALOE VERA
Flexall topical pain-relieving gels from Ari-Med Pharmaceuticals, Tempe, Ariz, are formulated to be an invaluable tool for clinical and training room settings by helping increase patient compliance while augmenting ultrasound, cryotherapy, TENS, and massage therapies. According to the company, recent studies report that a 25:75 Flexall and ultrasound gel mixture delivers heating results equal to 100% ultrasound coupling gel with the enhanced analgesic benefit of warmth. Flexall (7% menthol) and Maximum Strength Flexall (16% menthol) are aloe vera gel formulas that aim to provide fast, long-lasting relief from arthritis, backache, bursitis, tendonitis, muscle strains and sprains, bruises, and cramps. Flexall gels are made to absorb quickly and completely. They are greaseless, non-staining, and formulated to be gentle on the skin. Professional sizes are available.
For more information, contact Ari-Med Pharmaceuticals, (800) 527-4923; www.ari-med.com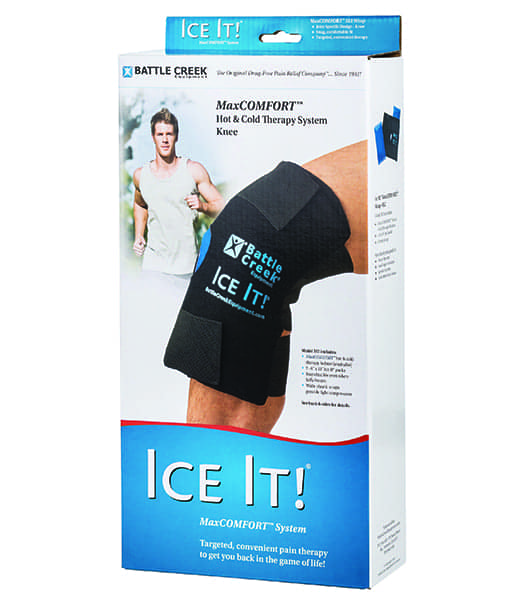 PAIN RELIEF FOR THE KNEE
Battle Creek Equipment Co, Fremont, Ind, is the manufacturer of Ice It! MaxCOMFORT System for the Knee, which features an articulated design that surrounds the entire knee for maximum therapeutic benefit. A comfortable, secure fit can allow the user to relax or continue performing activities during therapy sessions. Each product is sold in a box that contains two 6-inch x 12-inch cold packs, a holster, and three hook and loop straps. The company offers Ice It! MaxCOMFORT Systems designed for use on virtually any joint or area of the body.
For more information, contact Battle Creek Equipment Co, (800) 253-0854; www.BattleCreekEquipment.com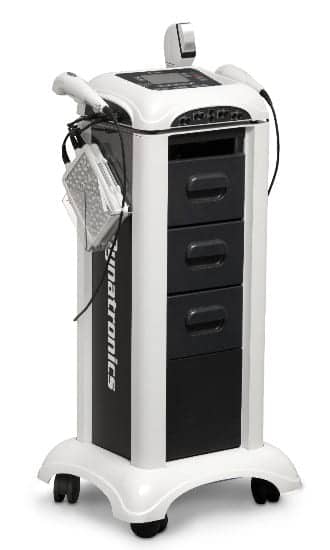 WORKHORSE UNIT FOR PAIN RELIEF
The Dynatron Solaris Plus, available from Dynatronics, Salt Lake City, is engineered to provide workhorse performance with its ability to deliver six Stim waveforms—IFC, Premod, Biphasic, Russian, High Volt, Microcurrent, Fixed Frequency IFC/Premod, and three-frequency ultrasound. Additional options include the ThermoStim soft-tissue mobilization probe that treats with cold, heat, and electrical stimulation—all in one tool—and TriWave Light Therapy that provides red, infrared, and blue light treatments, delivered individually or in any combination.
For more information, contact Dynatronics, (800) 874-6251; www.dynatronics.com

DESKTOP LASER UNIT
Watertown, SD-based Pivotal Health Solutions' two-channel Apollo Desktop Laser unit is built for the busy office and clinic and offers both convenience and power. The Apollo's two probes allow clinicians to work on two patients at the same time or two areas on the same patient at one time. The unit can also be customized with a variety of powerful probes for deep tissue or more delicate treatment. The Apollo is made to be used for the treatment of pain, wound healing, and musculoskeletal problems. The desktop unit features a user-friendly LCD display with probe status and treatment times, built-in safety and fault-detection software, a built-in power test to assess probe output, and a warranty.
For more information, contact Pivotal Health Solutions, (800) 743-7738; www.phsmedicalsolutions.com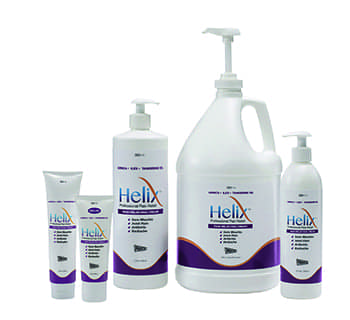 TOPICAL ANALGESIC
Helix Professional Pain Relief, a topical analgesic from Parker Laboratories, Fairfield, NJ, is formulated to deliver cooling pain relief from sore muscles, joint pain, arthritis, and backache. It contains 7.4% menthol, arnica, ilex, and aloe, as well as tangerine oil for a fresh citrus fragrance. The Paraben-free, fast-acting, and aesthetically pleasing formula is available in 5 g pouch, 3 fl oz roll-on, 4 fl oz tube, 12 and 32 fl oz pump bottle, and 1 gallon sizes.
For more information, contact Parker Laboratories, (800) 631-8888; www.parkerlabs.com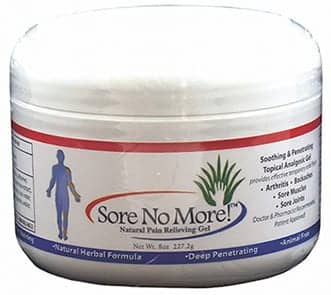 FAST-ACTING TOPICAL
Sore No More from Moab, Utah-based Sore No More provides a blend of plant extracts engineered to offer effective relief for muscle aches, soreness, and more. The topical anesthetic effect of Sore No More depresses cutaneous sensory receptors. The formula is made to absorb quickly and deeply, producing a synergistic effect that detoxifies tissues, relieves tight and tender joints, soothes muscle soreness, and reduces inflammation. Sore No More can provide effective pain relief for a variety of conditions, including rheumatoid arthritis, fibromyalgia, migraines, muscle aches and pains, muscle spasms, overexertion, fatigue, tendinitis, and diabetic neuropathy.
For more information, contact Sore No More, (800) 842-6622; www.sorenomore.com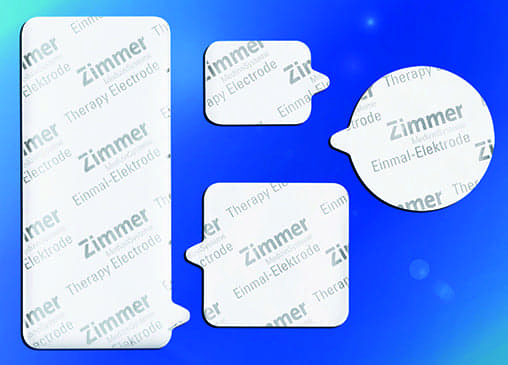 SINGLE-USE ELECTRODES
Z Trodes single-use, self-adhering electrodes from Zimmer MedizinSystems, Irvine, Calif, are available in four sizes and reported to be 98% biodegradable. Their Glycerol coating helps reduce skin irritation and maximize patient comfort. Z Trodes are designed to help improve the practitioner's productivity by eliminating repetitive tasks such as filing and storing reusable patient-dedicated electrodes, applying gel, straps, etc.
For more information, contact Zimmer MedizinSystems, (800) 327-3576; www.zimmerusa.com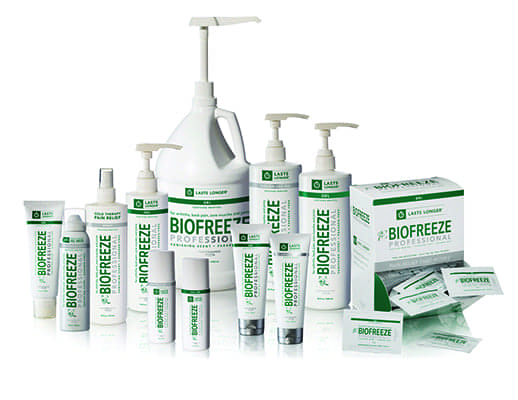 TOPICAL ANALGESIC
Biofreeze Professional Topical Analgesic, available from Performance Health, Warrenville, Ill, features an optimized formula of key ingredients created to deliver long-lasting results in a smoother application to help alleviate pain from backaches, arthritis, sore muscles and joints, sprains, strains, and bruises. The formulation is non-systemic, non-narcotic, and contains no NSAIDs, salicylates, or addictive substances. It also contains United States Pharmacopeia (USP) grade menthol to provide pain relief that works and is free from parabens and propylene glycol.
For more information, contact Biofreeze, (800) 246-3733; www.biofreeze.com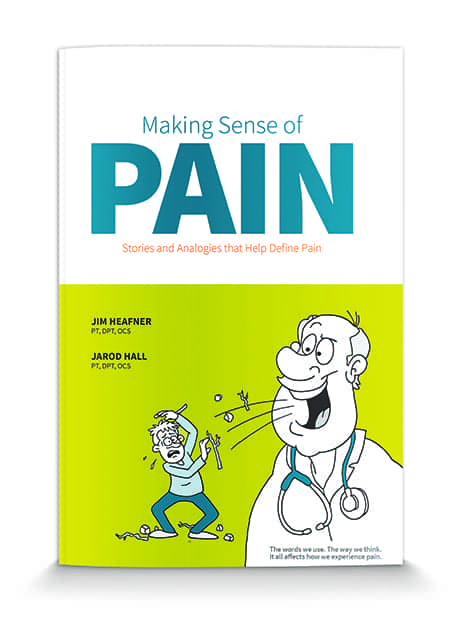 MAKING SENSE OF PAIN BOOK
Written by physical therapists Jim Heafner and Jarod Hall, Making Sense of Pain, Stories and Analogies that Help Define Pain uses analogies and stories to explain the causes of pain, the reasons people feel pain, and what motivates them to get better. Available from OPTP, Minneapolis, the book is for clinicians who want to learn to talk to patients about pain in simple language, and for anyone who is experiencing pain.
For more information, contact OPTP, (800) 367-7393; www.optp.com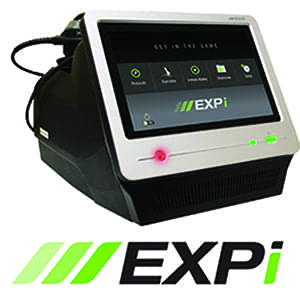 DEEP TISSUE THERAPY LASER
LiteCure Medical, New Castle, Del, the maker of LightForce Therapy Lasers, offers advanced rehabilitation solutions to healthcare providers. The company reports that its focus on providing exceptional customer service, along with a commitment to making ongoing investment in research, is key in helping it deliver superior products designed to improve therapeutic outcomes. The EXPi Therapy Laser is a high-power device (0.5 W to 25 W) built to allow clinicians to deliver treatments quickly and efficiently. Optimized for outcome improvement, the included influence Technology was developed to offer the flexibility of custom treatment options (both on and off contact) while ensuring consistent results.
For more information, contact LightForce Therapy Lasers, (877) 627-3858; www.lightforcelasers.com

REUSABLE HOT/COLD THERAPY
Southwest Technologies Inc, North Kansas City, Mo, manufactures Elasto-Gel hot and cold therapy products, which consist of more than 40 different shapes and sizes to provide the best fit for a person's individualized needs. Elasto-Gel products may be used for either hot or cold therapy, and are manufactured so they will not leak if punctured. When heated, the products provide moist therapy heat, and when used cold, the products provide soothing cold.
For more information, contact Southwest Technologies Inc, (800) 247-9951; www.elastogel.com