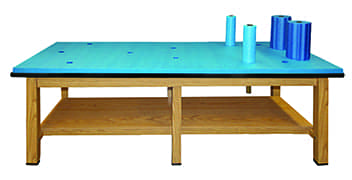 TORQUE THERAPY TABLE
The Torque Therapy Table from Hausmann Industries Inc, Northvale, NJ, was created to be a revolutionary new table designed to aid in stretching, muscle isolation, joint distraction, manual manipulation, and orthopedic special testing. The special design of this table has 12 strategically placed holes that allow vertical placement of two different size moveable bolsters (3″x12″ and 6"x12") vertically on the table and to help stabilize the patient. Videos of the table in use can be viewed at www.Hausmann.com.
For more information, contact Hausmann Industries Inc, (888) HAUSMANN; www.hausmann.com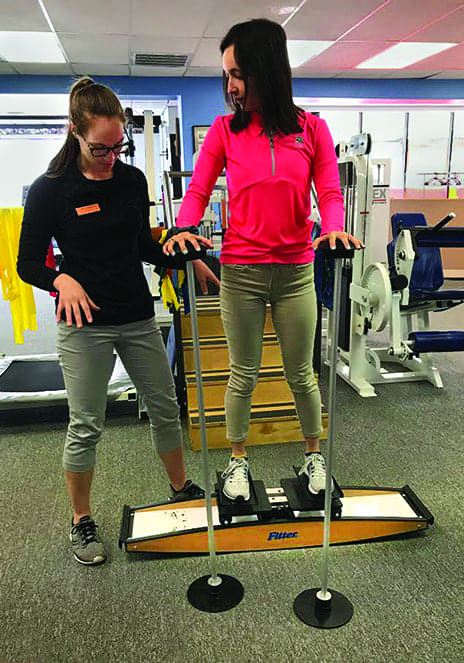 BALANCE BOARD
Calgary, Alberta, Canada-based Fitter International Inc offers the Fitterfirst Extreme Balance Board Pro, built to train balance and coordination, increase proprioceptive awareness, and improve ankle and knee strength and core power. Features include front-to-back and side-to-side movement, 360-degree rotation for an added balance challenge, support pegs to increase stabilization, and durable birch construction with a nonslip top. The Extreme Balance Board Pro can be useful as a training tool for athletes and for anyone looking for a greater challenge.
For more information, contact Fitter International Inc, (800) fitter-1 (348-8371); www.fitter1.com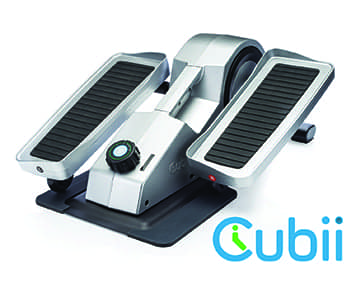 COMPACT SEATED ELLIPTICAL
Cubii manufactures a compact seated elliptical featuring a patented design that delivers low-impact, non-weight-bearing pedal movement. The low-profile and compact unit is engineered to provide a full range of motion to work all lower extremities from ankles to glutes, with eight levels of resistance that can adjust as users progress. Additional features include non-skid, one-size-fits-all pedals that eliminate awkward pedal straps, a rim bordering on the pedal for added safety, and a large handle for easy transportation.
For more information, contact Cubii, (844) 282-4401; https://mycubii.com/pages/rehabilitation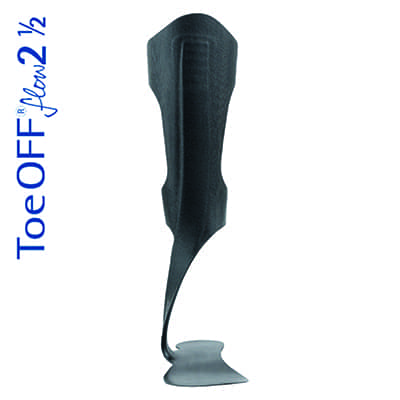 ToeOFF FLOW AFO
Allard USA Inc, Rockaway, NJ, introduces FLOW, the company's newest generation of AFOs, featuring a new proprietary formula that offers increased ROM in the sagittal plane and a smooth transition (flow) throughout the gait cycle. The footplate for this AFO is shaped to accommodate gentler contours of shoe insoles and offer more clearance for the forefoot in the shoe toe box. In addition, both Ypsilon Flow ½ and ToeOFF Flow 2 ½ are designed to accommodate lower shoe heel heights.
For more information, contact Allard USA, (888) 678-6548; www.allardusa.com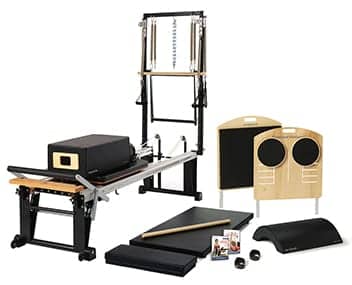 PILATES REHAB MAT/REFORMER BUNDLE
The Rehab V2 Max Plus Reformer from Merrithew, Toronto, features a higher carriage for use in physical therapy and physiotherapy clinics and facilities that cater to a senior or mobility-challenged client base. Instruct and perform core stability, peripheral mobility, and plyometric exercises. The equipment features removable and changeable parts to add exercise content and variety. The package includes a jumpboard, arc barrel, rotational diskboard deluxe, and ankle straps.
For more information, contact Merrithew, (800) 910-0001; www.merrithew.com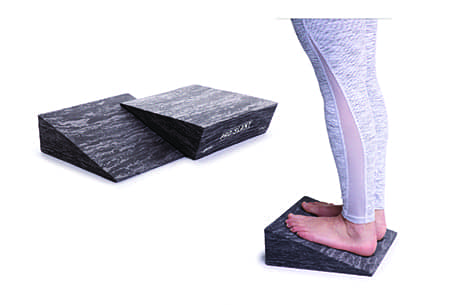 PREMIUM QUALITY FOAM SLANT
OPTP, Minneapolis, introduces a premium-quality foam slant made to stand up to heavy use, at an affordable price point. Sold as a pair, the OPTP PRO-SLANT features an 18-degree incline and is designed to be ideal for performing stretching and strengthening exercises to help treat and prevent common lower leg and foot problems including overuse syndromes and post-surgery contraction. Made of high quality, premium closed-cell foam, these durable slants can be excellent for use at home and in the clinic.
For more information, contact OPTP, (800) 367-7393; www.OPTP.com