By Frank Long, MS, Editorial Director
Physical therapy clinics hit the brakes hard when the COVID-19 pandemic crashed over the United States in March. Like some malignant wave, it swept away the normal flow of patients and threw business operations and supply chains into chaos. During those early days when the pandemic overwhelmed healthcare, few people knew with certainty what the long-term effects of this new infectious disease might be. When businesses might reopen—if ever—was a question no one could answer. By extension, whether supplies and new equipment for the PT clinic would still be necessary was anyone's guess. A question that loomed even larger for some clinics was whether their doors might remain shut permanently.
It is entirely premature to say it's back to business as usual, but after months of what has felt like trench warfare business for some clinics has made a return, albeit in fits and starts. Patchy state and local policies along with CDC guidelines have left the reopening of many outpatient clinics uneven and uncertain. Some clinics are making do with reduced patient loads while others are trying to find their footing among the limitations—and some might say, "opportunities"—of telehealth. One thing for certain is that the pandemic altered purchasing patterns for PT clinics. Inexpensive consumables have returned to purchasing lists, but the return of capital equipment purchases for items valued at $500 or more is more tenuous.
What We Learned
Physical Therapy Products sought to understand how the COVID-19 pandemic has changed the landscape for capital equipment expenditures to get a reading about where buying activity is occurring. We wanted to learn about clinics' current spending plans, and whether those patterns suggest optimism.
To gather this information, we conducted a reader survey that gave clinicians an opportunity to fill in the information gaps about how purchasing patterns were affected by the pandemic. We gauged how practices responded immediately to the turmoil, what they are buying as the economy cautiously inches forward, and what they plan to purchase next year.
The data is presented here to help readers develop a sense of where purchasing confidence is headed and how their clinic's buying plans compare with others in the industry.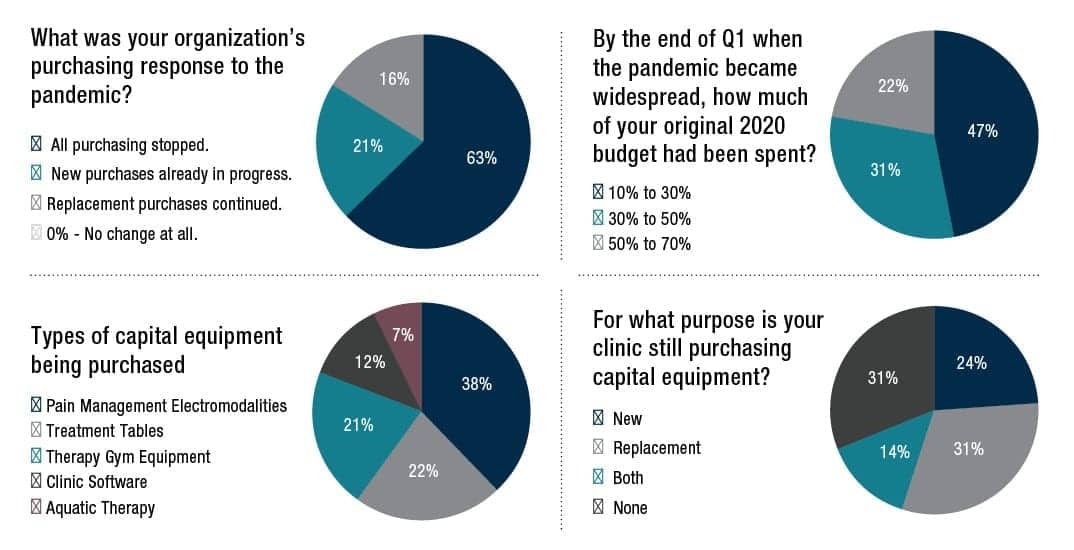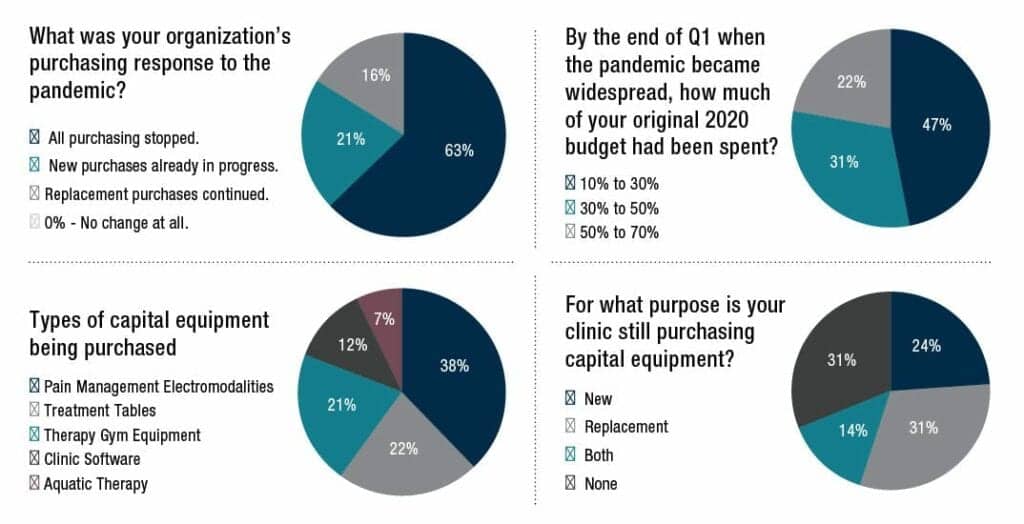 March Madness
The survey began with a look back at how clinics reacted to purchasing during the early days of the pandemic, which is marked roughly as early March. By March 11 the World Health Organization declared COVID-19 a pandemic, and by March 17 President Donald Trump declared the novel coronavirus a national emergency. Also, on March 17, the APTA's Board of Directors released a statement that encouraged physical therapists to "use their professional judgment to determine when, where, and how to provide care, with the understanding this is not the optimal environment for care, for anyone involved."
As the pandemic moved into July the APTA noted that revenue losses of 50% or greater were hitting one-third of clinic owners. That information was published in an August 2020 update of the association's report, "Impact of COVID-19 on the Physical Therapy Profession."
[sidebar float="right" width="250″]Product Resources
The following companies offer a range of products for capital expenditure purchases:
Aquatic Access
www.aquaticaccess.com
Battle Creek Equipment
www.battlecreekequipment.com
Biodex Medical Systems Inc
www.biodex.com
CIR Systems Inc/GAITRite
www.gaitrite.com
Clarke Health Care Products
www.clarkehealthcare.com
FOTO Inc
www.fotoinc.com
Gorbel Rehabilitation
www.gorbelrehabilitation.com
Hausmann Industries Inc
www.hausmann.com
Hudson Aquatic Systems LLC
www.hudsonaquatic.com
HydroWorx
www.hydroworx.com
Micromedical by Interacoustics
www.micromedical.com
Pivotal Health Solutions
www.pivotalhealthsolutions.com
ProtoKinetics
www.protokinetics.com
Sprint Aquatics
www.sprintaquatics.com
SwimEx Inc
www.swimex.com
Tekscan Inc
www.tekscan.com
Tri W-G Inc
www.triwg.com
Vista Medical
www.vista-medical.com[/sidebar]
Survey Results
The type of financial fallout described in the report had a chilling effect on capital equipment spending, underscored by responses to the first question on the survey, "What was your organization's immediate purchasing response to the pandemic?" Among those who took the survey, 63% indicated all purchasing activity for new capital equipment had stopped while 21% indicated new purchases already in progress continued. According to the survey data, 16% reported that replacement purchases for capital equipment continued to move forward. None of the respondents (0%) reported that the pandemic had left their purchasing activities unchanged.
The drag on purchasing activity that took hold in March kept a substantial amount of capital on the sidelines. This conclusion can be drawn by looking at the amount of money clinics budgeted for 2020 that had actually been spent by the end of the first quarter.
To understand those percentages, the survey asked, "By the end of Q1 how much of your original 2020 budget had been spent?" In response, 47% indicated that 10% to 30% of their budget had been spent by Q1. Another 31% of survey-takers indicated that 30% to 50% of their budget had been spent by Q1 while only a relatively small number of clinics, 22%, reported that they had spent 50% to 70% of their original 2020 budget.
None of the respondents indicated making capital expenditures greater than 70% of their original budget by the end of Q1.
Who's Buying Now?
Despite devastating cuts in revenue brought on by business shutdowns as well as regulatory and preventive guidelines triggered by the pandemic, the physical therapy industry began to pick itself up as 2020 wore on. As of Q4 some types of capital equipment purchases seem to be gathering steam again, according to the results of the survey question that asked, "For what purpose is your clinic still purchasing capital equipment?" In response 24% of those who took the survey indicated they are making new purchases while 31% indicated they are making replacement purchases for inoperative or outdated equipment. Only 14% indicated they were making both types of purchases while 31% reported that they were not making any equipment purchases.
Purchasing for capital equipment may not currently be widespread, but it seems to be occurring in several specific areas. The survey asked readers to identify the types of capital equipment their clinics were purchasing and found that the greatest number of purchases (38%) were being made for pain management electromodalities. Other purchasing activity was reported for treatment tables (22%), therapy gym equipment (21%), clinic software (12%), and aquatic therapy equipment (7%).
Clinics also appear to have made a shift in some of the other types of products they commonly purchase. Responses to our survey indicated that 68% of clinics had shifted a portion of their total purchasing to infection control products. In no particular order, some of the products the survey respondents indicated their clinics were purchasing in greater amounts were disinfectants, air filters, deep cleaning (services and products), and personal protective equipment (gloves, masks, gowns). Also, 24% of survey respondents noted that they had made additional purchases to support telehealth activities, which included upgraded online services, video equipment, and lighting.
Telehealth Goes Prime Time
The shift to telehealth sent ripples through the PT profession and it could be argued that, while not an ideal solution, it offers a lifeline of sorts to some practices. The growing embrace of telehealth is spotlighted in "Impact of COVID-19 on the Physical Therapy Profession," which reveals only about 2% of PTs the organization surveyed were providing live video consultations prior to the pandemic, but by July that number exploded to 47%.
There currently are conversations within the profession that suggest telehealth will not only outlast the pandemic but may actually grow in the coming years because of how it can be used to help penetrate rural and underserved markets. Many clinics have quickly grown comfortable with the online video platforms that can be used to deliver telehealth, perhaps making it a lock for the foreseeable future, and opening the door to purchases for telehealth equipment and support services that will make this platform even easier and more cost-effective to use. PTP
Frank Long, MS, is Editorial Director of Physical Therapy Products.
This article was published in the October/November print issue of Physical Therapy Products with the title "Purchasing Gets a Second Wind"
---
Related Content:
Fast Times for Facility-Based Equipment
Practice Essentials Survey
Facility-Based Equipment 2019 Survey Results: Money Talks