Compiled by Frank Long, MS, Editorial Director
Physical therapy is not a profession where indecision thrives. Patients and payors count on therapists to identify problems quickly and create a solution that will connect goals with outcomes. To meet those objectives, therapists rely on tools they trust. That trust is earned by consistent performance, so when it's "go time" not one second is lost because of unreliability. And just like coffee, cars, and comedy, physical therapists can be very specific about the products and services they like.
Physical Therapy Products wanted to learn what tools physical therapists consider essential to their practice, so the staff conducted a nationwide survey in addition to-on-one interviews with select clinic owners and managers. We discovered that therapists have clear favorites about what features they consider essential for treatment tables, patient lifts, and clinic workstations.
One other thing this survey revealed, perhaps not surprisingly, is how the role of cleaning products for the physical therapy clinic has moved front and center as an essential product. Times have changed since the COVID-19 pandemic swept across the globe, and the value of cleaning products is just one of those signs of the times. As a result, this product category joins several others in the pantheon of PTs' favored equipment for the clinic setting.
COVID-19 has also shown the importance of diversifying practices beyond traditional patient care and insurance reimbursement. Employer services such as Injury Prevention Consultation and Post Offer Hiring Testing have been adding additional revenue streams for a number of practices for a while now, as we know. Interestingly, several clinic owners have reported that these types of employer services helped keep them afloat when patient numbers took a dive earlier this year. Clinics may never know what might impact patient numbers and reimbursement, and clearly both are under constant threat. Read on to learn what many therapists and clinic managers are saying is essential/critical/important to maintaining a viable practice in today's healthcare environment.
Treatment Tables, Patient Lifts, Workstations
The survey's first question goes to the heart of the matter: "Which of these do you consider essential for your clinic?" This question was asked to tease out what therapists view as the workhorse products within their practices, such as treatment tables. It is nearly a certainty that any patient entering a physical therapy practice will find himself or herself perched on a treatment table; usually sooner than later. Treatment tables were also the one item on which most PTs could reach consensus regarding their value, with 100% of survey-takers indicating that they considered treatment tables essential equipment for the clinic.
Patient lifts were the second-most-cited product with 58.3% of readers indicating this as a practice essential. Not far behind were workstations, the third-most-popular choice among physical therapists with an even 50% of survey-takers designating this as a practice essential.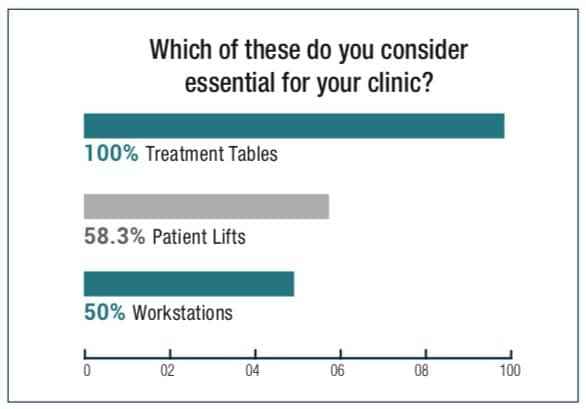 What Makes a Table Great
The physical therapists who responded to the survey ranked the importance of nine treatment table features and functions. The most essential feature the survey-takers indicated was Hi-Lo function, named in 83.3% of survey responses. There was a two-way tie between motorized height adjustment (66.7%) and the presence of a face/nose cutout (66.7%).
Adjustable sections were also important with 58% of those who completed the survey marking this as a most important feature while 41% ranked hands-free operation as a most important feature. Built-in storage was named as an important treatment table feature by 25% of therapists while 22% named tilt as a most important function. This was followed by 16.7% who selected bariatric support as a most desirable feature. Water-resistant construction materials was named by 8.3% as a most important feature.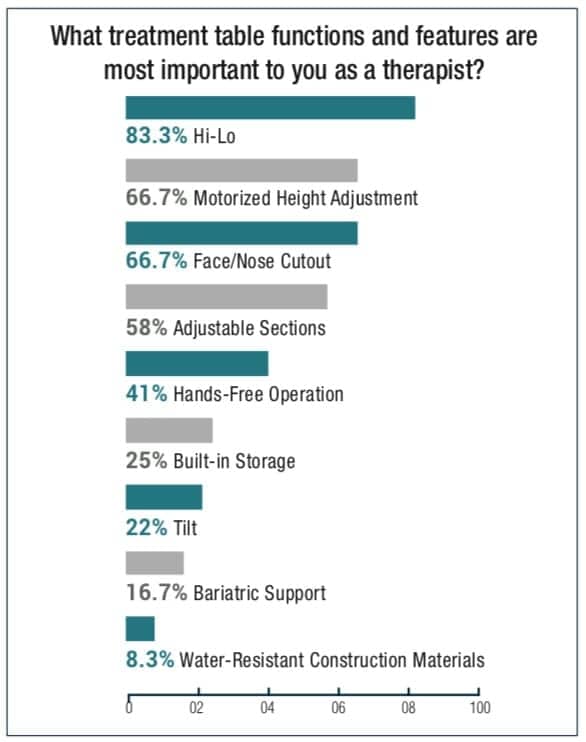 Patient Lifts
In some cases a patient lift may be the only option for safely moving or transferring a patient for therapy activities. The current market of patient lifts is packed with device features that provide or enhance portability, safety, and easy operation, and the responses to this survey helped sort out which features are valued most.
The survey asked therapists to rank the patient lift features that would help them handle individuals who may be affected by weakness, instability, or mobility impairment. The survey results helped illuminate these preferences and especially the importance of a mobile lift. This option was chosen as the most important lift function by 88% of respondents. Following closely was the stand assist feature, which 82% of survey-takers selected as the most important feature.
Other important features highlighted by the survey results were ceiling-mounted models, chosen by 41.7% of survey respondents, and the ability to operate in aquatic and pool settings (23%). Having a foot or remote control operation was named by 8.3% of survey respondents as an important feature for a patient lift.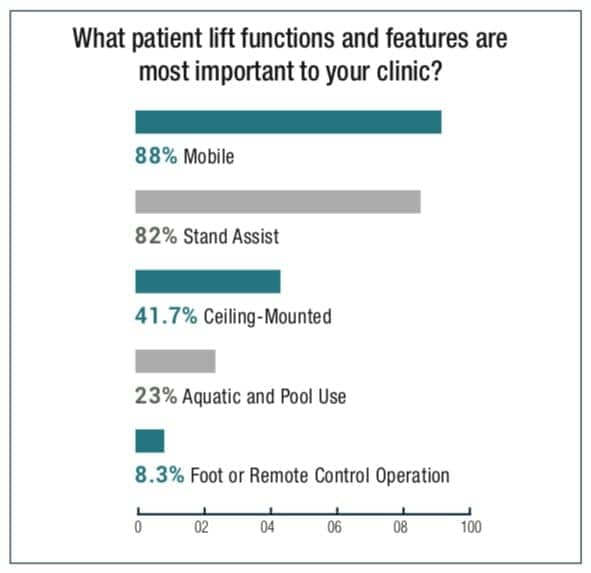 Workstations
Ever since patient documentation migrated to personal computers it became critical for workstations to be flexible, versatile, and therapist-friendly. Physical Therapy Products' Practice Essentials Survey sought to learn which characteristics therapist prefer most in the workstations they use by asking the question, "What workstation features and functions are most important to you?"
Among the responses to that question, a strong majority (81%) indicated that a "standing desk" was the workstation characteristic they found most important. Workstations that can be mobile or those that have rollers are desirable with 73.2% of survey respondents ranking that as a feature most important to them. Additional features that ranked well were desktop converter (47.5%), power operation (28.4%), and a workstation design that is wide enough for dual monitors (14%).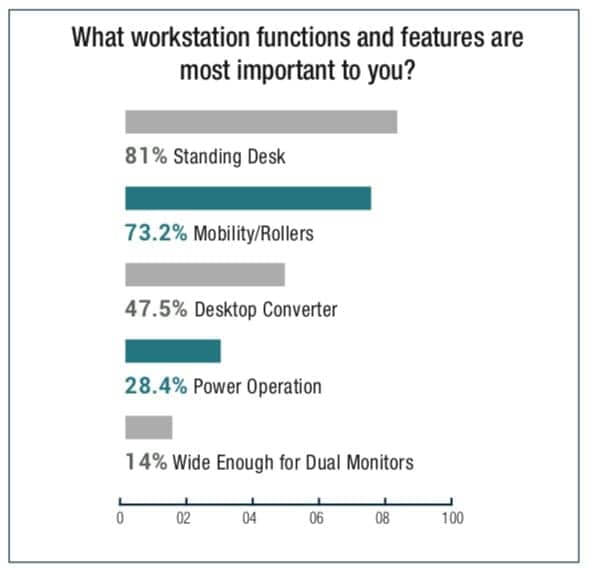 Purchase Plans for 2020
Despite the instability the COVID-19 pandemic is creating among healthcare operations, the survey data suggest physical therapy clinics are moving forward with purchase plans for essential products. Workstations were the product most frequently cited (65.2%) as a planned purchase for 2020, followed by treatment tables (54.4%) and patient lifts (32.8%). Only 11.1% of respondents indicated that they had no purchasing plans for 2020.
Cleaning Products Shine
Not surprisingly the Physical Therapy Products Practice Essentials survey found that cleaning products have moved from being a bit player on the outpatient practice stage to an "essential" superstar. This shift and the importance of cleaning products was confirmed by responses to the survey question: "How have your equipment cleaning practices changed since the COVID-19 pandemic began?"
The responses spotlight how cleaning product use is moving mostly in one direction with 75% characterizing their use of cleaning products as, "Considerably more frequent." In contrast, 16.7% responded "Somewhat more frequent," and only 8.3% answered, "Not at all."
Among the products indicated as "must-haves" for clinic work surfaces were Protex Wipes from Parker Laboratories; Sani-Cloth coverage spray; Betco Quat-Stat 5 Disinfectant Spray and purple top wipes; and Clorox wipes, disinfectants, and hand sanitizers.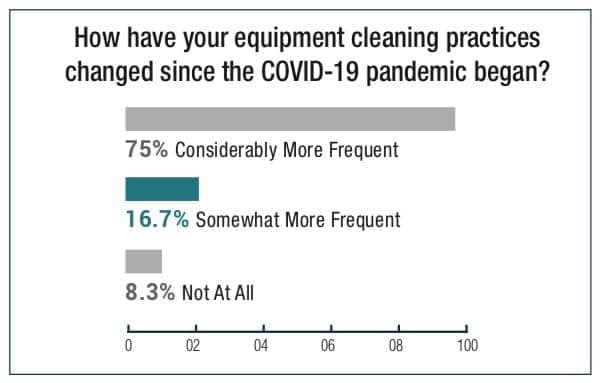 [sidebar float="right" width="250″]Product Resources:
The following companies offer a range of essential products for physical therapy clinics:
Aquatic Access
www.aquaticaccess.com
Bailey Manufacturing Company
www.baileymfg.com
Battle Creek Equipment
www.battlecreekequipment.com
Biodex Medical Systems Inc
www.biodex.com
Bionik Laboratories Corp
www.bioniklabs.com
Brookdale Medical Specialties Ltd
www.brookdalemedical.com
DSI Work Solutions
www.dsiworksolutions.com
Dyaco
www.dyaco.com
CIR Systems Inc/GAITRite
www.gaitrite.com
Clarke Health Care Products
www.clarkehealthcare.com
Dynatronics
www.dynatronics.com
Everyway4all
www.everyway4all.com
First Degree Fitness (Fluid Power Zone)
www.firstdegreefitness.com
Gorbel Rehabilitation
www.gorbelrehabilitation.com
Hausmann Industries Inc
www.hausmann.com
Hocoma
www.hocoma.com
Hudson Aquatic Systems LLC
www.hudsonaquatic.com
HydroWorx
www.hydroworx.com
LightForce Therapy Lasers by LiteCure LLC
www.litecure.com
Pivotal Health Solutions
www.pivotalhealthsolutions.com
ProtoKinetics
www.protokinetics.com
SureHands Lift & Care Systems
www.surehands.com
Tri W-G Inc
www.triwg.com
Vonco Medical
www.voncomed.com[/sidebar]
Employer Services and Job Function Testing
A number of clinics reported that the ability to provide work injury management systems made a significant difference in their bottom line. Work injury management systems are at the foundation of programs such as injury prevention, job function analysis, return to work, and transitions. Such programs can generate vital clinic growth.
Companies that help physical therapy clinics establish themselves as employer service providers, such as DSI Work Solutions, Bowling Green, Ky, can be instrumental in helping practices provide occupational health and rehabilitation development, strategic planning, and job function matching education and training. They can also help set clinics on a path to providing outcome development and analysis, and teach them how to build relationships with employers.
The Essentials
Physical Therapy Products thanks our readers and all of the physical therapists nationwide who participated in this survey. The data gathered from this survey can help clinics understand what working therapists want and need to perform their job optimally, and where they have found the greatest value in capital equipment for the physical therapy practice. The responses also provide valuable feedback to manufacturers who can focus on continuing to offer those "essential" products with continued reliability and refinements that add value to the outpatient clinic. We look forward to tracking these same data in 2021 and comparing opinions about what's essential in a—hopefully—post-pandemic world. PTP