The COVID-19 pandemic has shuttered the summer exhibitions where many therapists would get a first glimpse of the latest PT technologies. The shutdown, however, has not stopped manufacturers from continuing to make product refinements and develop new systems that help those who work with the post-stroke and neurological patient population restore function in their patients.
To keep readers up to date about the latest developments in the gait and balance product category, Physical Therapy Products went directly to manufacturer representatives to find out what products they would be showing on exhibit hall floors if trade shows were doing business as usual. Read on to find out what each manufacturer says about what's been upgraded and updated as well as what technologies are brand-new. They also clear up myths and misconceptions sometimes associated with certain products and share the questions that trade show booth visitors most often ask.
Featured speakers for this roundtable discussion include: Natalee Takasumi, PT, DPT, DVM, Clinical Applications Manager, Hocoma; Douglas Haas, GAITRite; Kelly DeLong, PT, DPT, MBA, and Matt Ranson, EP, Mobility Research; Stephanie Viola, Biodex; Alyssa Rubino, Medical Product Manager, Tekscan; Jay Everett, National Sales Manager, Clarke Health Care Products; and Michael Rowling, Chief Operating Officer, ProtoKinetics LLC.
Which gait/balance device would you normally be showcasing at this year's spring and summer trade shows?
Natalee Takasumi: The Andago provides dynamic body-weight support and allows for overground gait training in an unrestricted environment. This ground-breaking technology senses the patient's movement intention and actively follows their every step at their self-selected speed. There is no need for infrastructure modification, and due to the active patient following, the patient is not limited to walking over a treadmill. Fall protection allows patients to train confidently while therapists can focus on creating an optimally challenging therapy.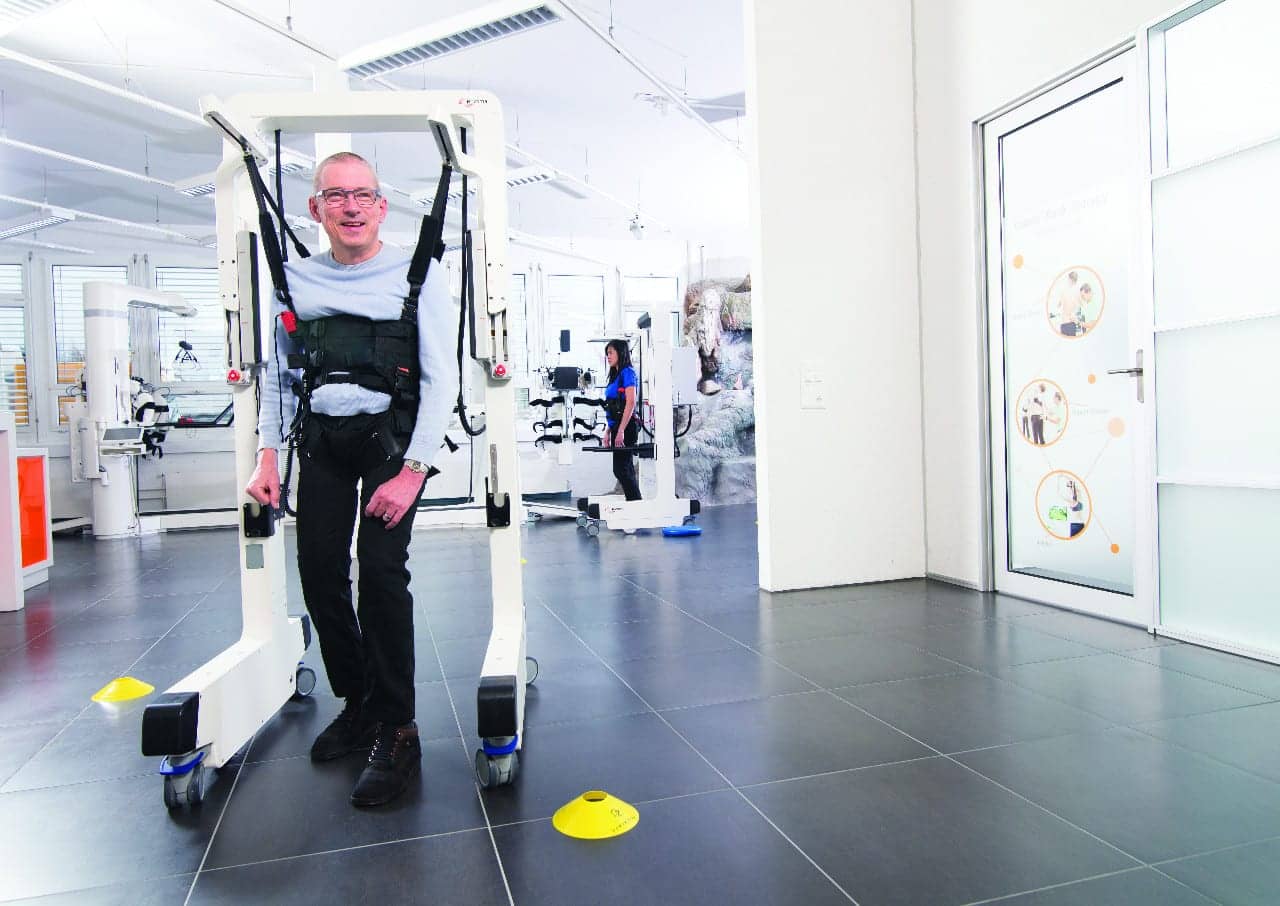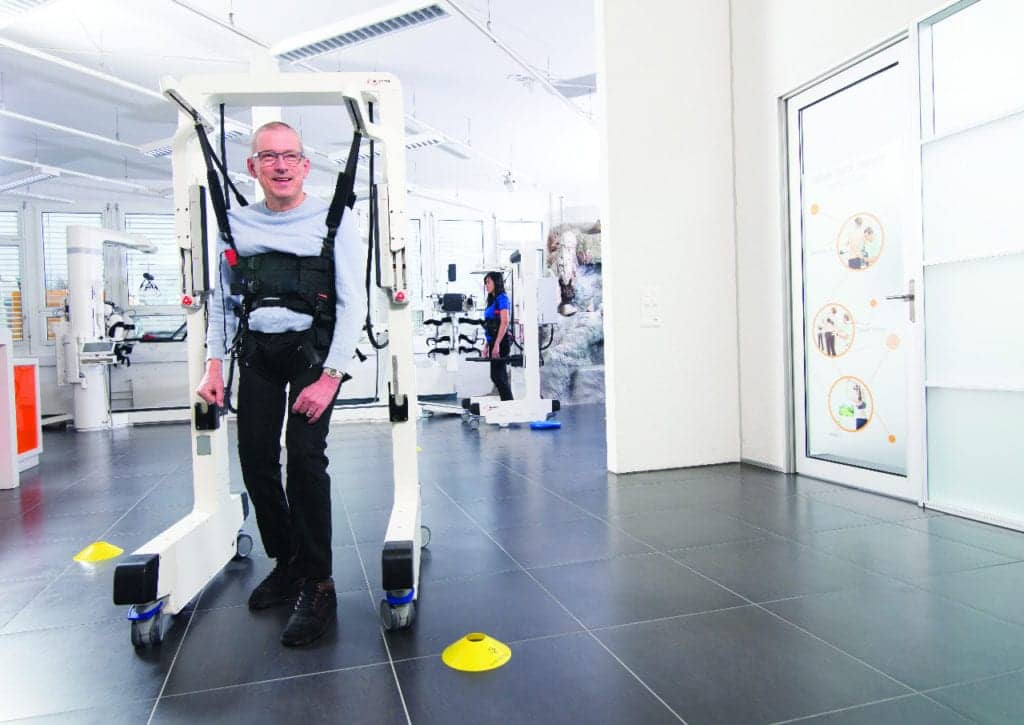 Douglas Haas: We showcase the various models of GAITRite Classic, our portable pressure-sensitive rollout walkway for measuring temporal-spatial parameters of gait. The systems provide automatic identification of gait anomalies including for those subjects that use assistive devices. We stress that we have two sensor resolutions as well as our Safari product, which run off battery for true portability.
Kelly DeLong, Matt Ranson: The LiteGait partial weight bearing therapy device now includes an application-controlled lift, integrated to work with our Tablet BiSym scale. The new controller will automatically lift the user into a standing position, assist the user automatically as he/she works to achieve weight bearing goals set through the BiSym scale, while automatically adjusting the support. Goals can be set to encourage the user to bear more weight through his/her legs or to maintain weight bearing restrictions.
Stephanie Viola: The Balance System SD is a multipurpose therapy device that enables balance testing and training for the broadest range of patient populations. Whether a patient is at risk of a fall, has had a concussion, is recovering from lower extremity surgery, or is experiencing a vestibular disorder, training modes built into the system can help them improve balance. Featuring easy-to-follow touchscreen navigation, the Balance System leads the user step-by-step through testing protocols and training modes.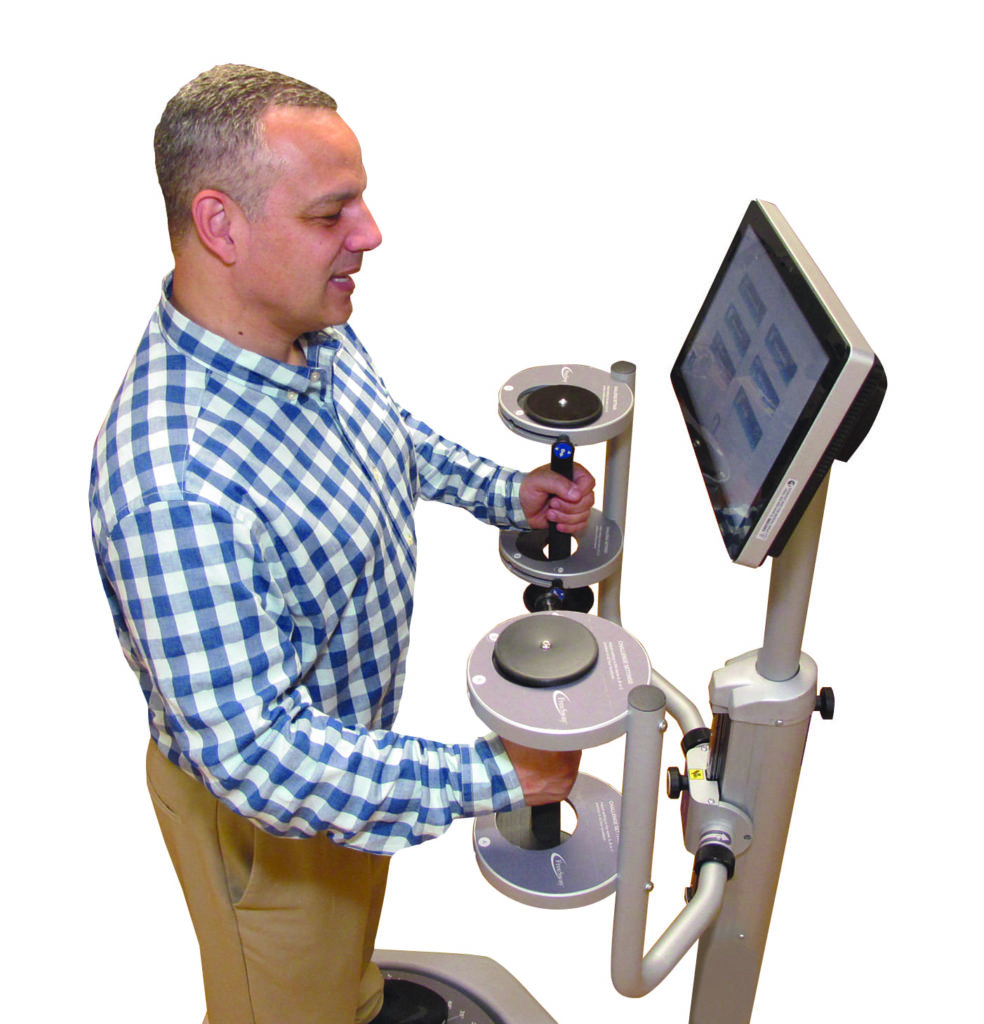 Alyssa Rubino: While our Strideway and F-Scan System aren't currently making their way around the world visiting trade shows, they are getting plenty of virtual demos, which showcases the most powerful aspect of the product: the software. Both solutions measure the effectiveness of treatments, monitor patient progress and comprehensive insights into gait. The Strideway system is a platform-based gait analysis system that captures multiple footsteps in a single pass. It is wide enough to accommodate walkers and other assistive devices. The F-Scan System is our in-shoe gait analysis solution. Ultra-thin, in-shoe sensors capture timing and pressure information without restrictions for the data collection environment.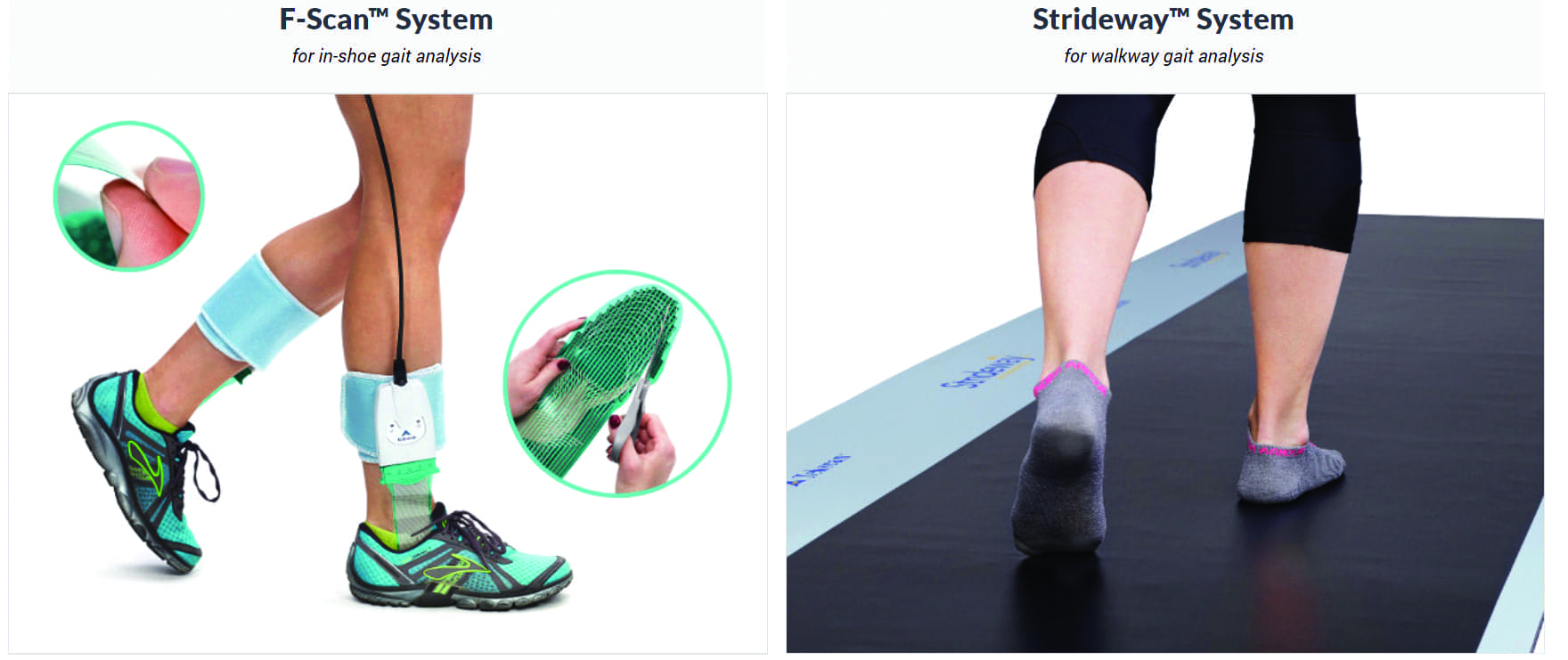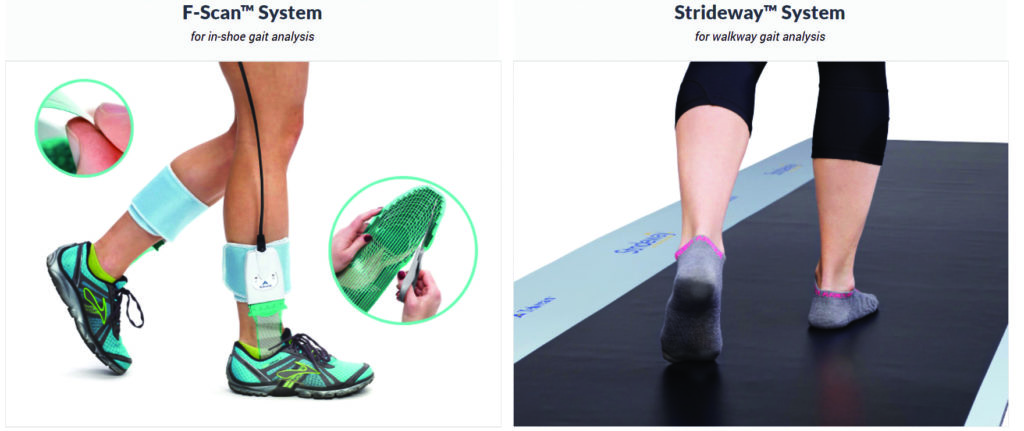 Jay Everett: If we were to offer a device at a summer trade show it would be the DST TRIPLE PRO. This is the most innovative/multi-use device for rehab therapy gyms. In the down position the DST offers a set of parallel bars. The unit is powered so when raised you can actuate the stair training side or the slope side, depending upon the patient's needs. When trade show visitors see the DST they want to try all three aspects of the unit. The DST is so versatile and easy to use. There are multiple codes that can be used for billing, depending on the patient's therapy needs. The unit is built to last years, it is maintenance free and carries a one-year warranty. Most locations have pre-allocated money to pay for the unit through a capital equipment budget.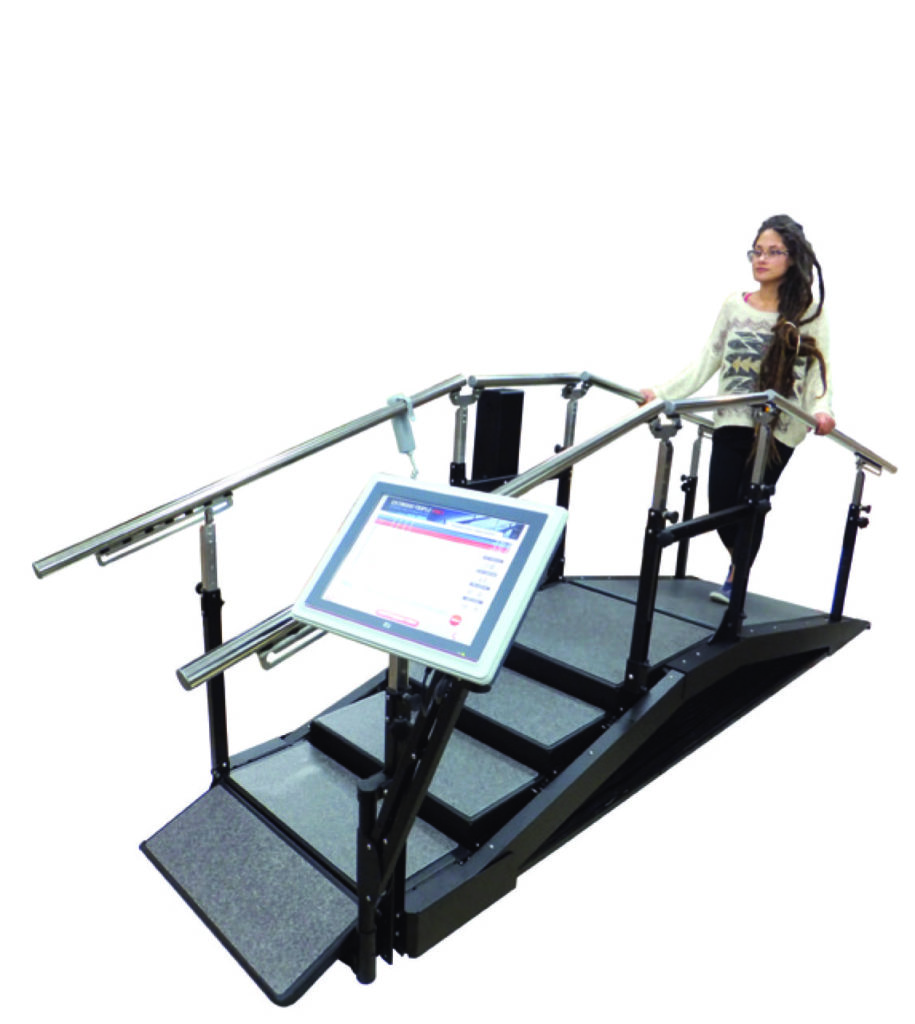 Michael Rowling: ProtoKinetics would be showcasing the Zeno Walkway powered by PKMAS Software along with two new protocols that have set the PT world abuzz. The instrumented FSST (iFSST) and the Limits of Stability incorporate dynamic balance into our already world-leading gait assessment solutions, setting ProtoKinetics apart from other companies competing in the gait/balance/fall risk areas.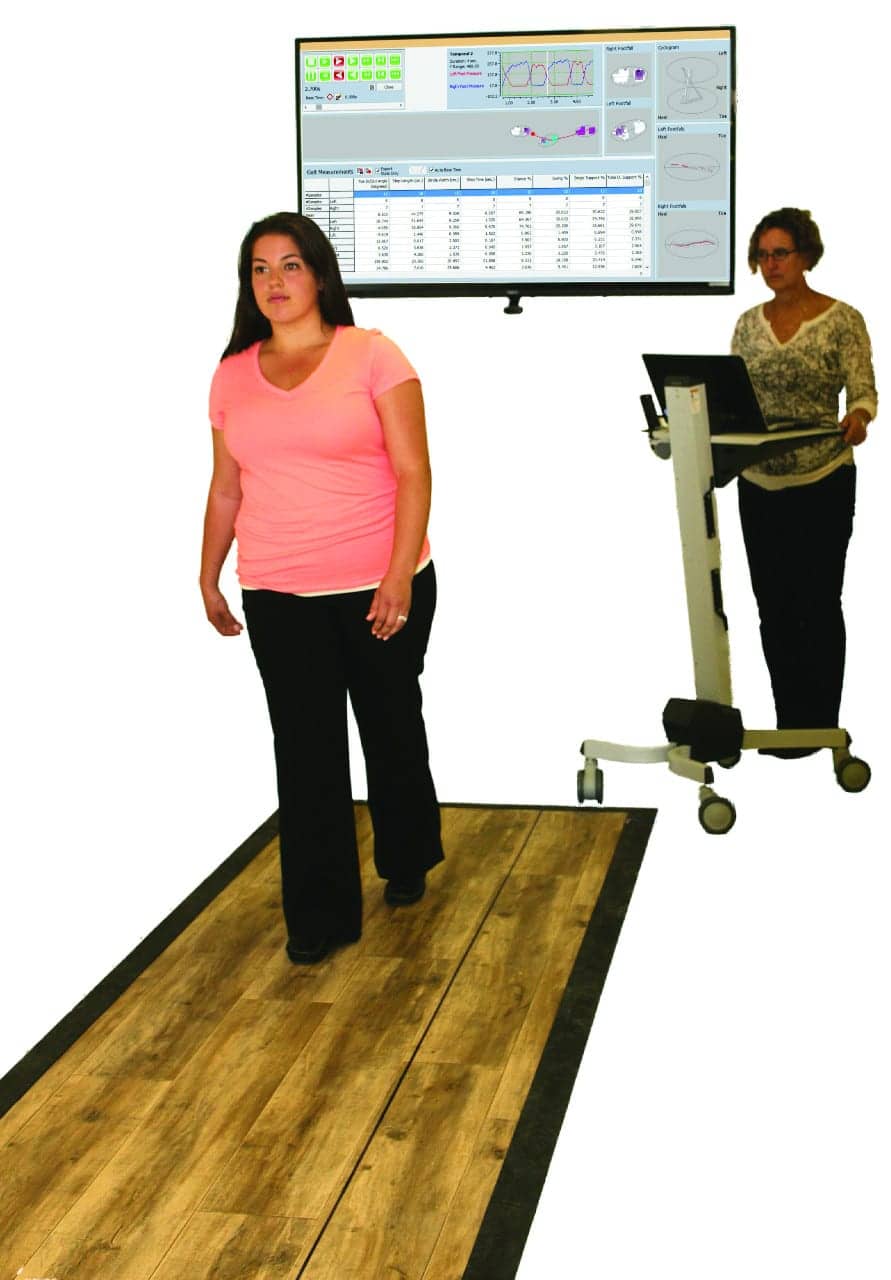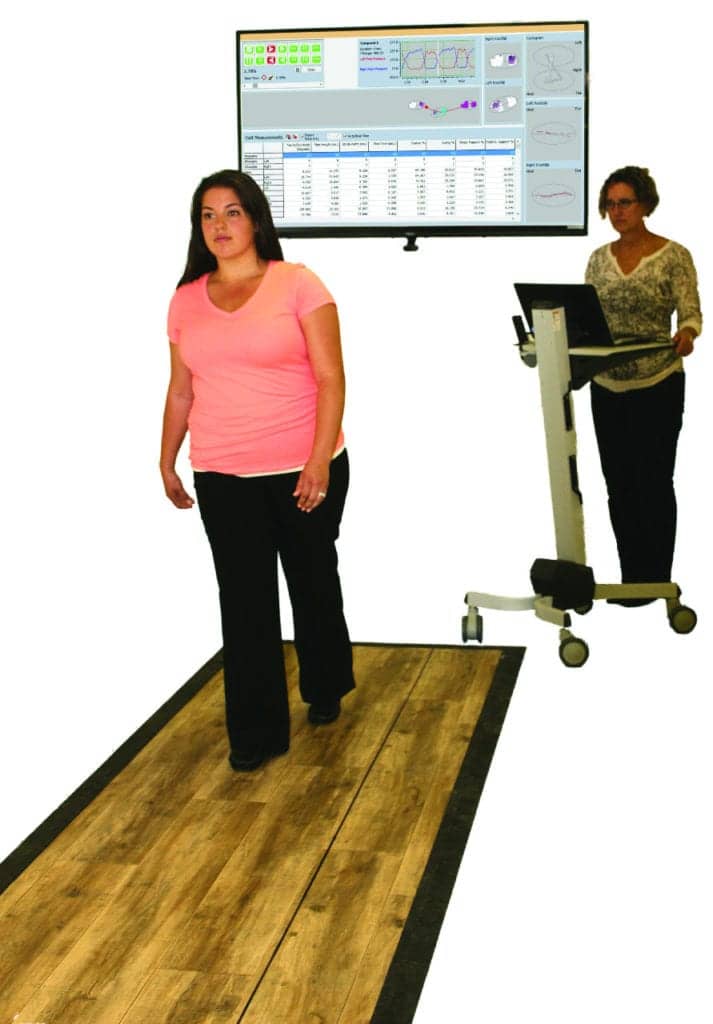 When trade show visitors stop at your booth, what device feature do they most often want to try or know more about?
Natalee Takasumi: Therapists are especially eager to try out the Andago and experience the active patient following. This feature is fascinating to experience. With most other body weight support devices, the patient will feel resistance to forward movement, especially as they are unweighted more. With two of our products, the Andago and the Rysen, there is no resistance to step initiation and the devices allow you to seamlessly turn and walk in whichever direction you please.
Douglas Haas: Most visitors who stop at our booth already know the GAITRite System, some are interested in our new products or perhaps are interested in our ability to customize a system for specific studies, such as; the teardrop configuration for a tug study, or our high-density sensors for doing small children. We often discuss that our latest products support a database structure for unlimited data collection and retention for those researchers who conduct studies that span many years.
Kelly DeLong, Matt Ranson: Our GaitSens 2.0 gait analysis software draws the most attention at trade shows. GaitSens 2.0 provides real-time monitoring, assessment and reporting on temporal and special parameters of gait, and now includes a balance module! Robust reports of gait and balance performance provides objective documentation to support decision-making and assessment of client gait and balance. GaitSens 2.0 also enables the clinician to provide meaningful, easy-to-understand feedback to the client on gait and balance performance.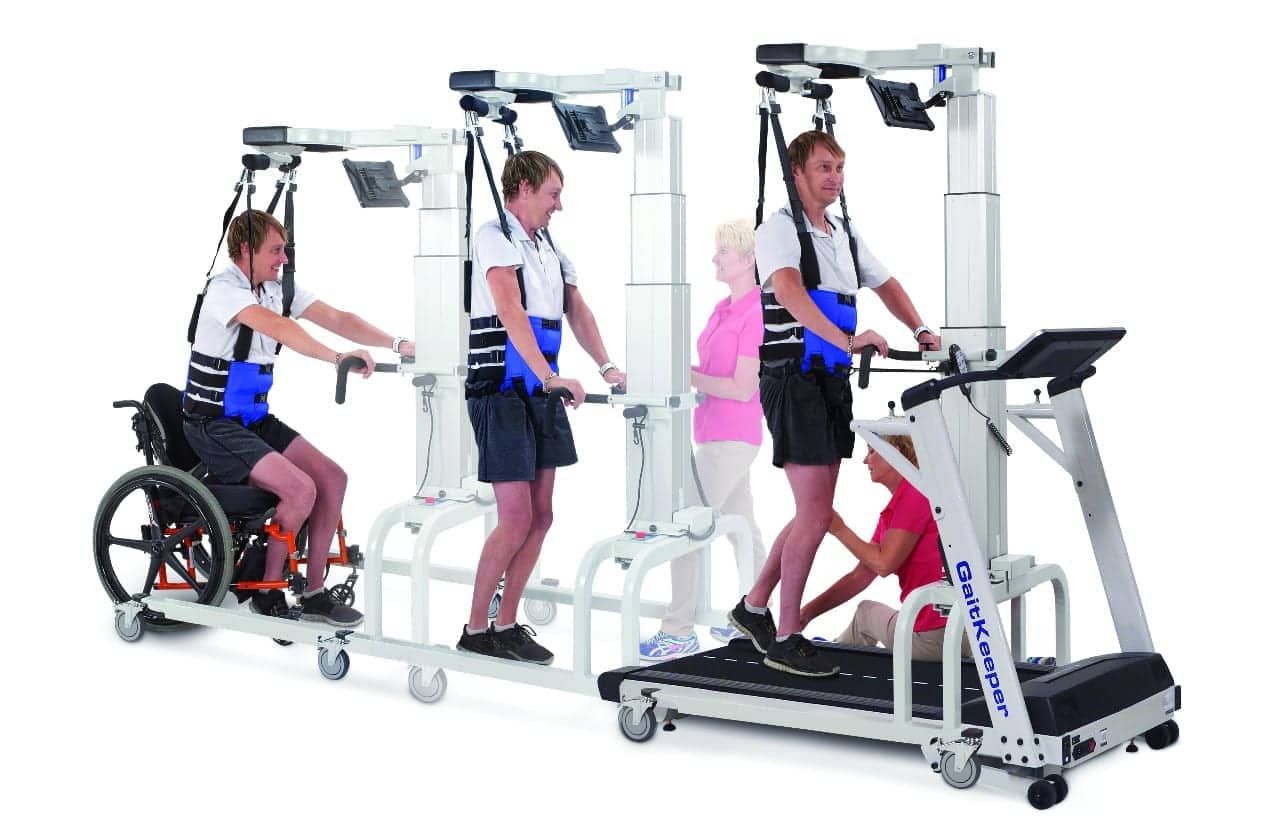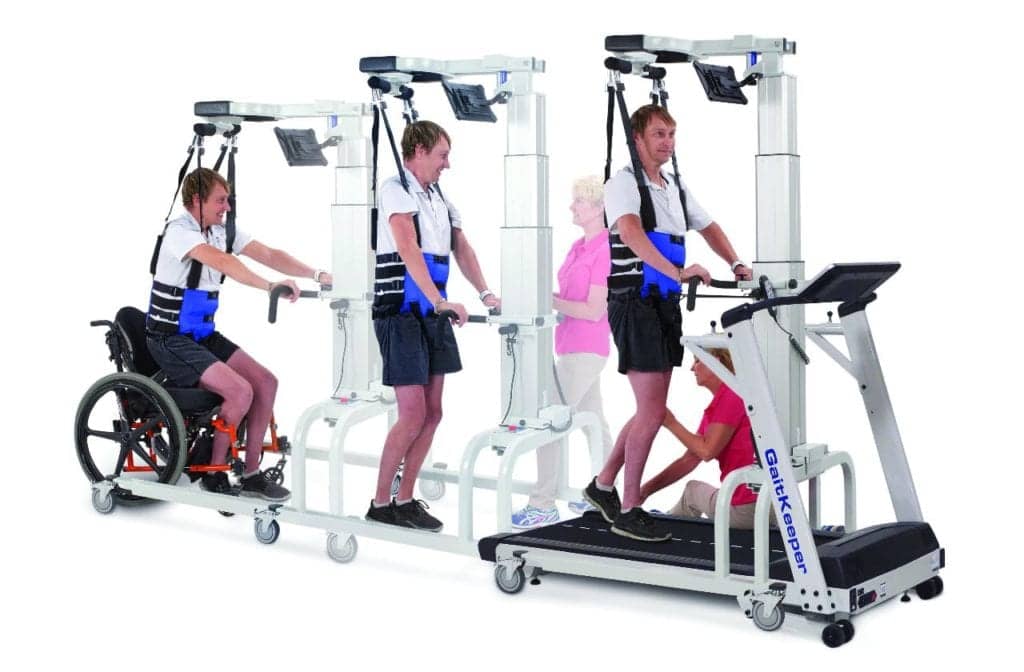 Stephanie Viola: To maximize functional benefits from balance training with the Balance System SD, Biodex now offers the option of NEW FreeSway Handles. Like training wheels for balance, handles "float" securely in support rings to help patients feel safe and secure, without impeding postural sway.
Alyssa Rubino: Trade show visitors most often are interested in walking across the Strideway platform. People enjoy seeing the pressure profiles of their feet, their gait pattern and learning more about how they walk. People with a history of lower limb injuries or surgeries look for any long-term impacts affecting their gait. We've had people do back flips, walk on their hands and run across our Strideway system. It's always exciting to see people's faces as they learn more about their gait.
Michael Rowling: Difficult gaits and overlapping steps in populations like Parkinson's disease, stroke or brain injury are exactly the kind of gaits seen in clinical practice. It is a minimum to see that a system can provide you proper data for healthy persons without gait disorders, but how does it work for gait and balance in patients? This is the real challenge. We demonstrate with clinical examples and "live data collection" to enable attendees to experience for themselves the ease of collecting and processing even the most difficult gait data. No vendor marketing material can replace experiencing the efficiency of our system to know how it will fit into clinical workflow.
What are the one or two most important "takeaways" people learn when they visit your trade show booth?
Natalee Takasumi: Visitors are often familiar with a device or two from Hocoma, so they are often surprised and impressed by the breadth of devices that the D.I.H. portfolio contains. We have devices that cover the continuum of rehabilitation for both the upper and lower extremities, along with a product line of biomechanical labs that incorporate virtual environments.
Douglas Haas: The most important takeaways are its ease of use, portability and no special training needed, and that the product has been used for years in FDA studies by both pharmaceutical and medical devices manufacturers. In addition, we point out that GAITRite systems are used in clinical setting around the world, both in research and education. In clinical use we are currently installed in 55 countries.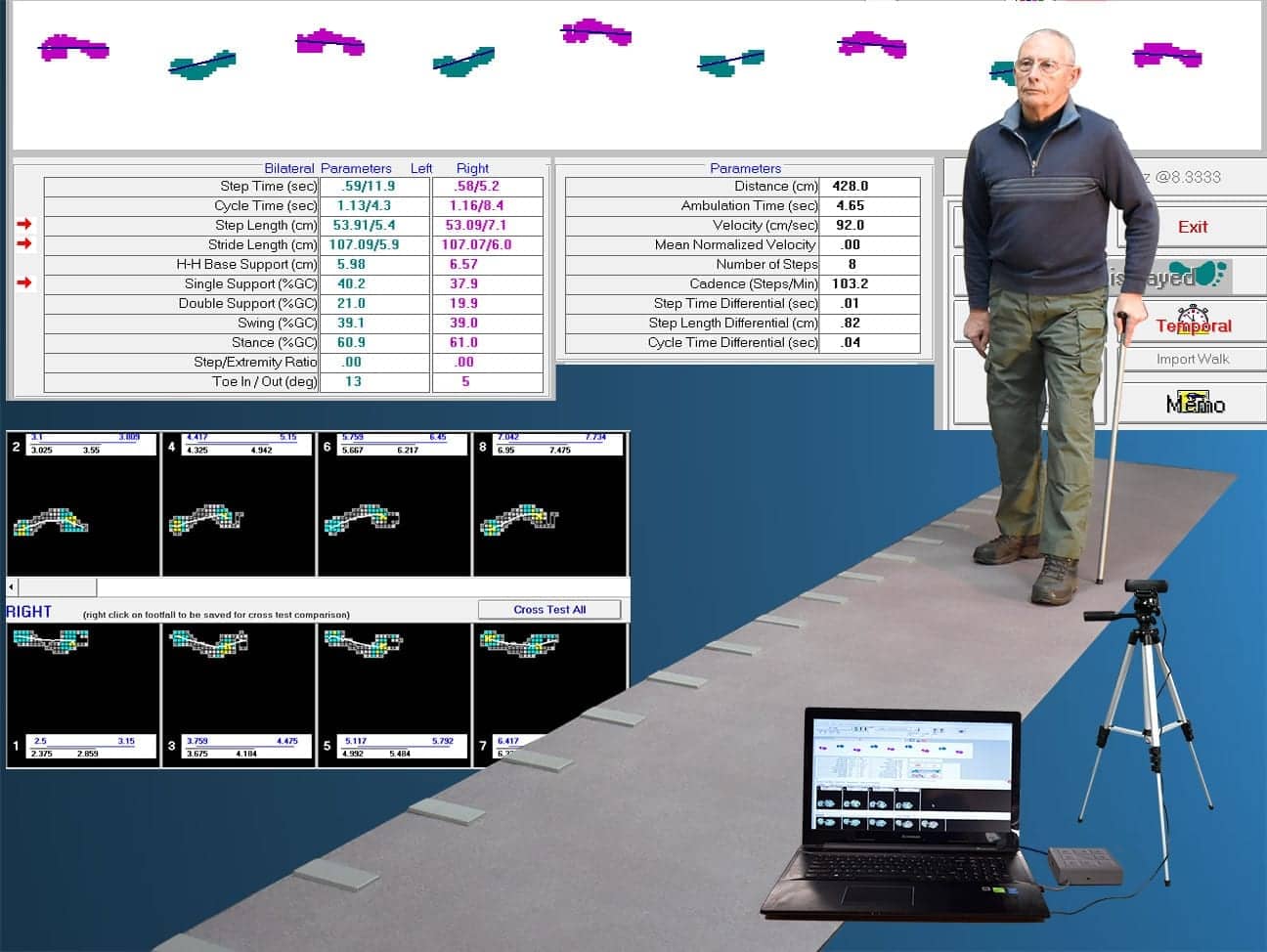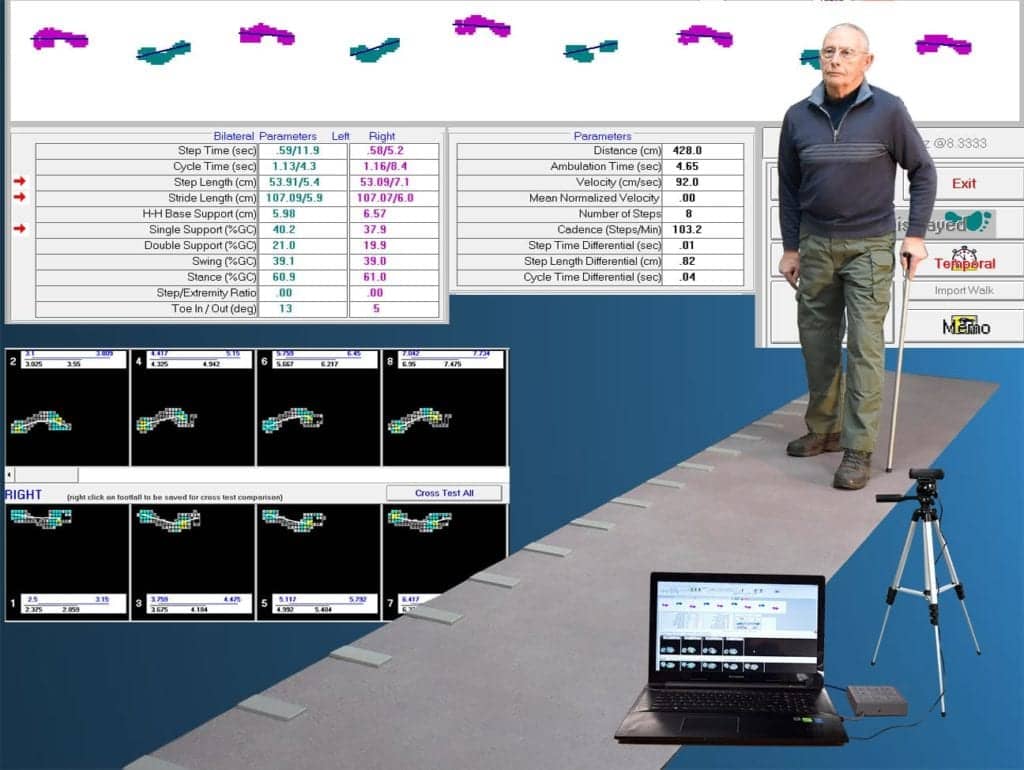 GAITRite is the Gold Standard and has been used in countless gait analysis studies that span over many years. It has been used in innumerable research publications, in research conducted by many manufacturers, pharmaceutical companies and also for many FDA approvals.
Kelly DeLong, Matt Ranson: LiteGait can meet the needs of almost any client in nearly every rehabilitation setting, and it is not only for lower-functioning or neurologically involved clients. A common misconception is that people do not realize how versatile the LiteGait is and how much they will be able to do with their patients to help them improve. The simple but unique design of the LiteGait gives true meaning to appearances can be deceiving until a clinician tries it themselves with a patient. They also learn about the other supporting and complementary products offered by Mobility Research to improve function, motor learning, and performance of clients in rehabilitation.
Stephanie Viola: Many people don't know that the purchase of a Balance System SD comes with access to several turnkey programs to help our customers expand their practice – including Concussion Management, Fall Risk and Peripheral Neuropathy. Writable marketing support materials are also included to help promote programs to referring physicians and the community.
Alyssa Rubino: At trade shows, people are most impressed by the modularity of the Strideway system. The system quickly connects together, forming a platform to walk across providing comprehensive gait parameters. This provides the ability to start with a smaller system and add on length as budget allows. Beyond the impressive platform, people enjoy the breadth of information easily available from the software including spatial, temporal, pressure and force insights.
The F-Scan system impresses people with the thinness of the in-shoe sensors that can be trimmed to fit inside nearly any shoe. The portable system allows for data collection in versatile environments.
Michael Rowling: If people first reach us to learn more about our solutions, they quickly realize that we are more than gait mat providers. ProtoKinetics and our education division, GaBA (Gait and Balance Academy), are the real deal. We are a highly skilled team of clinical researchers with advanced degrees in motor control, biomechanics, mathematics, etc. We deliver personalized protocol design and support services to our clinical and research sites that are legendary—old school, as some would say—we blow them away with practical facts and suggestions. This feeling is evidenced by attendees as they interact with us at shows.
What billable services does your device provide?
Natalee Takasumi: The Andago is very versatile, so the billing codes used within the therapy session will depend on what the therapist's and patient's goals are. The Andago can be used for gait training, neuromuscular education with balance activities, therapeutic activity, and/or therapeutic exercise.
Douglas Haas: A billable service depends on the needs of the specific clinical condition. We recommend that the clinician visits the apta.org or aopanet.org website and search for "codes and medical billing for gait analysis"; there they can identify the appropriate code needed.
Kelly DeLong, Matt Ranson: Clinicians can perform nearly all the billable services performed in a traditional rehabilitation visit while using the LiteGait device. It is an environment for the client to safely perform gait training, neuromuscular re-education, therapeutic procedures and exercise, therapeutic activities, activities of daily living and much more.

Stephanie Viola: Hard data is a huge benefit to using the Balance System SD when it comes to securing reimbursement. Throughout the testing and training modes, everything is documented on the system, and reports of tests and training sessions can be printed. Objective reporting and comparisons to normative data help therapists develop individual exercise plans and identify target treatment areas.
Alyssa Rubino: Some providers take a fee-for-service approach with our gait analysis systems. By charging customers for a comprehensive gait analysis with Tekscan's platform-based Strideway System or in-shoe F-Scan System, they are able to get a return on their investment in the systems. Additionally, some practices are able to get reimbursement using the gait analysis codes, but this varies by state and insurance company.
What sort of financing and warranty are available?
Natalee Takasumi: All D.I.H. products come with a full 1-year Sales Warranty; additional full and partial service warranties may be purchased beyond year 1. All D.I.H. products may be purchased outright, or various leasing and rental options are available upon request.
Douglas Haas: Financing is available through several third-party companies. Most facilities we sell to do direct purchase. We do offer short-term rentals directly in special situations. All research systems come with a 2-year warranty and a one-year warranty for the clinical system. Additional warranty that can be purchased along with the initial purchase or an extended warranty that may be purchased at the end of any warranty period in 1-year increments.
Kelly DeLong, Matt Ranson: We have trial rental programs, payment plan options, and lease-to-own options available for the customer. We can configure a model and package to meet the clinical and budget needs of most sites. Mobility Research products come with a warranty and are made in the United States.
Stephanie Viola: Biodex offers an extended warranty and cost-saving service plans.
Alyssa Rubino: Financing programs are available; contact us for more details. Tekscan systems come with a 1-year warranty; extended warranties are available for purchase as well. PTP
---
Related Content:
The Big Picture of Gait and Balance Technology
Gait Analysis Minus the Guesswork
Gait Rehabilitation: Passport to Discharge