Evaluation methods for gait and balance have had a long history with the human powers of observation. The human eye is a remarkable machine that can capture an immense amount of data in real time. Those data, however, are subject to the perceptions and misperceptions of the observer and under-equipped to discern the sometimes subtle forces of weight-bearing and velocity, which can leave critical gaps when analyzing the functions of balance and gait. This can lead to a gait analysis that may be incomplete, hinders treatment, or does not fully reflect progress that can help motivate patients and keep them enthused about their rehabilitation.
Technology developers have been hard at work to provide therapists with tools that can fill these information gaps and provide physical therapists with reliable and objective measures for gait and balance evaluations. Similarly, technology has also been developed that challenges patients with dynamic, highly adjustable training for ambulation at all levels and expands the exercise and activity options therapists can use in the rehabilitation programs they design. All of these technologies help widen the path toward recovery with tools that are built to be not only user-friendly but also accessible to the outpatient clinic setting.
To help physical therapists understand more precisely how these technologies can fit their practices, Physical Therapy Products invited manufacturers of some of the leading technologies in gait rehabilitation to spotlight the features and functions of their latest equipment. This panel includes Stephanie Viola, Content Strategist, Biodex Medical Systems Inc; Jay Everett, National Sales Manager, Clarke Health Care Products; Michael Rowling, Chief Operating Officer, Director of Business Development, ProtoKinetics; and Alyssa Rubina, Medical Products Manager, Tekscan.
Describe the gait rehabilitation technology your company offers. Why was it developed?
Stephanie Viola, Biodex: Decades of research have shown that music, especially rhythmic music, can improve gait in individuals with Parkinson's disease and other movement disorders. Biodex Medical Systems Inc developed and added sensorimotor music enhancements to the Gait Trainer 3 treadmill in a Music-Assisted Therapy Package. A library of music compositions help to regularize gait when tempo (bpm) is adjusted to the patient's steps per minute (spm). The neurologic music combines with the Gait Trainer's visual on-screen biofeedback to help promote neuroplasticity and recover movement lost to injury or disease.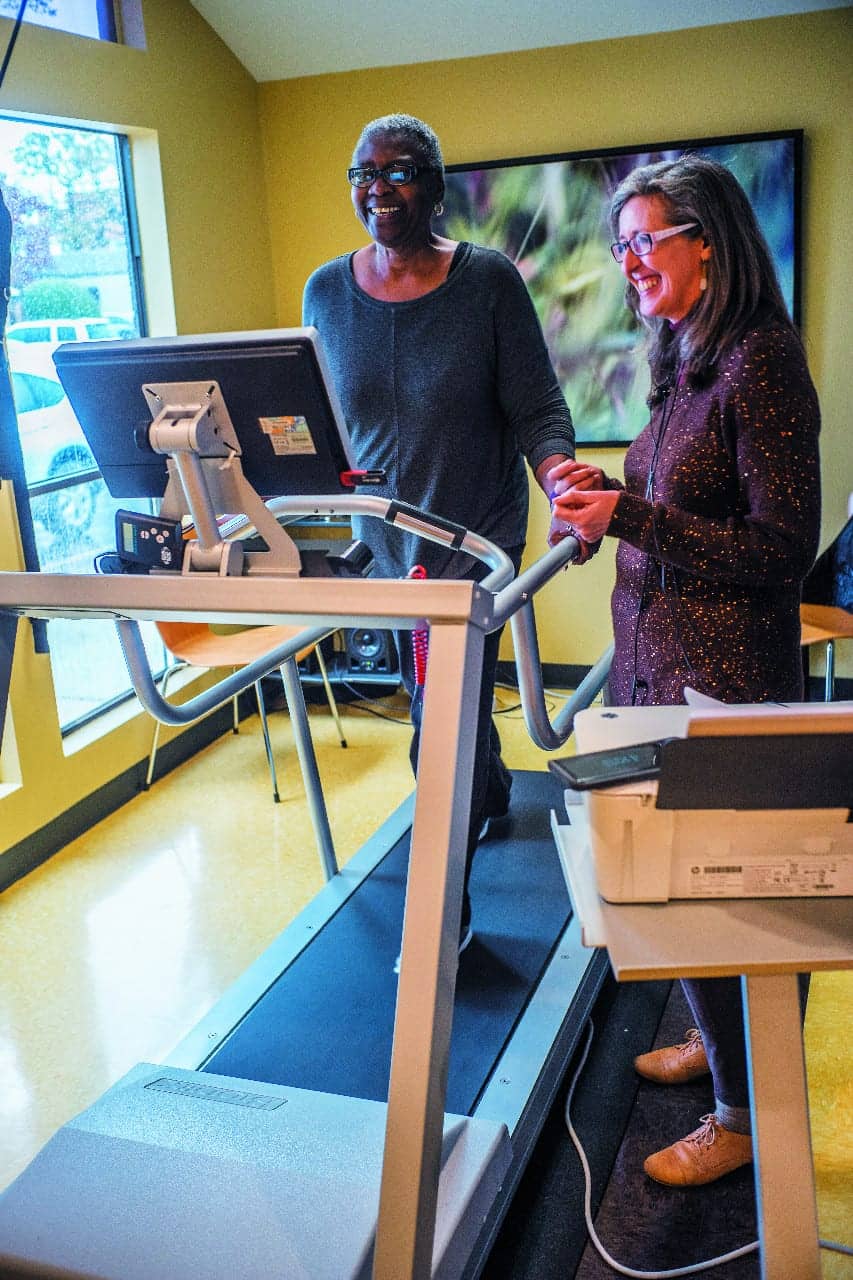 Jay Everett, Clarke Health Care Products: The DST Triple is an innovative device designed for people in various stages of rehabilitation who exercise to regain their ability to use steps and slopes. It provides a variety of practices with a dynamic staircase featuring four steps whose height can be adjusted electronically (0-6.5 inches) between steps, a dynamic slope which the angle can be electronically adjusted (0-26 degrees) and when completely lowered offers a 3-meter parallel bar function. It is the perfect solution for practicing all joints and muscles in the lower limbs necessary for full gait rehabilitation. This equipment is used worldwide in a variety of rehabilitation facilities.
Michael Rowling, ProtoKinetics: Over the past 2 decades, gait mats have been utilized to capture and describe timing and distance gait measurements in control and pathological populations, thereby illuminating disease-driven phenomena throughout the disease stages. These measures are easily compared to normative values and limits of healthy peers. In several ongoing longitudinal studies utilizing the ProtoKinetics Zeno Walkway, researchers are characterizing the natural history of gait from infancy through older adulthood. There is content on the company website and blog to help therapists learn how gait and balance metrics relate to a specific clinical focus.
Alyssa Rubino, Tekscan: After 25 years of working with leading clinicians and researchers in the field of gait analysis, we heard a lot of feedback. So our newest system, the Strideway, was developed based off of all that feedback regarding modularity, space constraints, ease of use, etc. The platform is built with interlocking tiles, and this modularity allows for extra length to be added on to the system at any time. Additionally, the system can be quickly disassembled for easy storage; this prevents the sensors from being damaged. The width of the system easily accommodates patients with walking assistive devices. The Strideway provides robust gait analysis insights including temporal and spatial parameters, along with pressure and force insights.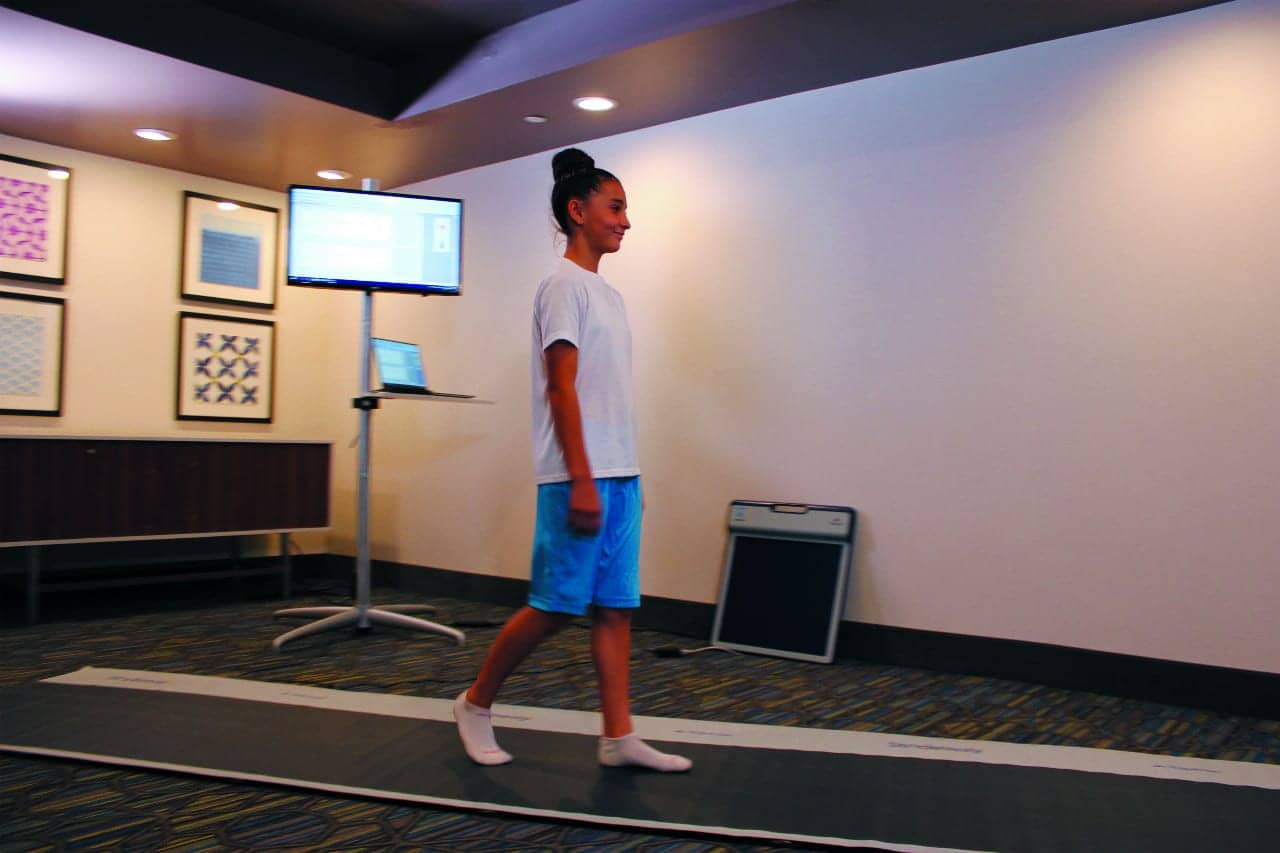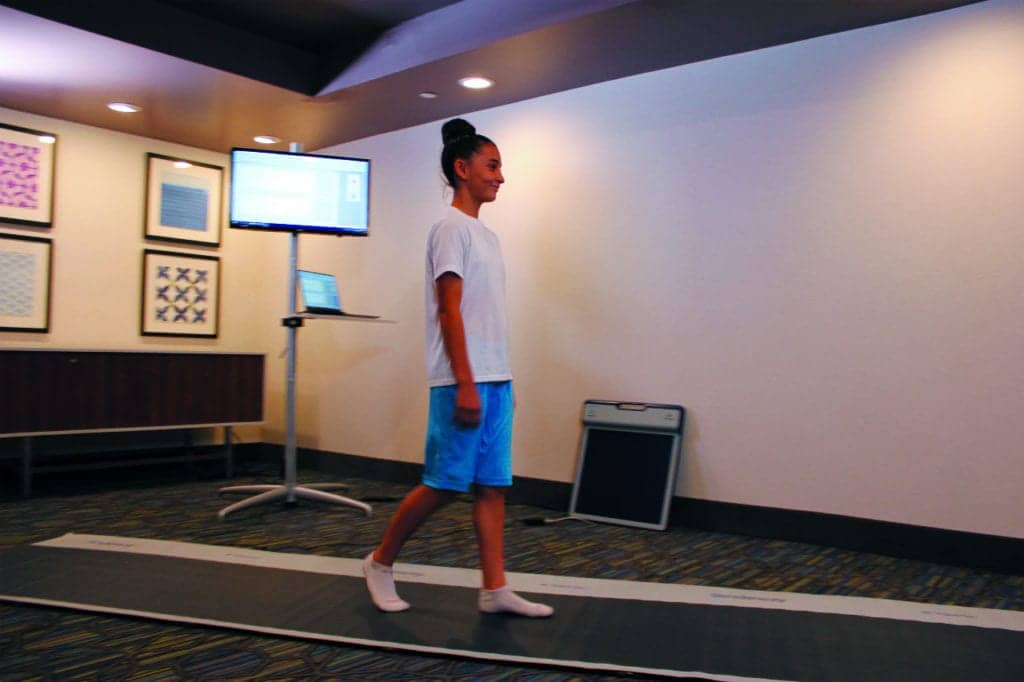 [sidebar float="right"width="250″]Product Resources
The following companies provide technologies that can be useful for gait and balance rehabilitation:
Allard USA Inc
www.allardusa.com
Biodex
www.biodex.com
CIR Systems/GAITRite
www.gaitrite.com
Gorbel Rehabilitation
www.safegait.com
Hocoma
www.hocoma.com
Mobility Research
www.litegait.com
ProtoKinetics
www.protokinetics.com
Solo-Step
www.solostep.com
Tekscan
www.tekscan.com[/sidebar]
What studies should PTs be reading to educate themselves about gait and balance rehabilitation before they begin the technology purchase process?
Stephanie Viola, Biodex: In a recent study titled, "Walking to your right music: a randomized controlled trial on the novel use of treadmill plus music in Parkinson's disease" by Calabrò et al,1 musical cueing strategies on the Biodex Gait Trainer 3 are shown to improve gait in patients with Parkinson's. Benoit et al,2 Ashoori et al,3 and studies by Michael Thaut and colleagues are also good examples of music's effectiveness in gait rehabilitation.
Jay Everett, Clarke Health Care Products: There is significant data on the study of stair training. Specifically, Richard Bohannon, PT, EdD, DPT, NCS, FAPTA, FAHA offers a concise recap of studies in his article titled, "Why Train on Stairs?" This article describes the many physical benefits which no doubt provide increased motivation and regained confidence on this everyday function. The DST fits this thinking, and hopefully this inspires those physical therapists to push their patients to positive recovery levels. With the DST covering a variety of exercise practices, it is a great fit for rehabilitation gyms.
Michael Rowling, ProtoKinetics: Numerous gait and balance devices are being introduced and promoted, with a large range of unsubstantiated marketing claims. According to a panoramic review, "only 6 percent of sensors (including IMU's and magnetometers) used to assess Parkinson's disease are precise and efficient enough for clinical testing."4 Our Gait and Balance Academy (GaBA) was established by ProtoKinetics to be the "go to" resource for gait and balance information. Arnaud Gouelle, PhD, the executive director of GaBA, wrote a textbook chapter: "Interpreting Spatiotemporal Parameters, Symmetry, and Variability in Clinical Gait Analysis."5 A copy of this can be downloaded at the ProtoKinetics website.
Alyssa Rubino, Tekscan: Our technology has been used in many research publications over the years, which has validated the systems for both balance and gait applications. However, if clinicians are looking for considerations to help them decide which type of technology might work best for their practice, we've developed a guide to help understand the differences between the many types of technology available. It can be found at the Tekscan website by entering "Guide to Choosing a Gait Analysis Solution" into the search bar.
How does your technology improve on evaluations that use only observational gait analysis methods?
Stephanie Viola, Biodex: The track of the Gait Trainer records and analyzes step length, step speed, and step symmetry. When each music-guided training session ends, the clinician can print a detailed session and multi-session trend report. Pretest data, compared to normative data and post-test results, document the efficacy of gait therapy. As Medicare and many private payors transition to value-based reimbursement, payors as well as clinicians and patients are increasingly valuing the documentation provided by the Gait Trainer 3.
Jay Everett, Clarke Health Care Products: At the moment, we do not offer a technological gait analysis option, but by midyear we will be able to support physical therapists and patients with dynamic gait training analysis using our DST and gait evaluation technology to enhance evaluation and recovery.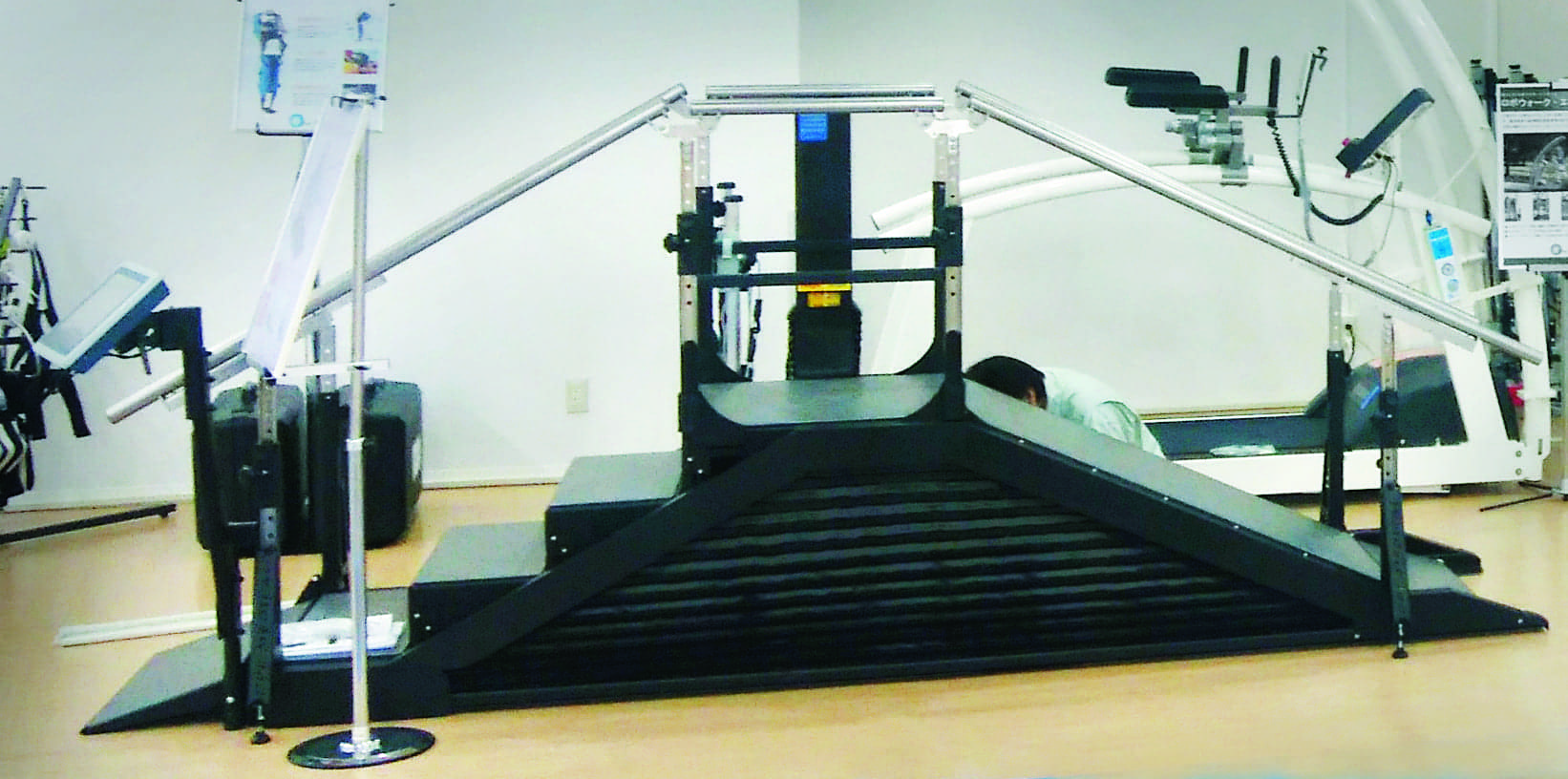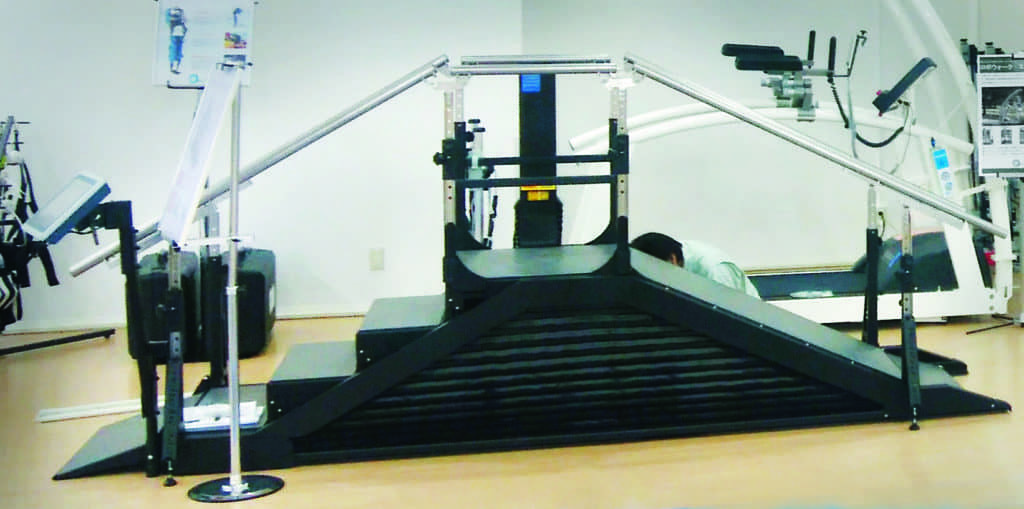 Michael Rowling, ProtoKinetics: This almost quarter-century-old quote from 1996 still says it all: "There is a defined need for objective measurement of gait because without it the quality of treatment decisions is reduced because of the subjective and often unreliable nature of the assessment. Objective measures must also be employed if one is to demonstrate the efficacy of a treatment protocol…Gait assessment is an everyday responsibility for the practicing therapist. Visual assessment, which is almost universally used for this purpose, has been shown to be unreliable at best. Measurement of the temporal and distance factors of gait have been found to be clinically useful."6
Alyssa Rubino, Tekscan: Visual or observational gait analysis only looks at the motion of the gait cycle, not the force or weight distribution, so subtle asymmetries can easily be missed. Advanced gait analysis solutions, like Tekscan's, will provide objective data to develop effective treatments. Tekscan's gait technology allows clinicians to easily track progress over time to monitor improvements using baseline data. It also allows clinicians to validate the effectiveness of their treatment plans with objective data.
How does your technology fit into an outpatient practice model?
Stephanie Viola, Biodex: The rise in Parkinson's cases in the United States alone has made Parkinson's programs and neuro-focused wellness offerings an opportunity to attract new patients and physician referrals. By providing a method of easily administering evidence-based gait training techniques and recording patient progress, the Gait Trainer 3 can be positioned as central to helping more neurological patients achieve a better quality of life through outpatient services. Biodex even supports Gait Trainer 3 users with marketing materials to help grow physician and patient awareness about this revolutionary technology.
Jay Everett, Clarke Health Care Products: The DST is a perfect option for outpatient services. The DST is a multi-tool, offering a variety of functions for the small amount of space or footprint, the unit occupies. It is the only dynamic stair training device available and can help patients just beginning therapy or those who are further along, with its customized height adjustments with stair training, slope training, gait training, and many other exercises like side stepping, balance training, etc. This equipment can help provide the physical rehabilitation for the user and many times can be just as strong of a mental motivational tool to get them on the path to recovery. Any facility with the DST can offer something no one else has and provide technology to any patient needing this innovation.
Michael Rowling, ProtoKinetics: While gait mat technology is well-established, ProtoKinetics continues to drive innovation by implementing and automating standardized clinical tests or protocols, revealing additional novel insights. Our scientific research team stays updated on all of the most recent peer-reviewed, relevant research publications while keeping track of newly introduced commercial products. This laser-focused approach has propelled ProtoKinetics into a leadership position of developing new protocols that is helping to define the future of mobility measurements. By following ProtoKinetics' lead to accurately track gait and balance data within electronic medical records, healthcare providers can create an efficient, outcomes-driven, patient-centric organization.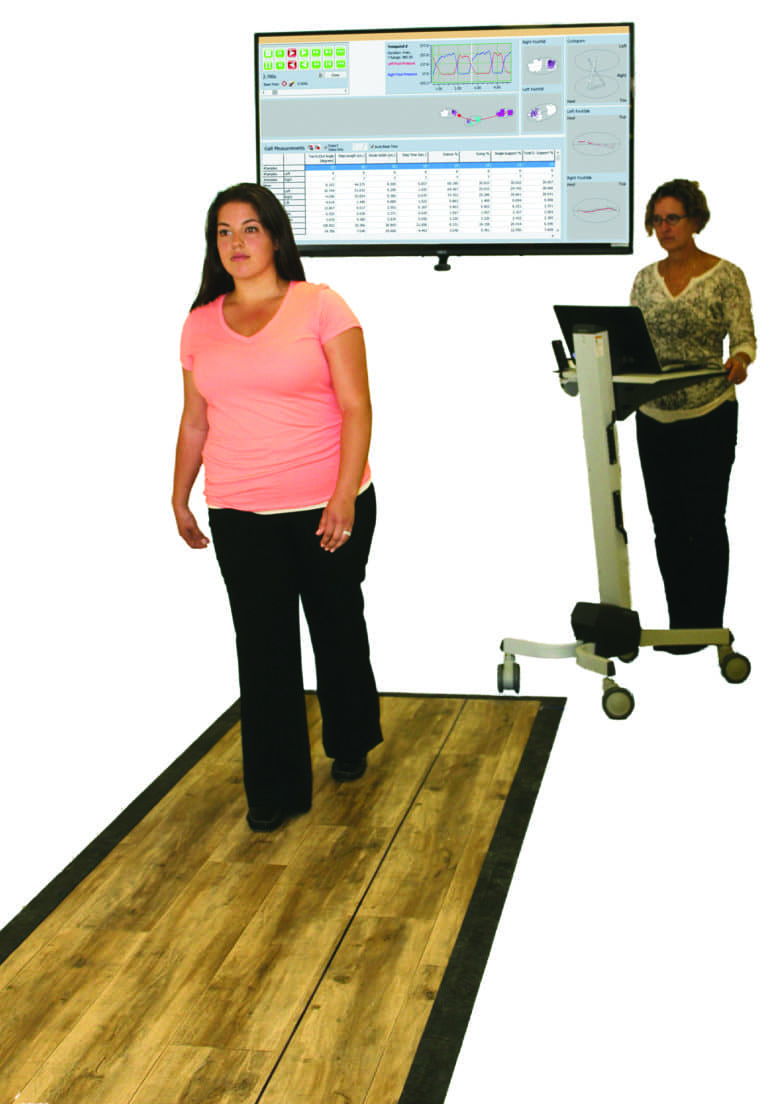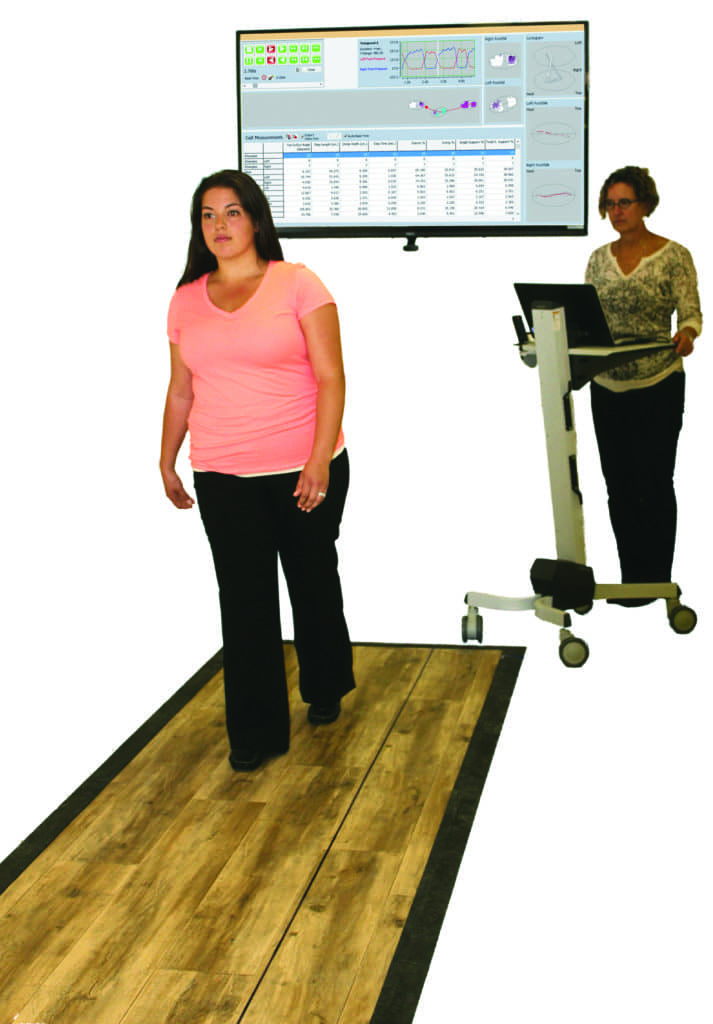 Alyssa Rubino, Tekscan: Tekscan's gait and balance assessment systems can easily fit into outpatient facilities due to their quick set-up and easy-to-use systems. Gait data on Strideway can be collected in a matter of minutes and provide complete gait insights to help build a treatment plan. The visual data display can help patients understand the impact of their conditions and pathologies, encouraging patient compliance with treatment protocols. PTP
References
Calabro RS, Naro A, Filoni S, et al. Walking to your right music: a randomized controlled trial on the novel use of treadmill plus music in Parkinson's disease. J Neuroeng Rehabil. 2019;16(1):68. https://www.doi.org/10.1186/s12984-019-0533-9.
Benoit CE, Bella SD, Farrugia N, et al. Musically cued gait-training improves both perceptual and motor timing in Parkinson's disease. Front Hum Neurosci. 2014;8:494. https://www.doi.org/10.3389/fnhum.2014.00494.
Ashoori A, Eagleman DM, Jankovic J. Effects of auditory rhythm and music on gait disturbances in Parkinson's disease. Front Neurol. 2015;6:234. https://www.doi.org/10.3389/fneur.2015.00234.
Sánchez-Ferro Á, Elshehabi M, Godinho C, et al. New methods for the assessment of Parkinson's Disease (2005 to 2015): a systematic review. Mov Disord. 2016;31:1283–1292.
Gouelle A, Mégrot F. Interpreting spatiotemporal parameters, symmetry and variability in clinical gait analysis. In: B Müller & S.I. Wolf, Eds. Handbook of Human Motion. Springer International Publishing, 2018.
Wall JC, Brunt D. In: J.V. Van Deusen, Ed. Chapter 17: clinical gait analysis: temporal and distance parameters. Assessment in Occupational Therapy and Physical Therapy. 1996.