A year after the pandemic onset, an upward trend in facility-based equipment purchases reflects confidence in the future of in-person visits
By Frank Long, MS
The pace of purchasing slowed during the COVID-19 pandemic onset more than 1 year ago, but things are different as the first quarter of 2021 winds down. Vaccinations are ramping up, and business restrictions are pulling back. Both developments presage a wave of face-to-face business gathering for outpatient PT clinics.
Pushing that wave forward is a renewed emphasis on facility-based equipment (valued at $500 or more) that will help therapists gear up to meet the needs of returning clientele. This scenario is based not on wishful thinking but rather on data gathered from the latest Physical Therapy Products reader survey. Responses to that survey reflect purchasing activities PT clinics have made so far in 2021 and projects the purchases they plan to make for 2022.
The survey data also reveal the total amount of money clinics budgeted for 2021 and respondents pointed to specific equipment that remains on their wish lists. They also noted whether their spending aimed to replace, upgrade, or make new equipment purchases.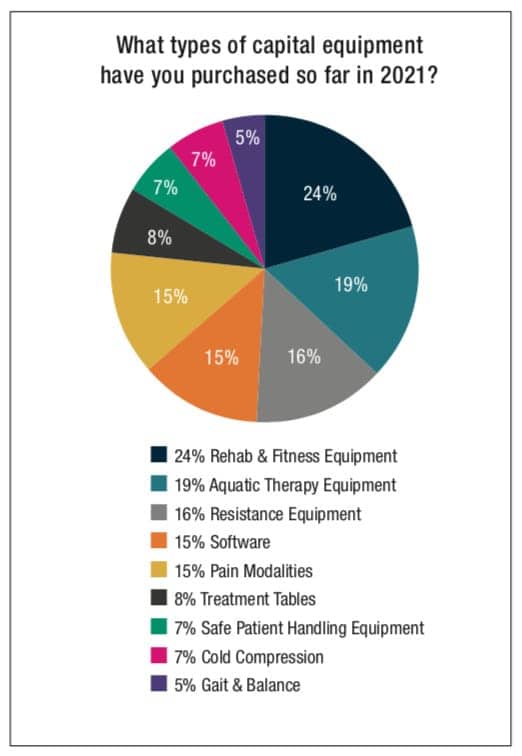 Popular Purchases in 2021
The first quarter of 2021 is characterized by a surprisingly varied range of capital equipment purchases. Even as the pandemic spread quickly in the earliest days of 2021 a substantial number of survey participants (24%) indicated they had nonetheless moved forward with rehab and fitness equipment purchases, such as treadmills, ellipticals, and resistance machines. Purchases for aquatic therapy equipment were also popular with 19% of respondents indicating they had made purchases aimed at a category with a product mix of therapy pools and spas.
Growth in the aquatics category may have been boosted in part by an increasing number of smaller equipment entering the market. Among these downsized technologies are modular units, sometimes referred to as "chambers," that accommodate one or two users and do not require new construction. The components are small enough to fit through a standard-sized doorway and, despite the smaller footprint, still provide desirable features such as underwater treadmills and resistance jets.
Other facility-based equipment purchases for the PT clinic popular with survey-takers include resistance equipment (16%). Software and pain modalities were both cited as purchases by 15% of respondents while 8% of respondents cited treatment tables. Purchases for safe patient handling equipment were reported by 7% of those who responded to the survey while 5% of participants indicated purchases for gait and balance equipment. Likewise, 7% of respondents indicated purchases for cold compression therapy systems.
Wish List for 2021
As the first quarter of 2021 draws down, the survey data suggests capital equipment purchases for the year are just beginning. Several indicators support this likely projection, including 19% of the survey's participants who identified "Rehab and Fitness Equipment" as items they still hoped to acquire on their 2021 "wish lists." Resistance equipment was identified as a 2021 wish list item among 15% of survey respondents followed by treatment tables (13%), gait and balance equipment (13%), and software (12%).
Further breakdown of the survey data shows that 17% of participants placed treadmills, elliptical trainers, and stationary bicycles on their 2021 wish lists. Those items were followed by body weight support systems (14%), and ultrasound (11%) and balance management systems. Weight equipment (9%) and therapeutic laser equipment (9%) were also included on participants' 2021 wish lists along with pain management modalities (8%), equipment for safe patient handling (6%) and beds/mattresses (4%).
Other popular items on the respondents' wish lists were TENS (6%), e-stim technologies (6%), gait analysis systems (3%), and pulley systems (2%).
Funding does not appear to be a limiting factor for a majority of wish lists, with only 10% of those who participated in the survey stating that their 2021 budget had already been spent.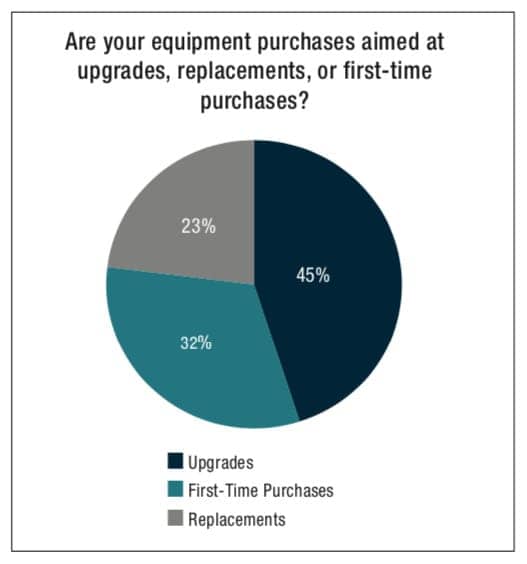 Upgrades, Replacements, First-Time Purchases
Old sayings such as, "Nothing good lasts forever," or "Try it, you'll like it," are shaky justifications for purchase decisions, yet in reality things do break down or become obsolete. Our 2021 survey sought to understand how these dynamics affect the current climate of purchasing, so it posed the question: "Are your equipment purchases aimed at upgrades, replacements, or first-time purchases?" Responses to that question revealed that many purchases would be driven by a desire to have products with the latest functions and features, with 45% of survey-takers indicating their purchases were aimed at equipment upgrades.
While the desire to level up current equipment was robust, the lure of acquiring a brand new technology also remained strong. This was reflected by the 32% of respondents who indicated their capital expenditures would be directed at first-time equipment purchases. A smaller yet still substantial number of those who responded to the survey (23%) indicated that their purchases would be used to replace equipment that no longer functioned, was unsafe, or obsolete.
Happy Returns
Old favorites stand the test of time for a good reason: they provide a favorable return. The facility-based equipment that respondents felt most often provided them the best ROI were weights, therapy bands, ultrasound, and moist heat/cold. Survey-takers also noted that these products are useful in providing education to patients for maintenance home programs.
Similarly, respondents identified rehab equipment as a popular category because of the ability of those products to bolster patient progress; steering them toward independent programs while freeing up the physical therapist's time for the next session. Exercise equipment, treatment tables, software, fitness, Pilates, and pain management products were also ranked on participants' lists. Exercise equipment, according to the survey's responses, has broad appeal among physical therapists and is attractive especially when it provides a competitive edge over other clinics that lack the same equipment.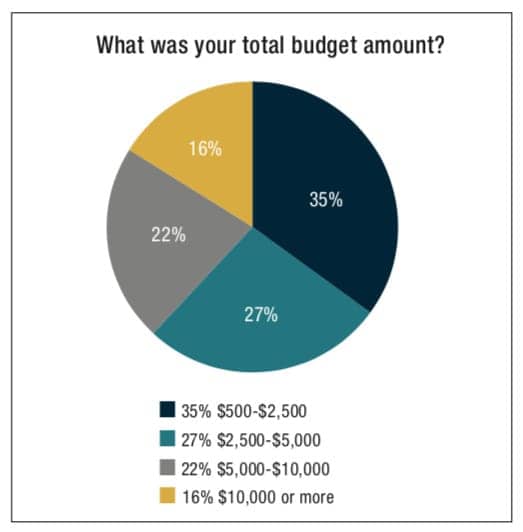 [sidebar float="right" width="250″]Product Resources:
The following companies offer a range of products for capital expenditure purchases:
Aquatic Access
www.aquaticaccess.com
Bailey Manufacturing Company
www.baileymfg.com
Battle Creek Equipment
www.battlecreekequipment.com
Biodex Medical Systems Inc
www.biodex.com
Bionik Laboratories Corp
www.bioniklabs.com
Brookdale Medical Specialties Ltd
www.brookdalemedical.com
Dyaco
www.dyaco.com
CIR Systems Inc/GAITRite
www.gaitrite.com
Clarke Health Care Products
www.clarkehealthcare.com
Dynatronics
www.dynatronics.com
Everyway4all
www.everyway4all.com
First Degree Fitness (Fluid Power Zone)
www.firstdegreefitness.com
FOTO Inc
www.fotoinc.com
DIH Technology
www.dih.com/products-solutions/safegait/
Hausmann Industries Inc
www.hausmann.com
Hocoma
www.hocoma.com
Hudson Aquatic Systems LLC
www.hudsonaquatic.com
HydroWorx
www.hydroworx.com
Interacoustics
www.interacoustics.com
LightForce Therapy Lasers by LiteCure LLC
www.litecure.com
Pivotal Health Solutions
www.pivotalhealthsolutions.com
ProtoKinetics
www.protokinetics.com
Solo-Step Inc
www.solostep.com
Sprint Aquatics
www.sprintaquatics.com
SwimEx Inc
www.swimex.com
SureHands Lift & Care Systems
www.surehands.com
Tekscan Inc
www.tekscan.com
Thought Technology
www.thoughttechnology.com
Tri W-G Inc
www.triwg.com
Vista Medical
www.vista-medical.com
Vonco Medical
www.voncomed.com[/sidebar]
Budgets for 2021 and Beyond
Purchase planning during the COVID-19 pandemic was fraught with uncertainty. Clinic owners and managers had to game out how business restrictions and the types of services clinics could offer during quarantine periods might affect the needs of the clinic in addition to the all-important variable of revenue. It was a difficult calculus at best.
Nonetheless, purchases were made, and this survey sought to understand the purchasing power of 2021's budgets and whether they might expand or contract in 2022. The most common amount the survey reported were facility-based equipment budgets that had a value of $500 to $2,500 (35%), while 27% had a value of $2,500 to $5,000. Another 22% reported 2021 budgets of $5,000 to $10,000 while 16% reported budgets of $10,000 or more.
Looking ahead, the survey asked respondents whether equipment purchases not made in 2021 would be budgeted for 2022. In response, 34% of survey participants indicated that purchases not budgeted for in 2021 would be budgeted for in 2022. Among those projected purchases were aquatic therapy equipment, treatment tables, mat tables, and e-stim products. Among survey-takers 27% projected that therapeutic laser, software, ultrasound, and gait and balance equipment would appear in their 2022 budgets. Only 17% reported that no equipment had yet been budgeted for 2022.
Information, Please
Online sources continue to be the platform of choice that decision-makers use to gather product information, with 89% of respondents selecting this in the survey. Newsletters were specified as a preferred source of information for 49% of survey respondents while 41% selected magazines/digital editions/media. Also, 34% reported they had retrieved information from a personal referral while 29% indicated social media as their source of information. Word of mouth was noted by 23%, and employee suggestions were noted among 8% of survey-takers.
One of the long-standing sources of product information, trade shows, took a pounding in 2020 at the hands of the pandemic and has yet to recover. Most trade shows throughout 2020 were cancelled and in 2021 those that have been conducted so far have been reformatted as online events. A few are tentatively scheduled as live, in-person events for the second half of the year. With the normal calendar of in-person trade shows in question, it is not surprising that only 7% of those who took the survey named trade shows as a preferred source of product information.
Problem or Opportunity?
Policies aimed at containing the pandemic have limited in-person therapy and plunged outpatient PT clinics into a period of uncertainty for the last year. However, the upward shift in purchasing activity suggests a strong belief in a resurgence of business among the decision-makers at PT clinics, and with it, the potential to once again prosper. There may even be the possibility for some clinics to take a bold step forward and purchase equipment that will provide them with a competitive advantage while clinics that share the same service area continue to take a more conservative posture and "play defense." The difference in these two paths lies not only in whether clinics choose to view this situation as an opportunity, but also in how they respond to it.
Just as there are old adages to justify purchases, there are adages to guide decision-makers through inflection points. The best one for these times is, perhaps, "Forewarned is forearmed." PTP
For more information, contact [email protected].