A physical therapist guides a patient through an exercise directed at treating pain symptoms in the leg.
By Taylor C. Kucera, PT, DPT, MBA, SCS, CSCS, and Chris Chalko, PT, DPT, COMT, OCS
Telehealth may be a new term to some, but it has been around since the early 2000's. The American Physical Therapy Association (APTA) defines telehealth as the use of electronic information and telecommunication technologies to remotely provide health care information and services.1 Telehealth was originally designed to provide physical therapy services to underserved populations in rural areas and those with limited access to treatment. Most recently, telehealth has added "global pandemic" as one of its reasons for current widespread implementation. The threat of COVID-19 has patients living in uncertainty, with many self-isolating in their homes, and is disrupting daily life. To help curtail those fears, companies have recently begun using telehealth as an option to treat patients in an attempt to help add some sense of normalcy to society.
An Effective Means for Delivering Therapy
Telehealth for physical therapy gives patients access to a healthcare professional in their own homes. A physical therapist (PT) can provide patients with personalized treatments through a variety of services. Some services include live "face-to-face" interaction with real-time audio and video, while other forms involve "store and forward" technology that allows for prerecorded information to be viewed at a later date. The option of virtual physical therapy sessions allows the patient to maintain maximum continuity in their care. Levy et al performed a retrospective, pre-post study using clinical data from the Rural Veterans TeleRehabilitation Initiative and concluded that telehealth provides a significant and meaningful improvement in patients' physical and cognitive functioning as well as health-related quality of life.2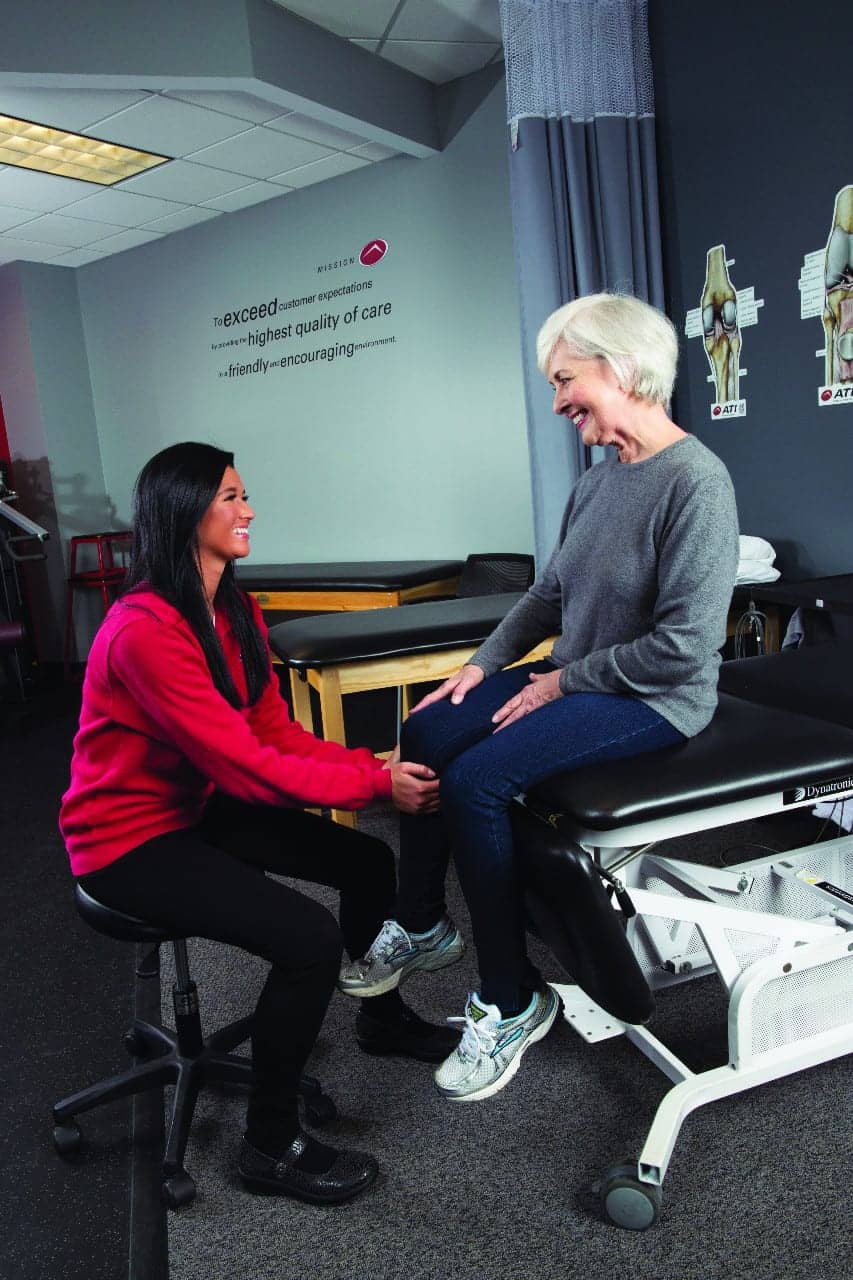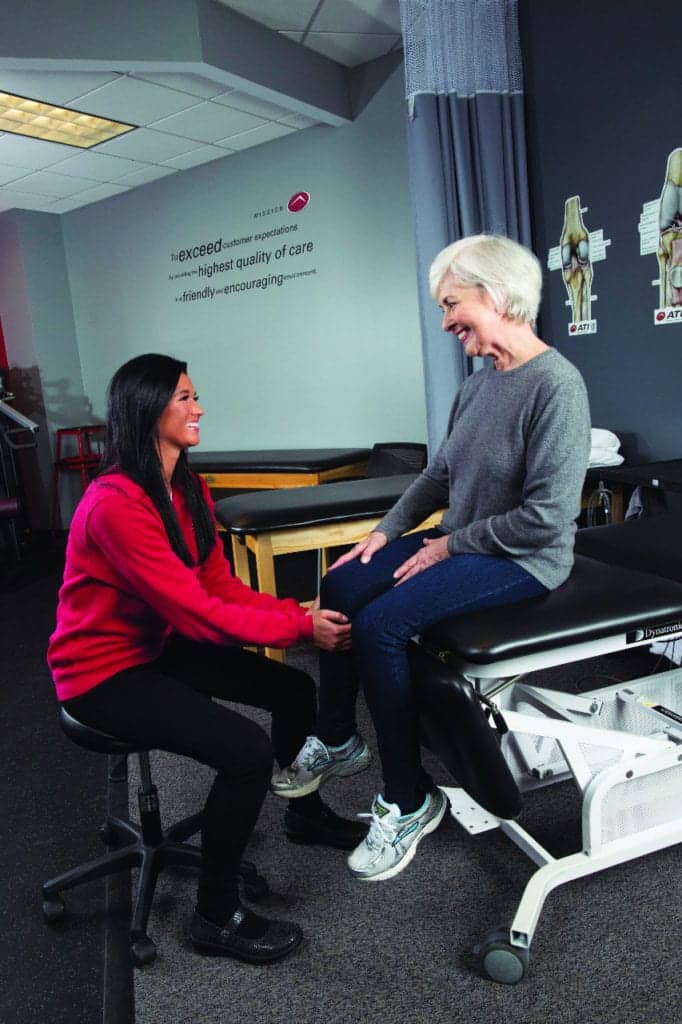 Medicare and Manual Therapy?
A response from the Centers for Medicare and Medicaid Services (CMS) during the COVID-19 outbreak made it easier for health practitioners to provide remote care for patients during periods of quarantine and statewide shelter-in-place orders. Under the Section 1135 waiver authority, CMS has allowed doctors, nurse practitioners, clinical psychologists, and licensed clinical social workers to be reimbursed for telehealth sessions.3 Reimbursement and legality differ from state to state as well as between Medicare and commercial insurances. It would be wise to research one's specific state rules and regulations to stay compliant with individual state standards.
The number one criticism of telehealth is the omission of manual therapy from the plan of care. As physical therapists, we all understand that skilled manual therapy is a service that sets us apart from other health care providers. Increasing amounts of research have outlined the importance and positive effects of human touch on a patient's emotional investment in therapy, pain reduction, and overall satisfaction. Though a telehealth session may lack information a therapist gathers from the nonverbal body language and physical interactions that would normally be gained from an in-clinic visit, there are other factors that a therapist can rely on to still achieve the patient's goals. In order to still maintain the human element, the therapist will need to use his/her knowledge, expertise, and ability to concisely articulate educational instructions to create a personal and interactive experience to reinforce positive habits in order to successfully complete a personalized plan of care that provides lasting relief.
Equipping the Home-Based Therapy Patient
Another one of the biggest perceived challenges to successful telehealth is patients' access to exercise equipment, which may be limited since they are at home rather than in a clinic. In truth, there are a multitude of exercises that can be done with minimal equipment while still yielding great results. However, patients who do invest in additional equipment can greatly expand their repertoire of exercises and increase results. Recommended equipment for patients to purchase should be both versatile and affordable to provide them with maximum value. Equipment that can meet these demands has a better chance to become an integral part of a patient's exercise plan after treatment to maintain their health. ATI Physical Therapy, which has been offering telehealth services since March 2020, advises therapists to recommend to their patients an investment in the following equipment to make the most of remote therapy:
• Resistance bands: An easy and inexpensive option for patients to perform a variety of resistance-based exercises at home. CanDo exercise bands by Fabrication Enterprises, White Plains, NY, is one of the brands utilized in ATI's clinics, and whose brands are latex free and separated by color to denote their elasticity and difficulty. Resistance bands are especially useful because they are stocked in almost every physical therapy clinic and can be distributed to a patient at their initial evaluation or even mailed to them prior to their telehealth sessions.
• Sport cords: A more "deluxe" version of resistance bands and some versions of this product include handles for upper extremity activities, loops for knee or hip exercises, or cuffs for resisted multiplanar joint movements. One of ATI's preferred brands for this type of product is SPRI Products Inc, Libertyville, Ill, whose cords are utilized in clinics daily. They provide greater resistance and tend to be more durable than resistance bands and are more appropriate for higher-level patients who are progressing toward the end of their plan of care. Because of their variable resistances, sport cords are a better cost- and space-saving option for patients when compared to purchasing multiple pairs of dumbbells.
• Stretching Tool: Another excellent product for telehealth is the Stretch Out Strap by Orthopedic Physical Therapy Products (OPTP), headquartered in Minneapolis. This strap can be a good alternative for when therapists are not able to manually stretch their patients. It has multiple loops sewn along a long strap, allowing it to accommodate all levels of flexibility. The strap assists in providing overpressure, creating different angles of pull, and extending the lever arm to help stretch multiple body parts at sub noxious levels. It is also relatively inexpensive, making it an affordable option for patients to purchase.
There are also other pieces of equipment that a patient might have in their home that could be useful at key points in the session. Three commonly found home exercise equipment pieces might be a treadmill, a stationary bike, or a rower. While not required, an effective way for anyone to warm up before any type of activity could be a brisk walk on a treadmill, a 500-meter row on a rowing machine, or a 10-minute warm-up on a stationary bike. Therapists should advise each patient if this type of activity would be useful prior to the session beginning. Some of the more popular home brands of this type of equipment include NordicTrack T-series treadmills based in Logan, Utah; Life Fitness C3 Go Upright Lifecycle, based in Rosemont, Ill; and Sunny Magnetic Rowing Machine Rower, based in City of Industry, Calif. It is important to be properly fitted for any home exercise equipment and follow the instruction manual before use to avoid injury.
[sidebar float="right" width="250″]Product Resources:
The following companies offer products that can be used for fitness and exercise programs of all types:
AlterG
www.alterg.com
Clarke Health Care Products
www.clarkehealthcare.com
First Degree Fitness (Fluid Power Zone)
www.fluidpowerzone.com
Fitter International Inc
www.fitter1.com
Magister Corp
www.magistercorp.com
Merrithew
www.merrithew.com
NZ Manufacturing Inc
www.nzcordz.com
OPTP
www.optp.com
Performance Health
www.performancehealth.com
Sissel USA
www.sisselshop.com
Stretchwell
www.stretchwell.com
The Hygenic Corp
www.theraband.com
VersaSlider
www.versaslider.com[/sidebar]
Matching Activities to the Platform
One of the more challenging exercises to properly teach patients through a telehealth session doesn't even actually require any equipment. The exercise is called abdominal bracing and is performed by the patient correctly initiating a contraction of the transverse abdominis muscle. The transverse abdominis is the deepest abdominal muscle and wraps around the trunk, providing protection and stability. It is an important exercise to master because it is used in conjunction with a multitude of other upright, loaded functional tasks.4 Being the deepest abdominal muscle, most often it is necessary for the therapist to provide tactile cues and feedback by placing his/her hand over the area to confirm contraction of the correct muscle.
However, telehealth physical therapists do not have the luxury of using tactile cues and therefore need to rely on other means of coaching. Therapists must get creative and adapt their instructional cueing. A few ways to elicit the appropriate patient responses are through visual cues such as diagrams displaying the target muscle and videos or personal demonstrations to mirror precise technique. In this situation, sight becomes the therapist's main tool and, therefore, places a greater reliance on appropriate lighting and camera positioning.
ATI Physical Therapy utilizes a telehealth platform that is extremely user-friendly. Virtual sessions can be initiated by simply clicking a link, which makes connecting with a therapist clear and straightforward even for less tech-savvy individuals. Through a library of pre-recorded videos, the platform provides both visual and verbal demonstrations of exercises that can be easily shown to patients. Additional features include time length estimations of how long virtual sessions last, the patient's option to toggle on/off the therapist's camera, and technology using body landmarks to collect measurements during initial evaluations, progress notes, and discharges. ATI has gradually deployed its telehealth services nationwide, with plans to expand to additional clinics in each state over the course of this year.
Here to Stay
Telehealth is a relatively novel, but ever-expanding, portion of physical therapy that has gained recent attention because of the effects of the COVID-19 pandemic. The pandemic has caused many healthcare providers to re-evaluate current models of distributing services, which opens the door for telehealth to play a more vital role in patient care. It is imperative that physical therapists be flexible and innovative in providing the patient with resources and the necessary equipment to make remote telehealth sessions a success. PTP
Taylor C. Kucera, PT, DPT, MBA, SCS, CSCS, is a physical therapist at ATI Physical Therapy in Las Vegas, where he is the clinic director specializing in sports rehabilitation. Kucera graduated from the Nova Southeastern University Physical Therapy Program in 2015 and the MBA Program from the University of Nevada, Las Vegas in 2019.
Chris Chalko PT, DPT, COMT, OCS, has been an outpatient orthopedic and sports physical therapist for ATI Physical Therapy for more than 10 years. He has taught clinical skills courses, mentored students and clinicians, and consults and screens for high school athletes in his community. Chris graduated from Elon University and has been practicing since 2009. For more information, contact [email protected].
References
American Physical Therapy Association. Telehealth–practice and patient care. Available at: http://www.apta.org/Telehealth/. Accessed April 8, 2020.
Levy C, Silverman E, Jia H, Geiss M, Omura D. Effects of physical therapy delivery via home video telerehabilitation on functional and health-related quality of life outcomes. JRRD. 2015;52(3):361-370.
Centers for Medicare and Medicaid Services. Telehealth Services MLN Booklet. Medicare Learning Network.
Mcpherson SL, Watson T. Training of ransversus abdominis activation in the supine position with ultrasound biofeedback translated to increased transversus abdominis activation during upright loaded functional tasks. PM&R: The Journal of Injury, Function, and Rehabilitation. 2013. Available at: https://doi.org/10.1016/j.pmrj.2013.11.014.