A patient uses the HydroWorx treadmill for gait training in a pool with the water providing an upward force that reduces gravity. The treadmill allows a patient to walk in one direction for an extended period of time while the clinician analyzes gait. The clinician cues a patient to improve muscle activation and overall function.
By Mary Jean McKinnon, PTA, and Carol Green, PT, COMT
PTs and OTs treat multiple orthopedic and neurological diagnoses with great success through aquatic therapy. Water has unique properties which improve the healing process for patients at each level of the diagnostic spectrum. Buoyancy, hydrostatic pressure, and viscosity facilitate the healing process. Buoyancy allows patients to stand upright while experiencing 70% less gravity. Viscosity provides increased resistance. More importantly, hydrostatic pressure assists in venous return, reduces one's heart rate, and controls inflammation while exercising.
To amplify the natural benefits of water, products have been created that reduce space requirements, improve efficiency, and increase the effectiveness of aquatic therapy. Physical therapy clinics can still aid patients despite increasing property values and lease costs. Two products that benefit patients include underwater jets and underwater treadmills. Jets amplify the benefits of hydrostatic pressure, reducing inflammation and providing analgesic properties. Underwater treadmills allow patients to walk or run in different directions while experiencing decreased body weight and adhering to a variety of weight-bearing precautions.
Underwater Treadmills Reduce Space and Expand Versatility
The underwater treadmill helps utilize space efficiently. The patient is unweighted while running forward, backward, or sideways. The therapist assesses patient progress to advance the difficulty of the exercises to improve mobility. In extreme cases after a disk herniation, patients require an assistive device or even a wheelchair for mobility. For faster improvements in function, flexibility, and strength, the pool can be utilized. Typically, hip flexors must be stretched. Hydrostatic pressure relaxes the muscle. Once the hip flexors are relaxed, patients activate the transverse abdominis with greater ease. With the property of buoyancy, the patient weighs 70% less. The patient with a herniated disk can maintain the upright position with less effort. While the properties of water and the skill of the clinician are important, the treadmill aids the process, enabling the patient with the disk herniation to functionally strengthen and re-educate the muscle groups.
Wheelchair-bound patients as well as college or pro athletes can benefit from aquatic therapy. The patient focuses on
technique and experiences the accomplishment of aerobic exercise for an extended period of time. Aquatic therapy
helps all ends of the athletic spectrum experience the positive psychological effects of exercise. Additionally, thoughtful cueing and the skill of the PT or PTA allows the patient to improve movement patterns. Often runners will avoid putting weight on an injured ankle. Cueing for push-off or spending increased time on one foot will typically help runners. Additionally, cueing for transverse abdominis activation and gluteal muscle activation translate to decreased impact when the runner moves to land. The mechanical attributes of the treadmill translate to patient gains with increasing or decreasing speed. They also feel the comfort of knowing rehabilitation is possible.
Jets for Healing
Jets provide the benefits of hydrostatic pressure by increasing the velocity of water, thus increasing the pressure. Greater pressure elongates muscle while also decreasing swelling and reducing stimulus to the nocioceptors, thus improving muscle recruitment. Patients who are status post a hip or knee replacement may have decreased range of motion (ROM) or gait deficits. This may be a result of swelling. The jet reduces swelling quickly. When patients regain normal ROM, they can climb stairs, transition from sitting to standing, or go in and out of a car. While these changes in terms of data aren't particularly jarring, they are—in terms of function and happiness—life-changing for an individual. For a grandparent, for example, it means enjoying time spent with a grandchild after a hip replacement.
Use of the jet requires the therapist to adjust the speed and dosage. In addition to alleviating edema or relaxing the muscle, the jet also helps relieve neural tension. The pressure of the water brings blood flow to ischemic nerves, which need vast amounts of blood and oxygen. This relieves numbness, tingling, and sharp shooting pain. It can also decrease nerve entrapment by relaxing muscles. When individuals experience nerve symptoms the pain, guarding, and dysfunction cycle begins. Breaking the cycle allows individuals to sit at a desk and make clear work decisions. It also allows individuals to enjoy their relaxation time more and participate in sports like golf or tennis.
In some pools, the flow of the jets is perpendicular to the treadmill. This design benefits all patients. Often elite athletes are overly reliant on type II muscles. Backwards walking or jogging with the jet brings blood flow while relaxing tight lumbar paraspinals, gluteals, and piriformis. Also, multifidus deactivate after a disk herniation. Therefore, lumbar paraspinals tighten to provide the body necessary support. These jets can be set to an increased velocity since they are attached to the walls of the pool. This is extremely helpful for patients after a traumatic car accident who are in an extreme state of muscle guarding. Jets relax muscles, breaking the cycle of dysfunction and pain.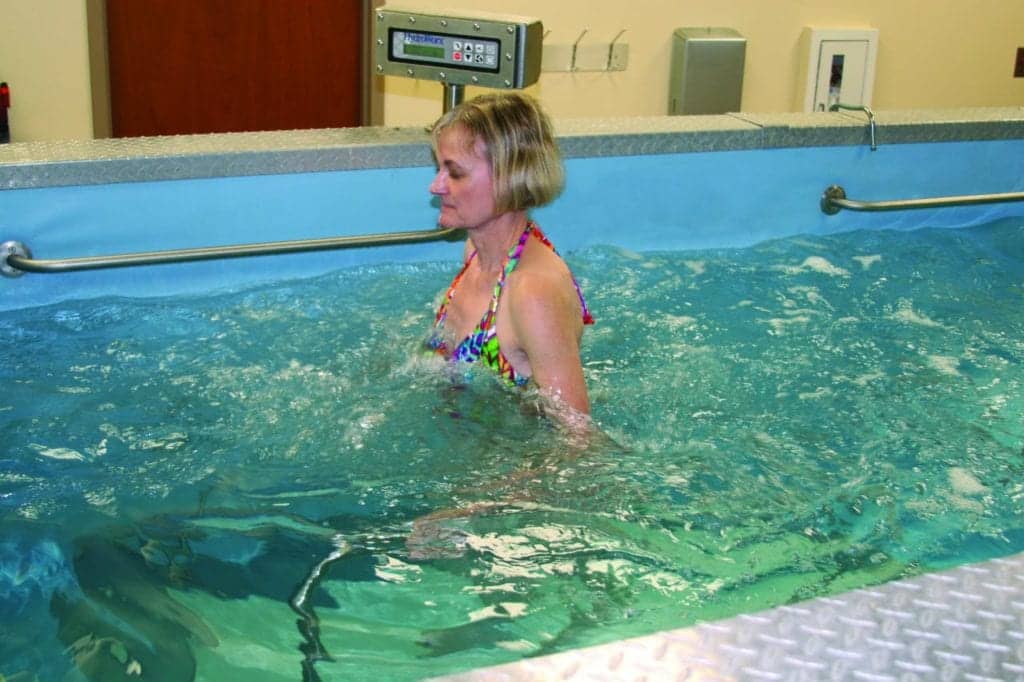 Pool Tools for Targeted Treatment
There are tools outside of mechanical advances which ease the healing process. Floats, paddles, and weights combined with the properties of water help the therapist easily target specific muscle groups. Since buoyancy greatly reduces the gravitational pull, one can strengthen opposing muscle groups with movement away from center and movement to center. For example, when strengthening the shoulder, lifting the arm up strengthens the shoulder flexors and moving the arm down strengthens the extensors. The pool can be used for gravity-minimized strengthening for a patient status post a shoulder replacement. The patient can float on the water while abducting the arm to reduce muscle guarding and improve ROM. New blood flow heals tissues. The muscle contraction pumps exudate through the lymphatic system. One can attach a fin to the ankle to strengthen the rotators of the hip while healing the tissue and reducing swelling. In addition to strengthening with different movements, flotation devices can unweight patients.
Outcomes Amplified
While technology amplifies the benefits of water, it is important to remember the properties of water ease the healing process. Since hydrostatic pressure controls inflammation, it allows patients in a chronic inflammatory state to strengthen and desensitize to movement. This has implications for many types of physical therapy clients. For example, a patient who has been involved in a traumatic car accident can begin moving pain-free, or a patient after a total knee or hip replacement can begin to walk and facilitate correct gait patterns. Water provides an excellent opportunity for therapists to improve the ease of a movement and facilitate a patient's healing. The water itself becomes more versatile as a healing medium by enabling therapists to use tools, such as paddles, that allow for gravity-minimized strengthening. Jets, likewise, increase the effectiveness of water by helping to reduce neural tension and muscle tightness. Similarly, the treadmill helps patients learn to walk.
[sidebar float="right" width="250″]Product Resources:
Pools, spas, and accessories for water-based rehabilitation are available from these manufacturers:
Aquatic Access Inc
www.aquaticaccess.com
Endless Pools
www.endlesspools.com
Hudson Aquatic Systems LLC
www.hudsonaquatic.com
HydroWorx
www.hydroworx.com
Nespa Tiled Spas
www.tiledspas.com
NZ Manufacturing
https://nzcordz.com
Sprint Aquatics
www.sprintaquatics.com
Sure Hands Lift and Care Systems
www.surehands.com
SPRI Products
www.spri.com
SwimEx
www.swimex.com[/sidebar]
Equipped for Aquatics
Underwater treadmills that can meet the needs of physical therapy are available from several manufacturers for use with large, in-ground pools, above-ground pools, and compact modular units. One space-saving configuration is the HydroWorx 300 Series from HydroWorx, Middletown, Pa. The 300 Series features portable, above-ground, freestanding underwater treadmills with adjustable water depth and adjustable treadmill speed. They also are equipped with jet resistance technology and options that include underwater cameras and pediatric handrails. The door opens outward so that users do not have to climb in or be lowered into the unit. The HydroWorx 300 Series units are ideal for single users but can comfortably accommodate two people, allowing therapists to work with their patients inside the exercise chamber.
Other products in this category include the AquaFit from Hudson Aquatic Systems, Angola, Ind, which is an underwater treadmill that offers a private exercise chamber and an adjustable-speed treadmill. SwimEx, headquartered in Fall River, Mass, also manufactures therapy pools in a range of sizes that feature paddlewheel technology for adjustable water current in 99 speeds. The company's pools also offer hydrotherapy jet systems and treadmill options. Aquatic therapy equipment suitable for the physical therapy market is also available through Aston, Pa-based Endless Pools, which offers underwater treadmills with adjustable speeds that can be used in combination with the pools' swim current feature.
When More Space is Available
Full-sized pools that accommodate multiple users are available from all of these manufacturers. The HydroWorx 2000 Series can accommodate up to four people and has a variable-depth, moveable floor. The HydroWorx 2000 Series also features an 8-foot x 12-foot underwater treadmill, resistance therapy jets, underwater camera and monitoring systems, and a handheld remote that can control all functions.
The AquaPools from Hudson Aquatic Systems are available in large custom sizes and depths for above-ground or in-ground use and can be equipped with underwater treadmills, viewing windows, and other accessories. Likewise, SwimEx offers the 1000 T and 1500 T aquatic therapy pools that are large enough for therapists to individually treat multiple patients during the same session.
An Open Door
In all, water-based therapy provides an open door to an additional dimension of healing. It accomplishes this through the natural properties of water, the skill of the therapist, and products that use space efficiently and improve the healing process. Clinics that add aquatic therapy services to expand their treatment possibilities will discover they have created a valuable liquid asset for themselves and the individuals to whom they provide care. PTP
Mary Jean McKinnon, PTA, practices physical therapy at OrthoCarolina's SouthPark location in Charlotte, NC. She is a Senior Level PTA, which was earned with mentorship hours, references, article reviews, and multiple CEU courses. Her aquatic experience began in high school. After being a competitive swimmer, McKinnon began coaching and teaching swimming lessons, and continued to volunteer and coach throughout her undergraduate coursework at UNC Chapel Hill. She has 4 years of aquatic physical therapy experience built with her athletic and orthopedic knowledge. She taught the aquatic exercise class for CPCC PTA students in 2018 and 2019. She also instructs Pilates and volunteers for the Women's Intercultural Exchange.
Carol Green, PT, COMT, is a physical therapist, Clinical Specialist Level II and certified orthopedic manual therapist at OrthoCarolina Physical Therapy South Park Clinic, Charlotte, NC. She specializes in manual therapy for the spine and extremities and has 33 years of experience. She graduated from The University of Tennessee Center for Health Sciences with a bachelor of science degree in Physical Therapy and The University of North Carolina at Greensboro with a bachelor of science degree in Physical Education and Biology minor. She also serves as chairperson for the Physical Therapy and Occupational Therapy Quality Assurance and Electronic Medical Records Committee and is an APTA-certified clinical instructor and faculty member in the OrthoCarolina orthopedic residency program. Green is a guest lecturer in the Physical Therapy Assistant Program at Central Piedmont Community College, Charlotte, NC. She has special interest in dance, gymnastics injuries, aquatics and ergonomics research, and program development for individuals and companies. For more information, contact [email protected].