photo caption: A patient with knee pain is fitted with the KneeKG to identify abnormal movement patterns and biomechanical consequences of trauma or degenerative changes of the knee.
by Joseph A. Zeni, Jr, PT, PhD
Knee anatomy is remarkable in its complexity. Traditionally considered the body's workhorse, its limited range of motion, numerous muscle attachments, and high joint forces make the knee prone to instability and injuries. With one out of five people in the United States suffering from knee pain, the causes are as diverse as the individuals who suffer. The most common knee issues are related to aging, injury, obesity, disease, or repeated stress on the joint. This poses a myriad of challenges to the treating clinician who often sees patients with knee joint conditions without a definitive and clear cause of symptoms.
[sidebar float="right" width="250″]Product Resources
The following companies provide products for pain management:
Amrex Electrotherapy Equipment
www.amrexusa.com
Ari-Med Pharmaceuticals
www.ari-med.com
Battle Creek Equipment Company
www.battlecreekequipment.com
Dynatronics Corp
www.dynatronics.com
Everyway4all
www.everyway4all.com
LightForce Therapy Lasers by LiteCure LLC
www.litecure.com
Mettler Electronics
www.mettlerelectronics.com
OPTP
www.optp.com
Parker Laboratories
www.parkerlabs.com
PHS Medical by Pivotal Health Solutions
www.phsmedicalsolutions.com
Roscoe Medical/Compass Health Brands
www.roscoemedical.com
Sore No More
www.sorenomore.com
Southwest Technologies
www.elastogel.com[/sidebar]
Skin Deep and Beyond
Diagnosis, which hasn't changed much in years, typically begins with a superficial physical examination by comparing the painful knee with the asymptomatic knee and inspection for swelling, bruising, and discoloration. The stabilizing muscles, including the vastus medialis, are visually evaluated for signs of atrophy. The knee is then palpated for pain, warmth, and tenderness at the patella, tibial tubercle, patellar tendon, quadriceps tendon, anterolateral and anteromedial joint line, medial joint line, and lateral joint line. The knee is then moved through its available arc of motion to quantify range of motion and the end-feels in extension and flexion.
Often, radiographic tests are needed to identify anatomical factors related to the patient's pain. Imaging is a routine component of most assessment plans for revealing structural abnormalities that are not apparent from the physical exam. X-rays can diagnose fractures and osteoarthritis, but offer little to no diagnostic insight for sprains, ligament tears, and meniscal tears. An MRI is typically ordered when soft-tissue injuries are suspected and for any acute injury that causes severely restricted motion or joint instability.
Management and Modalities
Pain management for age-related diagnoses, like osteoarthritis, or overuse conditions, such as patellofemoral pain syndrome, typically includes physiotherapy. Therapists will prescribe exercises to improve strength and range of motion, as well as provide modalities to reduce swelling and pain. Compression knee wraps, massage, icing (cryotherapy), heating (thermotherapy), and acupressure can be used in combination with active exercise therapies to reduce pain and improve function, but these modalities often offer temporary relief of acute and chronic pain.
Many of these modalities are not injury-specific and are provided in addition to NSAIDs or other pain medication the patient is taking as part of his/her medical management. Several sources provide these types of products for use in the PT clinic, including Southwest Technologies, North Kansas City, Mo, which offers Elasto-Gel hot and cold therapy products, designed to provide moist therapy heat or soothing cold. Elasto-Gel products are available in more than 40 different shapes and sizes and are made to fit the hand, wrist, shoulder, and head, as well as a cervical collar.
Another source is Battle Creek Equipment Company, Fremont, Ind, which offers Thermophore Moist Heat Packs and Ice It! Cold Wraps. The Thermophore product line includes heat packs manufactured in a variety of sizes that can deliver penetrating deep heat. The wraps in the Ice It! product line are made to be reusable and are contoured for specific parts of the body to and retain their flexibility even when frozen.
Several non-pharmacological electrical pain management modalities do exist. High-frequency transcutaneous electrical nerve stimulation (h-TENS), low-frequency transcutaneous electrical nerve stimulation (l-TENS), neuromuscular electrical stimulation (NMES), interferential current (IFC), pulsed electrical stimulation (PES), and noninvasive interactive neurostimulation (NIN) have been used to control knee pain and improve muscle strength and active range of motion at the knee. However, outcomes for these modalities with respect to pain management are mixed. This may be due in part to the large variations in electrode placement, intensity settings, and duration and frequency of use. To date, there is no standard consensus on the use of electrical stimulation for the management of patients with knee pain.
Laser as a Modality
Therapeutic laser therapies, also known as cold laser therapy, class III laser therapy, or low-level laser therapy (LLLT), are a promising modality for patients with knee pain. These devices are designed to improve circulation, support cell health, release endorphins, reduce inflammation, and/or encourage the growth of new, healthy tissue. Despite the potential benefits, there is no conclusive evidence that cold therapy lasers can treat pain or underlying medical conditions for patients with knee pain. Because of this, many insurers, including Medicare and Medicaid, do not cover cold laser therapy expenses as part of physiotherapy management. Several US-based companies provide these technologies for clinical use, including the 40-watt XLi Class 4 solid state laser from LightForce Therapy Lasers by LiteCure LLC, New Castle, Del. This device is designed to provide continuous wave or pulsed operating modes. The line of Apollo Class 4 Cold Lasers from Pivotal Health Solutions, Watertown, SD, is another device available in this category. It is offered as a desktop or portable model and built to function in configuration with several different probes.
Topical Options
In some cases of chronic arthritis pain or short-term musculoskeletal pain such as what is common in the athletic training room, topical agents may be a useful pain management option. Most topical analgesics are affordable and made to be easy to apply for clinic or home use. Several leading topicals feature natural ingredients such as those that appear in Sore No More Pain Relieving Gel from Sore No More, Moab, Utah. Available in sizes from 2-ounce jars to 1-gallon jugs, Sore No More products use menthol, capsaicin, and witch hazel in combination with six natural plant extracts. Another source for topicals is Ari-Med Pharmaceuticals, Tempe, Ariz, which provides Flexall topical pain-relieving gels available in formulations that include menthol, eucalyptus, peppermint, thyme, and camphor in an aloe vera base. These formulas are made to be greaseless and absorb quickly.
Getting to the Root
Despite all the available treatment options, knee pain is often not eliminated until the underlying structural and biomechanical issues are addressed. Even surgery, which is good at preventing instability and restoring structural integrity, does not resolve all of the problems that can contribute to knee joint pain. Most of our joints are exceptionally complicated, and small changes in joint position or joint loading can lead to substantial pain and functional deficits. This is particularly true for the knee, which is exposed to repetitive load-bearing activities, such as walking or running. It is for this reason that biomechanical assessments have become an essential component of a knee examination.
A biomechanical assessment can provide quantitative information about the structure and motion of the knee joint to complement the standard orthopedic physical evaluation for a more accurate diagnosis, and in turn, a more appropriate and effective treatment plan. Traditionally, this has been performed by having the clinician observe the patient walk across the floor several times. While a clinician may be able to see significant biomechanical asymmetries, visual assessment of movement is insufficient to capture the small abnormalities in movement that occur in three-dimensions, knowing that there are skin and muscle artifacts that often mask the underlying motion of the bony segments. Tools that objectively quantify three-dimensional motion are needed to accurately provide a biomechanical diagnosis.
Accurate Assessment Tool
When patient-specific biomechanical factors are carefully considered, interventions can have a far more powerful impact. For example, the KneeKG is a new knee assessment tool that allows physical therapists to perform a knee kinesiography to accurately and objectively evaluate the complete movement of the patient's knee to understand pain and symptoms—much like an electrocardiogram does for the heart. The KneeKG is designed to provide a 3D dynamic assessment of the knee and within 15 minutes and pinpoint the biomechanical abnormalities that may be the cause of symptoms and functional deficits. Biomechanical markers linked to knee osteoarthritis, ligament injuries, joint instability, and anterior knee pain are automatically identified by the device to aid in diagnosing pathologic movement patterns and provide objective information to develop a focused treatment strategy.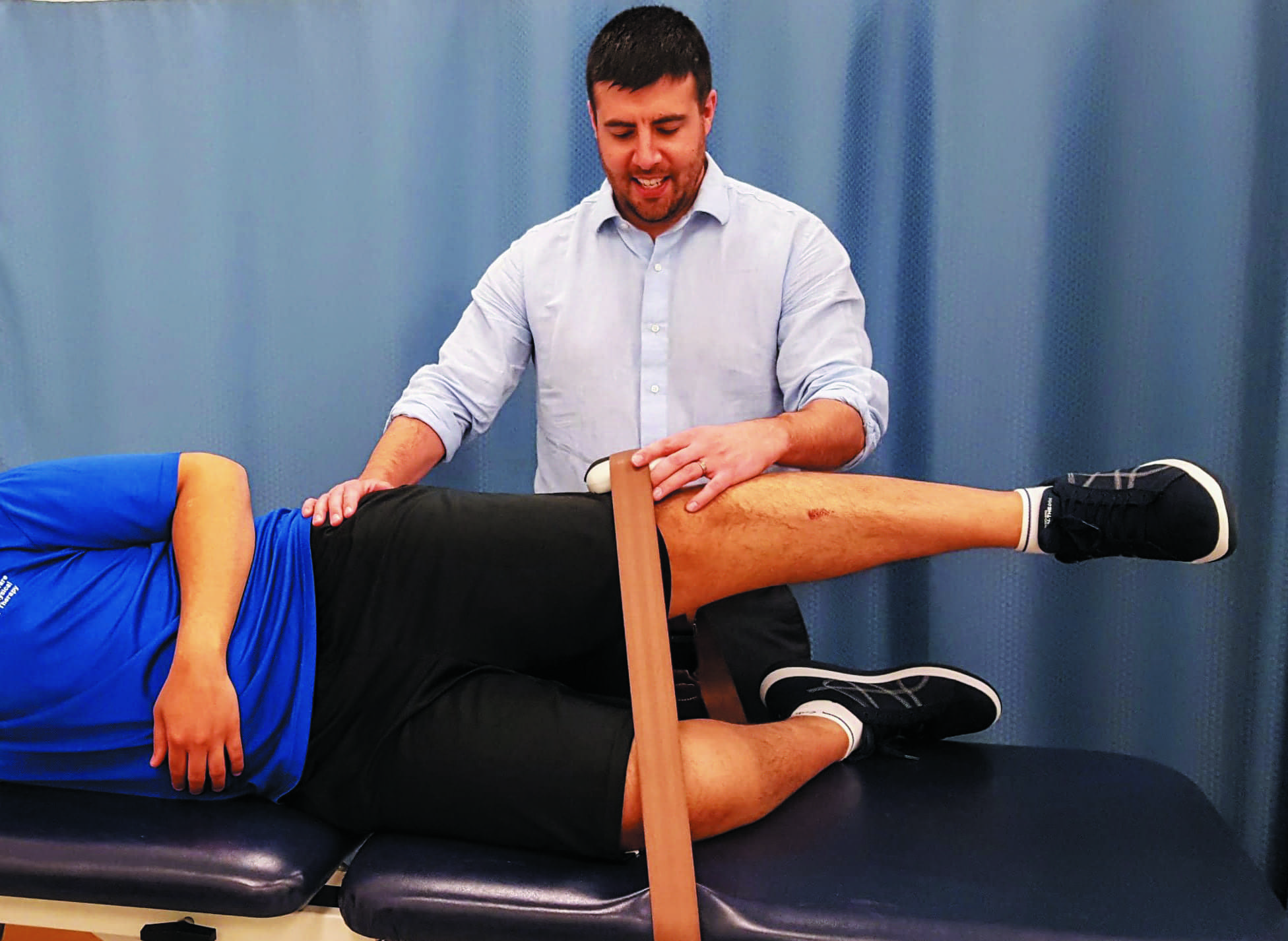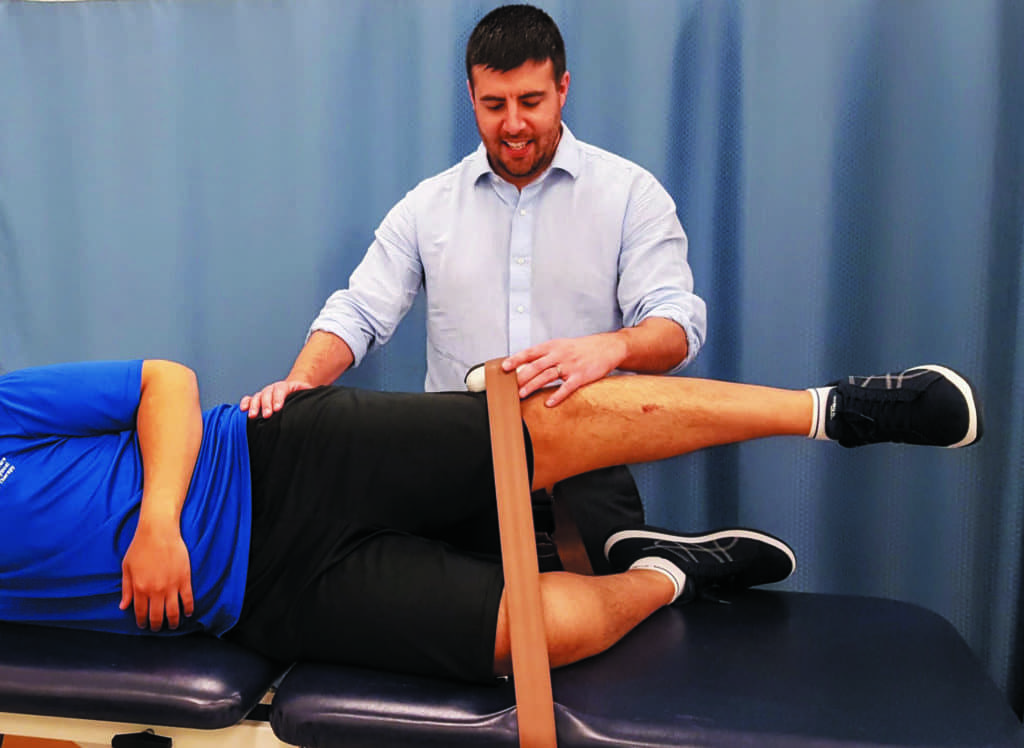 Case Study
As a case example, a 60-year-old female patient (Lisa) had a multiyear history of knee pain. She was diagnosed with severe osteoarthritis (OA) of the medial tibiofemoral and patellofemoral compartments. She received standardized care from her physician, which included an unloader knee brace designed to force the knee to bend away from the painful area of the joint, pain medication, corticosteroids injections for short-term pain relief, and hyaluronic acid injections for longer-term pain management. She was also educated on the benefits of weight loss for patients with knee OA. Lisa also participated in physiotherapy, which focused on strengthening her gluteal muscles. Despite treatment, Lisa continued to have symptoms and progressive pain. She elected to undergo knee replacement surgery (knee arthroplasty) to replace her damaged right knee with an artificial knee to restore function and relieve pain.
Prior to surgery, Lisa underwent a knee kinesiography, which indicated that she had normal anatomical alignment in the frontal plane (neutrally aligned), but had a varus thrust. This is a known risk factor for OA progression, although it is not always observable with conventional visual gait analysis. This thrust was likely the underlying cause of the progressive nature of her OA.
In light of the biomechanical findings, a new and targeted treatment plan was developed. The unloader knee brace was discontinued. With Lisa's neutrally aligned knee, such a corrective brace could lead to excessive loading in a valgus position and joint pain. Instead, she was prescribed a neutrally aligned stabilizing brace to keep her knee in its natural alignment when weight-bearing to prevent the varus thrust from occurring. The knee kinesiography data also led to a different exercise plan. Activation of the gluteal muscles tends to produce a varus position at the knee. Given that Lisa presented with a varus thrust, the gluteal exercises were discontinued and her physiotherapy team focused on stretching the gluteal muscles, strengthening the internal rotators, and provided functional retraining exercises to improve her joint mechanics in the frontal plane and reduce her varus thrust.
Within 3 weeks of starting this new treatment regimen, Lisa reported a reduction in knee pain and no longer had limitations with her activities of daily living as a result of her right knee pain. She delayed her surgery and stopped all pain medications.
Option for All Ages
While this case demonstrates the use of KneeKG in routine management of chronic pain for older adults, it can also benefit younger active patients with history of knee pain. Take for example the case of a professional NFL football player who had a long-standing history of knee pain from prior injuries that reduced his capacity to fully participate in games and practices. He underwent a knee kinesiography, which identified specific biomechanical markers that were contributing to his residual knee pain. These mechanical deficits included a lack of normal shock absorption when walking, reduction in propulsion prior to the swing phase of gait, and excessive tibial rotation, all of which impair performance, but also increase the risk of future injury. Using the KneeKG findings, a specific rehabilitation and training program was implemented in the off-season. He went on to have complete resolution of his knee pain and returned to full participation in gameplay.
Similarly, KneeKG was also used to identify the biomechanical source of pain in an Olympic Gold Medal runner who developed knee pain in 2014. This runner had a knee kinesiography, which led to an immediate diagnosis of a dynamic flexion contracture. Being skeptical, he did not fully integrate the treatment recommendations from the knee kinesiography and continued to suffer knee pain. In 2018, he had another knee kinesiography, which assisted his doctor in identifying three new factors related to pain, but also risk factors for knee OA. These included dynamic flexion contracture (flexum), static and dynamic varus alignment, and internal tibial rotation while bearing weight. The direct correlation between the biomechanical explanations and the pain he was experiencing encouraged him to do the suggested exercises. A retest of his KneeKG in 2019 showed all the factors related to the progression of his knee OA had disappeared with the patient-specific treatment plan.
MRIs, x-rays, and other imaging techniques help to identify static structural sources of pain, but are not able to provide clinicians with an evaluation of biomechanical risk factors of musculoskeletal pain. The KneeKG is one example of how medical advances are providing healthcare professionals with a tool that significantly improves patients' quality of life by reducing pain and functional limitations, and at a fraction of the cost of high-resolution imaging. Engaging patients in the KneeKG process also allows them to be actively involved in the management of their issues and can improve the level of satisfaction with care that patients and providers report. PTP
Joseph A. Zeni, Jr, PT, PhD, is an Associate Professor at Rutgers University. He received his PhD from the University of Delaware and his Masters from Quinnipiac University. Dr Zeni has authored numerous publications in the areas of biomechanics and osteoarthritis. His work has been recognized with the Eugene Michels New Investigator Award from the APTA. For more information, contact [email protected].