By Ryan McConnell, PT, DPT, OCS, COMT, FAAOMPT
Pain has become an epidemic in the United States. It has been estimated that healthcare costs for low back pain alone could amount to nearly 100 billion dollars.1 The challenge to deliver cost-effective treatment remains an enigma. As a manual physical therapist in an outpatient setting, I hope to shed light on physical therapy products and the role they may play in pain management and recovery. Perhaps the potential has been underplayed due to research being filled with "standard therapy" and shedding poor light on modalities such as ultrasound. Maybe the push from other therapeutic angles has silenced the role of products. It is also possible that therapists are bored with many of these tools. Could it be a lack of critical appraisal of research or poor design? To some extent, all these factors play a role in current practice trends. However, there exists tremendous potential to manage symptoms and improve function.
Clearing Modalities' Muddy Waters
Recently, physical therapists have witnessed a shift toward big data and identifying patterns of healthcare access and utilization. Many articles have demonstrated that appropriately choosing physical therapy first could reduce subsequent healthcare utilization and overall cost. The challenge of treating acute and chronic conditions can be met by a myriad of options. Some of those options are relatively inexpensive and a valuable ally in the clinic.
Over time, modalities and other products have fallen into and out of favor. However, it is important to remember that evidence-based practice consists of three elements: efficacious treatments, clinician experience, and patient beliefs. Many continuing education programs provide mixed reviews of products and their ability to impart therapeutic change. The confusion of products' roles in therapeutic settings proves just as consistent and elusive as appropriate intervention strategy in general. Recently, research efforts have helped clear the muddy water and provide treatment filters. However, patients serve as an important filter.
[sidebar float="right" width="250″]Product Resources
The following companies provide products for pain management:
Ari-Med Pharmaceuticals
www.ari-med.com
Battle Creek Equipment Company
www.battlecreekequipment.com
Everyway4all
www.everyway4all.com
LightForce Therapy Lasers by LiteCure LLC
www.litecure.com
Parker Laboratories
www.parkerlabs.com
PHS Medical by Pivotal Health Solutions
www.phsmedicalsolutions.com
Sore No More
www.sorenomore.com
Southwest Technologies
www.elastogel.com[/sidebar]
It is no secret that patient beliefs can be highly impactful on decision-making and are extremely important for providers to discern. Building a therapeutic alliance framed with positive, but realistic expectations serves as a foundation of our care. There may be an unrealized plethora of options aside from sound technical skills. Products may provide exponential benefits including relief and hope. Biopsychosocial models open the door for creative ways to achieve clinically and statistically significant changes for consumers of healthcare. Many products have tremendous potential and are potentially underutilized. Several examples follow:
Ultrasound
Ultrasound has recently appeared with grade "B" level evidence for hip pain with mobility deficits.2 Important to note, this is suggested as having stronger evidence than performing balance, gait training, and therapeutic activities. It remains important to enlighten healthcare consumers on the positive trends with many of these products.
Dry needling, laser therapy, and mechanical traction have been graded as "B" level evidence in the 2017 Clinical practice guideline for chronic neck pain with mobility deficits.3 The studies on these products continue to grow. Treatment options, such as mechanical traction, seem to have quieted considerably in the last 10 years.
Therapeutic Laser
Laser therapy has generated a lot of market confusion. Consumers tend to often confuse surgical laser, cold laser, and cosmetic lasers. The state of literature on photobiomodulation has changed considerably over the last 5 years from inappropriate dosing parameters and study design. More recently, positive trends can be observed. Class IV lasers have generated a significant number of positive outcomes in the field. Recently, a systematic review and meta-analysis of high intensity laser treatments was performed and suggested that significant improvements could be trended for neck and back pain.4
Many of the entry point costs scare clinicians and practice owners away from purchases such as this. It is possible that fear of the unknown serves as a barrier to entry as well, and words such as photobiomodulation may breed hesitation, thus making clinical viability an easy dismissal. Nonetheless, all clinicians could creatively consider options to incorporate these technologies into practice.
Research and Knowledge Brokers
Overall, there are few techniques and/or technologies that can impart clinically significant pain and perceived disability change in short order. Influencing behavioral change often requires the ability to create clinically and statistically significant improvements quickly. Industrialized medicine demands that healthcare providers efficiently and effectively deliver treatment. Quality may truly be an enigma but is traditionally defined as greatest outcome with least dollars spent. Consistently hitting the quality mark requires judicious budgeting and filtering a tremendous amount of evidence, which can be difficult to say the least.
The information age allows therapists to sift data rapidly, but the task proves difficult. Knowledge brokering occurs frequently in the technical side of physical therapy. One should consider networking with both biased and unbiased knowledge brokers of specific products and/or technologies to address pain. This will paint a more accurate picture of the clinical utility.
All research has inherent biases, but in many studies dosing parameters and recommendations have been incredibly underpowered. Reducing treatment complexity and dependence on pharmacological sources of pain management can improve our patient compliance and potentially subsequent healthcare utilization. Other options include:
Neuromuscular electrical Stimulation
This option has "B" level support for rehabilitation of meniscus surgery and "A" level support for postop ACL.5 Furthermore, interferential current or electrotherapy modalities have demonstrated considerable positive evidence for managing pain and symptoms of knee pain/osteoarthritis over placebo trials.6
Cryotherapy and Topicals
Cryotherapy has been around for a long time but continues to be underutilized as a part of physical therapy. Machines that provide compression and cryotherapy provide some of the most basic, but necessary elements of treating acute pain and inflammation.
Ice has had a long relationship with physical therapy as one of the core components of the long-standing rest, ice, compression, and elevation (RICE) method for treating injuries. In practice, both hot and cold therapies are used as nonpharmacological treatment for acute musculoskeletal injury, despite some debate about whether ice or heat should be chosen as the best modality to treat a given injury. While academic research ponders that question, the manufacturers of hot and cold therapy products continue to develop options that are quantum leaps ahead of the once ubiquitous ice cube-filled sandwich bag. Among them are Ice It! MaxCOMFORT System Cold Wraps from Battle Creek Equipment Co, Freemont, Ind. These wraps are designed so they do not have to be held in place, and will remain flexible when frozen. Thermophore moist heat packs, also from Battle Creek, are available in petite to large sizes, and can be used to provide relief from back pain, arthritis, joint pain, muscle spasms, and sprains.
Topicals may also be more favorable than we think.8 Individual review of the ingredients is beyond the scope of this viewpoint. Favorable results can be achieved through products such as Biofreeze, from Cuyahoga Falls, Ohio-based company, Biofreeze. In general, over-the-counter topicals have a good safety profile and are affordable options that help manage chronic symptoms and empower patients. In addition to being non-addicting, the natural ingredient formulations of many topical analgesics may be a desirable characteristic.
Most importantly, when venturing into the unknown. It remains important to fully comprehend the customer service that supports all products. Poor customer service makes for tough sailing and a discouraging venture. On the flip side, customer service and support may serve as a dynamic asset. Ask representatives questions about clinical support and check credibility. Skilled support and outreach do exist. Discussing such aspects with LiteCure, New Castle, Del, about the company's LightForce FXi (15W) therapy lasers serves as an example of such alliance. There are many options on the market, but a review process should be followed regardless of model and manufacturer.
Opportunity to Enhance Lives
Cannibalism of our therapeutic tools may make care for our patients even more complex, and to be certain, complexity is the last thing healthcare needs. What, then, are the real alternatives to perpetual healthcare utilization? The answer to this question is that the possibilities are nearly endless, but what remains the same is that no matter the tools they choose, physical therapists possess tremendous opportunity to enhance lives. PTP
Ryan McConnell, PT, DPT, OCS, COMT, FAAOMPT, is an outpatient clinic director in a suburb of Nashville, Tennessee. He earned his entry-level doctorate at the University of Tennessee Health Science Center. He is an orthopaedic clinical specialist in physical therapy that completed both residency and fellowship training. In addition, he currently holds Reimbursement Chairperson position at the state level. McConnell also was a recipient of the APTA Emerging Leader award in 2018. For more information, contact [email protected].
References
1) Arnold E, La Barrie J, DaSilva L, Pati M, Goode A, Clewley D. The impact of timing of physical therapy for acute low back pain on health services utilization: a systematic review. Arch Phys Med Rehabil. https://doi.org/10.1016/j.apmr.2018.11.025
2) Cibulka MT, Bloom DPTNJ, Enseki DPTKR, et al. Hip pain and mobility deficits — hip osteoarthritis: revision 2017 clinical practice guidelines linked to the International Classification of Functioning, Disability and Health from the OIrthopaedic section. https://doi.org/10.2519/jospt.2017.0301
3) Blanpied PR, Gross AR, Elliott JM, et al. Neck Pain: Revision 2017 Clinical Practice Guidelines Linked to the International Classification of Functionin , Disability and Health From the Orthopaedic Section of the American Physical Therapy Association. https://doi.org/10.2519/jospt.2017.0302
4) Song HJ, Seo H, Lee,Y, Kim SK. Effectiveness of high-intensity laser therapy in the treatment of musculoskeletal disorders. Medicine (Baltimore). 2018 Dec;97(51):e13126. https://doi.org/10.1097/MD.0000000000013126
5) Logerstedt DS, Scalzitti D, Risberg MAYA, et al. Knee stability and movement coordination impairments: Knee ligament sprain revision 2017 Clinical Practice Guidelines Linked to the International Classification of Functioning, Disability and Health From the Orthopaedic Section. J Orthop Sports Phys Ther. 2017 Nov;47(11):A1-A47.
6) Johnson MI, Paley CA, Howe TE, Sluka KA. Transcutaneous electrical nerve stimulation for acute pain. Cochrane Database Syst Rev. 2015 Jun 15;(6). https://doi.org/10.1002/14651858.CD006142
7) Logerstedt DS, Scalzitti DA, Bennell KL, et al. Knee pain and mobility impairments: meniscal and articular cartilage lesions revision 2018: using the evidence to guide physical therapist practice. J Orthop Phys Ther. 2018;48(2):123-124. https://doi.org/10.2519/jospt.2018.0503
8) Lourenco Jorge L, Campelo Feres C, Telles-Dias P. Topical preparations for pain relief: efficacy and patient adherence. https://doi.org/10.2147/JPR.S9492
Could Laser Shadow Opioids for the Treatment of Pain?
by Mark Callanen, PT, DPT, OCS
What drives patients to your clinic? While many clinicians like to think it is their expert advice and research-backed exercise programs, the truth is that most patients are seeking clinicians skilled in providing pain relief.
Given the negative press regarding the opioid epidemic, patients are more interested than ever in non-pharmaceutical alternatives for pain management. Therapeutic laser is an alternative that has been utilized in pro and Division 1 training rooms for years, but has only recently been getting traction in the rehabilitation setting. Laser therapy is a noninvasive modality that can have effects on both chronic and acute pain via the process of photobiomodulation (PBM).
PBM occurs when an effective dose of light energy is applied to injured tissue. This creates photochemical stimulation at the mitochondrial level which triggers several positive biochemical changes that can decrease pain,1,2 improve inflammation,3 and accelerate tissue healing.3,4,5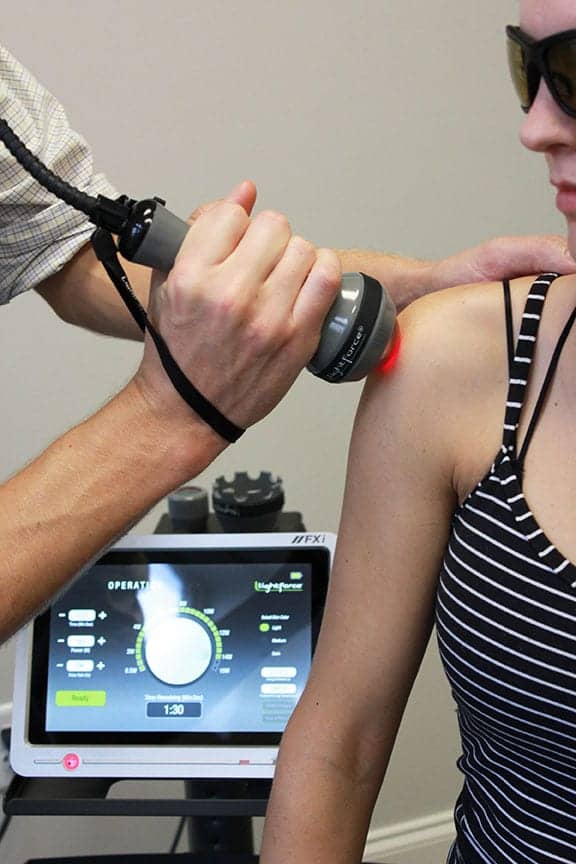 When acquiring a laser there are a variety of parameters to consider, including the unit's average power output, therapeutic wavelength(s), pulsing characteristics, and the delivery system, to name a few. Knowing how these factors impact acute, chronic, and deep tissues is important when implementing this modality.
Broadly, in the US market lasers are classified by the output power of the unit. Most lasers fall between Class 2 and Class 4. Regardless of power, PBM is the primary mechanism of action. Where lasers differ significantly is in their ability to create analgesic effects within minutes.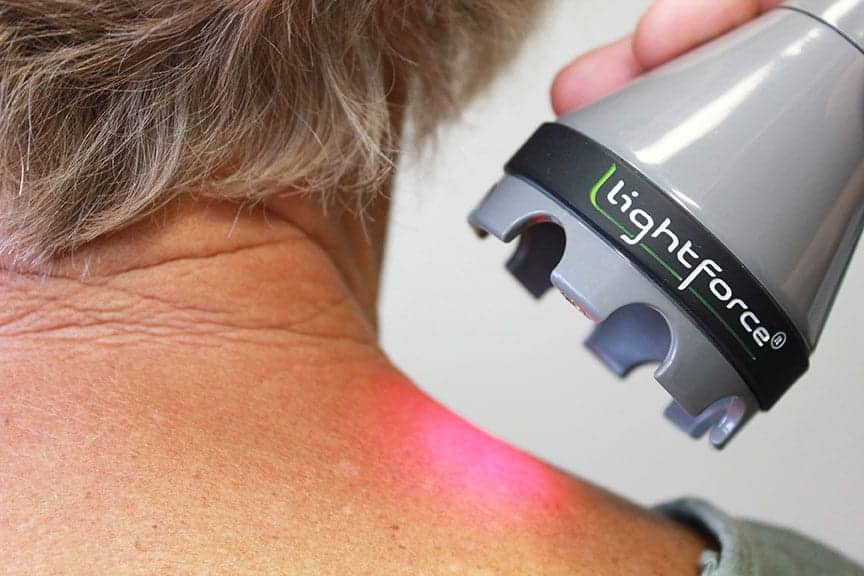 Recent research has shown that higher power densities (irradiance) significantly impact pain perception via its impact on C and A-delta afferent nerves.1,6 This is a phenomenon that cannot be easily accomplished with lower-powered lasers. Quick analgesic effects from high-powered laser opens the door to more manual options and increased active therapies on the same day. Class 4 laser treatment time is normally equivalent to the time spent providing an ultrasound treatment.
With virtually no side effects and a very short list of contraindications, laser therapy is an emerging player in the pain market and could serve as a game changer in any practice that regularly manages musculoskeletal pain. Special consideration should be given to Class 4 units if the goal is to provide quick pain relief. Understanding the similarities and differences of various laser platforms will help shed light on the best fit for your clinic.
Mark Callanen, PT, DPT, OCS, is director of clinical development for LightForce Therapy Lasers. He has treated orthopedic patients for 18 years and was board certified as an Orthopedic Clinical Specialist by the APTA in 2003. Callanen earned his doctorate in physical therapy in 2007 from Marymount University. For more information, contact [email protected].
References
1. Chow R, Armati P, Laakso EL, Bjordal JM, Baxter GD. Inhibitory effects of laser irradiation on peripheral mammalian nerves and relevance to analgesic effects: a systematic review. Photomed Laser Surg. 2011;29(6):365-381.
2. Duchesne E, Dufresne SS, Dumont NA. Impact of inflammation and anti-inflammatory modalities on skeletal muscle healing: from fundamental research to the clinic. Phys Ther. August 2017;97(8):807-817.
3. Stein A, Benayahu D, Maltz L, Oron U. Low-level laser irradiation promotes proliferation and differentiation of human osteoblasts in vitro. Photomed Laser Surg. 2005;23(2):161-166.
4. Mvula B, Mathope T, Moore T, Abrahamse H. The effect of low level laser therapy on adult human adipose derived stem cells. Lasers Med Sci. 2008;23(3):277-282.
5. Dube A, Gupta PK, Bansal H. Modulation of macrophage structure and function by low level He–Ne laser irradiation. Photochem Photobiol Sci. 2003;2(8):851-855.
6. Holanda VM, Chavantes MC, Wu X, Anders JJ. The mechanistic basis for photobiomodulation therapy of neuropathic pain by near infrared laser light. Lasers Surg Med. 2017;49(5):516-524.