Even the youngest Baby Boomers are now rapidly approaching the age of 65. Since, statistically, fall risk increases as adults age, physical therapists will be increasingly needed to help this population avoid falls and restore gait patterns through the use of gait & balance products, including those engineered with advanced features for trending and analyzing data.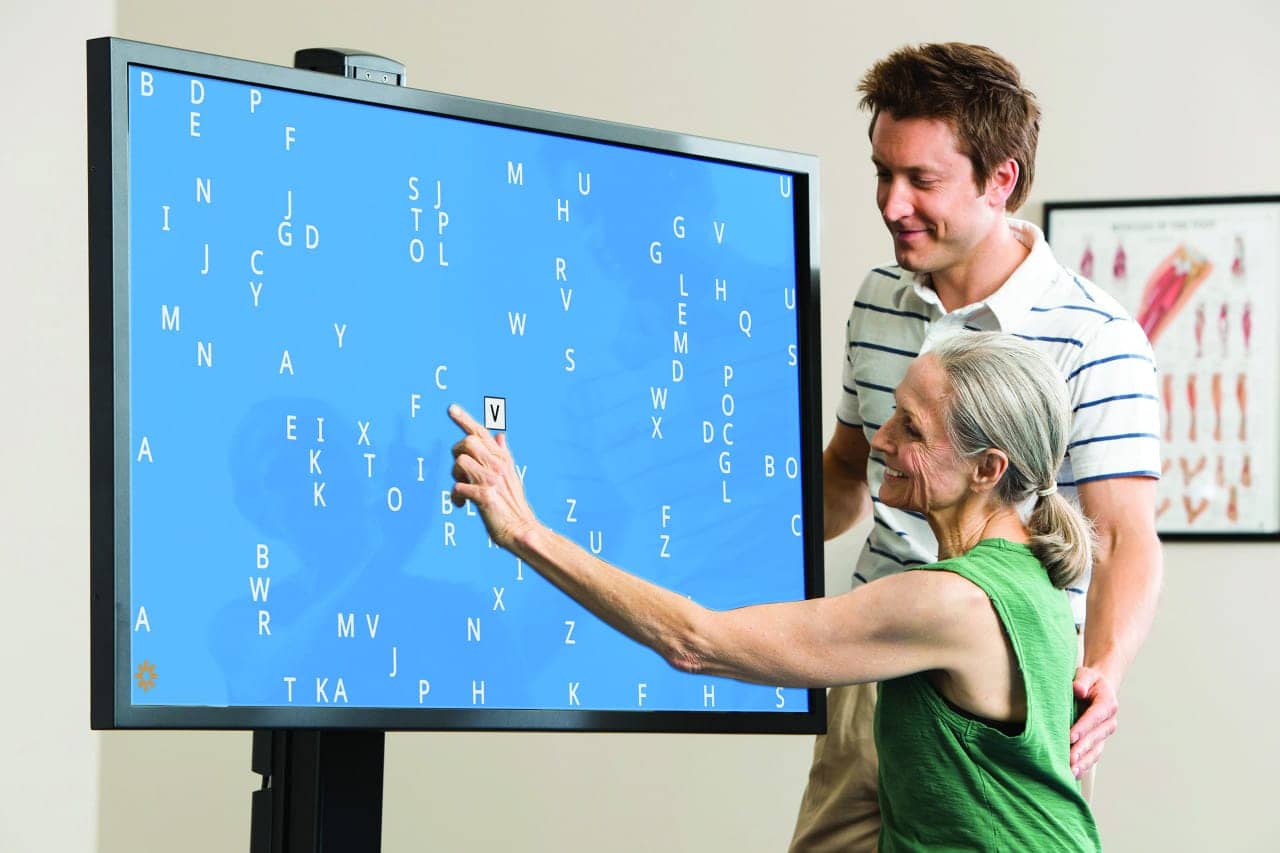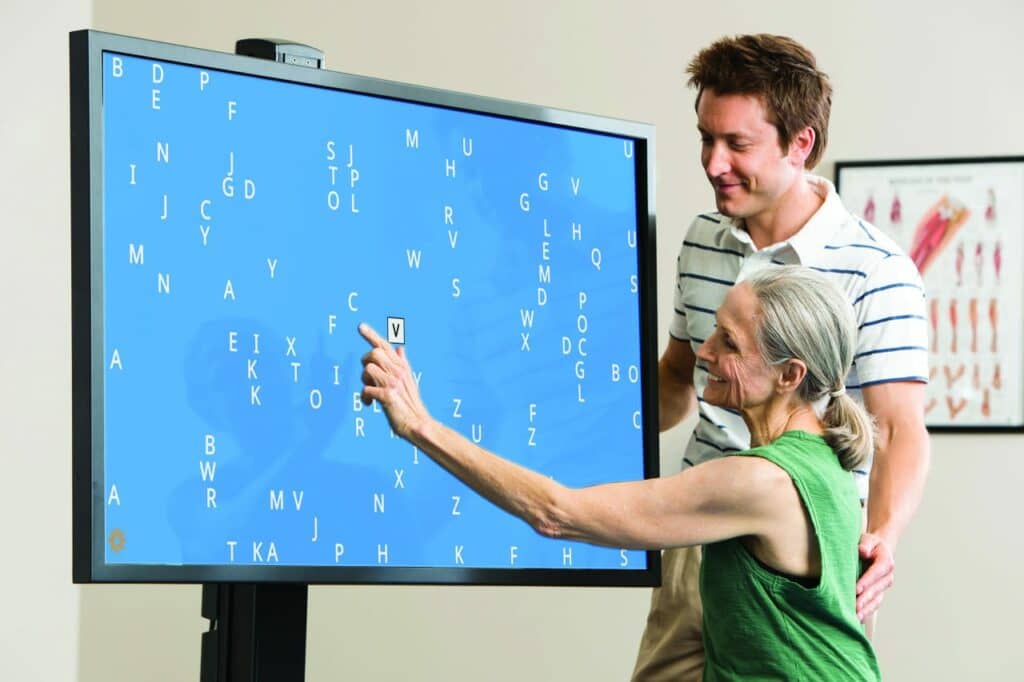 BITS
The Bioness Integrated Therapy System (BITS), from Bioness Inc, Valencia, Calif, aims to challenge and assess visual, cognitive, motor, and balance abilities of individuals, including those with deficits resulting from traumatic injuries and movement disorders. The third generation includes BITS Balance, in which proprietary motion sensors track patients' movements and a balance platform challenges weight shift. Over 60 software programs allow clinicians to challenge, assess, and track patient progress throughout treatment. Across industries, therapists use BITS and BITS Balance to train patients with varying degrees of mobility, driving patient outcomes.
For more information, contact Bioness Inc, (855) 902-5252; www.bionesstherapy.com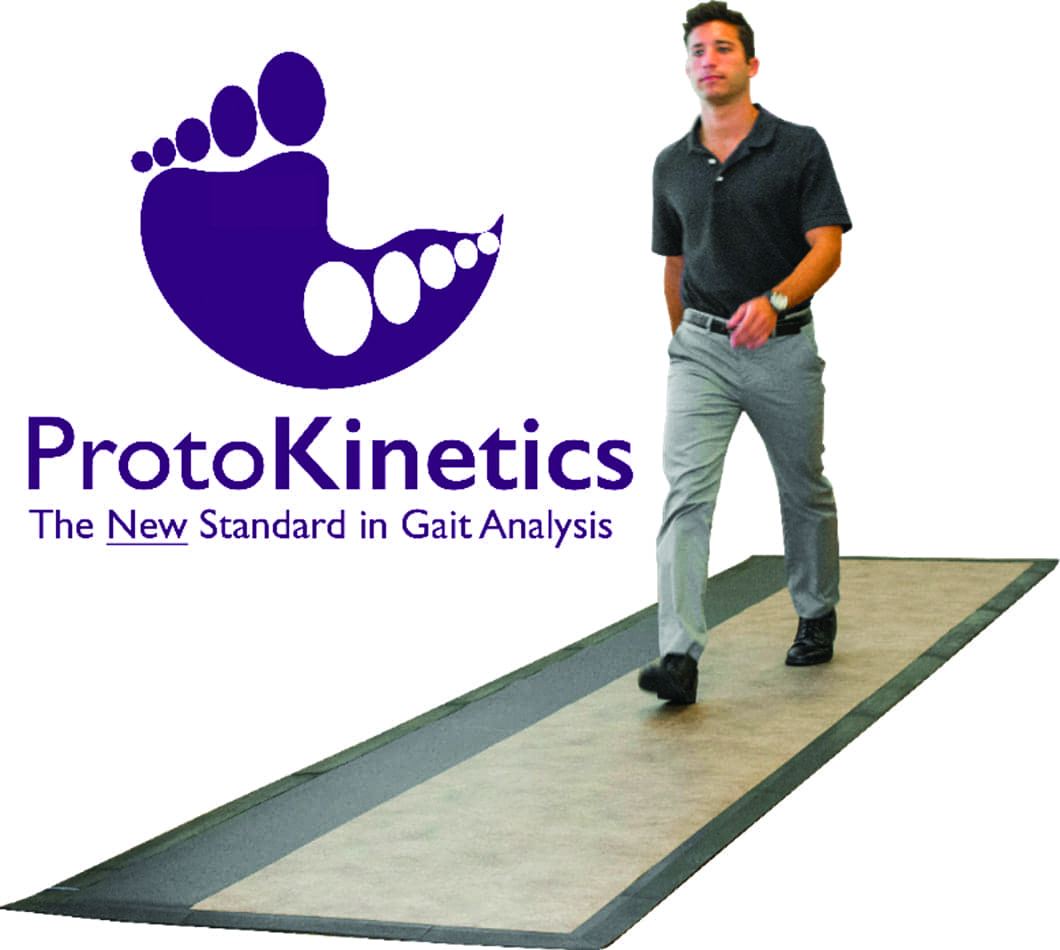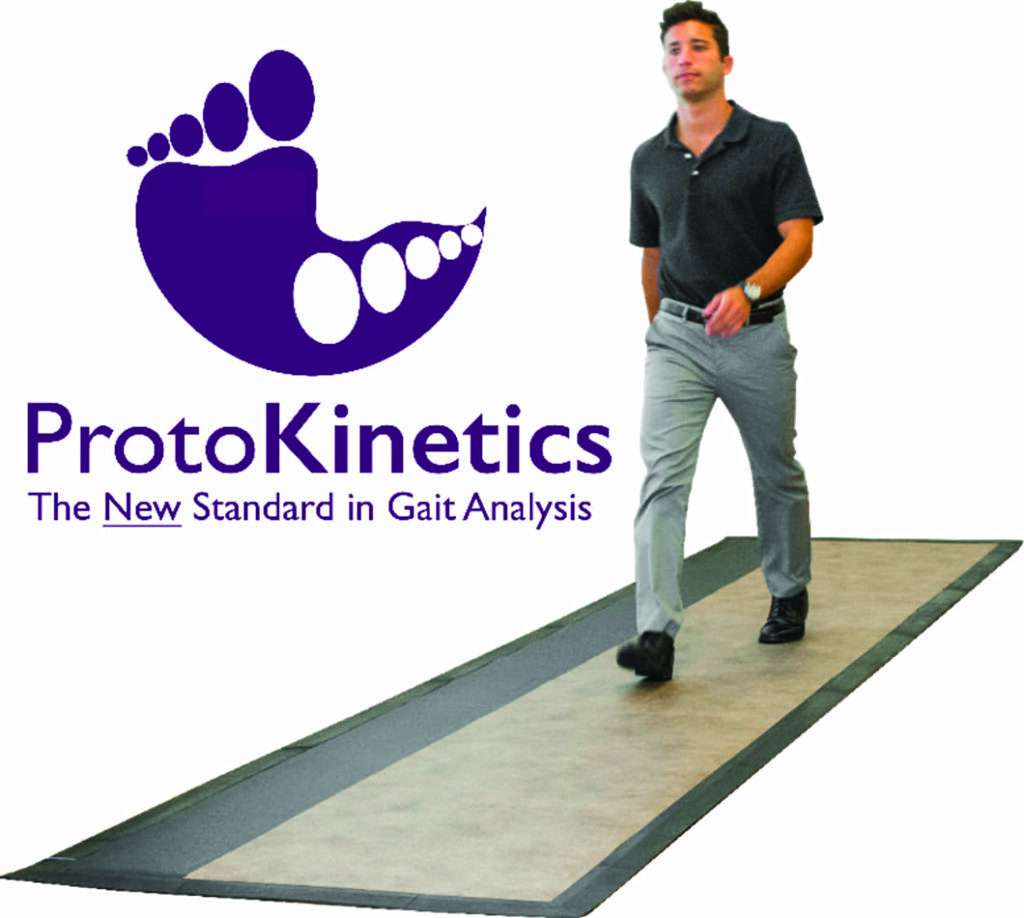 Zeno Electronic Walkway System
Managing and synthesizing accurate gait data is essential to outcomes-driven healthcare. The portable Zeno Walkway from ProtoKinetics, Havertown, Pa, has a wide, flat surface that allows for the capture of loading patterns of the patients' footsteps without any impedance to assistive device performance. PKMAS software identifies typical footfall patterns instantly and is engineered to automatically eliminate walker tracks, while expertly identifying overlapping steps, to provide robust temporal-spatial measurements for even the most complicated gait patterns. Recent implementation of the enhanced Gait Variability Index (eGVI), instrumented Four Square Step Test (iFSST), and Limits of Stability (LoS) balance test are examples of rehabilitation-related outcome measures which can assist in clinical treatment planning and hospital discharge decisions.
For more information, contact ProtoKinetics, (610) 449-4879; www.protokinetics.com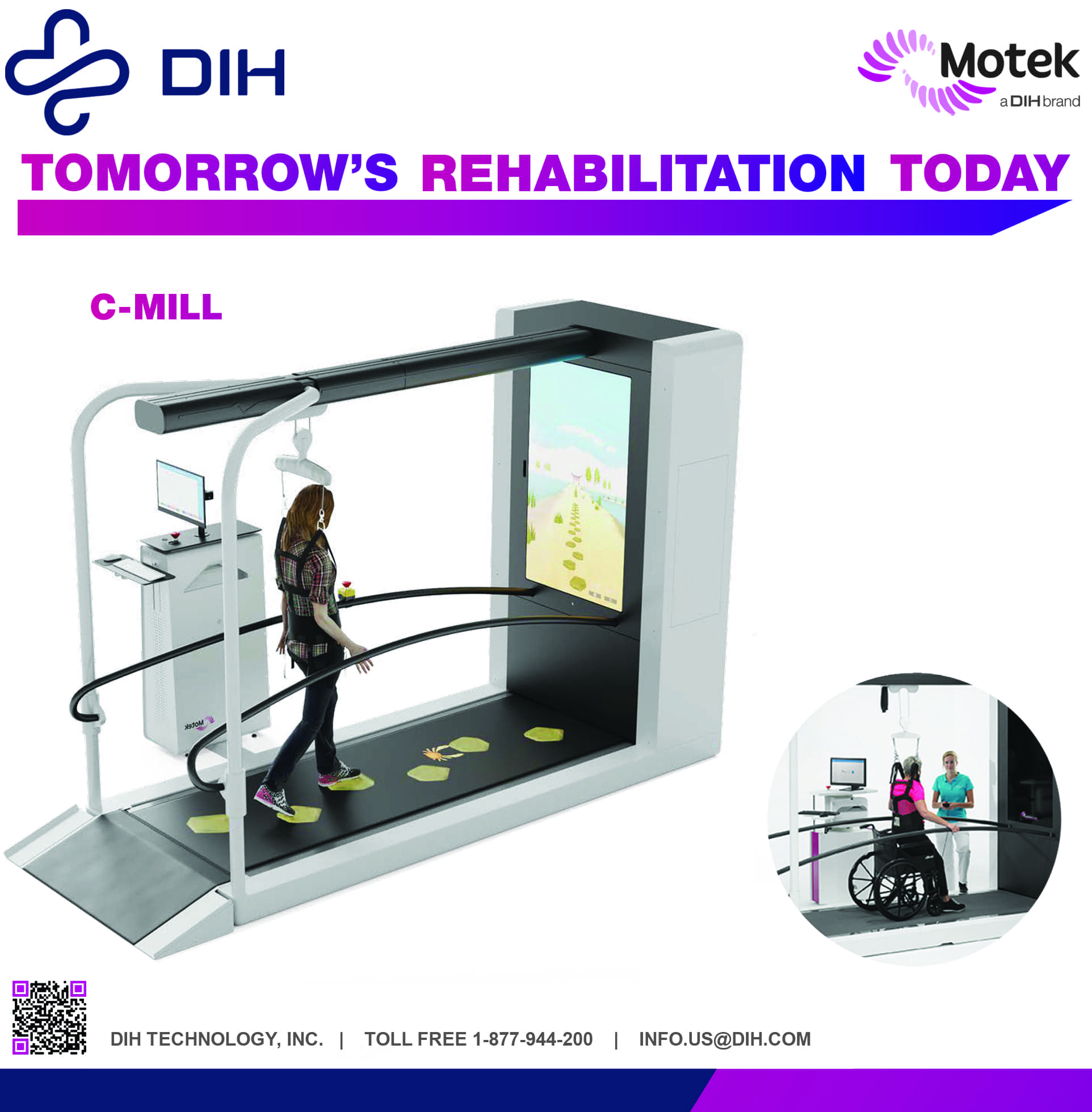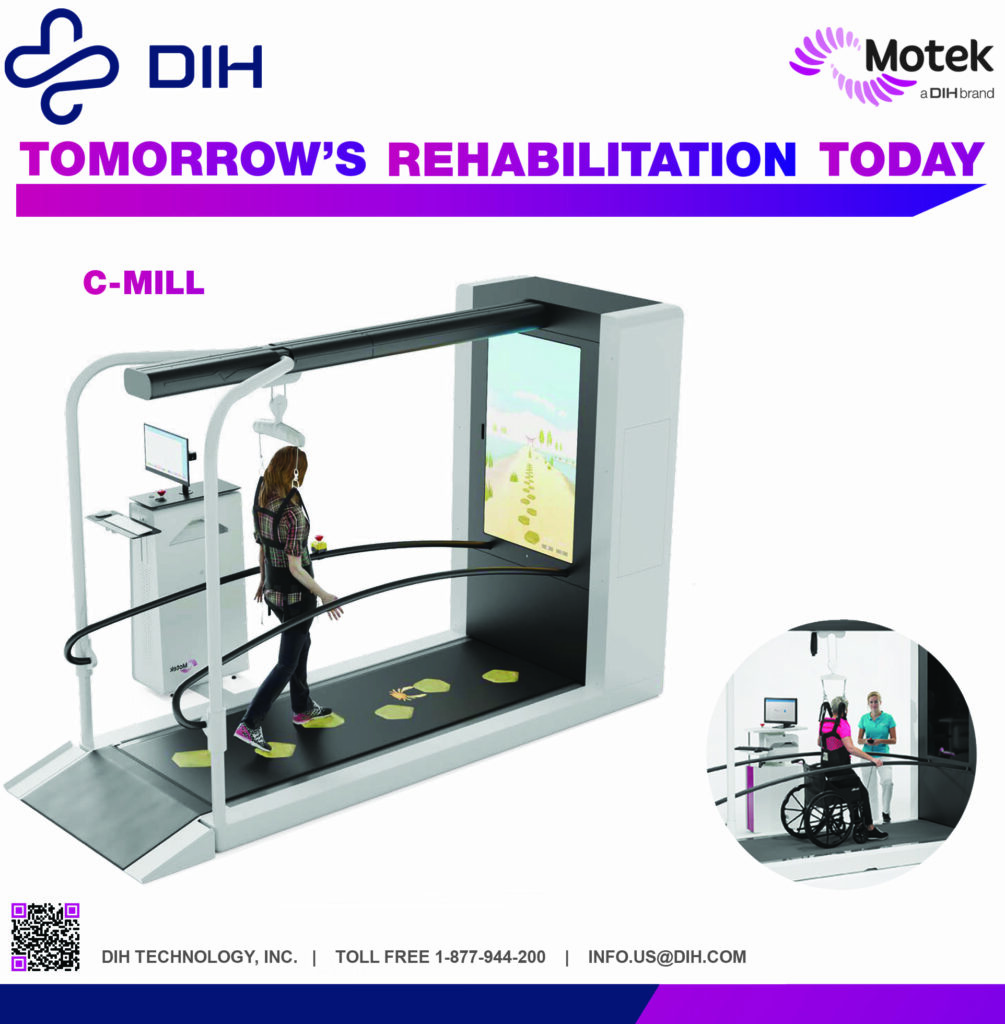 Instrumented Training Treadmill
C-Mill is an advanced, instrumented treadmill with force plates and real-time feedback for the objective, in-depth assessment and training of impaired gait and balance in a visual, immersive environment. After measuring and analyzing a patient's unique walking pattern, the C-Mill provides a safe environment that therapists can tailor to their patients' abilities using dozens of fun and challenging visual and auditory cues. The patients are cognizant of their movements through immediate feedback projected on the treadmill, auditory feedback, video recordings, and clear reports. With the body weight support option, patients can benefit from the C-Mill therapy very early on. DIH therapy solutions support the treatment of patients across the continuum of care.
For more information, contact DIH, (877) 944-2200; www.dih.com or https://www.motekmedical.com/solution/c-mill or [email protected]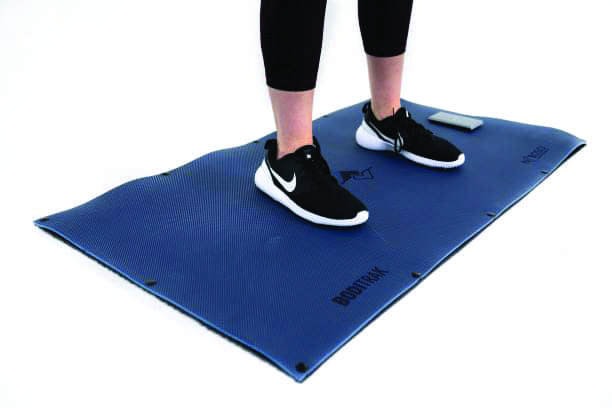 Pressure Mapping System
The BodiTrak BioMetrics Pressure Mapping System from BodiTrak BioMetrics, a Vista Medical company, is designed to provide objective, real-time data and performance metrics to help aid clinical decision-making. Assess, retrain, and evaluate patients while enhancing engagement. Gain a better picture of symmetry, weight shift, compensations, balance and more for analysis, treatment progression, and return to function.
For more information, contact BodiTrak BioMetrics by Vista Medical; (855) 733-0123, ext 104; www.boditrakbiometrics.com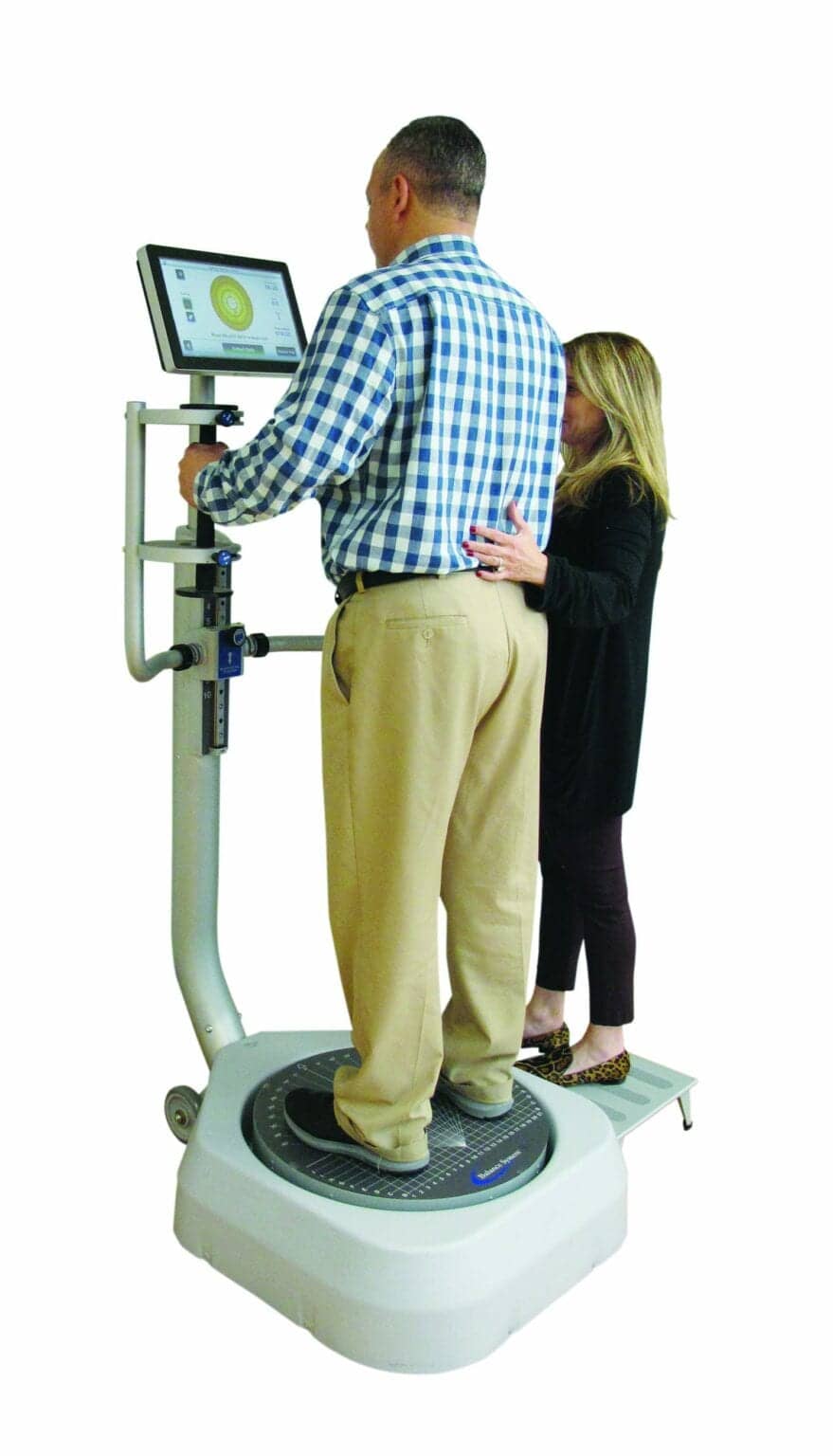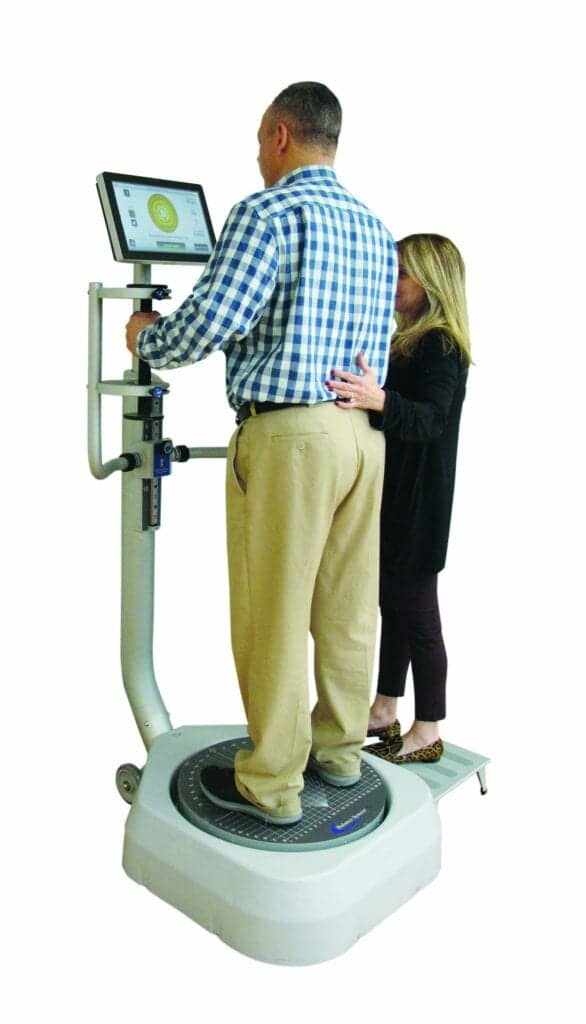 Balance System
The Biodex Balance System SD, from Biodex Medical Systems Inc, Shirley, NY, is a versatile balance testing and training device that adds value with turnkey programs to help therapists grow their businesses. Access science-based technology solutions, from fall risk to concussion management. Objective data and reporting help meet requirements for value-based care.
For more information, contact Biodex, (800) 224-6339; www.biodex.com/balance or [email protected]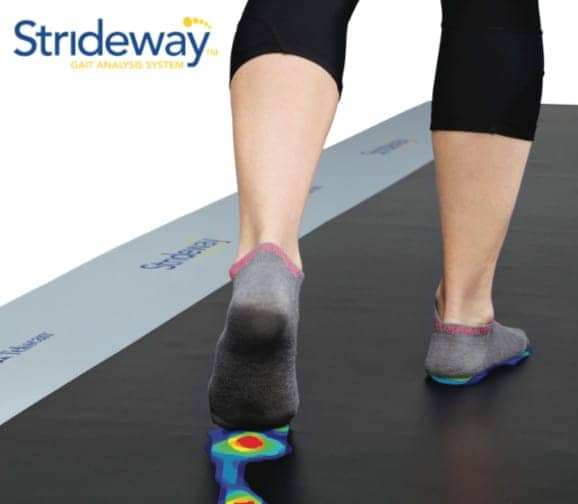 In-Shoe Gait Analysis System
The F-Scan64 wireless in-shoe pressure measurement system from Tekscan, South Boston, offers quick set-up and flexibility to collect pressure, force, and temporal gait parameters. Featuring small and lightweight data acquisition electronics, F-Scan64 is designed to allow a natural gait-collection environment free from cords and excessive weight or bulk for patients. The combination of a simple set-up process and gait analysis software essentials helps clinicians save time when working with patients, without sacrificing data quality or reporting capabilities.
For more information, contact Tekscan, (800) 248-3669; www.tekscan.com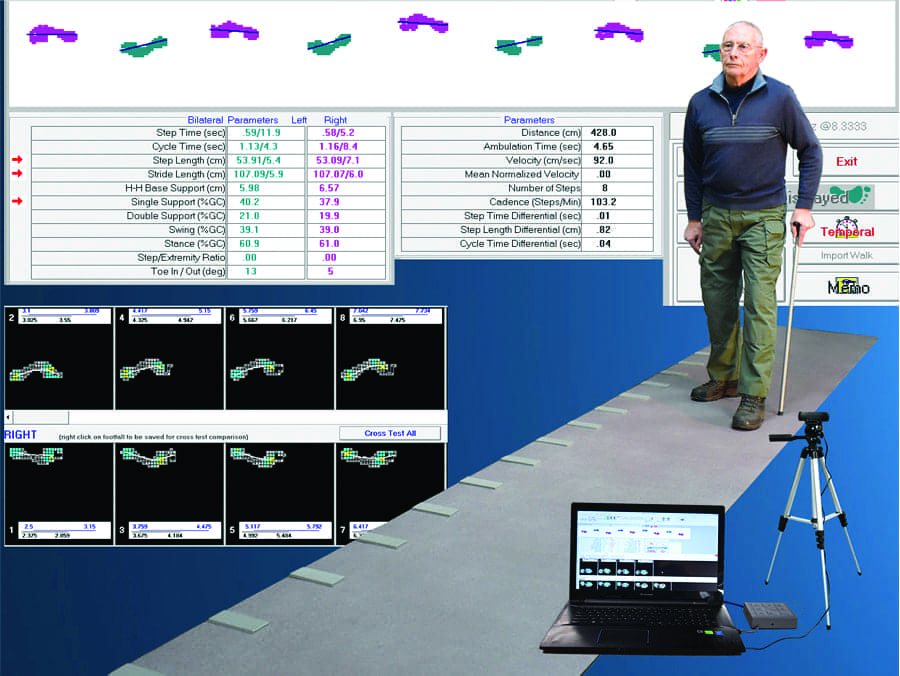 Portable Gait Analysis
GAITRite from CIR Systems Inc, Franklin, NJ, is truly a portable pressure sensitive walkway in a single rollout with a quick and easy setup, under 2 minutes, measuring temporal spatial parameters, providing easy identification of gait anomalies. It is available in a variety of lengths, from 14 feet to 26 feet. GAITRite software records and analyzes multiple gait cycles in a single walk, allowing for accurate testing of patients with or without shoes, assistive devices, and ambulatory aids—crutches, walkers, or canes. GAITRite provides robust reporting and web publishing options to document current conditions and track recovery/rehabilitation. The application software controls the functionality of the walkway, processes the raw data into footfall patterns, and computes the temporal (timing) and spatial (distance) parameters. The software's relational database stores tests individually under each patient and supports a variety of reports and analyses.
For more information, contact CIR Systems Inc, (888) 482-2362; www.gaitrite.com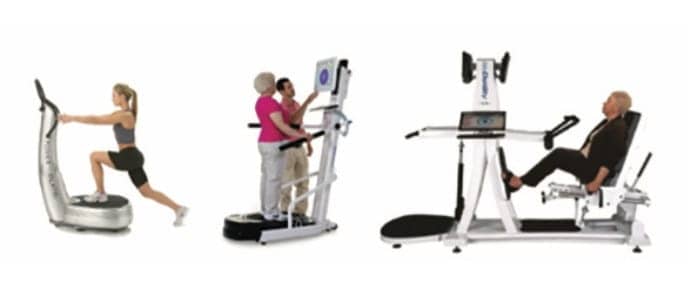 Fall and Fracture Reduction Program
Medical Fitness Solutions, Fallbrook, Calif, offers products that aim to provide a drug-free method of reducing falls and fractures. By addressing each component of a fall and fracture—strength, bone density, balance, and gait—the MFS fall and fracture reduction program should reduce falls, and severity of injury.
For more information, contact Medical Fitness Solutions, (800) 831-7665; www.medicalfitsolutions.com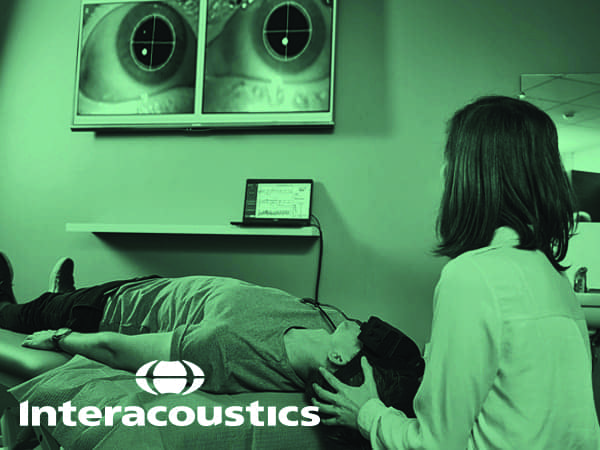 Eye Movement Analysis System
VisualEyes 505 from Interacoustics, Eden Prairie, Minn, is a powerful eye movement analysis system designed to simultaneously record eye and patient movements as a tool for clinicians specializing in vestibular physical therapy. The video Frenzel system features a spontaneous nystagmus detection algorithm designed to provide objective slow phase velocity data for clinically accurate reports. PC-based, VisualEyes 505 is offered in a variety of video goggle sizes and configurations, including a headband option, and is available in either a monocular or binocular camera configuration. Modules that add a 3D head model to help therapists position patients, as well as a torsional nystagmus upgrade for improved accuracy in BPPV assessment, are available.
For more information, contact Interacoustics, (800) 947-6334; www.interacoustics.com/us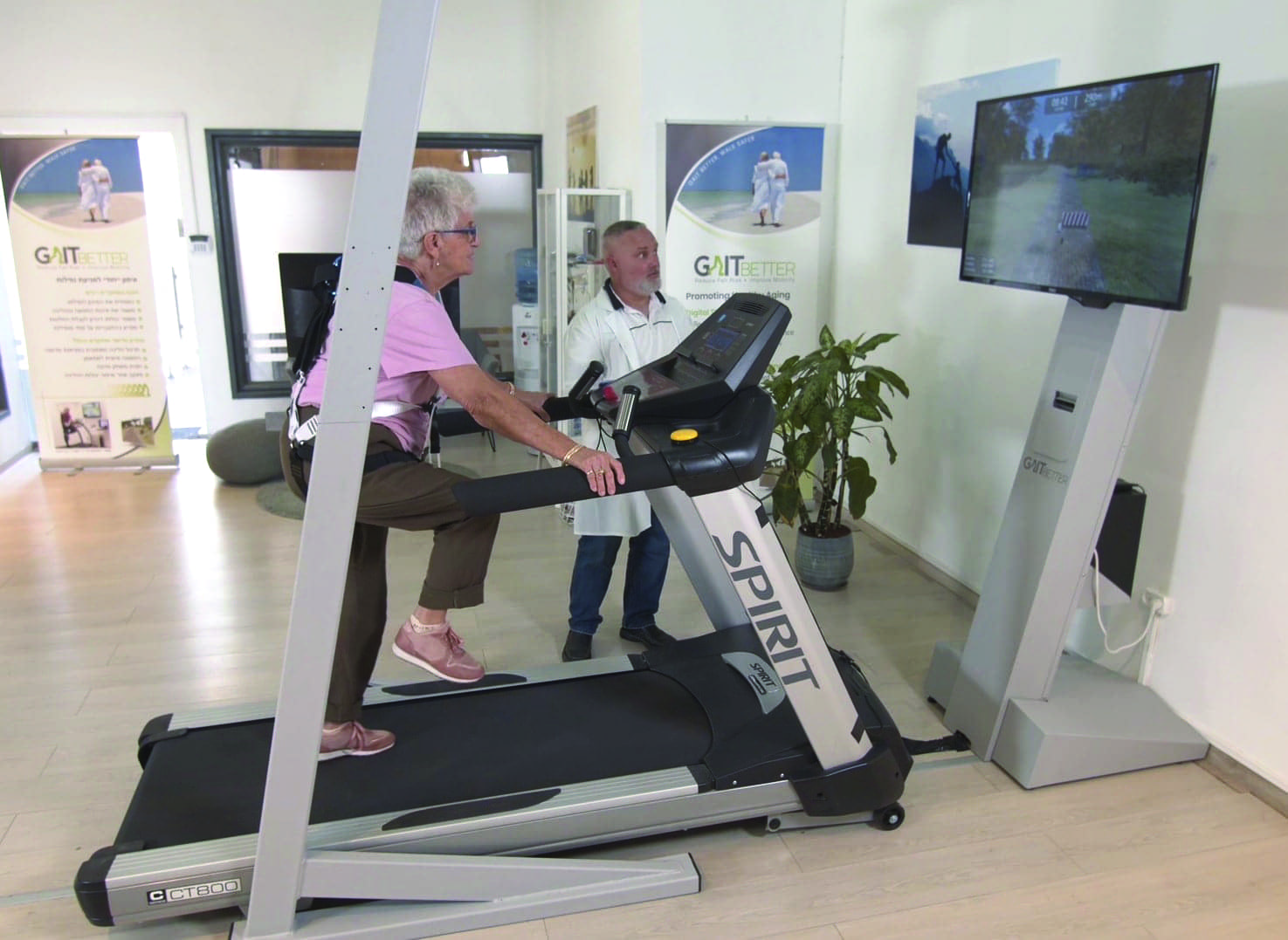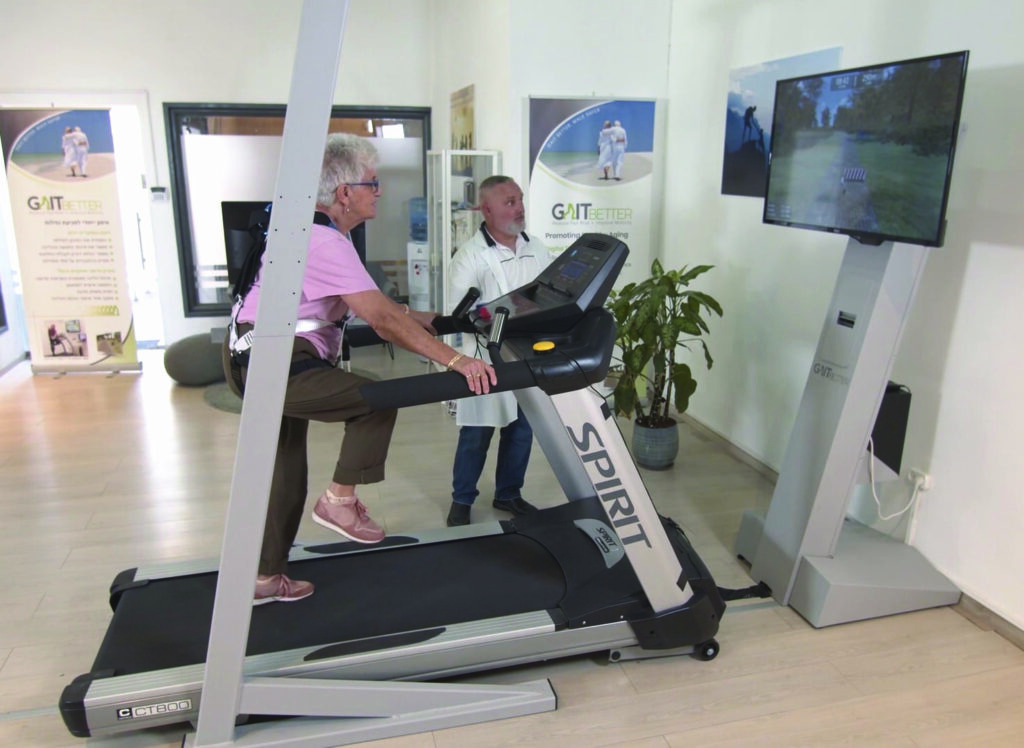 Motor-Cognitive Training
By adding virtual reality experience to existing treadmills, GaitBetter could enable a personalized, safe, and effective motor-cognitive intervention for gait rehabilitation and falls prevention. GaitBetter was designed by leading researchers, scientists, and technologists to maximize therapy outcomes such as dynamic balance, gait speed, obstacles negotiation, decision-making, and motor-planning. The system was featured in a multi-center, randomized controlled trial in virtual reality for rehabilitation, published in The Lancet. Gamified exercise could help increase patients' adherence and reduce no-shows. The system is operated by PTAs and PT techs, utilizes existing equipment, and features a flexible pricing model.
For more information, contact GaitBetter, (908) 883-3218; www.gaitbetter.com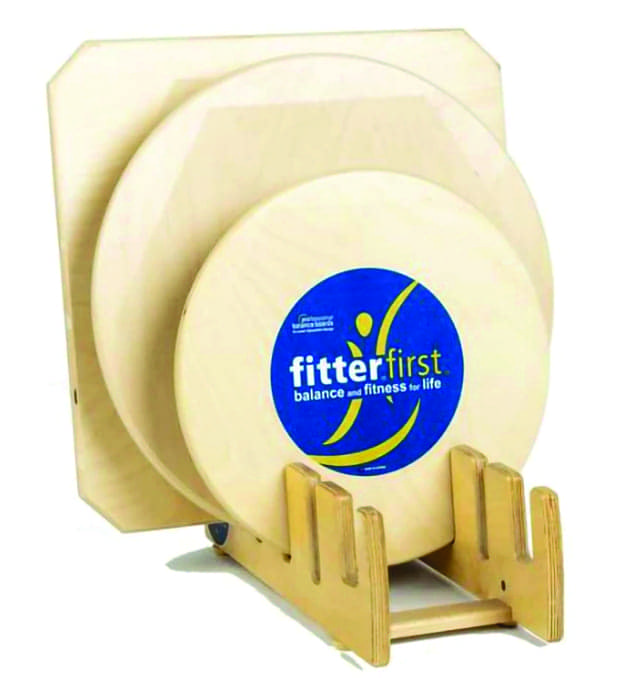 Balance Board Kit
Calgary, Alberta, Canada-based Fitter International Inc offers the Fitterfirst Balance Board Kit. The company's tri-level, 3/4-inch Baltic birch boards are great for clinics, clubs, and studio use. Each kit includes three boards and a durable stand that can hold up to five boards. The 20-inch Pro Rocker Board is a beginner board that provides a single plane of motion at 10-degree, 12-degree, and 15-degree angles. The 20-inch Pro Balance Board is an intermediate multi-directional round board that provides 10-degree, 12-degree, and 15-degree angles. The 16-inch Pro Balance Board is an advanced multi-directional round board that provides 15-degree 17-degree, and 20-degree angles. A 5-board kit complete with stand is also available.
For more information, contact Fitter International Inc, (800) fitter-1 (348-8371); www.fitter1.com
Related Content:
Product Guide 2021: Gait & Balance