By Frank Long, MS, Editorial Director
Questions about the safety, efficacy, and cost of a COVID-19 vaccine sprouted up like mushrooms almost immediately after the pandemic was announced. Answers to those questions have begun to materialize against a backdrop of dissent from anti-vaxxers and conspiracy theorists. Amid these marginal arguments, however, one recent proclamation rises above the din: the vaccination will be free.
With that issue settled, the remaining question is: Will people get it?
Such a Deal
Therapists, therapy assistants, and clinical support staff all have a stake in the success of a COVID-19 vaccine, and should all resolve the question of whether they will be vaccinated once a vaccine becomes available. After all, they are front-line healthcare workers who are likely to have much greater potential exposure to the virus that causes COVID-19 than most Americans who are not healthcare workers.
Despite their high risk of exposure to COVID-19, some healthcare workers may continue to struggle with the decision to be vaccinated. After all, modern medicine has gotten it wrong before. Incidences of Guillian-Barré Syndrome associated with the swine flu vaccine fast-tracked by the Ford Administration in 1976 and the living testimony of "thalidomide babies" are evidence of such mistakes.
Nonetheless, the US Food and Drug Administration and vaccine manufacturers themselves assure that only bureaucratic corners have been cut, and that the rigors of actual testing have not been compromised. If those claims are true, then the Trump administration is offering Americans a deal that will be hard to refuse.
And they put it all in writing.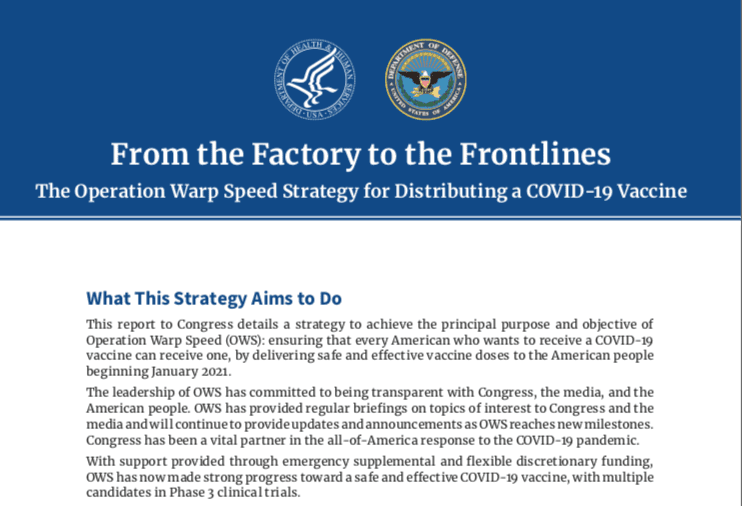 The zero-cost COVID-19 vaccination offer is summed neatly in a document released by the Department of Health and Human Services, titled "From the Factory to the Frontlines: The Operation Warp Speed Strategy for Distributing a COVID-19 Vaccine":
"…no one will be charged any out–of-pocket expenses for the administration of the vaccine either. The objective is to ensure no one desiring vaccination will face an economic barrier to receiving one."

— "From the Factory to the Frontlines," Dept. of Health and Human Services
Price is Right. Is It Safe?
With price no longer a barrier the decision to vaccinate comes down to personal choice, which will be influenced by trust. Those who feel confident that science and the clinical trials did their job will likely flock to vaccination sites. Those who lack that trust will likely not. For those in the latter group who are healthcare workers there may be a career reckoning, so the decision must be weighted thoughtfully.
A strong case for getting the vaccine comes from Anthony Fauci, MD, who told CNN anchor Jim Sciutto in an interview, "I would not hesitate for a moment to take the vaccine myself and recommend it for my family.
Meanwhile, anti-vaccine proponents such as Larry Cook urge skepticism. Cook, who is founder of the group Stop Mandatory Vaccination and who promoted the documentary Pandemic on his Twitter feed, issued this blunt tweet August 17: "Although vaccines do not confer immunity of offer any real health benefit, they do have the power to maim, destroy, and kill our children…"
Opposing Camps Dig In
A clear view of the ongoing debate over COVID-19 vaccination can be seen in California. Some of the state's anti-vaccination activists have tied their efforts to resist mandatory vaccination to government control. Cook is one such activist and stated in a June 21 tweet that mandatory COVID-19 vaccination and mandatory mask wearing "…are 100% related."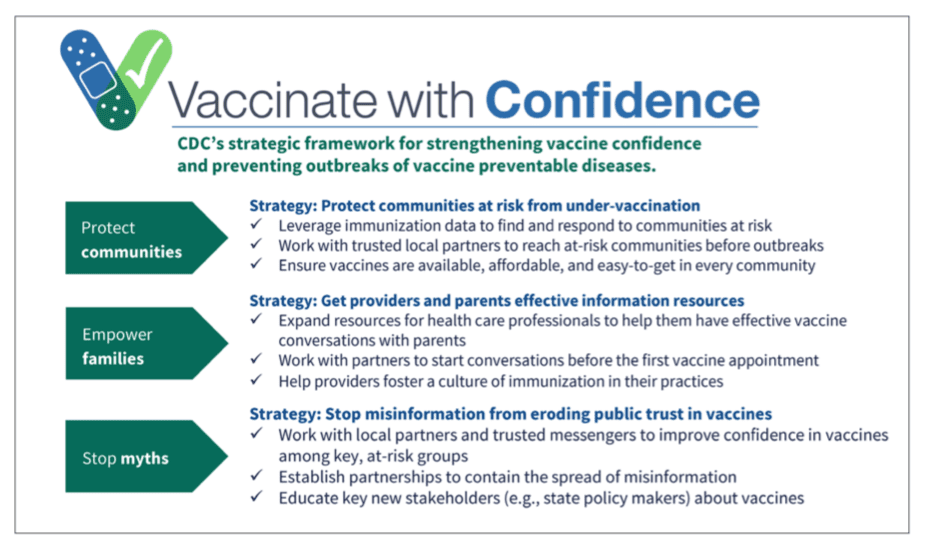 That line of thinking is supported by fellow anti-vaccine activist Joshua Coleman, who leads the group V is for Vaccine. In an interview with The Sacramento Bee Coleman says, "I'm already hearing some states are talking about a vaccine mandate for the coronavirus, even though it hasn't been developed yet."
Such talk is disappointing but not surprising, according to Leah Russin, a lawyer and former educator who heads up the Vaccinate California pro-vaccination organization. Russin, who favors vaccination, has issued tweets that support the wearing of masks as well as Fauci's efforts to spread factual information about COVID-19 to the public. Her reaction to the anti-vaccine movement's stand against a COVID-19 vaccine is philosophic.
"There are obvious, concerning conspiracy theories that are sadly gaining traction that are not helpful," Russin said, in The Sacramento Bee. She adds that she feels the federal government's slow response to the pandemic and the Centers for Disease Control's (CDC) early missteps regarding mask wearing strengthen those theories.
Muddying the water even more, perhaps unintentionally, was a comment CDC director Robert Redfield, MD, made September 16 about a vaccine's effectiveness relative to a face covering.
Speaking to a Senate panel about the timeline for vaccine availability, Redfield declared: "I might even go so far as to say that this face mask is more guaranteed to protect me against COVID than when I take a COVID vaccine."
Redfield also characterized face masks as the most powerful, important public health tool currently available in the fight against COVID-19. He added that clear scientific evidence supports their efficacy and that, if embraced by the public, the use of face masks for 6 weeks to 12 weeks could bring the pandemic under control.
As the weeks prior to a successful vaccine are announced the debate about whether to seek or accept a COVID-19 vaccination is likely to only intensify. And, despite the angst and vitriol that will characterize some of those debates, the final lesson of 2020 may be simply to remember that the best things in life are free.
See the actual document that lays out the strategy for a vaccine rollout and details cost and distribution at the Department of Health and Human Services Website.
---
[ RELATED: The Jockstrap Facemask and Other DIY Infection Control ]
---