By Michele M. Knutson, PT
Few would argue that Americans' reliance on pain medication has reached a dire culmination in the form of the opioid crisis. Many initiatives and projects have been launched to curb the reliance on and abuse of such drugs. For example, the American Physical Therapy Association (APTA) introduced an initiative urging people to choose physical therapy to manage pain instead of turning to pain medication. Therapy, they and other experts assert, has many ways to manage pain and should be considered a significant partner in the national push to help patients manage pain, thereby helping to reduce pain medication reliance and abuse.
In this article, we will explore a spectrum of therapy and rehabilitation products that help patients manage pain.
Body Weight Support System
A lack of mobility can have a significant impact on pain. When patients become immobile, their muscles atrophy and exacerbate many conditions, including the painful side effects. The simple act of (re)gaining some ability to be mobile and to exercise inherently reduces the pains caused by inactivity. NeuroGym's Bungee Mobility Trainer, for example, empowers patients to be active in their own progress toward mobility. The patients themselves, not the equipment, initiate the movement with the NeuroGym Bungee Mobility Trainer. This active participation helps rewire the brain, increasing recovery speed in a safe way. With this type of equipment, patients can go beyond traditional therapy exercises and incorporate movements and activities as creative as dancing or kicking a soccer ball. The product has been effective in helping patients recover from a range of issues, including stroke, brain injury, hip fracture, joint replacement, and any loss of function associated with inactivity.
Short Wave Diathermy
Diathermy is a form of electromagnetic energy to assist in pain reduction through its effect on cellular activity. It can be used in a thermal or non-thermal mode. Diathermy can provide extremely effective heat therapy, with its ability to offer deep warming, and target specific muscles or pathologic lesions. Diathermy is typically produced by three techniques, though short wave diathermy is typically used to treat deep muscles and joints, such as the hip.
A notable short wave diathermy product is Chattanooga's Intelect SWD100, which offers a monode for treatment of a single, mid-size area, and a diplode for treatment of large areas and for treatment of suitable body parts that can be warmed from three sides simultaneously. The system also features an educational library that can be accessed on the device, providing an anatomical graphics library that has a catalog of human anatomy and pathological conditions for which short wave diathermy is used.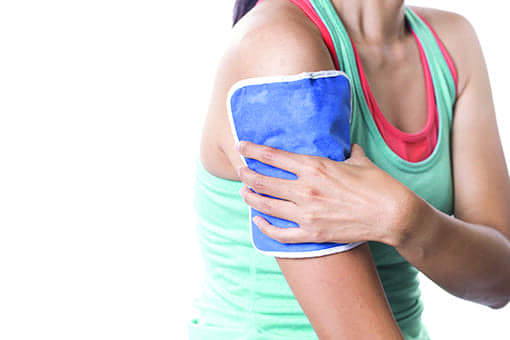 E-stim
Technology has given therapists many different waveforms for many specific uses. With proper protocol selections, electric stimulation therapy, or electrotherapy, can either block pain messages to the brain or elicit a localized endorphin release. It does this by applying electrical stimulation to treat muscle spasms and pain. Electrotherapy is wonderful for chronic and acute pain alike.
A prime example of electrotherapy is Chattanooga's Vectra Neo. This system offers multimodality versatility with five plug-and-play modules, offering two- and four-channel electrical stimulation, ultrasound, EMG biofeedback, EMG-triggered stimulation, and laser options. Usability is enhanced by the clinical protocol setup, which leads therapists through the functions of the device and each therapy accessing over 100 protocol options. Additionally, Neo offers an anatomic reference library that illustrates an array of pathologies, making it easier for therapists to communicate with patients.
TENS
TENS (transcutaneous electrical nerve stimulation) therapy is the use of low-voltage electrical current for pain relief. The units are small, typically no bigger than a smartphone, where two electrodes are connected from the unit to the patient's skin over an area of pain. When turned on, the TENS unit sends current to the area, stimulating the nerves and helping patients feel less pain. TENS units can be used on various body parts. For example, the MDS DI1010 InTENSity TENS Unit has 10 preset selections, including for the neck, lower back, knee, elbow, and shoulder.
TENS units, which are available via prescription and over-the-counter, can be a lifesaver for those suffering from chronic pain, acute post-traumatic pain, arthritis pain, and other conditions. A person's ability to strap on the portable pain management device and go to work, perform errands, etc, without drawing attention to themselves is a great way to manage low back pain throughout the day. This is beneficial to the type of patients who need to keep up their mobility and activity level. For those who use this modality, Parker Laboratories, Fairfield, NJ, offers Spectra 360 electrode gel, formulated to work particularly well for applications where conductive rubber/carbon electrodes are used.
[sidebar float="right" width="250″]Product Resources
The following companies provide products for pain management:
Accelerated Care Plus
www.acplus.com
Amrex Electrotherapy Equipment
www.amrexusa.com
Ari-Med Pharmaceuticals
www.ari-med.com
Battle Creek Equipment Company
www.battlecreekequipment.com
Dynatronics Corp
www.dynatronics.com
Everyway4all
www.everyway4all.com
JTECH Medical
www.jtechmedical.com
LiteCure
www.litecure.com
Mettler Electronics
www.mettlerelectronics.com
OPTP
www.optp.com
Parker Laboratories
www.parkerlabs.com
PHS Medical by Pivotal Health Solutions
www.phsmedicalsolutions.com
Roscoe Medical/Compass Health Brands
www.roscoemedical.com
Sore No More
www.sorenomore.com
Southwest Technologies
www.elastogel.com[/sidebar]
Ultrasound
Therapeutic ultrasound offers targeted and specific pain management by warming tissues and increasing the blood and nutrients flow to an injured area. The technique, which has been utilized for decades, uses ultrasound frequency in the range of approximately 0.8 to 3.0 MHz to create a sound wave that causes the vibration of targeted tissues, thus creating heat. The Mettler Sonicator 740 from Mettler Electronics Corp., Anaheim, Calif., for example, delivers ultrasound at two different frequencies (ie, depths), which can be delivered at varying pulsed modes.
Ultrasound can be used in both a thermal and non-thermal mode to achieve many different outcomes, such as breaking down scar tissue, relaxing tissue and muscle, increasing blood flow, etc. And what's more, ultrasound treatment is gentle on patients and efficient for therapists. The ultrasound probe is kept in constant motion over an area of discomfort for a short duration of time. To keep ultrasound probes clean, Parker Laboratories offers Protex Ultra disinfectant wipes, formulated to disinfect in 4 minutes and kill pathogens on contact.
Therapeutic Laser
The use of therapeutic lasers may be the least present pain management modality in most clinics, but has wonderful results. Laser units deliver energy to cells directly, invigorating the healing process and helping not only to manage pain but also to speed up the healing process. Besides being a quick treatment, laser therapy is gaining in popularity as treatments are customizable, whether deep tissue or off-contact, can be used for chronic or acute conditions, and reduces pain without side effects. What's more, a big benefit for therapists and patients alike for using this modality is its portability. Units such as the Chattanooga Intelect Transport Laser are equally adept on the go—that is, they can be easily transported in a rehab facility, as they are in the clinic. The units can be used on a tabletop, wall mount, therapy cart, or other mobile devices. Other transport-friendly designs include the Apollo Laser Therapy portable unit, which weighs 2.3 pounds, and the Apollo Laser handheld unit, which can be used with wall power or a battery pack. Both are available from PHS Medical, Watertown, SD.
Topical Analgesics
Analgesic creams, rubs, and sprays are topical painkillers that are sprayed on or rubbed into a patient's skin over painful muscles or joints. Rather than depressing nerves, analgesics stimulate the nerves to provide pain relief. Although all topical analgesics are designed to relieve pain, different products use different ingredients. For example, Polar Frost contains aloe vera, which has an anti-inflammatory effect and helps to keep the skin smooth and moist throughout treatment. Other sources for topical analgesics appropriate for the PT market include Moab, Utah-based Sore No More, which offers Sore No More natural pain relieving gel, and Tempe, Ariz-headquartered Ari-Med Pharmaceuticals, which offers Flexall topical pain relieving gels. Flexall, formulated with menthol, methyl salicylate, and camphor can enhance TENS and ultrasound treatment as well as massage therapies. Sore No More can be used for direct application or dissolved in a warm bath for temporary relief of joint pain, muscle soreness, sports injuries, back pain, and sprains. Topicals are a great solution for managing pain, whether from soft tissue injuries, stress injuries, muscle tension, inflammation, or stiffness.
Hot and cold therapies have been a go-to treatment in physical therapy settings for years, but updates to materials and technologies have made them more versatile and comfortable. Thermophore Moist Heat Packs and Ice It! Reusable Cold Packs from Battle Creek Equipment, Fremont, Ind, are two products in this category that provide a range of features and sizes for temporary relief of pain symptoms. For example, Thermophore Classic Heat Packs are designed to provide moist heat without adding water and can be operated with a handheld switch.
Ice It! Reusable Cold Packs are made to be fully flexible to fit around painful areas when frozen, and can be uses several times daily. Southwest Technologies, North Kansas City, Mo, is another manufacturer of hot/cold products to the PT market, offering its ElastoGel line of therapy wraps in 40 different shapes and sizes.
Summary
Many people have unmet pain management needs. This pain can significantly decrease their quality of life. Fortunately, physical therapy can play an important role in helping patients manage their pain, speed their recovery times, and boost their mental and emotional outlook. In turn, successful pain management via physical therapy can help healthcare providers better serve patients across the continuum of care and reduce costs. When therapists have a better understanding of the various therapy treatments that can be offered, they can give their patients a chance to get back to the activities they enjoy. PTP
Michele M. Knutson, PT, is a graduate of the University of Minnesota's physical therapy program and has a BA in sports medicine and biology from St Olaf College. She is the vice president of support services for Welcov Healthcare, where she manages operations for rehabilitation services. She has an extensive background in orthopedics, geriatric rehabilitation, home health, and acute care. Knutson is also a national trainer for a variety of rehabilitation topics, including complex medical conditions and exercise training. For more information, contact [email protected].