By Frank Long
It's been a full decade since the stock market drop of 2008, and the once tenuous sales climate for physical therapy products that resulted from the economic downturn that followed seems to have renewed its confidence. In fact, the current economic strength of the US economy is reflected in this year's Physical Therapy Products facility-based equipment annual survey. The online survey, taken by physical therapists practicing nationwide, shows not only that buying will be robust throughout 2018, but that the purchasing trends for equipment valued at $500 or more will continue upward into 2019. In addition to brisk buying activity across the board, which the survey results indicated, there are data that show growth is taking place in purchasing budgets themselves.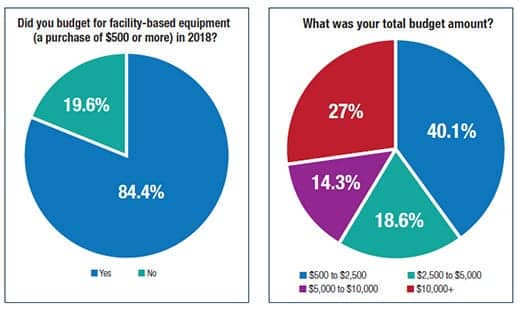 The following companies offer a range of products for capital expenditure purchases:
[sidebar float="right" width="250″]Product Resources
Aquatic Access
www.aquaticaccess.com
Bailey Manufacturing Company
www.baileymfg.com
Battle Creek Equipment
www.battlecreekequipment.com
Biodex Medical Systems Inc
www.biodex.com
BTE
www.btetech.com
Brookdale Medical Specialties Ltd
www.brookdalemedical.com
Chattanooga, a DJO Global Company
www.djoglobal.com/our-brands/chattanooga
GAITRite – CIR Systems Inc
www.gaitrite.com
Clarke Health Care Products
www.clarkehealthcare.com
Dynatronics
www.dynatronics.com
Everyway4all
www.everyway4all.com
Hausmann Industries Inc
www.hausmann.com
Hocoma
www.hocoma.com
HydroWorx
www.hydroworx.com
JTECH Medical
www.jtechmedical.com
LightForce Therapy Lasers by LiteCure LLC
www.litecure.com
Micromedical Technologies Inc
www.micromedical.com
Pivotal Health Solutions
www.pivotalhealthsolutions.com
ProtoKinetics
www.protokinetics.com
Solo-Step Inc
www.solostep.com
Sprint Aquatics
www.sprintaquatics.com
SwimEx Inc
www.swimex.com
SureHands Lift & Care Systems
www.surehands.com
Tekscan Inc
www.tekscan.com
Thought Technology
www.thoughttechnology.com
Tri W-G Inc
www.triwg.com
Vista Medical
www.vista-medical.com
Vonco Medical
www.voncomed.com
WorkWell
www.workwell.com[/sidebar]
Budget Basics
The first question on the 2018 survey provides a peek at how PT clinics are investing in themselves by asking whether practices established budgets for facility-based equipment in 2018. Of those who took the survey, 84.4% indicated that, in fact, they did budget for facility-based equipment in 2018. For that same question 19.6% indicated they had not budgeted for facility-based equipment. The survey also revealed that large numbers of those budgets were accepted by the clinics that created them, with 78.6% of survey-takers reporting their budgets had been approved, while 21.4% reporting they had not.
A notable finding from this year's survey data was that budgeted amounts had shifted upward in two spending brackets over last year. For example, budgets of $5,000 to $10,000 were reported by 14.3% of survey respondents in 2018, showing a nearly twofold increase over the 7.5% of respondents who reported budgets of this amount in 2017. At the highest end of the 2018 survey scale, 27% of survey respondents indicated they had budget amounts of $10,000 or more. That percentage was up from 22.2% reported in 2017. These upward shifts toward bigger budgets suggests the appetite for more sophisticated physical therapy technology is gaining ground.
In this year's survey 40.1% of the budgets had a range of $500 to $2,500. That percentage was a decrease from 44.4% of the budgets in that range in 2017. For budgets ranging from $2,500 to $5,000, 18.6% of those who took the 2018 survey indicated this amount. That figure was down from 25.9% who reported that same budget range in 2017.
What's On the Shopping List
With budget allotments ticking upward, it is not surprising that some of the products clinics are spending money on are larger and more sophisticated technologies. Although rehab and fitness equipment maintained its top position in the survey, with 39.3% of respondents indicating they had purchased such equipment in 2018, the growth of treatment table purchases narrowed that lead. This year 29.6% of those who took the survey indicated they had purchased treatment tables so far in 2018, which was a full 10% increase over the same reported purchases in 2017.
There was also brisk purchasing activity this year in software, with 17.9% of respondents indicating they had made such purchases in 2018. Pain modalities were not far behind, with 16.1% of those who took the survey reporting such purchases, followed by gait and balance equipment (14.3%), resistance equipment (14.3%), and safe patient handling equipment (12.5%). Beds and mattresses were purchased by 5.4% of those who took this year's survey, which was up from 3.7% who reported those purchases in 2017. Rounding out the equipment purchases reported in the 2018 survey were electrodes (3.2%), ergonomic equipment (3.1%), dryers and dressings both at 2.8%, pediatric equipment at 2.6%, and waiting room supplies reported as 1.8% of purchases.
Wish Lists
Our survey provides not only an informed perspective about where purchase trends have been, but seeks to learn where they may go in the near future. As a bellwether of future purchasing activity, we asked survey-takers which types of facility-based equipment are still on their "wish lists" for 2018. The top three positions were narrowly separated, with each category separated successively by less than 3%. Gait and balance equipment finished on top (37.5%) but was trailed closely by rehab and fitness equipment (35.7%) and treatment tables (32.8%). Pain modalities also made a strong showing on wish list purchasing, with 25% of respondents indicating they would still like to purchase these products in 2018. Software and resistance equipment were tied at 23.2% while beds and mattresses were at 5.4%, and safe patient handling was selected to appear on 3.6% of survey-takers' wish lists. Ergonomic equipment and waiting room supplies finished out the wish list selections tied at 1.8% each.
A separate question asked more detailed questions about wish list purchasing for the year ahead and beyond: "Are any of the following still on your "wish list?" Responses to this questions showed rehab equipment and pain modalities are still on the minds of PTs hoping to make a few more buys in 2018. Balance manager systems led the way at 26.8%, with treadmills, elliptical trainers, and stationary bicycles collectively selected by 23.2% of survey respondents. In gauging interest in pain management technologies, 23.2% of those who took the survey named E-stim products as equipment still on their wish lists, with 16.1% choosing ultrasound, 14.3% choosing therapeutic laser, and 10.7% indicating TENS.
Gait analysis systems were chosen by 14.3% as items that still remained on their wish lists, while force plates were named by 7.1% of those who took this year's survey. Weights were chosen by 16.1% of survey respondents, and pulley systems were named by 7.1% as equipment they would still like to have. Graston tools and ergonomic equipment both were selected in this category by 1.8% of those who responded to the survey.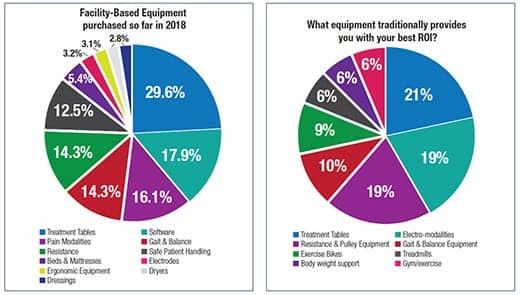 Rationale and ROI
Data gathered by this survey help paint a picture of technologies that are stirring interest throughout the PT community, but that data also provide insight about "why" those purchases are being made. Those drivers often are a need for equipment to provide a service a clinic previously could not offer, or to retire older equipment that has become worn or unsafe. One of the trends noted in this year's facility-based equipment survey was an increase in money clinics directed at first-time purchases and replacements. Money spent to make first-time purchases was reported among 35.7% of those who took the 2018 survey. This was a small but certain tick upward from 33.3% who made first-time purchases in 2017. Another increase appeared in purchases made to replace equipment, with 26.8% of 2018 survey respondents indicating such purchases compared to 22.2% in 2017. While purchases made to upgrade equipment in 2018 were still strong at 37.5%, that percentage was down from 2017, when 44.4% of survey respondents reported making purchases for equipment upgrades.
Looking further ahead, several of our survey respondents provided information about capital expenditures they planned to budget for in 2019 if they didn't acquire them in 2018. Among those long-range purchases, software was the most popular forward-facing purchase. Following were body weight support systems, balance training systems, and adaptive trikes. Other popular items named for 2019 purchases were cardio equipment designed for the again population, IASTM tools, Geiger beds, hydrocollators, mechanical standing frames, and dry needling equipment.
Return on investment (ROI) is one of the key considerations in making any equipment purchase. Our 2018 survey found that in this arena, equipment that received the highest marks for ROI were those that arguably get the most use from therapists and patients. Our 2018 survey asked, "What equipment do you feel traditionally provides you with your best ROI?" The answer most often given (21%) by our survey-takers was "treatment tables." One therapist offered a short-answer response that crystallized the sentiment regarding this venerable piece of equipment in the PT clinic: "The treatment tables we have purchased have lasted us over 20 years. They are very resilient and have taken quite a beating."
The second most popular choice for ROI was electro-modalities (including E-stim, ultrasound, TENS, and therapeutic laser), which was selected by 19% of respondents. Resistance equipment and pulleys was also selected by 19% of respondents as equipment that provides the best ROI, with gait and balance equipment named by 10%, and exercise bikes at 9%. Treadmills, body weight support systems, and gym/exercise equipment were split among 6% of survey respondents as equipment that provided optimum ROI.
Purchase Information
Therapists who took the survey reported that their facility-based equipment purchases were informed by a wide variety of sources. Two, however, emerged well ahead of the others. Websites were chosen by 80.4% of those who took our survey as the source they used to get product information for their PT equipment purchases. Magazines/digital editions/media were named second most often, with 66.1% of the respondents to this survey reporting these as their primary sources for product information. Trade shows were also popular, with 39.3% of respondents noting this as their preferred source, while 28.6% indicated referral, 25% indicated newsletters, and 17.9% named social media as their primary source of product information. PTP