Four clinics from across the country reveal the strategic role many of their equipment purchases play in keeping them competitive in the local market.
Leaning Into the Competition
There is a tendency to "Think Big" at Catalyst Sports Medicine, a private outpatient physical therapy practice with two locations in the Minneapolis-St Paul Metropolitan Statistical Area. One location sprawls over approximately 7,000 square feet with plenty of space for athletes to test their performance on an expanse of Astroturf. Powered up by a full-time staff of 34 employees—including five therapists—the principals of this practice feel the best bet for leading the competition is to continue to grow.
John Knutson and JW Matheson, PT, DPT, purchased the clinic January 1, 2013, and established a focus on providing physical therapy, performance training, athletic training, and industrial medicine. Catalyst Sports Medicine serves an area with a population of roughly 40,000 people in a competitive environment. Among the providers with whom Catalyst competes for patients is a physical therapy staff from Hudson (Hudson, Wis) Hospital, a sprinkling of sole-proprietor private physical therapy practices, and many small chiropractic clinics.
Maintaining a competitive position in such a crowded field is difficult, but one of the strategies Catalyst uses to maintain an advantage is the efficient use of its large infrastructure to serve regular therapy patients and athletic performance clients. "Our 2,400 square feet of indoor turf area is used by therapists when available, but specifically used for performance training of middle school, high school, and college athletes," Knutson says.
Atop the practice's very large footprint sit the facility-based equipment purchases that have helped Catalyst Sports Medicine remain competitive among its population of sports-minded clients. In the Hudson, Wis, location's 800-square-foot gym are four ADP 300 Treatment Tables from Vista, Calif-based DJO Global, as well as lumbar and cervical extension units from Ocala, Fla-based MedX, used specifically for a back and neck pain program.
"The flexion/extension devices isolate the spine musculature in a safe and controlled, yet progressive strengthening program custom designed for each patient," Knutson says.
Even though the athletic performance program is shifting into high gear with a cash clientele, the majority of the practice's revenues look similar to many other outpatient clinics. "Approximately 70% of our revenue comes from physical therapy, from which virtually all is third-party-payor-based with only a percent or two as cash-based," Knutson says.
Knutson and Matheson say they can strengthen their competitive edge by expanding their efforts in cultivating programs for industrial medicine and cash-based performance training. To fortify its position as a provider of those services, Catalyst Sports Medicine is investing in a 21,000-square-foot facility it is planning to open.
Frank Long is the editorial director of Physical Therapy Products.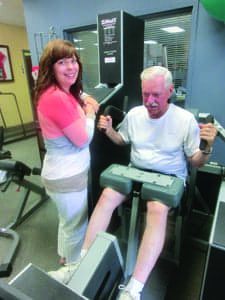 An Interstate Success
Hummelstown, Pa-based Drayer Physical Therapy Institute has 117 outpatient physical therapy clinics located across the United States. Making smart purchases to match individual clinics with the right gear has been crucial in keeping Drayer competitive on a large scale.
Equipment at Drayer's Dillsburg, Pa, clinic is typical of many of its offices. It includes 10 plinths from Salt Lake City-based Dynatronics, and two large mat tables. Resistance machines and balance equipment are installed, and e-stim is provided by the Theratouch 7.7-S from Chattanooga, Tenn-based Richmar.
Purchases that have helped the clinic remain competitive include a Triton DTS table and H-wave electrical stimulation device from Electronic Waveform Lab Inc, based in Huntington Beach, Calif. In addition, pelvic floor electrical stimulation and biofeedback devices were purchased for this location. H-wave is an ultra-low-frequency stimulation that is highly effective in reducing edema as well as controlling chronic pain. It has been extremely beneficial among the athletic population in reducing acute inflammation. It has also performed well in the workers' compensation population to reduce pain and facilitate return-to-work function.
 Misty Seidenburg, DPT, OCS, cert MDT, is the center manager of the Dillsburg Drayer Physical Therapy Institute clinic.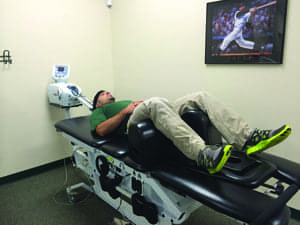 Playing to Win with Athlete-Focused Care
Sports Reaction Center (SRC), Bellevue, Wash, was founded in 1997 and built around the idea that sports therapy places a different demand on the therapist than traditional physical therapy. The clinic deals with athletes from contact sports and endurance sports, which allows the effective management of injuries for diverse athletes.
The competitive environment for SRC is challenging. There are 16 physical therapy clinics within 1 mile of the facility. Most call themselves sports therapy clinics, but none actually see athletes in the volume SRC does. Nine out of 10 patients who come to SRC are self-referred, and our patients are largely insured.
A variety of services are available for SRC clients, including functional screening, metabolic testing, aquatic therapy, injury assessment and treatment, postsurgical rehabilitation, and custom orthotic therapy. We use the AlterG anti-gravity treadmill from Fremont, Calif-based AlterG to rehabilitate the lower extremities and improve mobility and strength for individuals with neurological conditions.
For metabolic testing, the clinic utilizes a CO2 gas analyzer, and the Functional Movement Screen is used for fitness assessment. Our team uses imPACT testing for concussion assessment, a pod-orthotist to create custom orthotics, and the TPI fitness screen and TPI Selective Functional Movement Assessment for golf conditioning.
Neil Chasan, PT, MMT, is founder of Sports Reaction Center, Bellevue, Wash.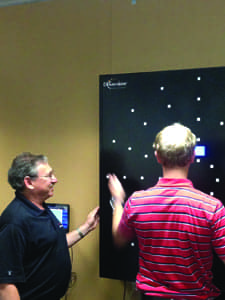 The Smartness of Being Small
Mary Chen, DPT, didn't want to own a big-box physical therapy clinic. When she opened Motion Basics 10 years ago in Orange, Calif., she simply wanted a physical therapy clinic that delivered her vision of one-to-one care. For this, Chen chose a simple equation: one therapist for one patient, for 1 hour.
She says she worked with patients about 10 minutes each before handing them off to an aide. That type of care clashed with how Chen felt physical therapy should be provided. It led her to follow through on a thought that kept running through her head: "I can do better."
Chen found a 2,000-square-foot office off one of Orange County's main thoroughfares, and set off to make her vision of care a reality.
The first stop for most patients at the orthopedic-focused clinic is an exam table, which, Chen points out, can be a purchase worth particularly close consideration.
"I'm a female therapist, and kind of small. I get patients sometimes who are bigger, and I need to maneuver. So I only buy hi-low tables," Chen says. Salt Lake City-based Dynatronics has provided the exam and treatment tables for Chen's clinic. She has also purchased platform mats from the company, which, Chen says, provide good utility.
"Especially models like an 8-foot by 6-foot plinth. They are great for neuro patients who have to transfer to a bigger surface," Chen adds.
The gym is also equipped with an Iron Man treadmill, a Diamond Back compact elliptical, and a Tuff Stuff multistation weight machine. Other gear includes an ergometer from Pinellas Park, Fla-based Endorphin Corporation, a recumbent bike, and a NordicTrack upright bike.
The recumbent bike, NordicTrack, and multistation weight machine were refurbished. To keep all her gear performing optimally, Chen has her gym equipment tuned up annually. "I have a service person who comes in and checks the cables, all the belts, they lubricate parts, clean things up, and give each machine a good inspection."
After 10 years of business, Chen says the value of the equipment she purchased has been excellent. "I purchased all my gear outright, and it all still works fabulously. I had to replace a treadmill once. I call that a fantastic return on investment," Chen adds. PTP
 Frank Long is the editorial director of Physical Therapy Products.