Zimmer Biomet and Apple announce new features of mymobility with Apple Watch enabling more remote care for patients who receive hip and knee joint replacement.
Available later this year, mymobility with Apple Watch will now use gait (the stride of a person as s/he moves limbs) metrics in the Apple Watch and iPhone to passively collect walking speed and double support time when walking on flat level surfaces without GPS. This metric previously could not be measured without a trip to the doctor's office, according to Zimmer Biomet in a news release.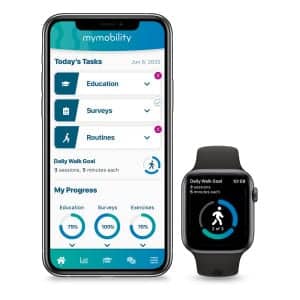 mymobility's new gait quality metrics from Apple Watch enable healthcare professionals to compare their patients' progress against a database to better manage post-operative care and potentially identify issues. These new metrics will also be added to Zimmer Biomet's OrthoIntel Orthopedic Intelligence Platform created for the purpose of helping to uncover new clinical insights for surgeons and their care teams.
The OrthoIntel Orthopedic Intelligence Platform connects the pre-, intra- and post-operative data gathered through the mymobility digital platform and ROSA Knee System to help uncover new clinical insights throughout the episode of care. These insights are intended to help surgeons and care teams make informed decisions and improve care, the release explains.
Additional details include:
Real-time data allows surgeons to check in on patients virtually – shares progress and metrics throughout the episode of care to help surgeons optimize intelligence and analytics and uncover insights about how to improve patient outcomes. They can continue – and even shift – a patient's care routine without requiring an in-office visit.
Ongoing patient communication & education – Patients can directly connect with their care teams to ask questions or check-in on their progress. They will also receive regular communication and education throughout their episode of care, alleviating gaps left in traditional care.
"While many patients progress according to the treatment plan and their goals, this isn't the case for all patients. The gait tracking features and automated check-in notifications can help identify which patients aren't recovering as expected and what factors might be contributing," says Dr Andrew Freiberg, Chief Medical Officer of Zimmer Biomet, in the release.
"This real-time data sharing and new gait measurement feature help provide care teams with more oversight and guidance related to their patients' recovery through a highly engaged and connected joint replacement experience," he adds.
Related: Zimmer Biomet Launches mymobility App and Clinical Study
Additionally, later this year, Zimmer Biomet will share data from the mymobility Clinical Study, conducted to analyze mymobility's impact on patient outcomes and overall costs for joint replacement patients.
[Source: Zimmer Biomet]