A reported 82% of physical therapy patients with low back pain who received telerehabilitation (TR) during the COVID-19 pandemic were very satisfied with their treatment results, according to a new study from Focus on Therapeutic Outcomes (FOTO), a Net Health company.
The research from FOTO, a provider of an outcomes management system for physical therapy, also showed that outcomes were equally effective and more efficient compared to those from traditional in-person office visits.
Published in the most recent edition of the American Physical Therapy Association's Physical Therapy & Rehabilitation Journal, the study, "Is Telerehabilitation a Viable Option for Patients with Low Back Pain? Associations Between Telerehabilitation and Outcomes During the COVID-19 Pandemic," explores effectiveness (functional status), efficiency (number of visits), and patient satisfaction outcomes. Using the FOTO database, the study examined 91,117 total episodes of care, 5,013 of which included or were exclusively telehealth visits. The research looked at data from 1,398 clinics in 46 states for patients who used at least some telerehabilitation between Q2 of 2020 and Q1 of 2021.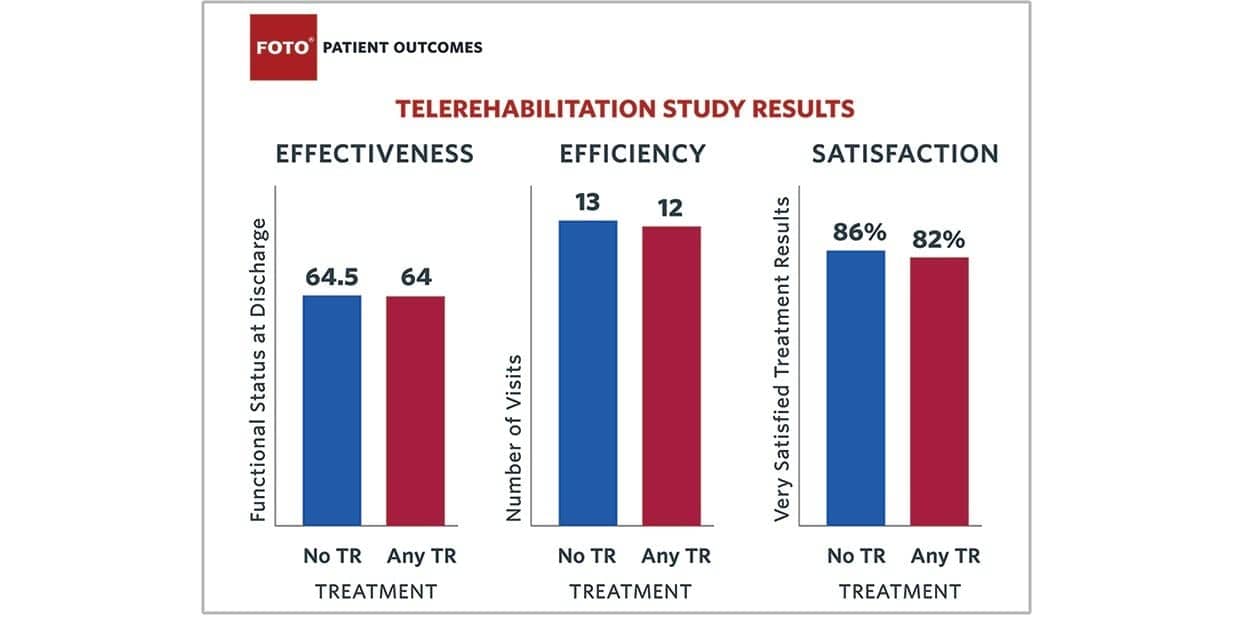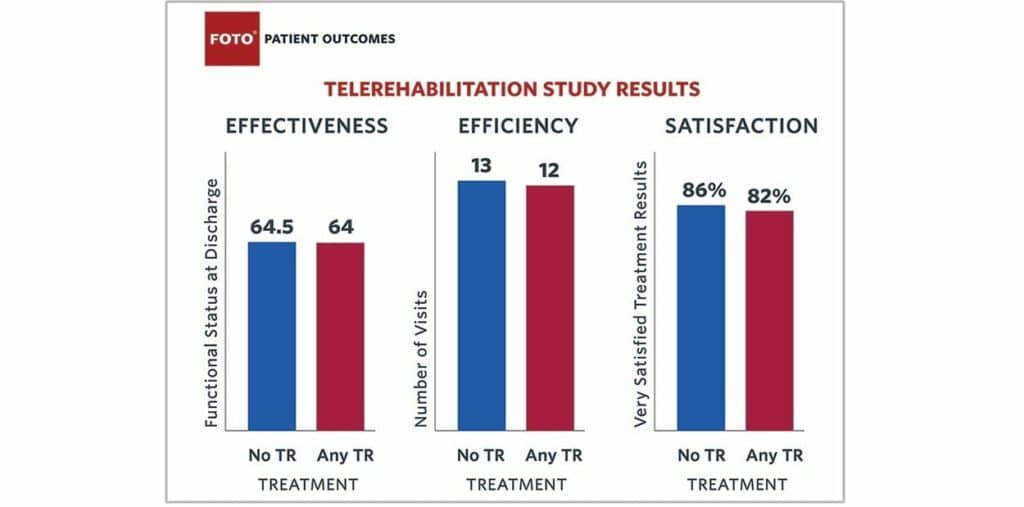 Key Findings of FOTO Study
The key findings highlight the effectiveness, efficiency, and patient satisfaction of telerehabilitation and come at a time when patients, employers, providers, and payors are seeking alternative care models toward effective and efficient ways to manage and treat low back pain. The study showed:
Telerehabilitation is effective. Physical therapy delivered through telerehabilitation was equally effective in improving functional status outcomes for patients with low back pain compared to traditional in-person office visits. Telerehabilitation treatments were also equally effective whether telerehabilitation was delivered using synchronous (real-time consultation with a provider over video) and mixed (using both synchronous and asynchronous) telerehabilitation delivery modes compared to in-person care alone.
Telerehabilitation is efficient. Episodes with any telerehabilitation used as part of the patients' care involved significantly fewer visits (0.7 to 1.3) compared to no-telerehabilitation, potentially providing more cost-effective care for patients and payers.
Patients are highly satisfied with telerehabilitation. All patients completed a satisfaction survey at discharge. For this study, patients were asked how satisfied they were with treatment results. Overall, 82 percent said they were very satisfied, which compares favorably to the 86 percent average satisfaction rate for in-person office visits. Additional details on FOTO's eight-question satisfaction survey are reported in a previous paper, published in Physical Therapy & Rehabilitation Journal.
Important Insights
The study was conducted during the height of the COVID-19 pandemic when an increased number of patients, experiencing mandatory lockdowns and reduced physical activity levels, sought care for chronic low back pain, per research published in JAMA.
""We need to encourage more providers as well as payers to embrace and reimburse telerehabilitation, especially for patients who have difficulty accessing care due to disability or socioeconomic factors," said Mark W. Werneke, PT, MS, Dip. MDT, lead author of the study article and Clinical Research Scientist at Net Health FOTO. "Our results support telerehabilitation as a potentially less-expensive and a viable option for rehabilitation care for successfully managing low back pain not only during the current pandemic but also in the post COVID-19 era. We hope this provides the encouragement needed to encourage more wide spread adoption of telerehabilitation."
[Source: Net Health Systems Inc]