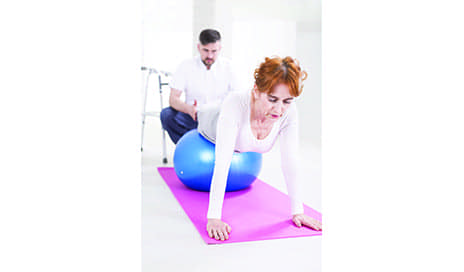 By Timothy L. Kauffman, PhD, PT, FGSA, FAPTA, and Lori A. Eberly, PT, DPT, ATC
Rehabilitation of the aging person in his or her home is an essential and critical treatment arena. These rehabilitation services are usually rendered under the Medicare Part A system, but can also be provided under Medicare Part B as well as private pay which would include maintenance therapy. Maintenance therapy may be provided for a patient who is no longer eligible for Medicare or Medicaid services, but wants to continue with a supervised exercise program. Several years ago the Center for Medicare and Medicaid Services (CSM) changed its regulations to include maintenance therapy as a billable service with very limited applications, however not for prolonged use. Guidelines and links to information concerning Medicare coverage and skilled maintenance can be found on The American Physical Therapy Association (APTA) website.
In 2013, approximately 3.5 million patients received home health services provided by more than 12,000 home health agencies at a cost of 18 billion dollars under the Medicare system. Because this is a significant expense, CMS has initiated programs to reduce the cost. New regulations have been established, along with the collection of specific data to provide insight into cost-cutting measures. One of these areas of data includes hospital readmission rates within the 30 days of discharge from a hospital or rehabilitation setting.
Because of this cost consideration, superlative rehabilitation services in the home are requisite. Physical therapists treating patients in their homes are responsible for continuing the care provided by the hospital or rehabilitation facility in a setting full of variables and challenges, but also full of promise. From the initial evaluation, the home care physical therapist is focused on the return to function of the patient. During continued care, the observant physical therapist or physical therapist assistant will be monitoring for and working to prevent complications.
The Evaluation
Foremost in home health is a good rehabilitation evaluation. This includes a thorough medical history; pain assessment; physical findings such as strength, ROM, coordination, balance, endurance, and functional mobility; a medication review; cognitive assessment; environmental and social support assessment; and creating goals for treatment. Quality care is dependent upon accurate measures and the ability to identify the needs and responses of the patient.
When performing an evaluation in the home health setting, the physical therapist uses many pieces of equipment. Some of these include a stethoscope, sphygmomanometer, pulse oximeter, dynamometer, thermometer, goniometers, 5.07 monofilament for protective sensation, reflex hammer, instruments for assessing sharp/dull, two-point discrimination, and vibration sensation, stop watch, tape measure, flashlight, tuning fork, CPR mask, personal protective equipment, wound care supplies, and a balance or foam pad. Several of these items may be used in the administration of standardized tests and measures which assist the clinician in identifying impairments and later are essential for documenting patient progress. It is important to realize that the initial evaluation is not the only evaluation. Every treatment session should be an evaluation, and every evaluation should include appropriate treatment.
[sidebar float="right" width="250″]Product Resources
The following companies offer fitness products for physical therapy practices as well as for use in home-based programs:
Exertools
www.exertools.com
Fitter International Inc
www.fitter1.com
Hoggan Scientific LLC
www.hogganhealth.net
Magister Corporation
www.magistercorp.com
Mettler Electronics
www.mettlerelectronics.com
NZ Manufacturing
https://nzcordz.com
OPTP
www.optp.com
Railyard Fitness
www.railyardfitness.com
Spirit Medical Systems Group
www.spiritmedicalsystems.com
SPRI Products
www.spri.com
Stretchwell
www.stretchwell.com
The Hygenic Corporation
www.hygeniccorp.com[/sidebar]
Therapeutic Exercise, Activities, and Mobility
The home care therapist has the advantage of treating someone in his or her home, which is their normal living environment. This means the chair used for sitting, the toilet, bathtub, and stairs are all personalized to the patient. The constraints of space and configuration are idiosyncratic and necessary to consider when rehabilitating the patient. The vast majority of patients receiving care at home display declines in function due to impairments of strength, endurance, balance, and mobility. Many have restricted ROM with incoordination. They may be learning how to manage a new prosthetic or orthotic device, splint, or brace. Many will have a compromised pulmonary system that will require attention or reminders such as in the case of the inspirometer brought home from the hospital. Additional adaptive devices such as stair glides, ramps, grab bars, and mobility aids such as single-point canes, walkers, rollators, and wheelchairs must be considered to maximize the patient's rehabilitative abilities.
Therapeutic exercise is accomplished in the home with the use of portable therapy bands, tubes, ankle weights, dumbbells, and normal everyday items such as soup cans and socks filled with pennies. Elastic resistance products are available from several manufacturers, including a variety of resistance products from Minneapolis-based OPTP, and Thera-Band resistance bands from The Hygienic, Corp, Akron, Ohio. Balance training can be performed with easily transportable items such as foam pads, stability balls, rocker boards, wedges, and rubber mats. A source for these types of products is Fitter International Inc, Calgary, Alberta, Canada, which manufactures the Extreme Balance Board Pro as well as a line of Professional Balance Boards and the Active Office Board. Coordination and kinesthetic awareness may be challenged with beach balls or soft rubber balls, and manufacturers include OPTP, Fitter International Inc, Hoggan Scientific LLC, Salt Lake City, and Warminster, Pa-based Stretchwell Inc.
Cardiovascular training can be addressed with the use of a peddlar or by walking with the patient around or outside their home. The use of stairs or marching in place can help to elevate the heart rate. Passing a small medicine ball or therapy ball for 3 minutes or longer can be an enjoyable way to initiate low-grade aerobic activity. Also, prolonged use of high repetitions of therapy bands can beneficial.
Pain
If your patient is experiencing pain, of course manual skills are usually helpful, and improving strength, coordination, motor control and endurance are beneficial. Additionally, the use of heat or ice packs are often appreciated. Ultrasound machines are portable, and TENS devices are easy to use. Sometimes patients will want to purchase a TENS for self-use. These types of units are available from several manufacturers for the PT market, including Zimmer MedizinSystems, Irvine, Calif, which offers the battery-operated, dual channel TENS 5 Therapy System; and Mettler Electronics Corp, Anaheim Calif, which provides the TENS 210 and TENS 210T two-channel, battery-operated devices designed to provide continuous, modulate, and burst modes. Both models are built to be pocket sized, and the 210T model includes a timer that may be set for 30 minutes or 60 minutes. Bracing or soft supports like Bioskin sleeves may be needed, and Kinesio taping provides relief with proprioceptive cueing. For a person with a new or old vertebral compression fracture, a brace may be needed like a Spinomed or a thoracolumbosacral orthosis. Topical analgesics like Biofreeze from Performance Health, Akron, Ohio, or arnica are also beneficial for pain relief.
Education and Continual Assessment
The home care setting is ideal for patient and family education. The patient and family are in their normal environment, and the challenges are real and not construed. Patients and their families benefit from continual assessment of improvements in function or in changes in appearances, such as in the case of a wound. An observant clinician is considered an extension of the medical provider, and good communication with other health care providers regarding treatment and progression is paramount.
Medicare is concerned with the hospital readmission rates, according to the readmissions webpage (www.apta.org/Hospital/Readmissions/), nearly one in five Medicare patients, 2.6 million senior citizens are discharged from the hospitals and readmitted within 30 days, at a cost of more than $26 billion annually.1 The home care physical therapist and physical therapist assistant are able to assist in reducing these readmission numbers by observing how the patient responds to treatment and communicate any concerns to the patient's medical team. The home care therapist must not only look at functional abilities such as stair climbing, but their patient's response to the stair climbing. Prompt attention to changes in measures such as vital signs, balance, fatigability or reports of symptoms can reduce the severity of a complication.
Referral to Outpatient Care
The home care therapist is in a unique position to provide support and encouragement to the patient to continue physical therapy treatment. The patient may have reached the home-bound goals and is thinking about returning to the workplace or the community. The use of outcome measurement tools such as the Berg, Dynamic Gait Index, Functional Reach, and Timed Up and Go can provide important objective measures that may lead the clinician to recommend continued therapy in the outpatient setting. These tests can easily be performed in the home with the use of a stopwatch, chair, cones, and a measuring tape.
With the proper equipment, knowledge, and skills, the home care physical therapist is in a unique position to provide excellent individualized care, accurate and ongoing assessments, appropriate monitoring and education, effective interventions, and to hopefully, prevent a hospital readmission. PTP
Timothy L. Kauffman, PhD, PT, FGSA, FAPTA, owns Kauffman Physical Therapy, Lancaster, Pa. His career in physical therapy spans four decades, including work in US Army and Reserve Unit Hospitals. He is a Fellow for the APTA, a fellow for the Gerontological Society of America, and has served as an adjunct and clinical professor for PT schools and universities across the United States. Kauffman earned a PhD from La Salle University, a Master's of Science in physical therapy from Medical College of Virginia, and a Bachelor of Arts from Gettysburg College.
Lori A. Eberly, PT, DPT, ATC, is the lead faculty in the Central Penn College PTA program at the Lancaster Center and works part-time at Kauffman Physical Therapy. She is a 1983 graduate of Indiana University of Pennsylvania with a BS in Health and Physical Education and a concentration in athletic training. In 1992 she earned a Master's Degree in health education from Penn State University, and in 2010 she graduated from Neumann University with a doctorate in physical therapy. For more information, contact [email protected]
Reference
1. There's No Place Like Home: Reducing Hospital Readmission Rates. Available at: http://www.apta.org/PTinMotion/2015/11/Feature/HospitalReadmission/. Accessed July 17, 2016.