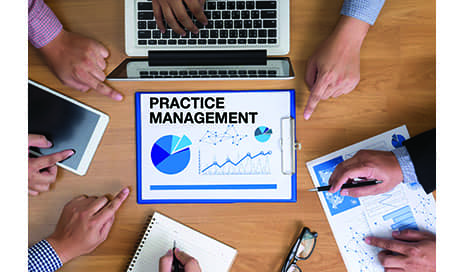 By Frank Long, Editorial Director
The mute, immobile paper charts of yesterday seem unlikely ancestors to today's dynamic medical records. Those ancient scribbles on smudgy paper, however, became the core of patient medical records and remain the heartbeat of current practice management software systems built to do everything from reminding patients about appointments to assuring that therapists provide complete data using proper billing codes. The forces of consumer demands and available technology continue to provide the evolutionary thrust for practice management software, and the transformative power of this technology invites discussion about what's in store for its next generation. To facilitate that discussion, Rehab Management invited some of the market's leading manufacturers of practice management software systems to talk about what is pushing the work of their R&D teams. They also explain how they expect those future technologies will help solve current problems and overcome challenges expected to emerge as healthcare policies continually reshape.
Participating in this Q&A are: John Wallace, PT, OCS, BMS Practice Solutions; Sheila Moran, vice president of sales and marketing, Casamba; Sarah Kennedy, director of sales and marketing, Cedaron; Jerry Henderson, PT, Clinicient; Sharif Zeid, MWTherapy by Merlinwave; Steven Presement, Practice Perfect EMR + Management Software; Terrence D. Sims, Raintree; Luke Sands, ReDoc powered by xfit, Net Health; Daniel J. Morrill, PT, MPT, DPT, TheraOffice powered by Hands On Technology; Nelson M. Aviles, MSPT, TherAssist Software LLC; and Heidi Jannenga, PT, DPT, ATC/L, WebPT.
Q. What are the greatest problems your clients and prospects say they are looking to solve with practice management software?
A. John Wallace, BMS Practice Solutions: Three things. The first is therapist productivity in accounting for time use of their clinical staff. Being able to accurately track time treating and generating revenue versus time spent marketing, meeting, and finishing patient-related paperwork after the patient has left. Therapists need to finish notes while they are with the patients for treatment. This probably isn't practical with evaluations. Second is electronic patient engagement and secure messaging with patients and inclusion in the electronic patient record. Third is duplicative entry and wasted time working between mission-critical software applications like billing and EMR when using applications that are not within one end-to-end solution.
Sheila Moran, Casamba: Regulatory compliance, reimbursement (cash flow), patient engagement (referrals), and business and clinical insight are the biggest problems that our clients are looking to solve with practice management software.
Sarah Kennedy, Cedaron: Our clients and prospects need to reduce the time spent on calculating fee caps, determining G-codes and modifiers, and ensuring all reporting necessary to remain compliant is complete. Less time spent on these and other administrative tasks means more time with patients. However, spending less time on these tasks could mean overlooking crucial documents and reports that result in denials and decreased profits.
Jerry Henderson, Clinicient: There are three huge and somewhat conflicting concerns affecting rehabilitation specialists: therapist efficiency, maximum allowable charge capture, and compliance. As reimbursement continues to erode, and layer after layer of compliance requirements are instituted, our clients are looking for a comprehensive system that helps them manage all three.
Sharif Zeid, MWTherapy: There are three major issues that physical therapy clinics are facing. The first is increasing documentation efficiency, without sacrificing quality or compliance. The second is finding a way to differentiate from competitors for the benefit of both referring clinicians as well as for patients. The third is expediting the billing and claim cycle while reducing and eliminating errors. Successful practices continue to find ways to succeed in these three areas especially at a time of increasing competition and ever-increasing compliance requirements, coupled with reimbursement rate challenges.
Terrence D. Sims, Raintree: Doing more with fewer people and having greater levels of system automation or data-driven workflows. Treating more patients and generating more revenue is great, but the benefits are materially offset by proportionate increases in cost of operations.
Luke Sands, ReDoc: One of the greatest concerns our clients voice over and over is being paid correctly for the therapy services they perform. The debate regarding value-based payment reform associated with the new 2017 PT Evaluation CPT Codes have heightened awareness to this issues, as physical therapists struggle to decipher what determines if an evaluation is low, medium or high complexity.
Steven Presement, Practice Perfect: Most of our clients come to us because they want to be "better-organized." What better-organized boils down to is making staff more productive, having them not spend time on repetitive tasks but rather having practice management software take on the mundane chores, the reporting, organizing and task management tasks, thereby freeing-up staff time for revenue and cash flow producing activities, not to mention addressing the increasing compliance burden.
Daniel J. Morrill, TheraOffice: Overwhelmingly, the concern in the rehabilitation community right now is that the frequencies of regulation and compliance changes are many times difficult to translate into improved patient care. Rehabilitation professionals need to look for complete software solutions that can keep their practices and clinicians out of harm's way when it comes to auditing and successfully executing these new rules and regulations.
Nelson Aviles, TherAssist: Keeping up with changes throughout the spectrum of physical therapy practice. For example, at the front desk, new technology for communicating appointments or having patients enter testing or questionnaire data should be handled through scheduling software. In documentation, managing, viewing and modifying clinical tests to help manage coding requirements are necessary. Clinical users want to also have the ability to track progress and show outcomes of said tests in various reports and documents. Billing users need to have flexibility in dealing with several clearinghouses, creating fee schedules and managing payments, and all while staying in compliance.
Heidi Jannenga, WebPT: Many rehab therapy practices use multiple platforms to cover their clinical, financial, and logistical bases, creating monumental inefficiencies. Practice management software should also have the ability to bolster clinical efficiencies, such as looking to adopt a system that allows rehab therapists to document patient notes as quickly as or faster than traditional paper. Software should also automate compliance protocols: Navigating tricky compliance protocols can mean all the difference in whether practices incur claim denials and audits. And, finally, software should create effective data exchanges: Besides treating patients, the goal for any provider should be to create better-coordinated care across the entire healthcare spectrum. This can be achieved when systems within the offices of various healthcare providers work in concert to facilitate the successful exchange of patient data (aka, interoperability).
Q. What will the next wave of practice management software look like, and how will it better solve the problems in the previous question?
A. John Wallace, BMS Practice Solutions: The next wave will have tightly connected end-to-end software solutions that use one database to service all the elements of scheduling, EMR and practice management (including A/R management), preventing the duplicative efforts to manage today's poorly integrated or cobbled-together solutions. It will also have integrated patient portals to manage home exercise programs, secure HIPAA-compliant patient communications and telehealth, appointments, account access/management, and access to medical records. Likewise, it will have the ability to use HL7 standardized interfaces and APIs to allow connections with other EHRs, outcomes and national databases, and other emerging healthcare IT applications.
Sheila Moran, Casamba: The next wave of practice management software will be intuitive, streamlined, and easy to use. It will optimize the accuracy of claims as well as the revenue cycle workflow around reimbursement. It will be mobile to follow the patient and non-intrusive to patient treatment while maintaining and prompting compliance with the regulations. It will extend to patients and care partners in an intelligent and seamless way to increase the accuracy and efficiency of data collection, support optimal care plan development and collaboration, and ultimately support better clinical outcomes. It will grow with the practice in a scalable and flexible way regardless of the clinical, specialty, or market trajectory of the practice. It will provide the business tools that will support insight into business operations as well as clinical outcomes so that the PT will have data-driven resources to make decisions for their business as well as their patients.
Sarah Kennedy, Cedaron: A variety of tools to ensure clinics are always compliant with changing healthcare laws and requirements will be part of the next wave of software. They will include all the aforementioned automated processes and alerts to ensure Medicare compliance measures such as G-codes, pain reporting, and progress reports are met. In addition, they will include tools to help therapists choose the appropriate evaluation code based on complexity, alerts when they do not use the recommended complexity, as well as thorough documentation to defend their classification. They will be Meaningful Use Certified, therefore eligible for MIPS participation, and include access to a national outcomes database.
Jerry Henderson, Clinicient: The next wave will be focused on measuring value and managing patient populations. As we transition from fee for service to bundled payment strategies and other alternative payment models, therapists will need tools to monitor patient progress and communicate with all of the stakeholders in our system. Of course, value-based care is based on reimbursement for effectiveness. To measure and report effectiveness, we need better tools to measure outcomes and cost. One of the huge opportunities in rehabilitation is continuing to prove we can reduce "downstream" costs by providing early and effective rehabilitation that eliminates unnecessary procedures.
Sharif Zeid, MWTherapy: Next wave practice management will offer documentation that is extremely customizable, making it easy for practices to expedite documentation by customizing templates to their style/needs rather than one-size-fits-all. Customization also means that a practice can stand out with succinct and easy-to-read documentation that referrers love to see. It will also offer in-house or outsourced billing choices with no double-entry as well as built-in scrubbers to help maintain compliance along the entire process.
Terrence D. Sims, Raintree: Technologies that emphasize management of exceptions and automating transactions based upon expected outcomes is the key to driving operational efficiency. For example, one of our clients increased revenue by 25%, improved rate of collections by 10% overall, and did not have to add additional billing/collections staff.
Luke Sands, ReDoc: The solution to this problem is an online documentation application that mimics the workflow of a physical therapist, collecting key pieces of clinical data upfront as the patient is being treated. Following this idea our company's software is designed to not only ask the right questions in the appropriate order but to employ visual clues tracking key elements of documentation signaling completeness or partial capture. In our view the next wave of software thinks like a therapist, constantly assessing the patient as a whole and reflecting that in the documentation process flowing directly into the production of an accurate and complete insurance bill or patient statement.
Steven Presement, Practice Perfect: The next evolution of practice management software will see more patient involvement—patients able to enter their own information online prior to a clinic visit, filling out paperwork and medical history online, self-booking, examining their own accounts, and paying their bills from home. This is an easy way to dramatically free up clinic administrative time by surreptitiously enticing patients to take on tasks that are generally completed today by clinic staff. Imagine the time savings if every new patient's information was already entered into the practice management software, their forms all done before the first visit and their payments processed not involving front-desk interaction. Imagine the clinical staff being able to review a new patient's history prior to their first visit.
Daniel J. Morrill, TheraOffice: I believe software needs to do two very specific things. The first one is easy: save time. Software needs to create efficiencies and best of breed work processes that are repeatable and scalable. The second is that practice management software needs to be adaptable to the practice while starting to produce data that gives evidence to practice patterns that yield optimal results. I believe that there is a high possibility that the data we are currently gathering today in specific systems does not tell the whole patient story and their likelihood of success. I think we have many of the pieces, but what we are failing to do is put the multidisciplinary data together to see a complete patient picture. The bottom line is that software needs to have interoperability with other systems, and we need to use this data to drive excellence in care, not just cost containment and artificial reductions in payments.
Nelson Aviles, TherAssist: Next generation programs will be more integrated with the Internet, other vendors and users. Practice management software will be accessible by users in and out of the clinic; staff and patients, respectively. To do this will require the ability to exchange data with other programs and systems.
Heidi Jannenga, WebPT: The new wave of practice management software is an integrated platform that contains, and connects with, all the tools that a clinical practice needs to operate more efficiently and provide the highest level of care. A truly connected platform allows for enhanced coordinated patient engagement, mobile scheduling, data aggregation and analysis, and claims adjudication. Likewise, integrating accounting software into a cloud-based EMR means no more manual entry and the ability to input information from anywhere. This platform should also be patient-centric to allow patients to view his or her medical chart and transfer that information seamlessly from one provider to another. PTP