The concerns about the dangers of opioid addiction are encouraging physicians and physical therapists to offer alternatives to managing their patients' aches and pains that avoid the risks of overuse of or addiction to opioid pain medications. Among these are various noninvasive pain relief options that are easy to use and readily available, delivered via technologies that therapists can provide, such as electromedical tools, hot and cold therapies, and topical analgesics. Physical Therapy Products showcases a gathering of products from manufacturers across the country that are designed to help relieve and manage pain. These brief profiles spotlight the products' highlights, with more detailed information and pricing available by visiting the manufacturers' websites.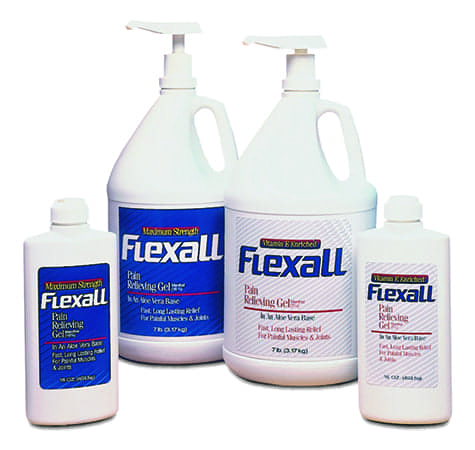 TOPICAL PAIN-RELIEVING GELS WITH ALOE VERA
Ari-Med Pharmaceuticals, Tempe, Ariz, offers Flexall topical pain-relieving gels for use in clinical and training room settings. The gels aim to increase patient compliance while augmenting ultrasound, cryotherapy, TENS, and massage therapies. Recent studies suggest a 25:75 Flexall and ultrasound gel mixture delivers heating results equal to 100% ultrasound coupling gel with the enhanced analgesic benefit of warmth. Flexall (7% menthol) and Maximum Strength Flexall (16% menthol) are aloe vera gel formulas designed to provide fast, long-lasting relief from arthritis, backache, muscle strains and sprains, bruises, and cramps. Flexall gels absorb quickly and completely, are greaseless, non-staining, and are enriched with Vitamin E to be gentle on the skin. Professional sizes are available.
For more information, contact Ari-Med Pharmaceuticals, (800) 527-4923; www.ari-med.com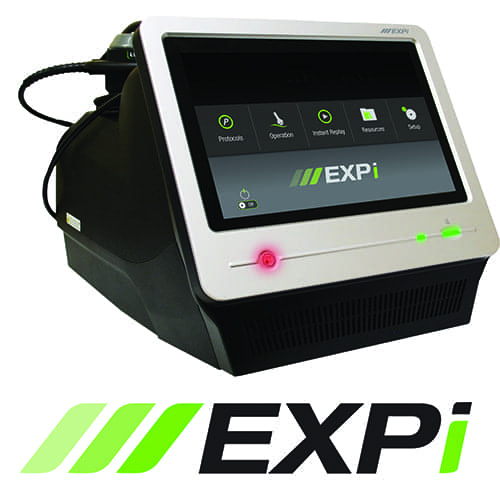 THERAPY LASER
The LightForce EXPi Therapy Laser is the newest therapy laser system from LiteCure Medical, Newark, Del. It is engineered to deliver exceptional performance and power (0.5 W to 25 W), allowing clinicians to deliver treatments to even the deepest tissues quickly and efficiently. Optimized for outcome improvement, the included influence technology offers the flexibility of custom treatment options (both on and off contact) to ensure consistent results for a diverse array of patients and treatments.
For more information, contact LiteCure Medical, (877) 627-3858; www.litecure.com/medical/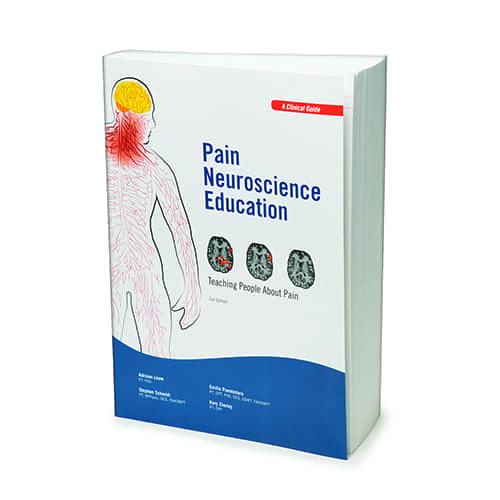 PAIN NEUROSCIENCE EDUCATION
A new book has been pubished to help clinicians discover an evidence-based perspective on how the body and brain work together to create pain. Therapists can not only learn how to convey this new view of pain to patients in a way that's easily understood and internalized, but also discover methods for integrating neuroscience education into a practice. This revised second edition of Pain Neuroscience Education: Teaching People About Pain contains significant updates that serve as both a valuable guide for clinicians and a textbook for students. Written by physical therapists Adriaan Louw, Emilio Puentedura, Steve Schmidt, and Kory Zimney. The illustrated, softcover, 536-page book is available from OPTP, Minneapolis. It is also available as an eBook in PDF format.
For more information, contact OPTP, (888) 819-0121; www.optp.com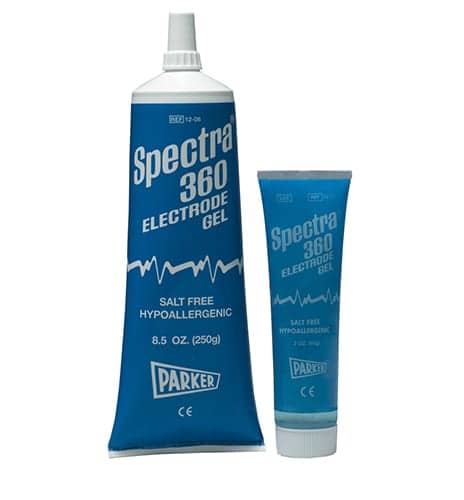 ELECTRODE GEL
Spectra360 Electrode Gel, from Fairfield, NJ-based Parker Laboratories, features a salt-free and crystal-clear formulation, and can be used for electromedical and TENS procedures. Its stay-wet properties work by wetting the skin, thereby reducing skin resistance, as well as by its electrolytic properties.
For more information, contact Parker Laboratories Inc, (800) 631-8888; www.parkerlabs.com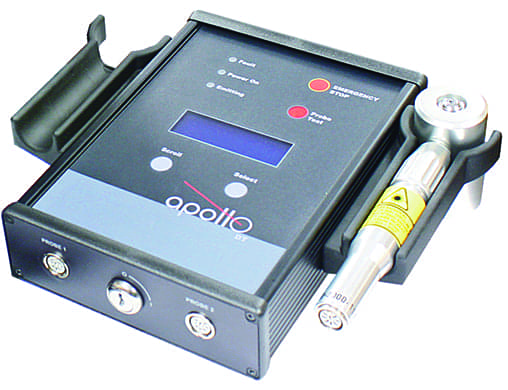 DESKTOP LASER UNIT
Watertown, SD-based Pivotal Health Solutions' two-channel Apollo Desktop Laser unit is built to offer convenience and power. The Apollo's two probes allow clinicians to work on two patients at the same time or two areas on the same patient. Each Apollo Desktop unit allows customization for a variety of powerful probes for deep tissue treatment or more delicate treatment. The Apollo Laser features a user-friendly LCD display with probe status and treatment time ranging from 10 seconds to 2 minutes, built-in safety and fault detection software, and a built-in power test to assess probe output.
For more information, contact Pivotal Health Solutions, (800) 743-7738; www.pivotalhealthsolutions.com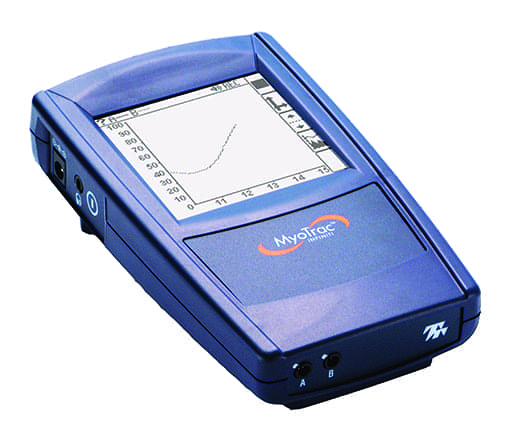 sEMG and STIM COMBINATION UNIT
The MyoTrac Infiniti, available from Thought Technology Ltd, Montreal, is a portable dual-channel Surface Electromyography (sEMG)—Muscle Stimulation (STIM) combination unit used in muscle rehabilitation and urinary incontinence. Deliver targeted and customized treatment for a variety of applications, including patellofemoral pain, low back pain, range of motion, disuse atrophy, and circulation. The total integration of the two modalities of sEMG and NMES in a single device provides a third modality of treatment—sEMG-STIM, with capabilities for EMG-Triggered Stimulation and Alternating EMG & STIM. The setup is fast and easy, and will provide additional insights about a client's ability to contract and relax muscles.
For more information, contact Thought Technology Ltd, (800) 361-3651; www.thoughttechnology.com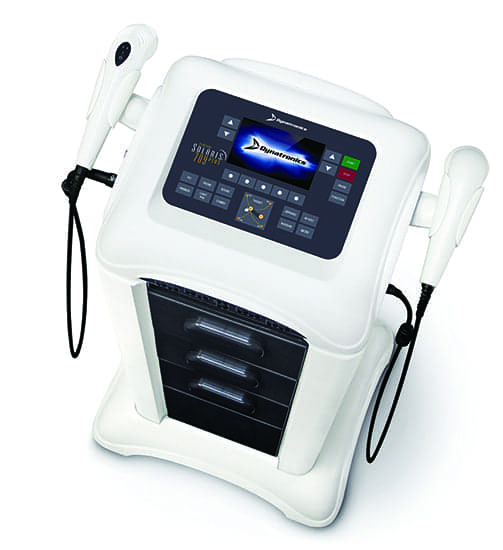 LIGHT THERAPY FOR PAIN RELIEF
The Solaris Plus, available from Dynatronics, Salt Lake City, is engineered to deliver six Stim waveforms: IFC, Premod, Biphasic, Russian, High Volt, Microcurrent, and Fixed Frequency IFC/Premod. It also offers 3-Frequency Ultrasound and the option of adding Tri-Wave Light Therapy, delivering any combination of three wavelengths of light (red, infrared, and blue) using pads or probe, and the ThermoStim Probe, designed to combine cold or heat with electrical stimulation. Solaris Plus has the power to deliver up to five channels of Stim, Ultrasound, and Tri-Wave Light or ThermoStim—all at the same time.
For more information, contact Dynatronics, (800) 874-6251; www.dynatronics.com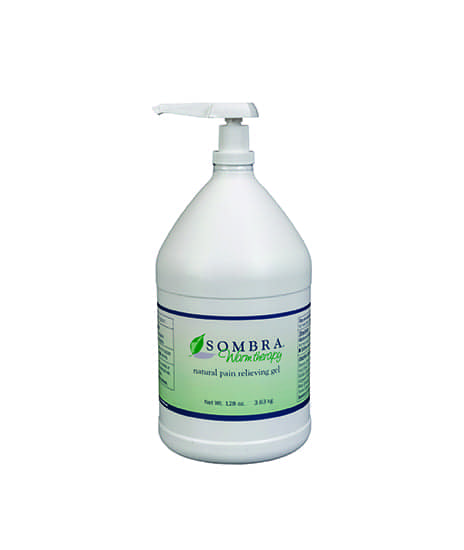 WARM THERAPY FOR CHRONIC PAIN
Sombra Professional Therapy Products, Albuquerque, NM, offers Sombra Natural Pain Relieving Gel Warm Therapy, which is specially formulated for chronic pain such as arthritis, lumbago, and long-standing joint and muscle soreness. Its active ingredients, plus capsaicin, target specific TRP channels to bring pain relief quickly and for several hours. The greaseless gel features a pleasant orange aroma.
For more information, contact Sombra Professional Therapy Products, (800) 225-3963; www.sombrausa.com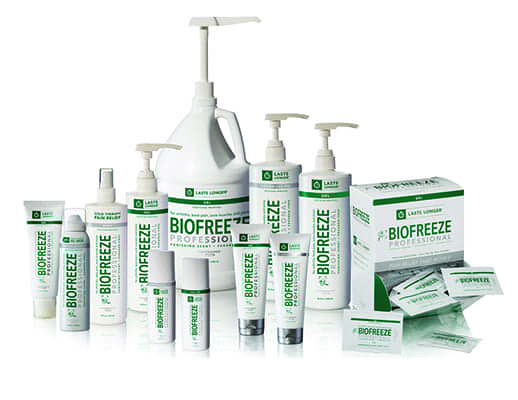 TOPICAL ANALGESIC PAIN RELIEVER
Performance Health offers Biofreeze Professional, which combines characteristics from its regular Biofreeze product into a new formula made to deliver a longer-lasting effect and a more satisfying patient experience with a smoother application for alleviating pain from backaches, arthritis, sore muscles and joints, sprains, strains, and bruises. The product is non-systemic, non-narcotic, and contains no NSAIDs (non-steroidal anti-inflammatory drugs), salicylates, or addictive substances. Many application and size options are available.
For more information, contact Performance Health, (800) 246-3733; www.biofreeze.com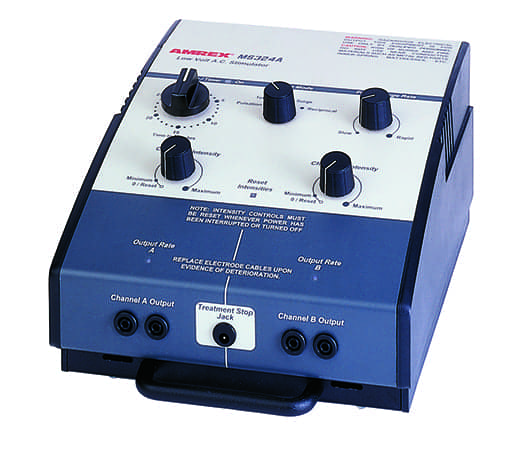 MUSCLE STIMULATOR
The MS324A, by Amrex, Paramount, Calif, is designed for the application of low-volt AC muscle stimulation. The MS324A is a dual-channel, four-pad, low-voltage electrical muscle stimulator that produces pulsation, tetanize, surge, and reciprocal output. The low-volt AC muscle stimulator is a microprocessor-controlled unit equipped with a 115/230 Vac 50/60 Hz power supply. Low-voltage electrical muscle stimulation may be applied separately or combined with therapeutic ultrasound simultaneously through the SynchroSonic U/50 ultrasound transducer.
For more information, contact Amrex, (800) 221-9069; www.amrexusa.com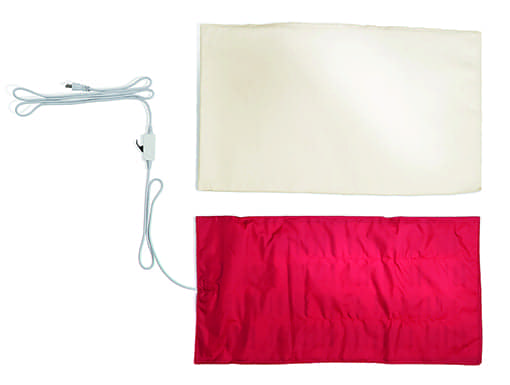 MOIST HEAT THERAPY
Fremont, Ind-based Battle Creek Equipment Company has been providing American-made pain-management products since 1931. Now available is a Deluxe version of its Thermophore Moist Heat Therapy Pads, intended for use by PTs and OTs looking for a wipeable solution to providing moist heat for their patients. Like all Thermophore pads, these provide therapeutic heat and moisture from the air. However, these differ in that the internal heater is constructed from nylon, allowing it to be wiped down with an antiseptic wipe between uses. The line is available with either a handheld momentary switch or a 25-minute time switch with three heat settings (Deluxe 2). The removable cover can be laundered, and extra covers are available separately.
For more information, contact Battle Creek Equipment Company, (800) 253-0854; www.battlecreekequipment.com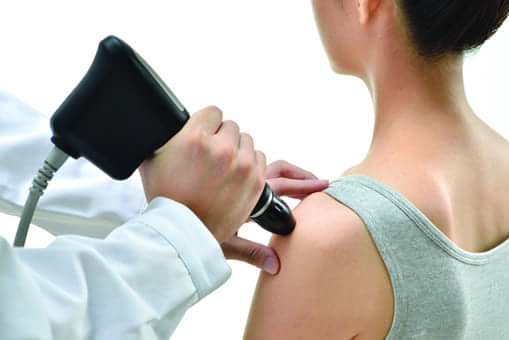 PRESSURE PULSE THERAPY DEVICE
Mettler Electronics Corp, Anaheim, Calif, introduces the Auto*Wave 695, Radial Pressure Pulse Therapy Device. The high-energy acoustic waves, generated by compressive forces created by the device, trigger the body's healing response, reduce pain, and help increase circulation. Treatment parameters are easy to set using the color touch screen. Treatment protocols with images are included in the product. The ergonomic handpiece allows the clinician to deliver the treatment comfortably to the patient.
For more information, contact Mettler Electronics, (800) 854-9305; www.mettlerelectronics.com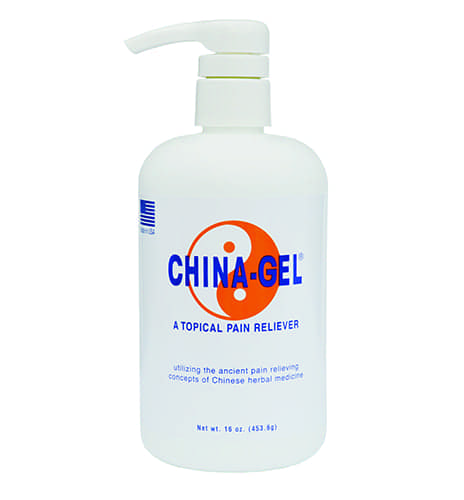 TOPICAL PAIN-RELIEVING GEL
China-Gel, available from China-Gel, Arlington Heights, Ill, is an herbal topical pain-relieving gel that resembles a fine hand cream. It spreads on evenly and then absorbs completely into the skin without staining clothing or leaving a greasy residue. It is formulated to have a pleasant and soothing lavender/menthol fragrance on application that becomes odorless as the gel is absorbed. It can also be used clinically with any hands-on soft tissue treatments, as a coupling agent with ultrasound, in conjunction with IASTM, or as a lubricant with cupping.
For more information, contact China-Gel, (800) 898-4435; www.chinagel.com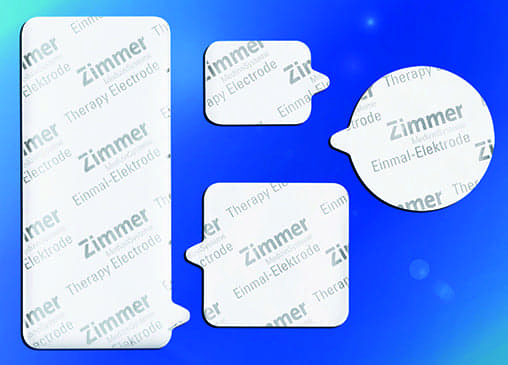 SINGLE-USE ELECTRODES
Z Trodes single-use, self-adhering electrodes from Zimmer MedizinSystems, Irvine, Calif, are available in four sizes and are 98% biodegradable. Their Glycerol coating helps reduce skin irritation and maximize patient comfort. Z Trodes are designed to help improve the practitioner's productivity by eliminating repetitive tasks such as filling and storing reusable patient-dedicated electrodes, applying gel, straps, etc.
For more information, contact Zimmer MedizinSystems, (800) 327-3576; www.zimmerusa.com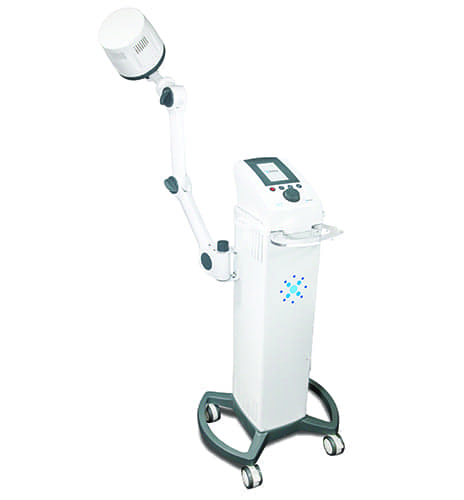 SHORTWAVE DIATHERMY UNIT
The TheraTouch DX2 from Chattanooga, Tenn-based Richmar, a Compass Health Brands company, brings diathermy to the therapy forefront with innovation in safety and efficiency. Scientific Dosage Control (SDC) offers two additional dosimetry options with incremental power increases that can yield gentler, safer treatments than traditional dosing. Another attribute of the TheraTouch DX2 is the High Efficiency Auto Tuning (HEAT) feature. The auto-resonance technology allows for maximum energy transmission without a higher power output. This efficient method of coupling to the patient's body aims to provide more rapid heating and shorter treatment times.
For more information, contact Richmar, (888) 549-4945; https://richmarweb.com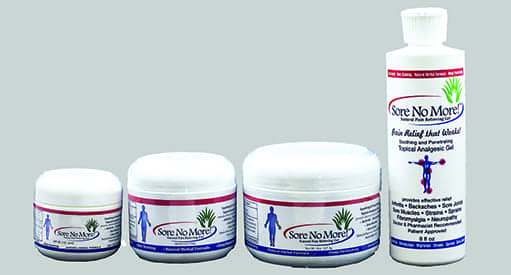 NATURAL PAIN-RELIEVING GEL
Sore No More from Moab, Utah-based Sore No More is formulated to be a fast-acting pain-relieving gel that begins to work immediately once massaged onto affected areas. Sore No More can provide temporary pain relief from simple backaches, arthritis, bruises, fibromyalgia, cluster headaches, and more. The company's special blend of natural plant extracts, in combination with menthol, capsaicin, and witch hazel, is formulated to get rid of pain the natural way.
For more information, contact Sore No More, (800) 842-6622; www.sorenomore.com

REUSABLE HOT/COLD THERAPY
Southwest Technologies Inc, North Kansas City, Mo, manufactures Elasto-Gel hot and cold therapy products, which consist of more than 40 different shapes and sizes to provide the best fit for a person's individualized needs. Elasto-Gel products may be used for either hot or cold therapy, and are manufactured so they will not leak if punctured. When heated, the products provide moist therapy heat, and when used cold, the products provide soothing cold.
For more information, contact Southwest Technologies Inc, (800) 247-9951; www.elastogel.com