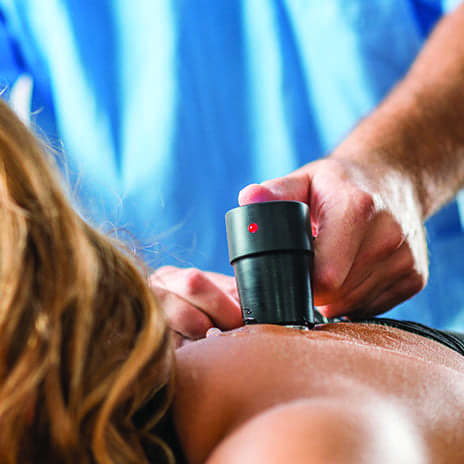 By Frank Long, MS, Editorial Director
If physical therapists have improved their abilities through more expansive education, then it can also be said that pain management products for the physical therapy (PT) clinic have improved though manufacturing advances that necessarily occur over time. For therapists who want to stay on the leading edge of treatment, it is important to take a closer look at how pain management staples have evolved, since several important improvements have taken hold among PT technologies since the days when aspirin ruled the world.
Topical Analgesics: The Anti-Opioid
A mature product is sometimes reborn when a new use is discovered for it. This was the case for minoxidil, a vasodilator that achieved celebrity status when researchers discovered its power as a hair growth agent. Similarly, topical analgesics which have long been used to treat sports-related muscle strains and arthritis pain have attracted renewed attention for their non-addicting quality.
For example, a recent study revealed a decrease in the use of opioids among chronic pain patients who were "opioid experienced."1 Likewise, the risk of addiction is underscored by another study that concluded once a person starts opioid treatment for 5 days, that person becomes at risk for long-term use.2 These findings show that opioid addiction is a real risk, and that in some cases topical analgesics can help reduce that risk. Thus, the abundance, relative affordability, and ease of use of topical analgesics can make them an attractive pain relief tool.
In addition to being non-addicting, the natural ingredient formulations of many topical analgesics may be a desirable characteristic. One product that uses such formulatons is Sore No More, from the Moab, Utah-based company Sore No More. The product's ingredients include menthol, camphor, aloe vera extract, and capsicum annum fruit extract, all of which reportedly are listed and regulated by the US Food and Drug Administration. Sore No More provides warming or cooling, and is available in gel packs, tubes, jars, and larger pump-size containers.
Another topical pain reliever for the PT market is Flexall from Ari-Med Pharmaceuticals, Tempe, Ariz. Available as a gel in several container sizes, Flexall's formula includes menthol, eucalyptus, peppermint, thyme, and camphor, as well as an aloe vera base. Flexall is made to be used with ultrasound, cryotherapy, and TENS treatment, and applied in the acute, sub-acute, and chronic stages of injury.
The Shape of Hot and Cold Water
Ice has had a long relationship with physical therapy as one of the core components of the long-standing rest, ice, compression, and elevation (RICE) method for treating injuries. In practice both hot and cold therapies are used as nonpharmacological treatment for acute musculoskeletal injury, despite some debate about whether ice or heat should be chosen as the best modality to treat a given injury.3 While academic research ponders that question, the manufacturers of hot and cold therapy products continue to develop options that are quantum leaps ahead of the once ubiquitous ice cube-filled sandwich bag. Among them are Ice It! MaxCOMFORT System Cold Wraps from Battle Creek Equipment Co, Freemont, Ind. These wraps are designed so they do not have to be held in place and will remain flexible when frozen. Elastogel reusable hot/cold therapy packs from Southwest Technologies, North Kansas City, Mo, are another versatile product that provides soothing hot or cold in more than 40 shapes and sizes. Elastogel products are also manufactured so that they will not leak if punctured.
[sidebar float="right" width="250″]Product Resources
The following companies provide products for pain management:
Ari-Med Pharmaceuticals
www.ari-med.com
Battle Creek Equipment Company
www.battlecreekequipment.com
Everyway4all
www.everyway4all.com
LightForce Therapy Lasers by LiteCure LLC
www.litecure.com
Parker Laboratories
www.parkerlabs.com
PHS Medical by Pivotal Health Solutions
www.phsmedicalsolutions.com
Sore No More
www.sorenomore.com
Southwest Technologies
www.elastogel.com[/sidebar]
Electro Luxe
Modalities such as electrical simulation, ultrasound, and TENS devices have become considerably more refined and diverse since they first were applied in the PT clinic. Some of today's devices consolidate several of these modalities into a single unit; with some offering therapeutic laser as an optional technology. Therapeutic laser is considered by some to represent the high end of pain management technologies used in the PT clinic. It is also one of the more recent technologies to make its way into therapists' hands for reducing pain and inflammation, and its efficacy is still being explored.
However, a review of extant literature shows that several tests and analyses made favorable conclusions about the pain-relieving effects of low-level laser therapy (LLLT).4 This review included favorable findings for the use of LLLT, including meta-analysis data that reported an immediate decrease in acute neck pain, and a double blinded placebo control study that reported a decrease in symptoms for patients affected by knee pain.5,6
Sources for therapeutic laser technologies are gradually expanding in the PT market, and manufacturers have introduced a variety of Class 4 and Class 3b lasers that operate in continuous wave or pulsed modes. Among these manufacturers is LiteCure, New Castle, Del, which offers its line of LightForce Therapy Lasers. The company's LightForce EXPi, for example, is a Class 4 laser therapy system that allows the user to customize treatments based on condition, skin type, body type, and acuity.
Other technologies include the Apollo Laser Systems from PHS Medical, which is available as a 2-channel desktop model or rechargeable battery-operated portable model. The OptonPro from Zimmer MedizinSystems, Irvine, Calif, is also a Class 4 laser that provides two wavelengths in one device. It is suggested for treating pain related to muscle and joint aches, as well as to promote relaxation of muscle tissue and increase local blood circulation.
Let the Evidence Speak
Pain plays a vital role as a physical indicator, and occassionally has been referred to as the "fifth vital sign."7 Pain is also complex, and what provides pain relief for one patient may not yield the same results for another. But controlling pain is vital, and the reason people oftentimes seek physical therapy is to find help in managing their pain symptoms. That is why clinics must make sure their toolkits are stocked with a variety of options that are non-addicting and accessible, so that the solutions they provide are not only effective, but contribute to a healthy lifestyle over the long term. PTP
References
1. Gudin JA, Brennan MJ, Harris ED, Hurwitz PL, Dietze DT, Strader JD. Reduction of opioid use and improvement in chronic pain in opioid-experienced patients after topical analgesic treatment: an exploratory analysis. Postgrad Med. 2018;130(1):42-51.
2. Shah A, Hayes CJ, Martin BC. Characteristics of initial prescription episodes and likelihood of long-term opioid use—United States, 2006–2015. MMWR Morb Mortal Wkly Rep. 2017;66:265–269.
3. Malanga GA, Yan N, Stark J. Mechanisms and efficacy of heat and cold therapies for musculoskeletal injury. Postgrad Med. 2015;127(1):57–65.
4. Kingsley JD, Demchak T, Mathis R. Low-level laser therapy as a treatment for chronic pain. Front Physiol. 2014;5:306.
5. Chow RT, Johnson MI, Lopes-Martins RA, Bjordal JM. Efficacy of low-level laser therapy in the management of neck pain: a systematic review and meta-analysis of randomised placebo or active-treatment controlled trials. Lancet. 2009 Dec 5;374(9705):1897-908.
6. Leal-Junior EC, Johnson DS, Saltmarche A, Demchak T. Adjunctive use of combination of super-pulsed laser and light-emitting diodes phototherapy on nonspecific knee pain: double-blinded randomized placebo-controlled trial. Lasers Med Sci. 2014 Nov;29(6):1839-47.
7. American Pain Society Quality of Care Committee. Quality improvement guidelines for the treatment of acute pain and cancer pain. JAMA. 1995;274:1874–1880.