Specialized technologies are improving how gait patients get past their fear of falling and optimize their progress in lower extremity rehab
By Monty Merrill, MS, PT, OCS, FAAOMPT
Technologies designed to provide therapeutic activity for the lower extremities have helped expand the approaches therapists use in designing interventions for patients who are battling gait impairments. Regardless of whether the cause of impairment is orthopedic or neurological, technologies that unload body weight, build strength, improve balance, or measure and assess gait all have increased the specificity with which therapists may address lower limb impairment. This is as true for athletes as it is for the frail elderly.
Among the technologies that tap into that specificity are systems that unweight the body on the X, Y, and Z axes; also known as body weight support systems. These devices range from harnesses suspended by a yolk that can move the user over a floor or treadmill to systems built around remote-controlled trolleys that move ceiling-mounted tracks and provide dynamic support on all-directional planes. An investment in these types of unweighting technologies can confer advantages that are good for the patient and good for the practice.
Visual, Versatile, and Safe
Many clinics strive to cultivate a reputation as a state-of-the-art practice. Unweighting technologies can reinforce this perception because of their typically impressive design that evokes conversation and curiosity. This has been observed in the author's clinic in the form of contagious enthusiasm that its own unweighting system, the Z Axis, generates among patients, therapists, and support personnel.
The devices can engender a sense of teamwork in which patients work side-by-side and even cheer on one another with friendly banter. When several units are used in a clinic that sense of enthusiasm and camaraderie grows, as do the opportunities for all patients who want to use the devices to do so.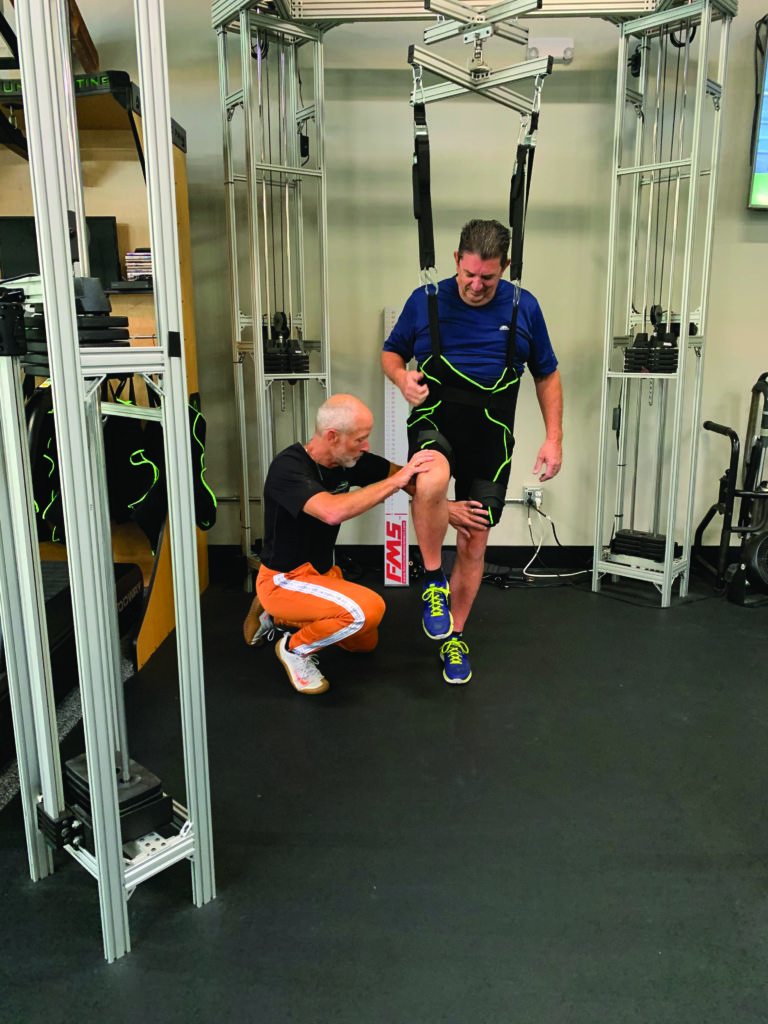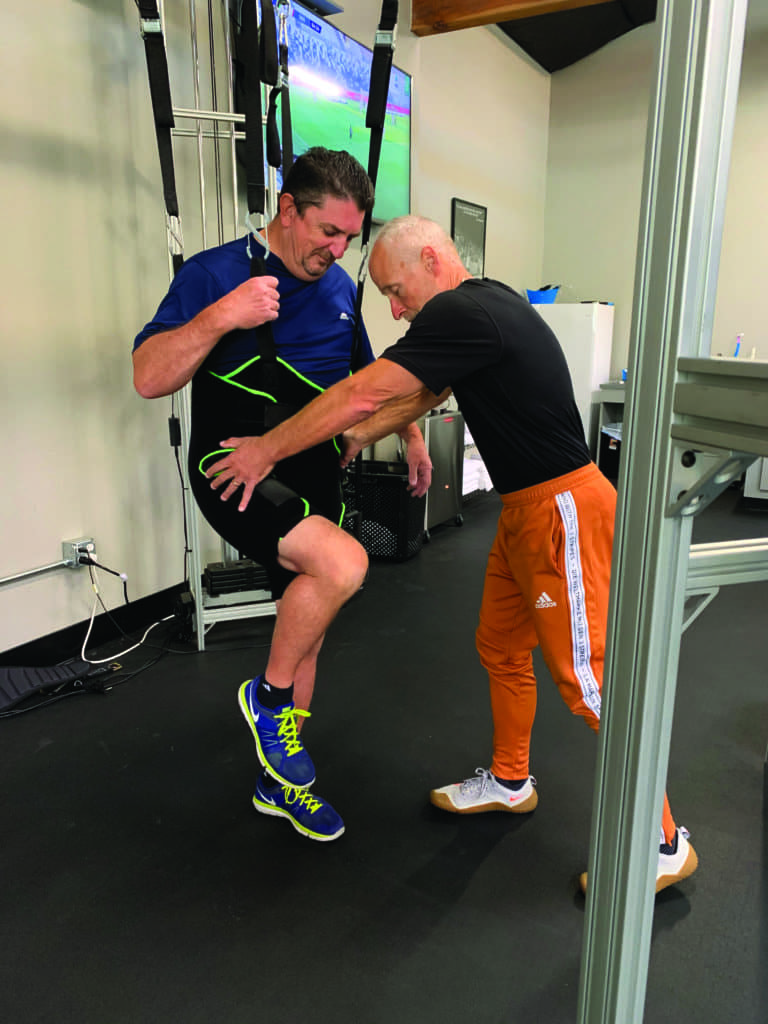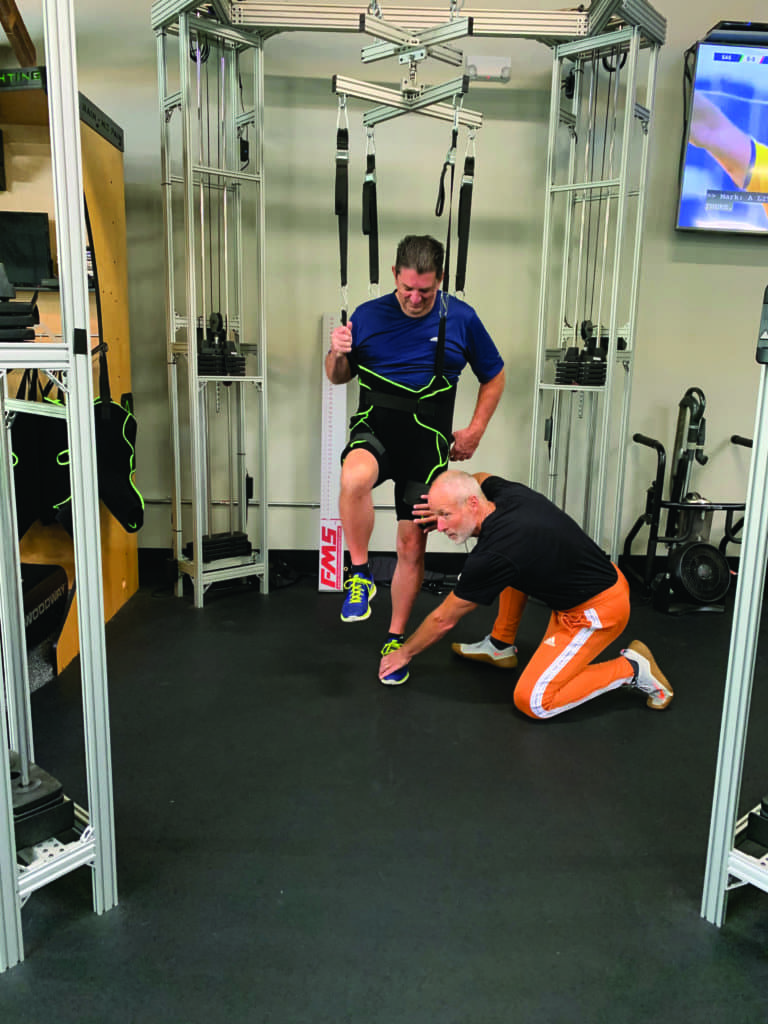 Farewell to the Fear Factor
Physical therapy patients who are post-stroke, have had joint replacement, or are perhaps simply battling arthritis oftentimes come to therapy with a fear that they may fall during therapeutic activities. Unweighting systems can reduce or eliminate those types of fears because of the fall protection they offer. That sentiment has been confirmed at Golden Bear Physical Therapy through the facial expressions and comments of those who use the unweighting device. Many have reported that they did not feel the fear they expected to feel or did not experience pain symptoms in their lower extremity joints. Many of the clinic's clients who present with diagnoses that range from stroke to amputation to severe arthritis have offered similar feedback.
Overhead support also helps allay patients' fears of falling because it clears an area for therapists to use their hands directly on the patient and guide movement, steering them toward activities they are unable to perform when fully weight-bearing. An example of this can be observed in the sit-to-stand exercise. With this task there can be difficulty getting a patient to move from sitting to a standing position; requiring as many as three people to do so safely. Body weight support technologies can eliminate these "wrestling matches" that may be needed just to get a patient to standing.
Unweighting can also be used to increase endurance since patients can work longer when they don't have to carry their body weight. When used with a treadmill or other aerobic equipment the patient can work longer and burn more calories with minimal stress on the joints. For example, when the obese patient is unweighted, that individual can experience movement at a normal weight. Practicing movements under this condition can provide a motivating factor for weight loss.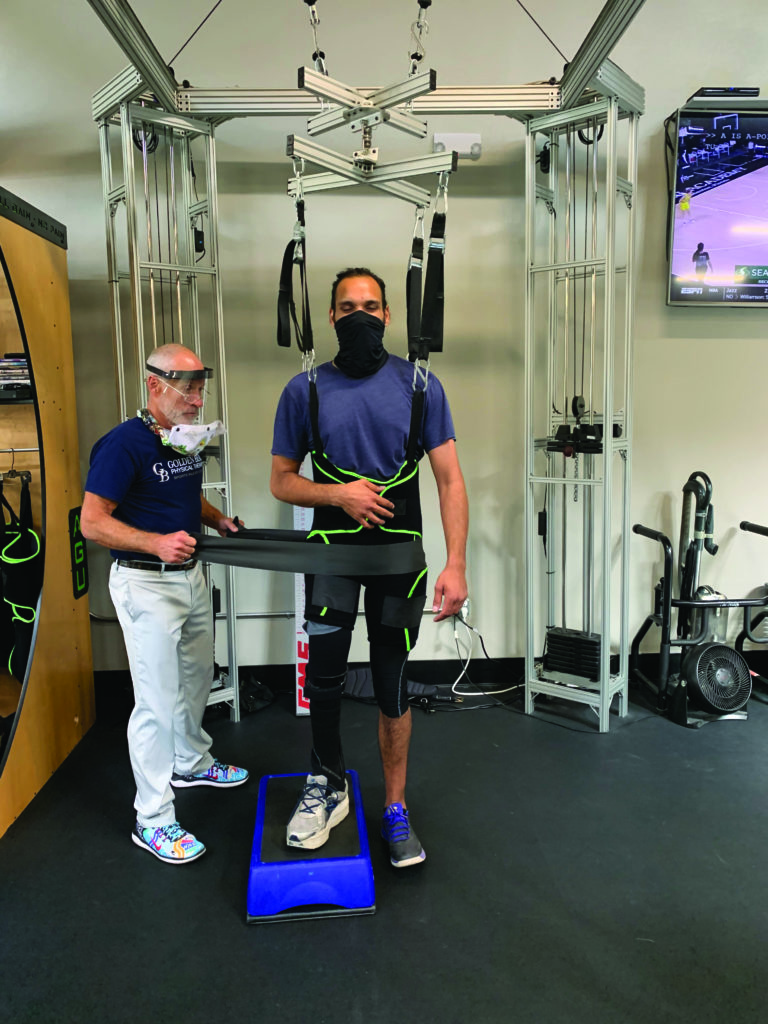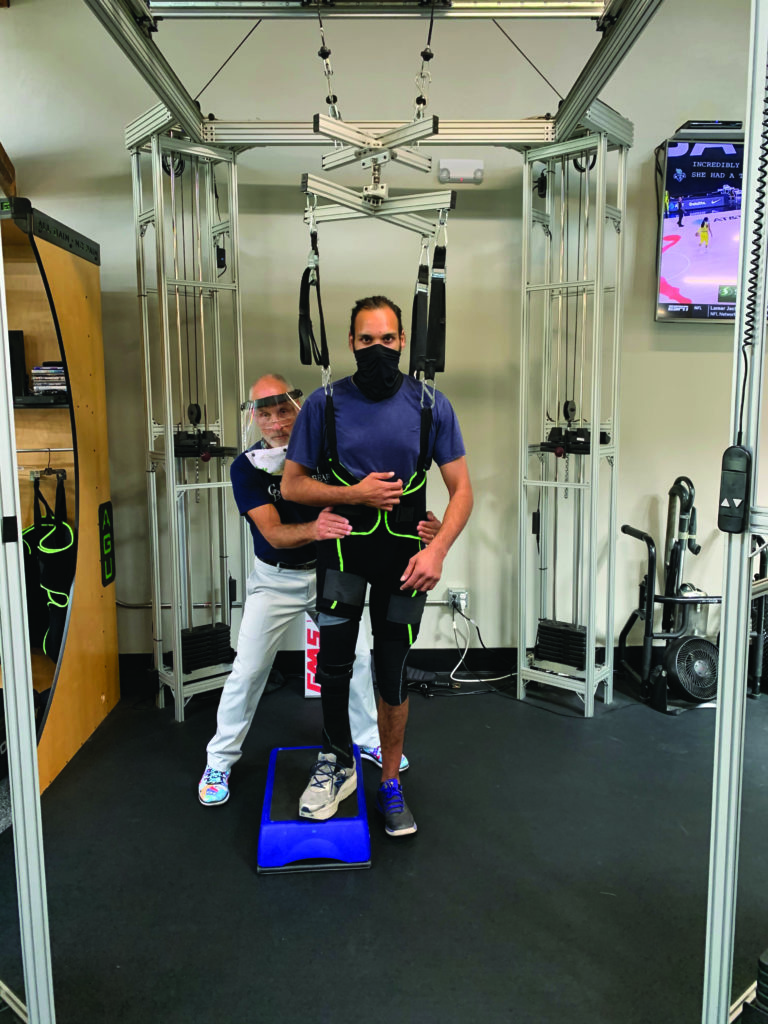 Unweighting Options
Until recently, physical therapy clinics had only a handful of choices for unweighting patients on dry land. Today, the market includes a variety of systems at a variety of prices driven by sophistication and engineering, but one attractive characteristic that persists are technologies that have a small footprint. This particular quality was important to Golden Bear Physical Therapy, which chose the Z Axis Unweighting Unit from Z Axis Unweighting, Las Vegas, for several reasons, including ease of use and a small footprint. The ability to move in multiple directions—front, back, side to side and diagonal—as well as spin on an axis make this device useful to train in all planes of movement. This function in particular makes it easier to analyze movement because movements are slowed down, thus allowing the therapist to easily observe errors and faults. When the patient feels safe, it becomes easier for the therapists to step back and observe the big functional picture.
The Z Axis' suit is also designed to be supportive and comfortable. The four-point harness allows for adjustment for direction of pull, prepositioning the pelvis into anterior or posterior tilt and accommodating for leg-length discrepancies. The Z Axis is a freestanding unit available in three different sizes with the large model allowing several steps in multiple directions and the smaller models designed to occupy a small footprint in a small clinic.
[sidebar float="right" width="250″]Product Resources
The following companies provide technologies that can be useful in the treatment of stroke and neurological conditions:
Allard USA Inc
www.allardusa.com
Biodex
www.biodex.com
GAITRite – CIR Systems Inc
www.gaitrite.com
Gorbel Rehabilitation
www.safegait.com
Hocoma
www.hocoma.com
Mobility Research
www.litegait.com
ProtoKinetics
www.protokinetics.com
Vista Medical
www.boditrak.com
Z Axis Unweighting
www.zaxisunweighting.com[/sidebar]
Small Footprints
The market offers several options for small-footprint unweighting technologies. Among them are the Andago body weight support system from Hocoma, Norwell, Mass, which uses mobile body robotic technology to help patients to gait train freely, upright, over many types of surfaces. It also offers asymmetric body weight support to increase postural support on one side for patients affected by asymmetric functional impairment.
Another compact device designed for use over ground or over a treadmill is the LiteGait from Mobility Research, Tempe, Ariz. With several models available to support adult and pediatric gait recovery, the LiteGait provides overhead body weight support through a yoke that provides controllable vertical displacement. The device's integrated yoke option allows the user to rotate 360 degrees while supported in the LiteGait harness.
For facilities that have more area to work with, the SafeGait 360 Balance & Mobility Trainer from Gorbel Rehabilitation, Victor, NY, is a ceiling-mounted body weight support system designed to allow therapists to manage patients 1:1 during therapy sessions. The SafeGait 360 Balance & Mobility Trainer suspends patients in a harness worn around the body but offers dynamic fall protection (DFP) as the primary mode of protecting patients. The system's dynamic fall protection is always active and provides protection during standing, sitting, stair, and floor tasks without the need for adjustment to accommodate shifting vertical planes. It is designed to enable a patient to initiate the correction within the safety and support of the system.
Measuring and Assessing Gait
Recovering and improving gait is one of the central services physical therapy clinics offer, and regaining the ability to walk is frequently cited as the top goal among post-stroke patients. With such an emphasis on this goal it is also important to be able to measure and assess gait so that clinicians can track progress and share improvement to help motivate patients. One effective way to do this is to gather and analyze objective measures of gait by using computerized gait analysis systems.
For example, gait mats (pressure-sensitive electronic walkways) such as the GAITRite system from CIR Systems, Franklin, NJ, or the Zeno Walkway from ProtoKinetics, Havertown, Pa, can complement unweighting systems in many ways. Therapists and their patients can visualize the gait patterns that were just captured, providing immediate feedback on aberrant movements that they were making or positively reinforcing that previous gait training sessions have carried over to their current performance. Educating patients via their own footfalls is very motivational, especially when they can objectively see their own progress that is being tracked and reported.
Orthopedic or neurological impairments often present very different loading, unloading, and propulsive gait patterns. Ambulation across gait mats while being partially unweighted enables patients to "feel" the optimal pattern and to compare these results while walking with their cane, rolling walker, or other assistive device. Reference values for temporal-spatial gait parameters such as velocity, cadence, step length, step time, and many other variables have been extensively studied by researchers all over the world. Symmetry, or most commonly the asymmetry and variability of these parameters, offer important insights into the underlying mechanisms contributing to the impairment.
In addition to the two commercially available gait mats previously mentioned, other companies offer mats, in-shoe pressure insoles, or other gait assessment systems. Therapists are well served to become educated consumers by investigating the different systems and their applicability to a specific facility or patient population via Internet meetings or webinars while trade shows are still on hold.
Unweighting Technology Case Examples
Case 1: Patient X is an 85-year-old male with bilateral knee arthritis, spinal stenosis, and general weakness. He has had several falls in the home and out of doors. He is unable to get up off the floor when he falls. The clinic used the Z Axis Unit to train the patient to be able to sense loss of balance, particularly falling backward. The device was used to progressively train getting down to the floor and getting off the floor, breaking the progression down into small component parts, and then putting them together, allowing him to get off the floor independently.
Case 2: Patient Y is a 61-year-old male with severe right knee medial compartment arthritis. He has a 30-year history of L4-5 disc involvement with radicular symptoms into the right leg. His goal is to put off a knee hemiarthroplasty as long as possible but continue golfing and hiking with his children. He has significant right hip girdle and calf weakness, walking with varus thrust during the stance phase of gait. With the Z Axis unit therapists can work on double and single limb control, training varus thrust control during weight-bearing activity. During unweighted functional activities, single-leg stance, pivoting and twisting on the leg, therapists used manual facilitatory techniques, adding variables of load, velocity and direction as he was able to control them. Because of the ability to maneuver the suit through its attachments to the apparatus, therapists could pre-position the patient into posterior tilt, alleviating painful stressors to the spine. As his trunk control progressed, resistance was added to promote further core control with superimposed lower extremity activity.
Case 3: A 27-year-old male who, as a teenager, had extensive radiation over the right hip to treat Ewing's osteosarcoma. He has, over the years, experienced compression and degeneration of the femoral head and proximal femur, resulting in a 10-inch leg-length discrepancy. He required two crutches for ambulation, non-weight bearing on the right side. He was fitted for an adaptive HKAFO with accommodation for his leg-length discrepancy. With the Z Axis unit therapists trained upright control in double- and single-leg weight-bearing, progressing toward functional gait. He trained on variable surfaces to progress to walking without any assistive device and eventually was able to play basketball. PTP
Montgomery "Monty" Merrill, MS, PT, OCS, FAAOMPT, is a physical therapist at Golden Bear Physical Therapy. He received his Bachelor of Arts Degree at UC Davis in 1982 and earned his Master's Degree in physical therapy from the University of Southern California in 1989. Merrill is board certified as an orthopedic clinical specialist by the American Physical Therapy Association. He is a full fellow in the American Academy of Orthopedic Manipulative Physical Therapists and has taught in the Doctorate program in physical therapy at the University of the Pacific since 1989. Merrill's areas of expertise include orthopedic physical therapy, athletic performance and functional training. For more information, contact [email protected].
---
Related Content:
Fast Times for Facility-Based Equipment
'Float' in Three Dimensions to Aid Walking
Destination: Discharge