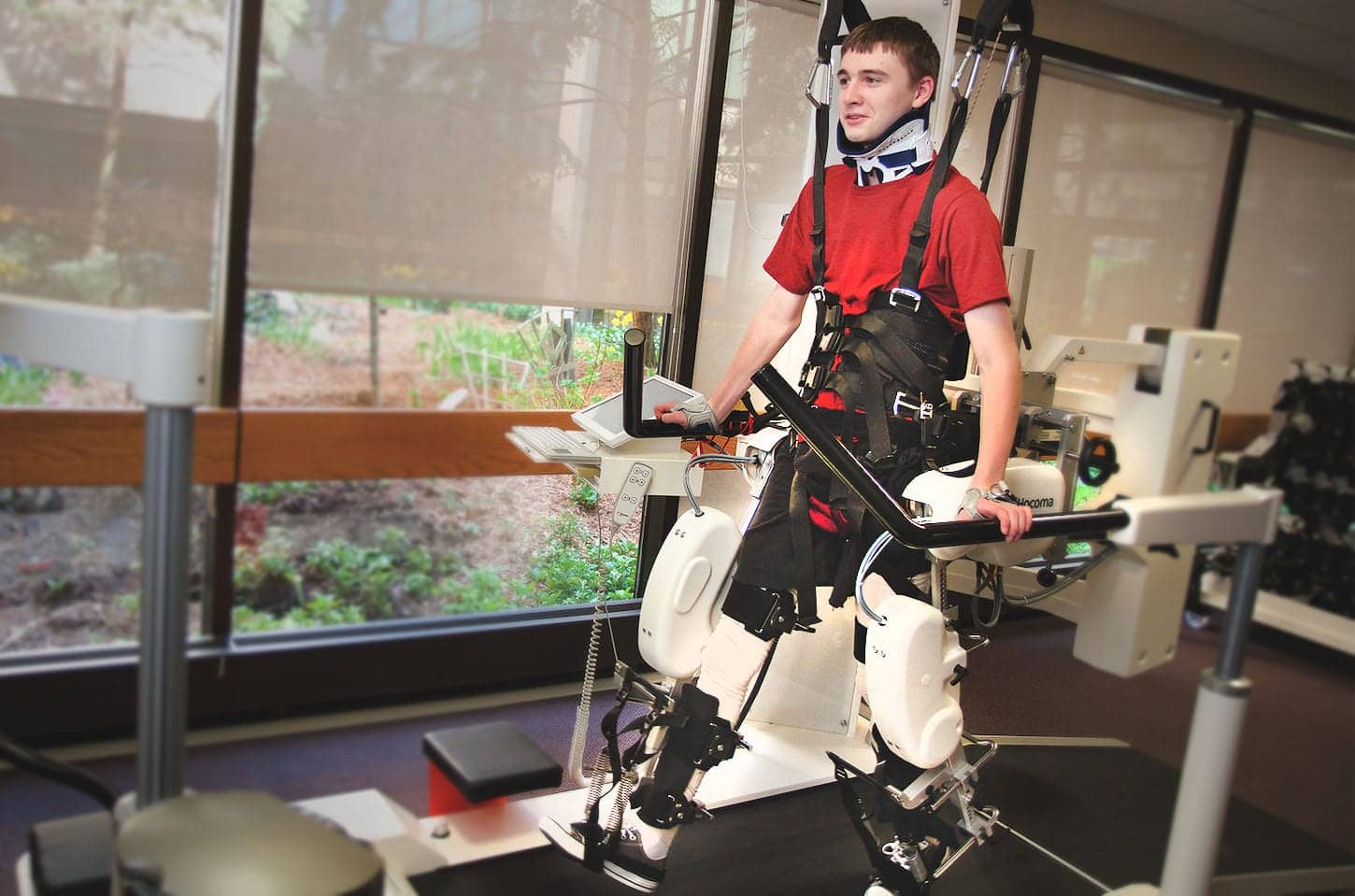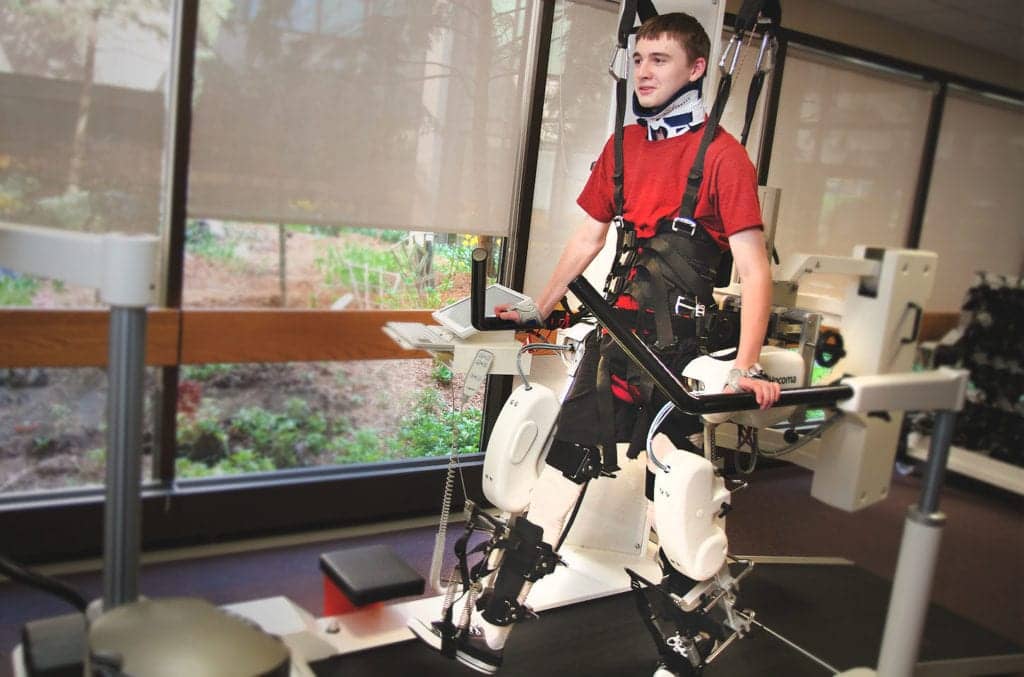 by Adam Diver, PT, DPT, and Maggie Frantz, PT, DPT
The recovery of walking following a neurological event is often one of the most common areas of focus for rehabilitation physicians and therapists as well as one of the most readily mentioned goals for patients and families. In recent years, walking recovery has become a focal point for rehabilitation due to advances in technology and continued need. With technology, every advance allows the clinician greater opportunities to get patients who have experienced a cardiovascular accident or spinal cord injury up and moving earlier in the recovery process.
Mary Free Bed Rehabilitation Hospital in Grand Rapids, Mich, is one such facility that has the tools to empower both patients and clinicians to begin walking recovery early on. Each specialized piece of equipment has been designed with a different training focus, all leading to the ultimate goal of regaining functional strength, improving gait biomechanics, and improving patient outcomes. Some of the most commonly used pieces of equipment in outpatient therapy include a functional electrical stimulation (FES) bike; robotic body weight support treadmill training (RBWSTT), commonly known as the Lokomat, developed by Hocoma, Norwell, Mass; body weight supported (BWS) gait training via use of the ZeroG from Aretech, Ashburn, Va; and the Tollos systems.
[sidebar float="right" width="250″]Product Resources
The following companies offer products that can be used for stroke and neurological rehabilitation:
Accelerated Care Plus
www.acplus.com
APDM
www.apdm.com
Allard USA Inc
www.allardusa.com
Biodex
www.biodex.com
Clarke Health Care Products
www.clarkehealthcare.com
GAITRite/CIR Systems Inc
www.gaitrite.com
Gorbel Inc-Medical Division/SafeGait
www.safegait.com
Hocoma
www.hocoma.com
Micromedical Technologies
www.micromedical.com
Mobility Research
www.litegait.com
OPTP
www.optp.com
Perry Dynamics
www.perrydynamics.com
ProtoKinetics
www.protokinetics.com
Tekscan
www.tekscan.com
Therapeutic Industries
www.therapeuticindustries.com
Vista Medical
www.boditrak.com[/sidebar]
Technology Overview
When initiating walking recovery, the most pertinent prognostic assessment is determination of muscle activation potential. Standard manual muscle assessments are performed on all patients. However, clinician error is an ever-present factor. Assessment via neuromuscular stimulation is another tool that can be used to determine and maximize muscle strength potential. If appropriate, a functional electrical stimulation bike can be utilized to potentially accomplish such muscle activation.
The FES bike is effective via stimulation to the peripheral nerves of the legs to coordinate muscle contractions. Primarily used with patients who have experienced a spinal cord injury (other diagnoses include multiple sclerosis, cerebral palsy, spina bifida, stroke, and brain injury), the intent of such equipment is to reverse the effects of disuse atrophy, minimize muscle spasm, improve circulation, increase range of motion (ROM)/contracture correction and improve muscle activation/strengthening, decrease edema, and drive cortical changes with the ultimate goal of improved quality of life.1 Treatment sessions are recommended two to five times per week for several weeks. The system allows stimulation of up to 16 channels/leads in either one or both legs as well as the trunk with the use of surface electrodes. Interactive tracking through the electrodes assists a person's leg muscles in propelling bike pedals (designed to enable function, much like an orthosis).
The Lokomat can also be used as an adjunct to recommended physical therapy and with the ultimate goal of facilitating return to walking. It's often used for neuroplastic retraining and tone management. It allows for high-repetition stepping via the use of an exoskeleton and dynamic body weight support over a treadmill to allow for increased efficiency, a physiological gait pattern, and optimal challenge. It is primarily used with patients who have neurological, muscular, or bone-related disorders that have resulted in walking impairments. Evidence has revealed that this piece of equipment is best suited early on in care (acute and subacute phases) and for those who are more impaired (non-ambulatory; significant weakness).3 Further, RBWSTT is most beneficial in combination with FES as outcomes are even greater.4
The ZeroG is a robotic trolley system that allows for gait training, static and dynamic balance training, as well as functional strengthening over ground, stairs, or treadmill. This system utilizes an overground trolley and track system with clinician-selected body weight support. It is appropriate for a wide range of diagnoses, including orthopedic conditions, patients with amputations, and neurological conditions. The body weight support provided is dynamic, allowing the patient to change surface height (ie, chair, standing, floor) while maintaining support. Additionally, the ZeroG makes it possible for patients to learn via error augmentation in a safe manner. It allows patients to move freely and naturally, challenging all aspects of gait, transfers, and balance.
The Tollos is a lightweight overground trolley harness system that allows for improved trunk stability to assist with gait and balance training. This system features a harness that is static (ie, fixed at the selected BWS; unable to lower or change levels). Each system provides a patient with safety and stability, allowing clinicians and therapists to focus on gait mechanics or balance strategies. As a result, patients are able to further push themselves and their limits of stability for greater gains. The Tollos does not have a robotic trolley system. The trolley is passive with patient/person movement.
Functional/Patient-Centered Goals
Throughout therapy, all one or none of these pieces of equipment can be used with patients for their recovery and rehabilitation. At Mary Free Bed, clinicians provide patient-centered treatment to address their personal and therapeutic goals. The severity of their impairments will also determine what equipment is used and how much assist they need.
Generally, the FES bike is used with patients who are more impaired and require assistance for muscle activation and facilitation. As stated, there are other benefits of its use and it is typically used early on in the rehabilitation process. The Lokomat is another piece of equipment that can be used with patients who require more assist.
This piece is specifically used for gait training to allow patients to perform high-volume stepping with proper gait mechanics. The ZeroG BWS system can be used by both severely impaired and high-level patients. Its dynamic abilities allow the clinician to adapt and select the appropriate parameters for each patient. Moreover, it can be used in the acute phase of rehab as well as the chronic phase. The Tollos BWS system is similar in that it can also be used in all settings of care. Its ability to provide static BWS allows it to be used with high-level and low-level patients. As patients progress, improving their functional abilities and safety, clinicians are able to utilize the different pieces of equipment accordingly.
For facilities considering the purchase of body weight support systems that accommodate overground training, there are several manufacturers that provide systems to the rehabilitation market. One is the SafeGait 360 Balance & Mobility Trainer, from Gorbel Inc, Victor, NY; a ceiling-mounted dynamic body weight support and fall-protection system that can provide 1:1 therapist-patient training. The SafeGait is designed to provide tracking of patient movements 2,500 times per second and patient performance data that can be compared by session or by task. As an alternative to ceiling-mounted systems, the LiteGait from Mobility Research, Tempe, Ariz, is a free-moving unit with a wheeled base and an overhead Y-yoke that provides support from directly over each shoulder. A harness that attaches to the Y-yoke wraps around the user's trunk and transfers load to the lower abdomen, over the hip, and through the groin.
Weaning from Equipment/Team Work
Depending upon each person's presentation, a clinician will often begin a plan of care by utilizing the most supportive piece of equipment with the goal of progressing to the least supportive and most challenging. As with any piece of equipment, there are potential risks, and it is up to the skilled clinician to determine whether a patient is an appropriate candidate. Pre- and post-assessments of ROM, strength, gait biomechanics, walking speed, and endurance are used to determine progress and efficacy of each piece of equipment. As with all rehabilitation, teamwork is necessary to provide comprehensive care to address all needs. Technology and rehabilitation equipment is useful in recovery as it aids in comprehensive care. It provides safety and allows patients to train beyond their limits of stability, improving neuroplasticity and recovery.
It is important to note that walking recovery and training can translate to other areas of function. For example, evidence supports that more time spent in gait-associated activities increased the likelihood of discharge to home and improved Functional Independence Measures (FIM).2 Therefore, it can be speculated that working on gait can improve function with transfers, bed mobility, and more. PTP
Adam Diver, PT, DPT, is a full-time physical therapist at Mary Free Bed Rehabilitation Hospital in Grand Rapids, Mich. He earned a Bachelor of Arts degree in Exercise Science from Hope College and a Doctor of Physical Therapy degree from the University of Michigan-Flint. He currently works in the adult outpatient department, working primarily on the Day Rehab and Oncology teams, in addition to treating patients of varying acute and chronic neurological conditions. He joined the Mary Free Bed Physical Therapy team in 2015.
Maggie Frantz, PT, DPT, is a full-time physical therapist at Mary Free Bed Rehabilitation Hospital in Grand Rapids, Michigan. She works in the adult outpatient department, working primarily on the Day Rehab Team, in addition to treating patients of varying acute and chronic neurological diagnoses. She is a member of the Mary Free Bed residency team since 2016. Frantz is a graduate of the Central Michigan University Doctoral of Physical Therapy program. She joined the Mary Free Bed Physical Therapy team in 2012. For more information, contact [email protected].
References
1. Kimberley TJ, Lewis SM, Auerbach EJ, Dorsey LL, Lojovich JM, Carey JR. Electrical stimulation driving functional improvements and cortical changes in subjects with stroke. Exp Brain Res. 2004;154:450-460.
2. Latham NK, Jette Dum Slavin M, Richards LG, Procino A, Smout RJ, Horn SD. Physical therapy during stroke rehabilitation for people with different walking abilities. Arch Phys Med Rehabil. 2005;86(12 Suppl 2):541-550.
3. Mehrholz J, Thomas S, Werner C, Kugler J, Pohl M, Elsner B. Electromechanical-assisted training for walking after stroke. Cochrane Database Syst Rev. 2017. Art. No.: CD006185. DOI:10.1002/14651858.pub3.
4. Tong Rk, Ng MF, Li LS. Effectiveness of gait training using an electromechanical gait trainer, with and without functional electrical stimulation, in subacute stroke: a randomized control trial. Arch Phys Med Rehabil. 2006;87(10):1298-1304.
Post-Stroke Tools to Evaluate Dizziness, Gait, and to Build Stair-Climbing Confidence
by Frank Long, Editorial Director
Dizziness Symptoms
Individuals affected by stroke may experience problems with balance or experience dizziness. It is estimated that up to 40% of people who survive a stroke will experience a serious fall within 12 months after the initial stroke.1 Strokes that affect the brainstem can also cause injury to the vestibular system, which results in imbalance. It is important for physical therapists to have the ability to make proper assessments that will identify the causes of dizziness or imbalance.
Several high-technology tools are available to help test patients affected by dizziness and balance disorders. The VisualEyes 525 VNG system by Micromedical Technologies, Chatham, Ill, offers VNG tests that include nystagmus with and without vision, pursuit tracking, saccade, and optokinetic ocularmotor tests. The system also offers vestibular function tests with an air or water caloric irrigator to help identify the side of a vestibular weakness. Micromedical's VisualEyes Spectrum provides the same functions with the options to use VORTEQ, VHIT, torsion, and pupillometry. The company's VisualEyes 505 video goggles are available in binocular and monocular configurations to observe nystagmus in individuals affected by dizziness and balance disorders.
Another source of balance platforms designed for clinical performance is Tekscan Inc, South Boston, Mass, which manufactures the MobileMat and MatScan. These devices provide a variety of applications including the ability to capture and evaluate static and dynamic foot function, assess postural stability, perform balance and sway analysis and fall risk assessments. The Strideway System is a modular pressure measurement platform that analyzes gait by capturing multiple footsteps in a single pass, allowing the therapist to select the sensing area and sensor resolution. The system provides objective data about force and plantar pressure, as well as information about temporal, spatial, and kinetic parameters.
Vista Medical, Winnipeg, MB, Canada, also provides a tool for balance-challenged patients: the BodiTrak Balance System. The systems combine a portable sensor mat or treadmill sensor with software to provide center-of-pressure and vertical force information on a video monitor that displays the patient's movement and foot pressure. The System includes mCTSIB for stability in standing, range of motion, acceleration, standard deviation and weight bearing from side to side, and heel to toe.
Stair Climbing and Gait
As patients recover from stroke, they may benefit from activities that help them gain confidence with functional tasks such as the ability to climb steps. The DST8000 Triple Pro Dynamic Stair Trainer from Clarke Health Care Products, Oakdale, Pa, is loaded with options designed to help users rebuild skills that will maximize function and minimize limitations. Among the features the DST8000 Triple Pro can provide that will help stroke patients are adjustable handrails, a reversible stairs ramp, three additional stairs that can be converted into a slope, and steps that can be adjusted in 1-centimeter increments. The DST8000 Triple Pro is engineered to help patients practice ascending and descending steps reciprocally as well as combine gait training with stair training.
Reference
1. American Heart Association. Keeping Your Balance After Stroke. Available at http://www.strokeassociation.org/STROKEORG/LifeAfterStroke/RegainingIndependence/PhysicalChallenges/Keeping-Your-Balance-After-Stroke_UCM_309772_Article.jsp#.WyL3i2VO5y4. Accessed June 14, 2018.