It's important to be aware of rehabilitation and fitness equipment appropriate for outfitting the physical therapy gym as well as for use in clients' homes so they can progress with their programs when they leave the clinic. Thankfully, there is a wide range of products available for both places that can promote rehabilitation, recovery, and fitness. Therapists can assess body types and functional needs to choose tools and accessories patients and clients will enjoy working with, whether in the practice setting or at home.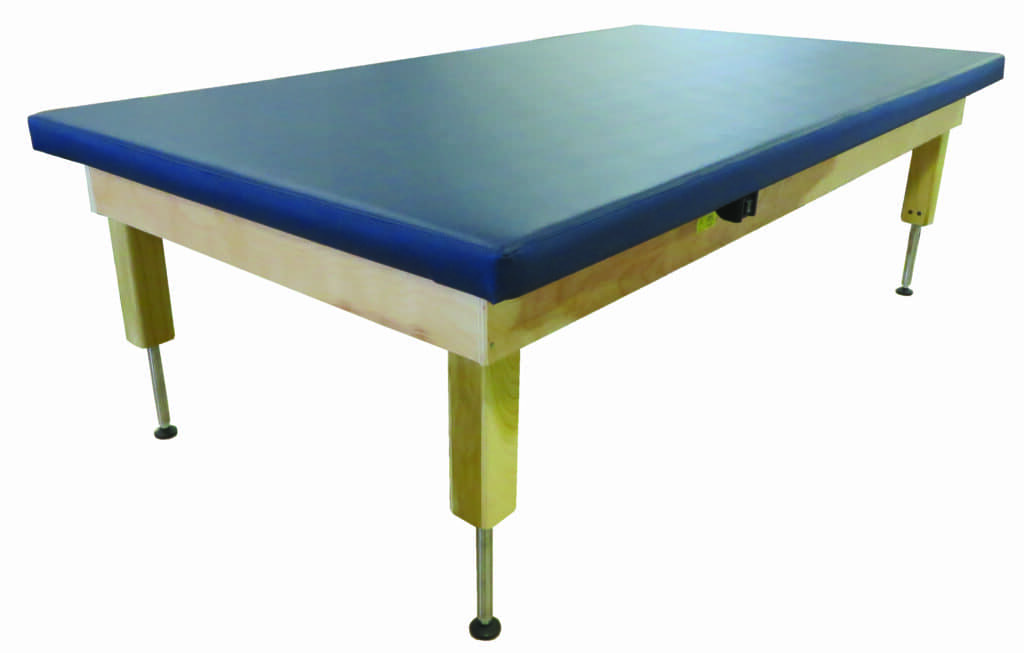 Hi-Lo Mat Tables
Bailey Manufacturing Company, Lodi, Ohio, a manufacturer of rehabilitation and therapy products to satisfy the needs of physical therapy, occupational therapy, and sports medicine facilities since 1956, produces the Economy Hi-Lo Mat Table line. Introduced gradually beginning in 2021, these upgraded manual and electric mat tables now feature a new frame design, which increases weight capacity to 500 pounds. An optional footswitch feature allows hands-free operation of the electric versions. Also, trouble-free assembly is now easier than ever.
For more information, contact Bailey Manufacturing Company, (800) 321-8372; www.baileymfg.com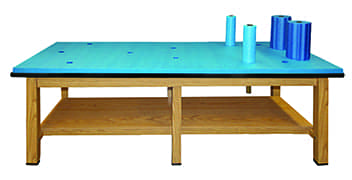 Torque Therapy Table
The Torque Therapy Table from Hausmann Industries Inc, Northvale, NJ, was created to be a revolutionary new table designed to aid in stretching, muscle isolation, joint distraction, manual manipulation, and orthopedic special testing. The special design of this table has 12 strategically placed holes that allow vertical placement of two different size moveable bolsters (3″x12″ and 6″x12″) vertically on the table and to help stabilize the patient. Videos of the table in use can be viewed at www.Hausmann.com.
For more information, contact Hausmann Industries Inc, (888) HAUSMANN; www.hausmann.com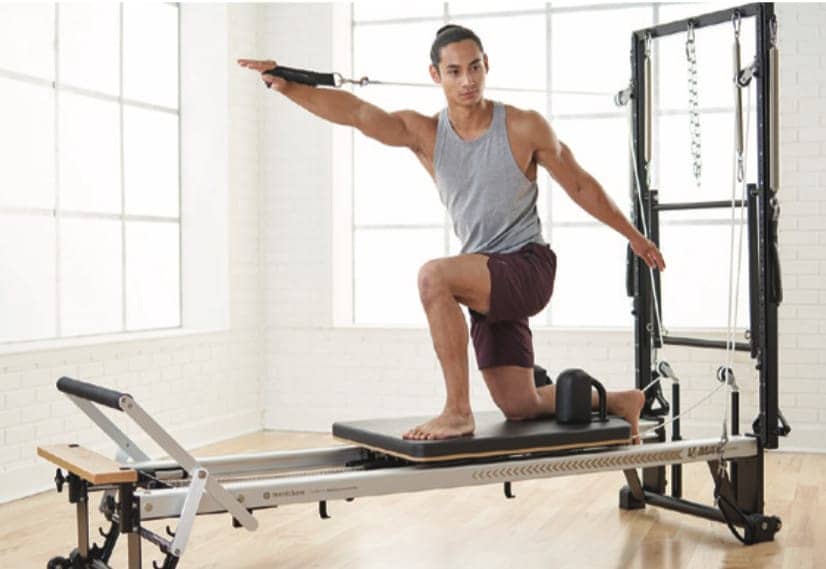 Pilates Rehab Mat/Reformer Bundle
The Rehab V2 Max Plus Reformer from Merrithew, Toronto, features a higher carriage for use in physical therapy and physiotherapy clinics and facilities that cater to a senior or mobility-challenged client base. It also features a retractable rope system and travelling pulleys on the Vertical Frame, offering variable angles of resistance and providing an increased range of motion for Pilates-based sport-specific, rehab and cross-training movement. It could also multitask as a raised mat platform, a standard Pilates Reformer, a virtual Cadillac, and a multi-planar, biomechanics training tool.
For more information, contact Merrithew, (800) 910-0001; www.merrithew.com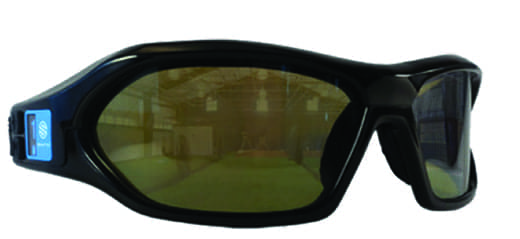 Strobe for Performance Improvement
The Senaptec Strobe from Exertools, Petaluma, Calif, is designed to train the connections between an individual's eyes, brain, and body. Using liquid crystal technology, the lenses flicker between clear and opaque, removing visual information and forcing the individual to process more efficiently. The Senaptec Strobe can be integrated into existing sports training drills and exercises, or be added to vision therapy protocols as an uploading technique. As an athlete, the strobes can help move training to a higher level. The curved liquid crystals provide a full 180-degree field of view that allows users to enhance their visual skills in the training room or on the field of play.
For more information, contact Exertools, (707) 570-5158; www.exertools.com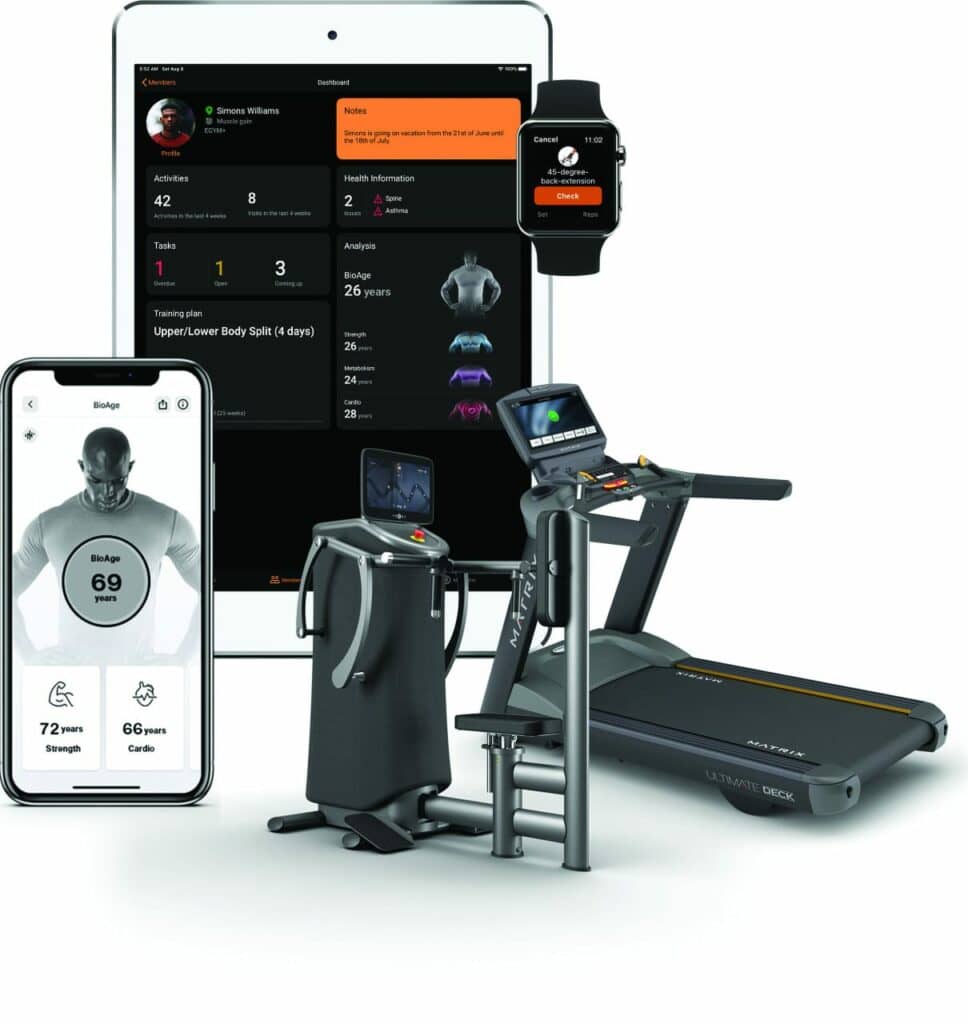 Fitness Technologies for Gyms
EGYM, Boulder, Colo, develops fitness technology with patients and clinics in mind. Hardware and software are combined into a powerful ecosystem offering patients the latest generation of connected Smart Strength equipment and deep integration with cardio manufacturers and wearables. EGYM Digital connects fitness data into the EGYM Cloud. EGYM Digital solutions combine and visualize all activity into engaging and motivating insights for patients and therapists alike. EGYM Trainer is designed to enable therapists to more easily control and better organize and manage important tasks. EGYM Cloud is a platform for tracking patient activity and delivering personalized fitness prescriptions and outcomes.
For more information, visit EGYM, (720) 900-2526, ext 3; https://egym.com/us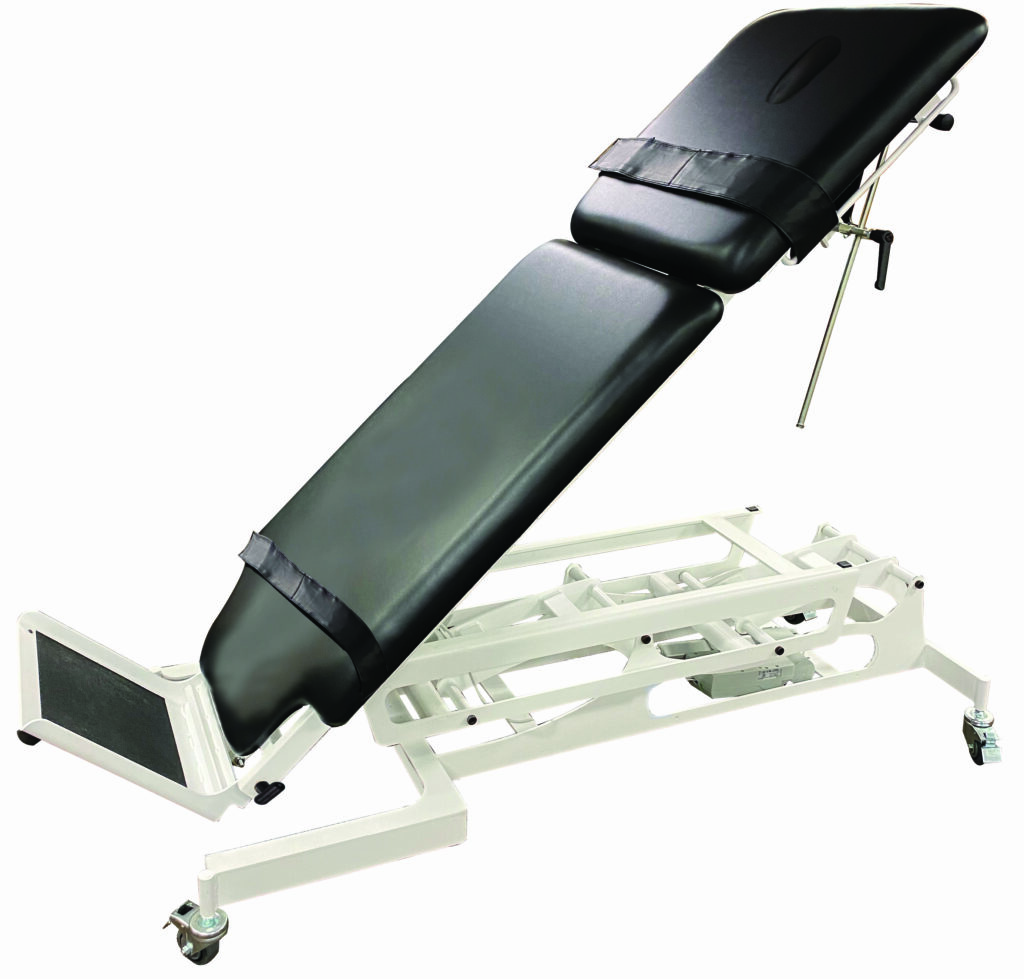 Elevating Therapy Tilt Table
Comfortable, safe, and durable, the Elevating Therapy Tilt Table from Pivotal Health Solutions, Watertown, SD, is ideal for nursing home and rehabilitation facility use. Smooth and secure hands-free elevation adjusts from 22.5 inches to 39.5 inches, and tilts from a horizontal position to 90 degrees at the touch of a button. A heavy-duty powder coat frame supports a load capacity of 400 lbs and includes an extra-large fold away foot plate with a non-skid surface and dual safety straps for added stability. A 2-inch high-density foam cushion with two configurable options are designed for patient comfort, including a manual lift back option that adjusts to 70 degrees.
For more information, contact Pivotal Health Solutions, (800) 743-7738; www.pivotalhealthsolutions.com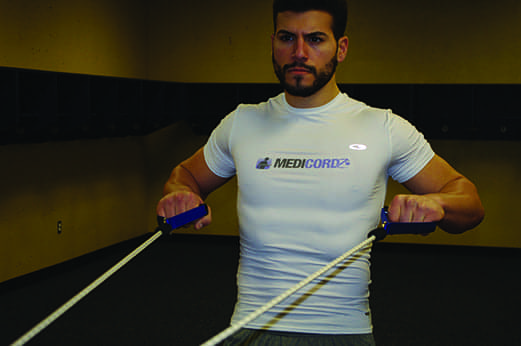 Training Gear
NZ Manufacturing Inc, Tallmadge, Ohio, offers the MediCordz Safety Bungee, which is built to provide rehab and strengthening with the added safety and security of strong and durable high-grade bungee. The patented line of USA-made products provides seven progressive resistance levels from which to choose. MediCordz Safety Bungee can provide resistance in rehab and exercise without the concern for allergies and possible breakage sometimes associated with latex bands. The dedicated Upper Body (shown here) is used in upper body and for stabilization exercises. MediCordz rehab training tools are designed to provide maximum function and comfort while withstanding rigorous use.
For more information, contact NZ Manufacturing Inc, (800) 886-6621; www.nzcordz.com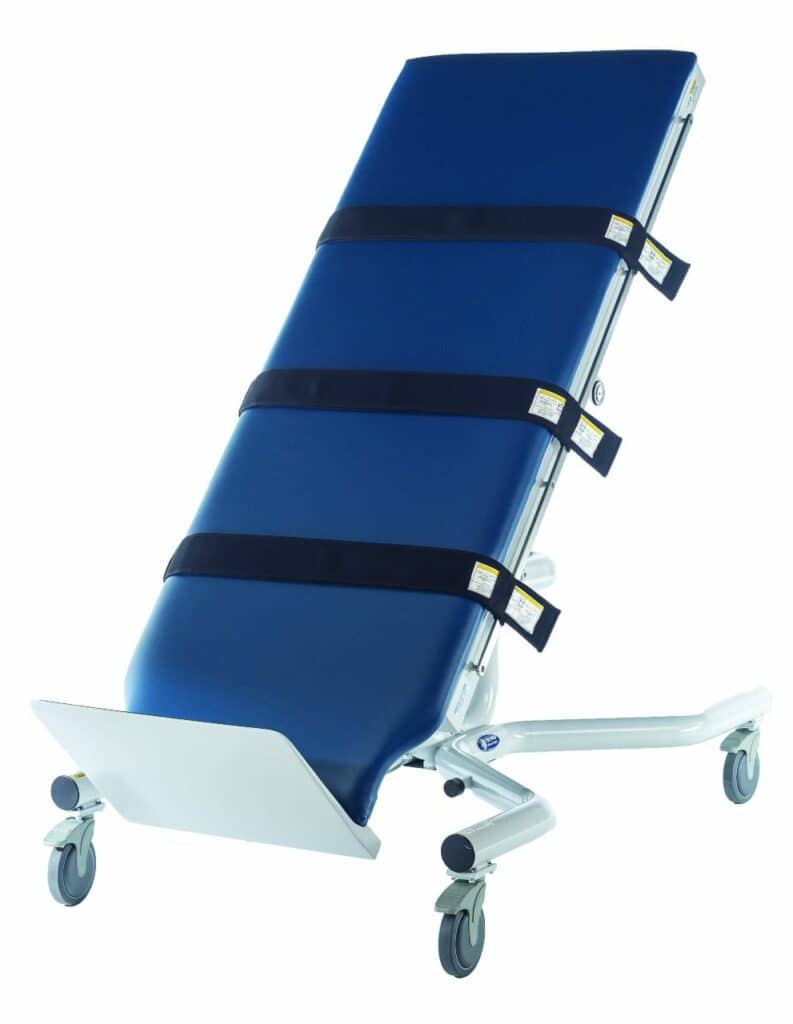 Tilt Tables
TRI W-G, Valley City, ND, has been creating quality medical devices since 1967, and some of the company's earliest equipment is still in service today. TRI W-G tilt tables feature motorized tilt, with one model also offering motorized elevation. All tilt tables come standard with safety belts, locking casters, and an angle indicator, and feature a modern, ergonomic design that can accommodate patient lifts. The company produces a variety of models with lifting weight capacities ranging from 350 pounds to 750 pounds. TRI W-G offers a 10-year limited warranty on its products and strives for fast delivery times.
For more information, contact TRI W-G, (800) 437-8011; www.triwg.com or [email protected]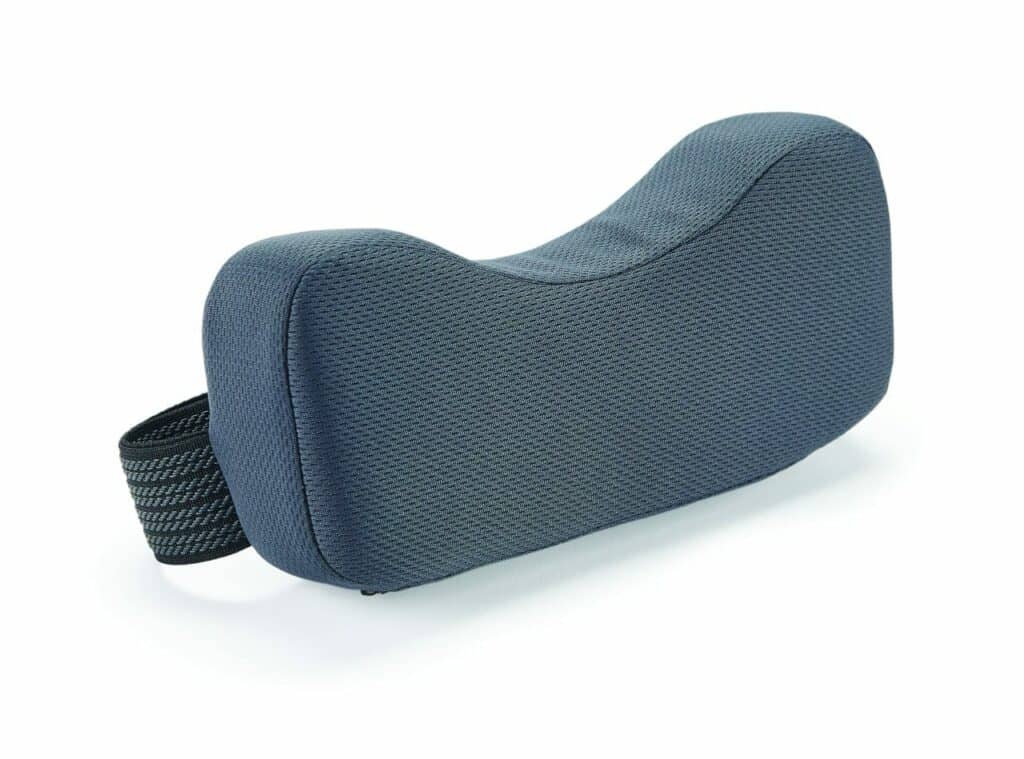 Shoulder Support
OPTP's PRO Shoulder Support elevates and decompresses the shoulder joint, which counteracts gravity and the weight of the arm to help decrease pain and soreness. By positioning the arm away from the body, it allows greater blood flow to the rotator cuff muscles, which helps speed recovery. Created by a Doctor of Physical Therapy with decades of experience working with shoulder injuries, the PRO Shoulder Support is ideal for individuals rehabilitating from shoulder surgery, shoulder injury, those experiencing arthritis or shoulder impingement syndrome, overhead athletes, and anyone seeking relief from shoulder pain caused by daily activities.
For more information, contact OPTP, (888) 819-0121; www.optp.com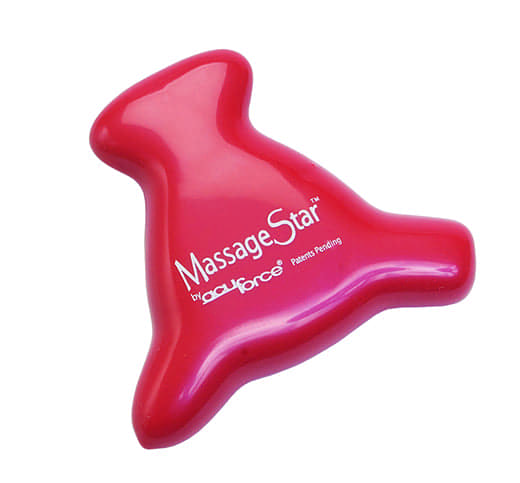 Soft Tissue Therapy Tool
The Massage Star Soft Tissue Therapy tool, available from Magister Corporation, Chattanooga, Tenn, can be used for trigger point therapy, muscle stripping, and cross-fiber friction. The original Massage Star weighs 11 ounces, and the Extra Large Massage Star weighs 1 pound. The Star has three applications: the Wedge can be used to perform Muscle-Stripping and Cross-fiber Friction, and the Wide and Narrow Points can be used to perform Trigger Point Therapy and Reflexology. Can be used with massage creams and oils.
For more information, contact Magister Corporation, (800) 396-3130; www.magistercorp.com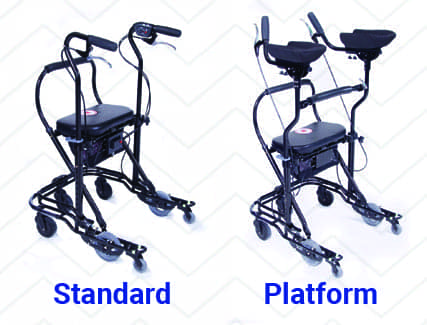 Neurological Walker
The U-Step Neuro Walker, a family of three advanced versions (Standard, Platform, Press-Down) from In-Step Mobility Products Inc, is designed to increase independence and eliminate falling among those with neurological conditions. The U-Step Neuro Walker's features are designed to make it a superior walking aid that offers excellent stability, maneuverability, and control. The U-Step Neuro Walker can be beneficial for patients with various neurological conditions, including: Parkinson's disease, multiple sclerosis, balance disorders, brain injuries, ALS, PSP/MSA, ataxia, and stroke. Optional electronic visual/audio cueing module is available for addressing Parkinson's freezing.
For more information, contact In-Step Mobility Products Inc, (800) 558-7837; www.ustep.com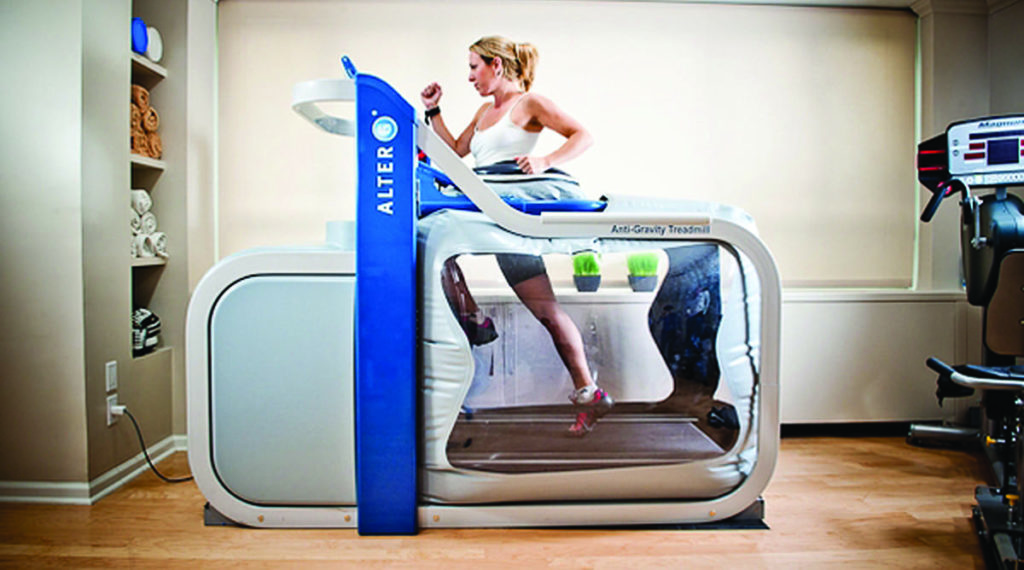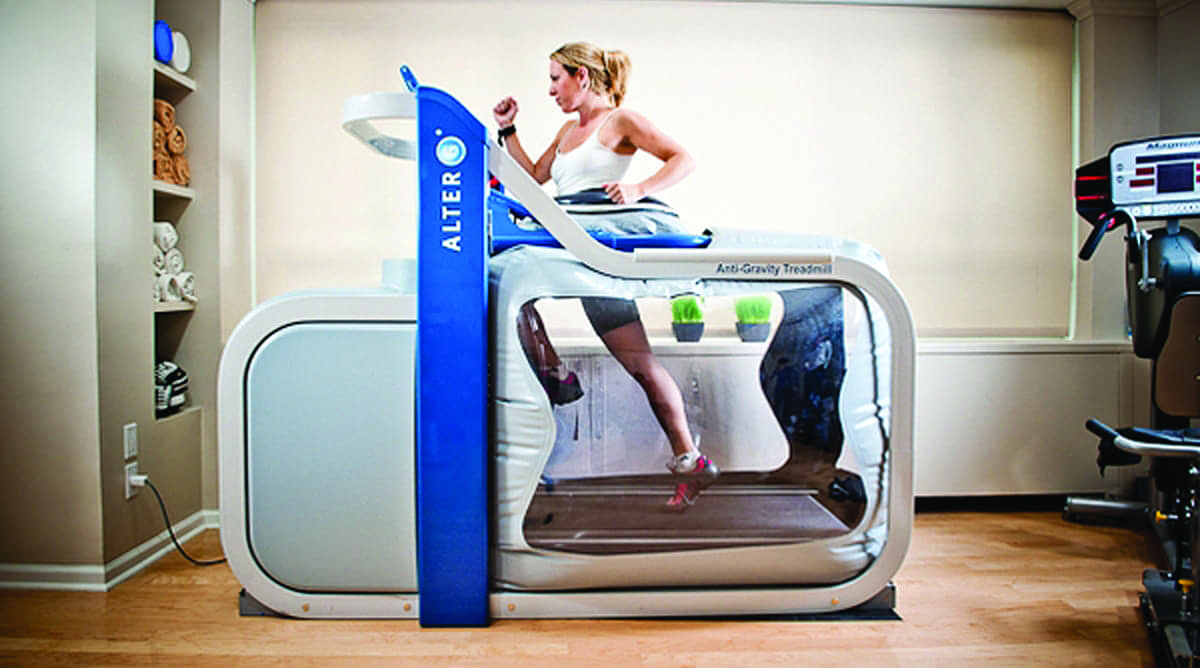 Anti-Gravity Treadmill
The AlterG Anti-Gravity Treadmill from Fremont, Calif-headquartered AlterG Inc uses NASA's differential air pressure technology to provide gentle and precise unweighting, without affecting natural gait mechanics. With AlterG, therapists are able to help their patients reclaim their mobility, whether they are recovering from injury, rehabbing from surgery, or working through a chronically debilitating condition, such as Parkinson's disease or osteoarthritis. The Anti-Gravity Treadmill can take patients all the way down to 20% of their full body weight, and is adjustable in 1% increments. This helps therapists pinpoint the exact level of support needed for each patient and progress their rehab accordingly, minimizing backsliding while maximizing results.
For more information, contact AlterG Inc, (510) 270-5900; www.alterg.com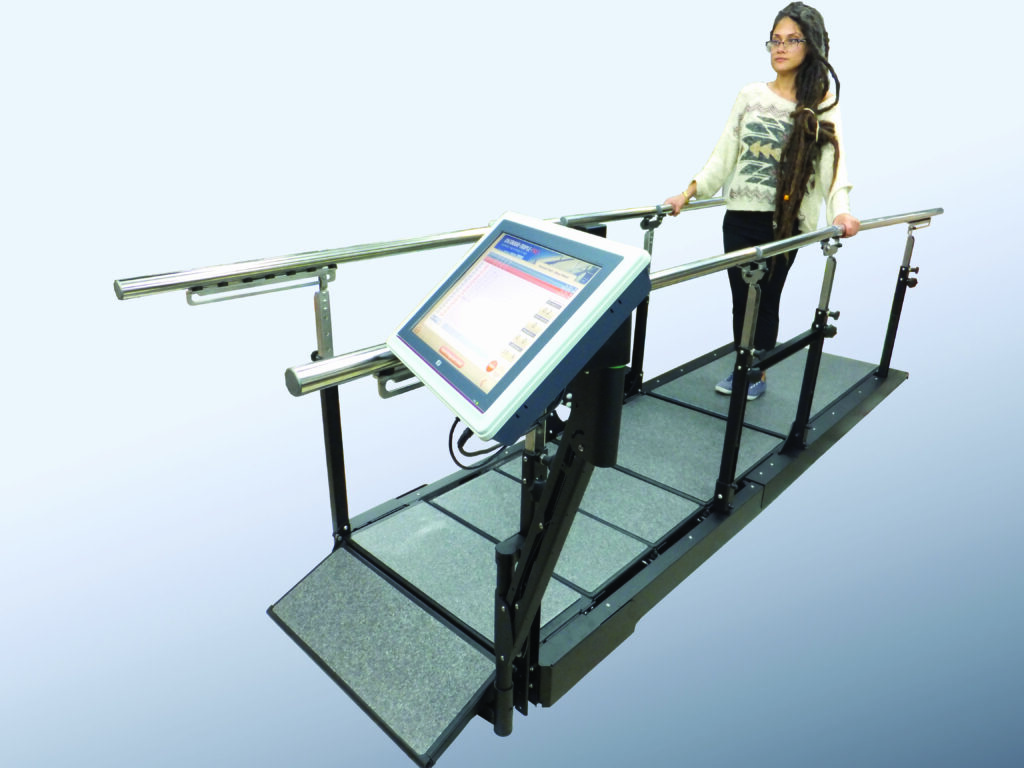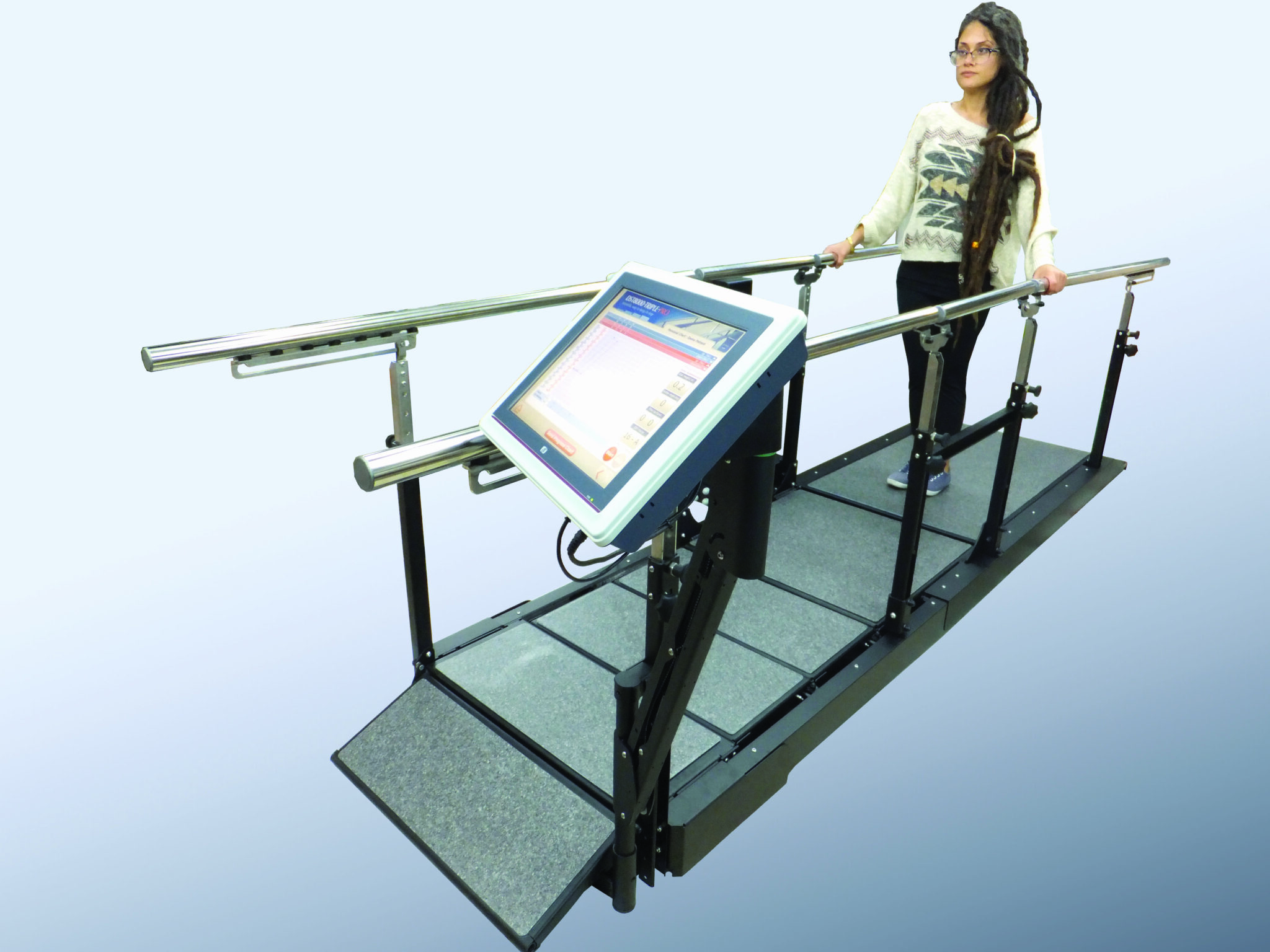 DST8000 TriplePro Stair Trainer
The Dynamic Stair Trainer DST8000 TriplePro from Clarke Health Care Products, Oakdale, Pa, features electronically elevating steps, rising from a flat plane to 6.5 inches, that allow clients to start stair climbing at a level appropriate to their ability. On the other side is an increasing incline that raises and lowers. In flat plane the DST is a parallel bar. An onboard computer displays the patient's performance in past and current sessions as well as a DST Factor based on the patient's status that estimates the potential for future improvement. Various report formats can be printed or downloaded to assist therapists.
For more information, contact Clarke Health Care Products, (888) 347-4537; www.clarkehealthcare.com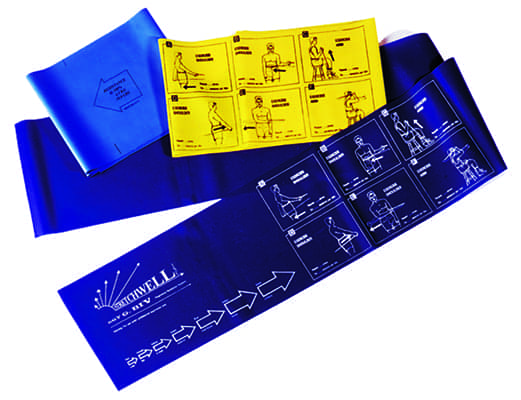 Latex Resistance Bands and Tubing
Stretchwell Inc, Warminster, Pa, offers a range of latex resistance bands and tubing. Since its debut in 1994, the company has produced its flagship product, Fitlastic Therapy Bands, using high-quality and green-friendly continuously dipped latex sheets. Stretchwell reports that the bands contain almost no soluble proteins and are color-coded by the "ROY G BIV" progressive system of resistance. The 18-foot, 75-foot, and 150-foot rolls are marked every foot to allow for easier cutting, measuring, and identification.
For more information, contact Stretchwell Inc, (888) 396-2430; www.stretchwell.com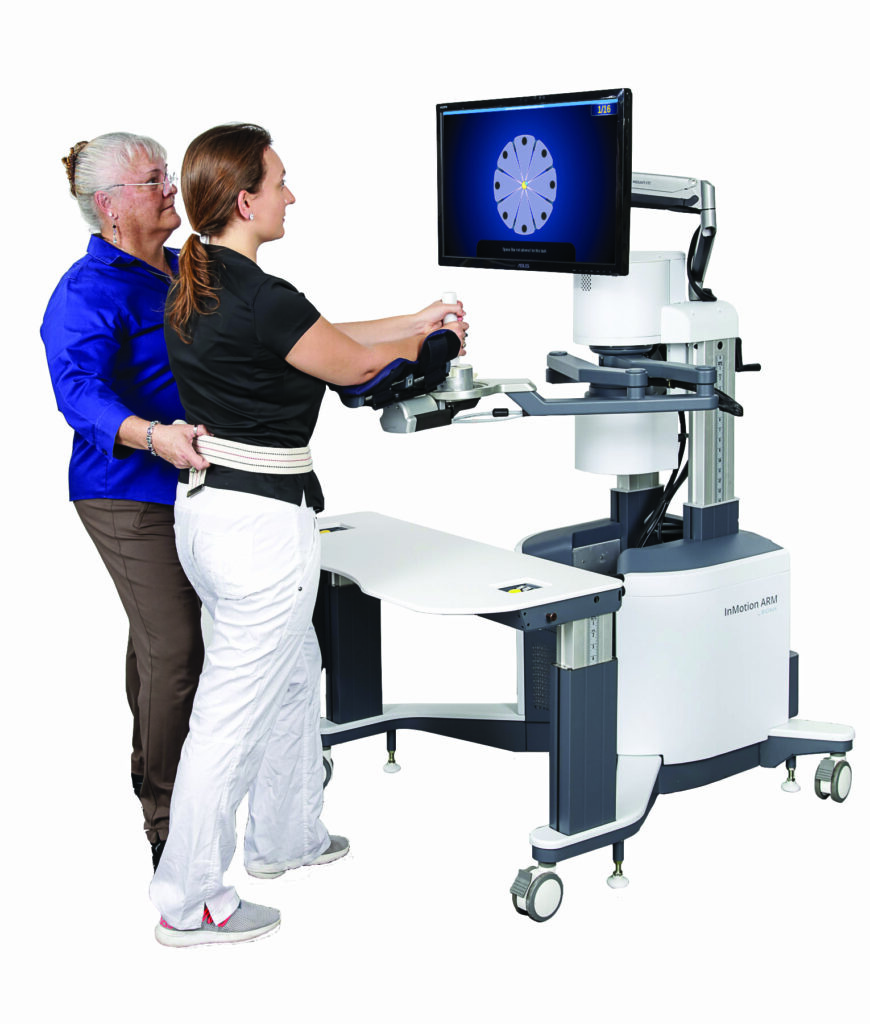 Robotic Assisted Treatment
InMotion Therapy from BIONIK Inc, Watertown, Mass, enhances the therapist's ability to restore a patient's motor function following neurological conditions and injuries. It is safe and effective for severe impairments to strengthening and coordination and allows the therapist to work with patients in sitting, kneeling, and standing positions. PT applications include activities for trunk control, stability, and balance. Therapists can assess a patient's progress with InMotion Eval, which documents motor recovery against known expected performance measures. It also quantifies upper-extremity motor control and measures effectiveness of treatment and helps support reimbursement to extend care. Supported by 32 years of research and improved outcomes, InMotion Therapy is useful across the continuum of rehabilitation care: from inpatient to outpatient, with applications for physical, occupational, and speech therapies.
For more information, contact BIONIK Inc, (617) 926-4800; www.bioniklabs.com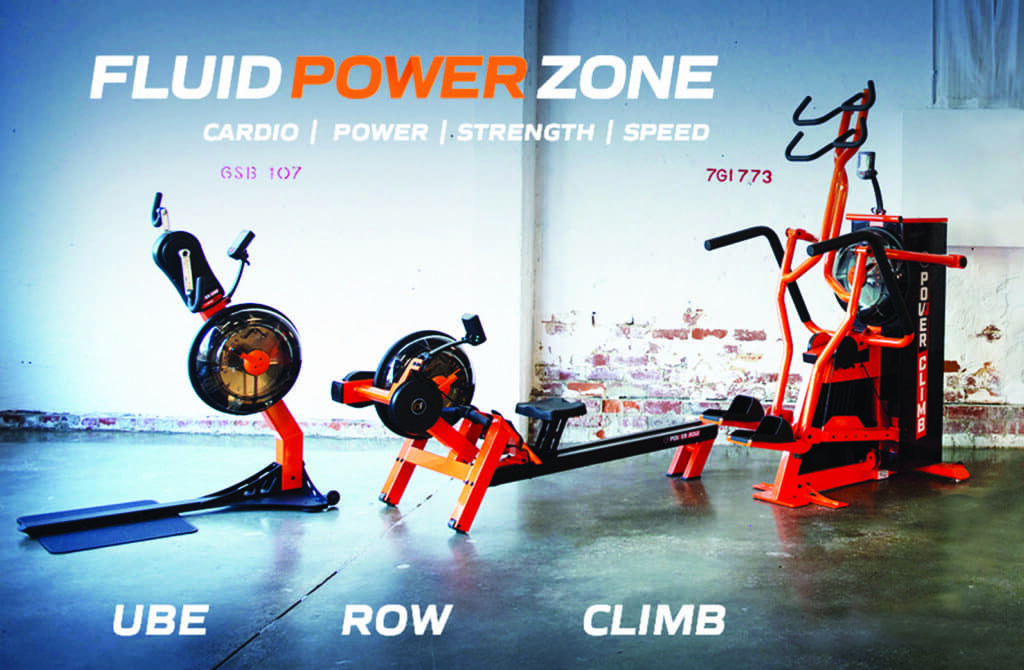 Concentric Phase Power Training
FluidPowerZone, available from First Degree Fitness, features the Twin Tank adjustable Fluid Resistance system. Key features include concentric phase power training with the ability to control speed, load and range, as well as peak power through the entire range of motion regardless of mechanical advantage, muscular fatigue, or individual ability. The lack of eccentric load of these devices allows for an extremely high volume and intensity of training with less recovery time and risk of injury. FluidPowerZone equipment is designed to provide complete control over speed, load, and ROM, and can be applied to sport specificity, rehabilitation, and functional training. The power of each stroke is measured to make sure users stay in their Power Zone. As a technical tool, concentric fluid power training can safely teach and reinforce proper pattern recruitment.
For more information, contact First Degree Fitness; www.fluidpowerzone.com
Related Content:
Product Guide 2021: Rehab & Fitness