Walking is one of the favored leisure activities among adults and can be a necessary activity of daily living that affords personal independence. Likewise, the ability to walk can be essential for exercise, as it helps prevent a number of diseases that threaten good health. Therefore, strengthening the gait and balance function in individuals affected by stroke or neurological conditions can be a vital part of treatment that physical therapy provides. To support activity directed at optimizing the ability to walk, manufacturers from across the country offer a variety of technologies designed to address the assessment and therapeutic needs of gait and balance. These technologies range from capital equipment engineered to support body weight, to data-driven treadmill and balance systems, to sophisticated tools that objectively measure the parameters of gait. This showcase highlights many of these technologies therapists can use to dial in dosing and design activities that make therapy sessions personalized and productive.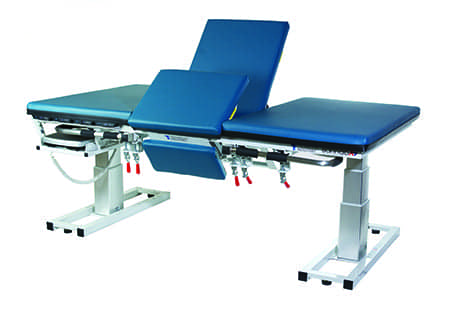 TREATMENT AND ASSESSMENT PLATFORM
The Barihab Treatment and Assessment Platform from Therapeutic Industries, Thousand Palms, Calif, is built to provide exceptional safety for the patient and clinician which, in turn, can reduce anxiety for both during therapy and rehabilitation. With the Barihab's built-in electronic hi-low treatment platform, backrest, and seat lift, the therapist does not have to lift or hold the patient. The Barihab is engineered to provide utility for a variety of essential therapeutic activities, including specially designed standing frame features. With the use of the transfer bars and parallel bar system, all the tools needed to perform sit-to-stand, standing balance, and gait activities are all in one location. Through the use of the Barihab's digital display system, charting progress and documentation is easily achieved. These digital displays automatically measure the height of the treatment surface and the angle of both backrest and seat lift in a "hands free" environment.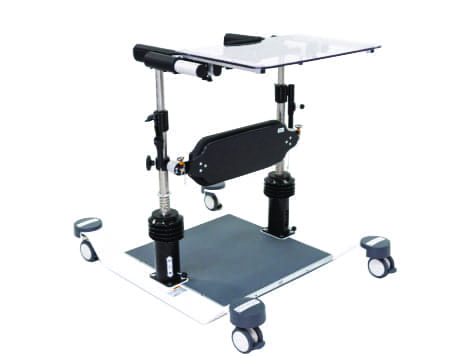 FALL-SAFE DYNAMIC BALANCE TRAINING
Available from Reno, Nev-based Accelerated Care Plus Corp, the OmniStand Dynamic Balance System is built to help challenge patients beyond the capability of a static standing frame with an adjustable, dynamic sway. Dynamic support offers three adjustable settings (0°. 6°, 11°) allowing therapists to safely challenge patients' limits of stability and progress them to higher levels of postural control. The device is built to provide therapists the freedom to work with patients face-to-face, allowing for more engaging therapy and opportunity to appraise patient's performance. The OmniStand's fall-safe design aims to produce effective outcomes for balance, pre-gait, and standing endurance. Levers are designed to be easy to use so resistance adjustments are quick and easy. Adjustable hip pads, removable knee support, and a quick release table top help provide for patient safety and comfort. Includes a pelvic safety harness with single-click operation, and a saddle-style harness for use with lower-level patients. A ramp is also available to help patients easily access the device via a wheelchair. The portable platform with multi-directional, lockable casters fits through most standard-width doors.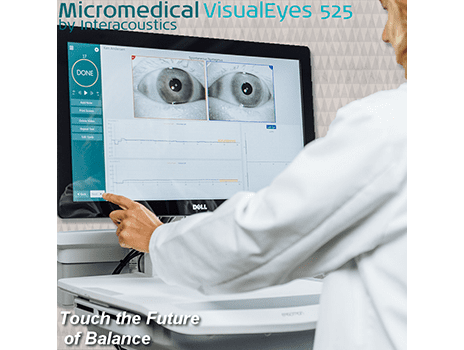 VIDEO RECORDING GOGGLES
Observe and record one or both eyes during assessment of a dizzy patient or while performing vestibular rehabilitation therapy with Chatham, Ill-based Micromedical Technologies Inc's RealEyes xDVR. The company has written special software for this product to allow clinicians to input patient demographics and digitally record eye movement videos. Available in monocular and binocular configurations, RealEyes xDVR video goggles are designed to be ideal for eye movement observation and recording during Canalith Repositioning maneuvers or BPPV Therapy. The software also controls the built-in fixation light and allows single-click centering of the eyes while a room camera provides a picture-in-picture display.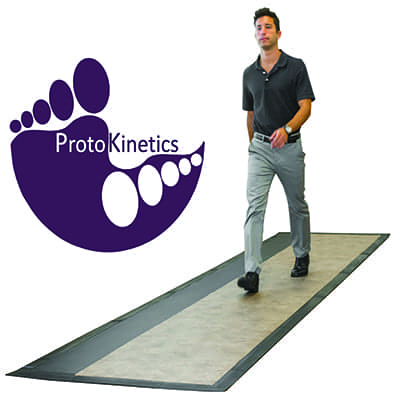 ZENO ELECTRONIC WALKWAY
Available from Havertown, Pa-based ProtoKinetics, the Zeno Electronic Walkway (Zenometrics) powered by PKMAS software (ProtoKinetics) is a popular "gait mat" technology used worldwide. Exceptional versatility is engineered into this equipment that can capture balance, walking, running, jumping, turning, sit-to-stand, TUG, etc. The literature indicates more falls occur during transitional movements than during straight-line walking; in addition, postural control, dynamic balance, and transitional gait performance [starting, turning, braking] are critical components to quantify in clinical practice. That is why the company developed the PKMAS Primary Gait Screen (PGS). The PKMAS PGS addresses transitional movements in a single test (typically performed in less than 1 minute). It is built to be extremely easy to administer and offers immediate results that require no editing.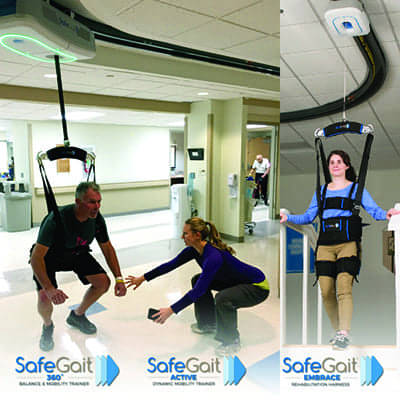 OVERHEAD GAIT & MOBILITY TRAINERS AND REHAB HARNESSES
Gorbel Inc-Medical Division, Victor, NY, offers body weight support systems for rehabilitation and safe patient handling. The company's flagship SafeGait 360° Balance and Mobility Trainer is a ceiling-mounted dynamic body-weight support and fall protection system that features Patient Management Software to track performance by session and task. The new SafeGait ACTIVE Dynamic Mobility Trainer is built as a cost-effective, non-robotic fall protection system that enables full dynamic movement without being limited to movement in the horizontal plane. Another new product, the SafeGait EMBRACE Rehabilitation Harness, was designed in collaboration with therapists to address traditional harness "pain points" and enhance comfort during gait, balance, and falls management exercises.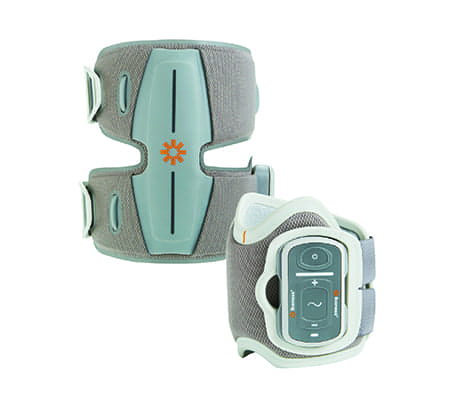 BIONESS L300 GO
The L300 Go from Bioness, Valencia, Calif, is a functional electrical stimulation (FES) system engineered to be capable of producing measurable mobility improvements for patients with foot drop and/or knee instability caused by an upper motor neuron disease or injury such as stroke, multiple sclerosis, cerebral palsy, incomplete spinal cord injury, or traumatic brain injury. Five key features that appear on the L300 Go aim to make the device more capable and versatile. Those features include 3D motion detection that monitors patient movement in three kinetic planes and makes the foot sensor optional. It also includes multi-channel stimulation that enables precise control of foot inversion/eversion, and is designed for fast, intuitive setup and fewer components to manage. Additional L300 Go features include outcome measures featuring standardized assessments that make it easy to track and document patient progress, and a home user app that allows users to set goals, monitor activity, and check progress.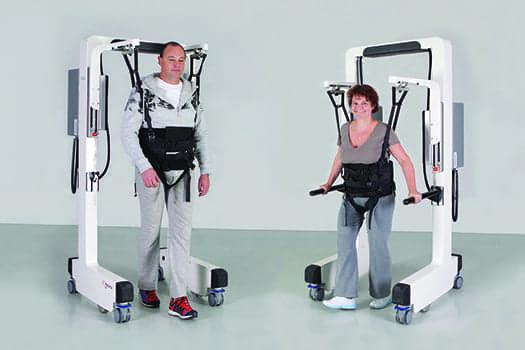 MOBILE ROBOT FOR GAIT TRAINING
The Andago from Hocoma Inc, Norwell, Mass, is a mobile robot for body-weight-supported overground gait training that allows upright, hands-free walking without spatial limitations. Andago's specialized combination of self-directed gait, dynamic body weight support, and mobility enables safe, intensive, and versatile training of gait and balance tasks in various environments. It is made to be an ideal tool to help patients prepare for daily life. The compact dimensions of Andago are engineered to allow for a versatile training that will support step training and offer high mobility. Patients will be able to move from room to room in a self-directed way as an ideal preparation for everyday life. Andago requires no installation or building modification. Its intuitive workflow aims to allow for a quick and easy therapy start, and a simple integration into clinical routine.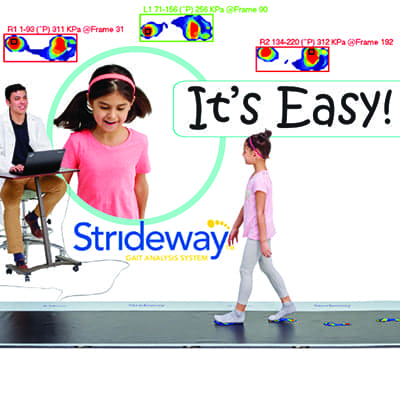 STRIDEWAY SYSTEM
Tekscan Inc, South Boston, Mass, brings to market the new Strideway System as a truly portable solution with reliable data. Gain important insights into gait with Strideway, which provides spatial, temporal, and kinetic parameters essential for a complete gait analysis. Performing an evaluation is simple and takes only a few minutes to complete. With a wider active area and flush surface, Strideway minimizes trip hazards and easily accommodates patients with mobility aides, such as a walker or those with gait dysfunctions.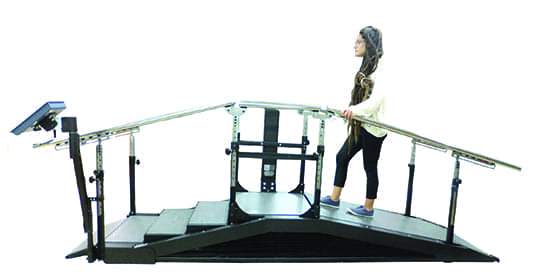 DST8000 TRIPLEPRO STAIR TRAINER
Clarke Health Care Products Inc, Oakdale, Pa, introduces the Dynamic Stair Trainer DST8000 TriplePro. This device is built to motivate and increase patients' rehabilitation and make easy work for therapists' reports. The unit is designed to bring stair training into the digital age, with electronically elevating steps that allow clients to start stair climbing at a level appropriate to their ability. DST8000 TriplePro has remote-controlled elevating steps starting from a flat plane rising to 6.5 inches, and an increasing incline on the other side that raises and lowers. Patient performance in past and current sessions is displayed. The device's DST Factor is a parameter that summarizes the patient's status and estimated potential for future improvement. The company developed the DST8000 Pro to take advantage of technology in helping elevate stair training to new levels of performance.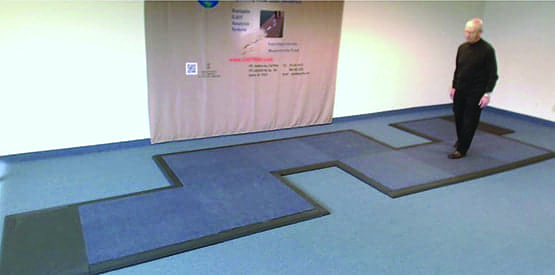 GAITRITE / CIR SYSTEMS INC
Based in Sparta, NJ, CIR Systems Inc is the exclusive source and distributor of GAITRite Portable Walkway Systems. GAITRite products measure the temporal (timing) and spatial (2-dimensional geometric position) parameters of its pressure-activated sensors. Truly portable, the standard GAITRite System is designed to set up easily in 75 seconds. GAITRite Systems can perform quick data capture, analysis, and report generation. GAITRite Classic, GAITRite RE, GAITRite Basic, and GAITRite CIRFace Systems range from entry-level small clinical practice systems to walkways for complete gait lab applications. All systems can provide exportable data for footfall, gait cycle, walk, and test-level measurements, and provide meaningful data in a range of disciplines. GAITRite reports that a wide range of publications are generated annually using the systems.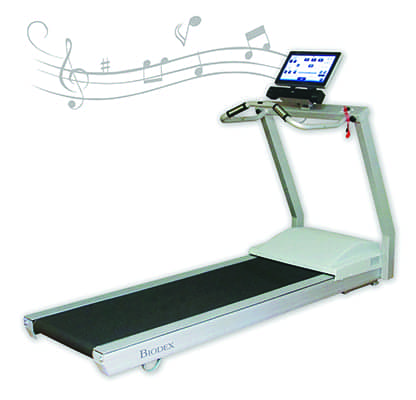 TREADMILL WITH INTEGRATED MUSIC THERAPY
Based on research that shows the power of music in treating movement disorders, Biodex, headquartered in Shirley, NY, offers a Music-Assisted Therapy Package for the new Gait Trainer 3. Biodex provides a starter library of music therapy-informed compositions that aim to enhance treatment of debilitating neuropathologies such as Parkinson's and stroke. Using the instrumented deck of the Gait Trainer 3, Biodex reports that the value of therapy can now be measured through quantitative reporting. The right music, the correct beats per minute (bpm) and gait repetition, the company reports, can improve neuroplasticity and get patients better, faster.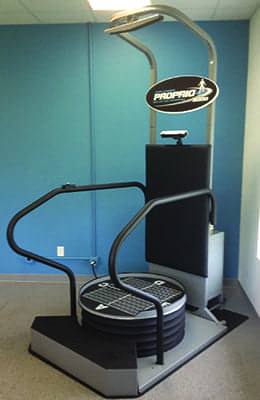 REACTIVE BALANCE SYSTEM
The PROPRIO Reactive Balance System from Perry Dynamics Inc, Decatur, Ill, features a multi-directional, multi-planar reactive platform with motion camera analysis to evaluate, train, and challenge the ability to maintain balance. The OptiTrack motion capture cameras measure core movements in six degrees of freedom for biofeedback and testing. The therapist controls the speed, degrees of tilt, and movements of the platform to meet the needs of each patient or can select one of more than 60 pre-designed protocols. Users can vary foot placement on the 36-inch-diameter platform to provide functional training. Biofeedback capabilities can be used to help assure proper body kinematics while strengthening stabilization muscles necessary to maintain balance. The PROPRIO System is a versatile balance system for both neurologic and orthopedic needs.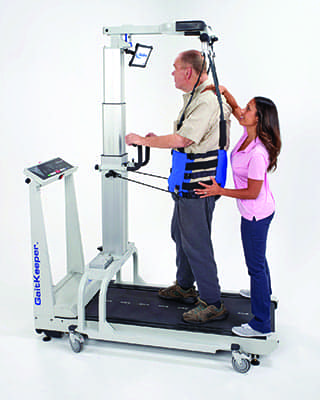 LITEGAIT AND GAITSENS
Mobility Research, Tempe, Ariz, offers the LiteGait—a gait training device that simultaneously controls weight bearing, posture, and balance over treadmill or ground, with the aim of creating an ideal treatment environment for patients with a wide range of impairments and functional levels. Its harness design permits unilateral and bilateral support allowing progression of the weight bearing load from non to full weight bearing, while allowing access to lower extremities and pelvis to achieve proper gait patterns. The yoke allows 360° rotation and up to 4 inches of vertical displacement. GaitSens is clinical gait assessment packaged in a treadmill designed to provide easy use. A sensored deck provides reports on gait parameters that include stride length, step length, stride time, step time, stance phase %, swing phase %, double support phase, and center of load. The software determines gait events in real time and provides real-time biofeedback for users.