Some physical therapy patients may experience difficulty performing therapeutic movement and exercises on dry land. Aquatic therapy can offer a valuable solution for this population by providing body weight support that can be helpful in improving flexibility, strength, and gait. Devices designed to help safely transport mobility-impaired patients into and out of a pool or spa can also help expand the range of patients for whom in-water treatment provides benefits. The following is a selection of products designed to support aquatic therapy programs and enhance options therapists have for designing therapeutic exercise.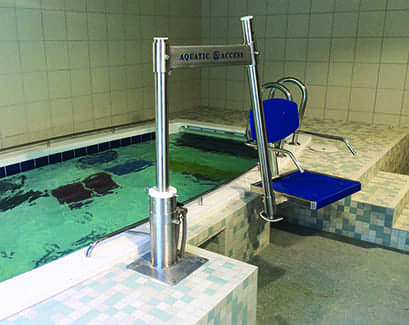 Water-Powered Pool Lifts
For the past 32 years, Aquatic Access, Louisville, Ky, has designed and manufactured a line of swimming pool and spa lifts that provide disabled access into water using city water pressure as the power source. The water is then recycled into the pool. No batteries or electricity is needed to operate these lifts, making Aquatic Access products truly "green" and energy-efficient. The company's engineers can customize designs for hospitals or rehab facilities as well as for the needs of the person at home. Standard lifts have a capacity of 300 to 400 pounds, depending on model. Custom bariatric designs are available with the ability to lift up to 800 pounds.
For more information, contact Aquatic Access, (502) 425-5817; [email protected]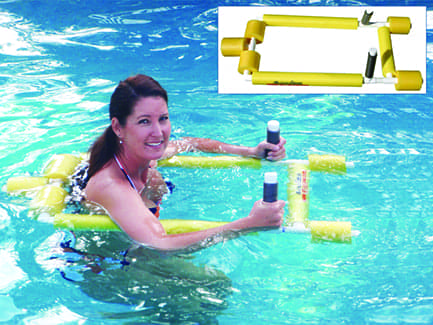 Water Walking Assistant
Sprint Aquatics, Oceano, Calif, provides the Water Walking Assistant Patented (item #698) as a tool to improve balance and gait by providing support to the upper body while helping to increase strength in the legs. The superior-quality PVC makes for uncompromising integrity, and the oversized foam provides both comfort and buoyancy. The handles are padded. Sizes: Inside measurements: XSmall – 11″x17″ approx 2 pounds; Small – 11″x22″ approx 2.5 pounds; Medium – 13″x24″ approx 4 pounds; Large – 15″x24″ approx 5 pounds. Outside Sizes: XSmall – 16″x32″ approx 2 pounds; Small – 16″x38″ approx 2.5 pounds; Medium – 18″x40″ approx 4 pounds; Large – 20″x40″ approx 5 pounds. Made in the USA.
For more information, contact Sprint Aquatics, (800) 235-2156; www.sprintaquatics.com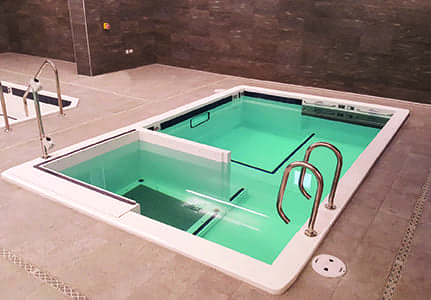 Triton One-Piece Hydrotherapy Pool
SwimEx, Fall River, Mass, announces the new 1500 T hydrotherapy pool featuring a 5-foot x 5-foot zero-entry lift that doubles as a multi-depth exercise and treatment zone. Built for exceptional versatility, this extra-large pool has an adjustable water current to accurately measure progress and outcomes, a still water treatment area, multiple work stations, and deep wells. The pool is large enough to treat multiple patients during the same session or hold group classes.
For more information, contact SwimEx, (800) 877-7946; www.swimex.com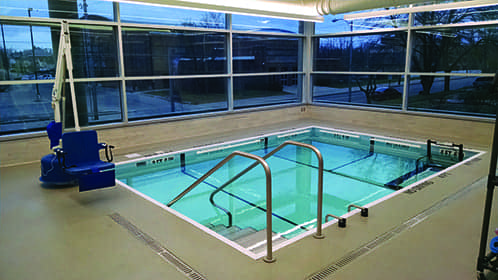 Hudson Aquatic Therapy Pools
Hudson Aquatic Systems LLC, Angola, Ind, designs, manufactures, installs, and services custom therapy pools according to a facility's space and that can fit through a standard-size door. The company offers three model types—above, partial above, and in-ground—along with many options and ADA-approved patient lifts. Hudson also offers underwater treadmill systems and cold salt water bath products with a 24-hour service line and water quality care program.
For more information, contact Hudson Aquatic Systems LLC, (888) 206-7802; www.hudsonaquatic.com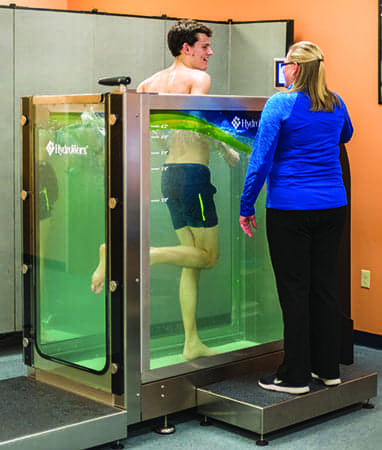 Aquatic Therapy
Made for small spaces and existing facilities, the HydroWorx 200, from HydroWorx, Middletown, Pa, is designed to fit into a compact 100-square-foot space and through a standard 36-inch-wide door. The HydroWorx 200 utilizes warm water and underwater treadmill technology to help therapists provide all the benefits of land movement without additional impact and stress on patients' joints and muscles, and the risk of additional injury.
For more information, contact HydroWorx, (800) 753-9633; www.hydroworx.com