Össur, a provider of prosthetic and non-invasive orthopaedic technologies, launches the Rebound Post-Op Elbow Brace, a non-invasive, lightweight adjustable brace with intuitive design features intended to optimize the fitting experience for clinicians as well as ease-of-use for patients who are recovering from severe elbow injury or surgical procedures.
The lightweight Rebound Post-Op Elbow Brace provides both elbow immobilization and range-of-motion restriction for patients who may have experienced variety of conditions, including: stable fracture of the elbow, distal humerus, proximal radius or ulna bones; tendon and ligament injuries and repair; collateral ligament reconstructions; elbow hyperextension, triceps tendon repair, chronic elbow injuries and Tennis Elbow release.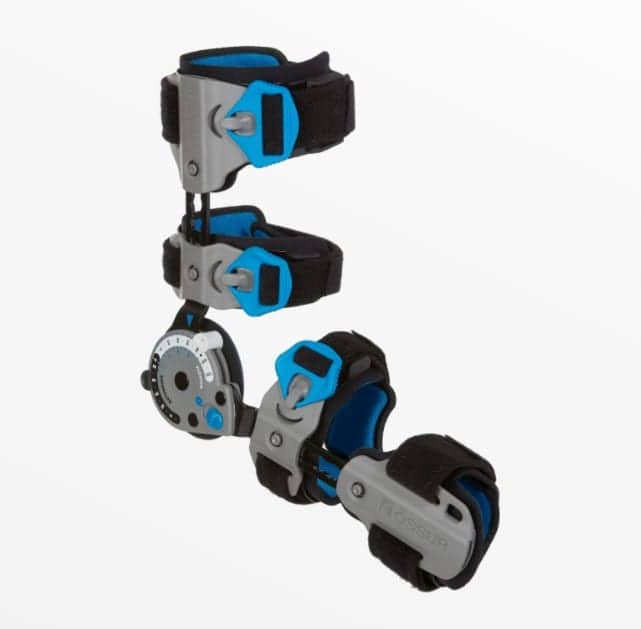 Comfort, Customization, Compliance
The brace features a OneTouch drop-lock hinge, with range-of-motion stops that lock-out automatically and allow a clinician to quickly and easily set patient range-of-motion. Compliance to the protocol can be further secured with the optional use of designated lockout clips.
Featuring four telescoping ergonomic paddles, which along with contoured hinge struts are intended to enhance comfort, anatomical fit, and avoid incision sites, the brace can be easily adapted to an individual patient's post-op protocols.
The Rebound Post-Op Elbow Brace also features anti-migration guides designed to help keep straps in place as well as moldable stability cuffs to further enhance user comfort. The brace also includes Össur's proprietary Blue is You color-coded buckles and touch points, as well as a clearly numbered strapping order, all of which can help patients don the brace quickly and efficiently, according to the company.
"Our new Rebound Post-Op Elbow brace offers several unique design features that are intended to enhance comfort and customization, which we hope will encourage consistent patient compliance. Our goal was to introduce a new brace that could benefit patients' recovery so that they might resume a life without limitations as soon as possible, and we believe we have accomplished that with our new Rebound Post-Op Elbow technology."

— Mark Tymchenko, Össur's Vice President of Americas, Bracing & Supports
[Source: Össur]
---
Related Content:
New from Össur – the Rebound ACL Brace
Össur Announces the Unloader One X Knee Brace
Recovery Unlimited