View the latest products on the market for aquatic therapy.
Water-Powered Pool and Spa Lifts
Aquatic Access, based in Louisville, Ky, provides a full line of water-powered pool and spa lifts, offering access to above-ground and in-ground public and residential pools, as well as to therapy pools and to docks and boats. Standard models have a 350- to 400-lb weight capacity, and custom bariatric units are available. Water power means low continuing costs, as there are no batteries to charge and replace, no electricity around water, a stable ride, and minimal attention required from staff. Headrests, chest and lap seat belts, and a spine board are available as accessories.
Aquatic Access, (800) 325-5438; www.aquaticaccess.com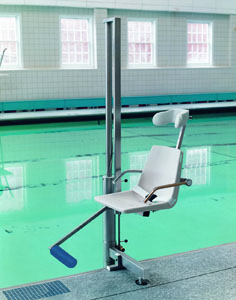 Hydro-Bells
Hydro-Tone Fitness Systems, Orange, Calif, produces specially designed resistive aquatic therapy and exercise equipment that amplifies the natural resistance of water to enhance therapy and training regimens. The handheld Hydro-Bells for the upper body are made of durable high-impact material and designed to provide smooth, stable resistance along any path of motion through the water. This allows the therapist or physician to safely and effectively prescribe any movement through any range of motion, including complex PNF movements.
Hydro-Tone Fitness Systems Inc, (714) 998-9595; www.hydrotone.com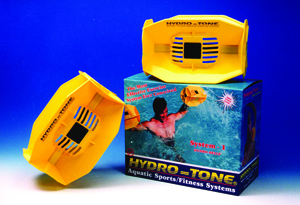 CP Square Float
Theraquatics, Montgomery, Ala, offers the new Cerebral Palsy (CP) Square Float, which aims to have special needs swimmers all across America getting into the water more often and more comfortably than ever. It is a generously proportioned, supportive flotation device for the smaller swimmer. A secure, stable, and adjustable seat attaches to the float, and this allows the swimmer to kick and splash freely while sitting upright in supported comfort. Designed by Theraquatics to function as a very social float, the CP Square Float is made of a soft fabric manufactured to be tough, chlorine resistant, latex free, and easy to clean. Three sizes are offered with prices ranging from $169.95 to $189.95. Orders may be placed online. Visit the website for more information and to choose sizing.
Theraquatics, (334) 669-8838; www.theraquatics.com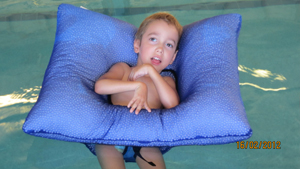 Sprint Aquatics
San Luis Obispo, Calif-based Sprint Aquatics has been supplying products to the aquatics marketplace for more than 42 years. The company strives to provide a distinctive combination of quality, price, and customer service. With aquatic therapy products ranging from collars to belts, weights and kickboards, Sprint Aquatics strives to provide products for all aspects of water-based rehabilitation. Some of the popular products the company offers for therapeutic activities include Sprint Ankle Weights, available in 3-, 5-, and 10-pound sets; the Water Walking Assistant, which is engineered to improve balance and gait; and Sprint Balance Rings, which are intended to aid in relaxation or spinal traction in deep water exercises.
Sprint Aquatics, (800) 235-2156; www.sprintaquatics.com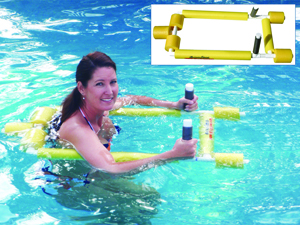 Thera-Band Aquatic Products
The Ohio-based company Performance Health offers Thera-Band Aquatic products to assist therapeutic activity by protecting joints and reducing stress for patients who need to exercise in the water. They can also advance the performance of competitive and recreational swimmers. The product line includes a Kickroller Flotation Device with Padded Grip, Swim Bar with Padded Grip, Closed Chain Buoyancy Disk, Hand Bars with Padded Grip, Webbed Pull Buoy Swim Training Aids, Young Swim Belts with High-Density Buoyancy Foam, and the Aquafins Aquatic Exercise Kit, which provides excellent in-water resistance training for the upper and lower body. Thera-Band aquatic products are excellent tools for low-impact rehab and swim training.
Thera-Band, (800) 321-2135; www.TheraBand.com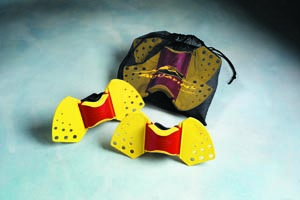 Triton Swim Spa
SwimEx, Fall River, Mass, introduces the Triton. This newest member of the SwimEx family is crafted for the PT facility that demands quality. This one-piece pool features a wide open layout, 50-inch water depth, and two benches for seated exercise. A quiet and efficient commercial-grade electric motor drives a specially calibrated propeller that creates a powerful, and adjustable, swim current. The Triton features the SwimEx fiberglass sandwich construction with easy-to-clean and long-lasting gelcoat. Massage jets, a swimometer speed indicator, remote speed control, four observation windows, underwater lights, and an integrated treadmill are also available. The Triton can be installed above or below ground, indoors or outdoors, and is also freestanding.
SwimEx, (800) 877-7946; www.swimex.com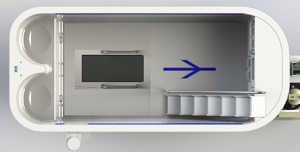 Wheelchair-to-Water Lift
The SureHands Motorized Wheelchair-to-Water Lift, manufactured by SureHands Lift & Care Systems, Pine Island, NY, is engineered to be compact, ergonomically designed, easily transportable, and built to provide safe and easy pool access by taking the user directly from the wheelchair into the water with the press of a button.
It is designed to eliminate struggling with manual lifting on wet pool decks.
The company offers a variety of pool lifts, as well as the SureHands Body Support, PVC slings, and other transferring accessories, to accommodate special needs.
SureHands Lift & Care Systems, (800) 724-5305; www.surehands.com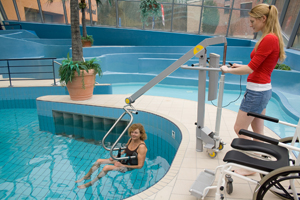 Aquatic Therapy Pool
The HydroWorx 500 Series therapy pool by HydroWorx, headquartered in Middletown, Pa, is designed to be exceptionally affordable. This therapy pool is built to be installed in a facility for minimal up-front costs with the company's leasing program. HydroWorx reports that it offers some leasing programs at $299 down and $99 for the first 6 months, with leasing payments as low as
$1,220 a month. The HydroWorx 500 is designed to make an ideal entry point for clinicians looking to grow their facility by expanding their therapy capabilities. The 7-foot, 6-inch-wide by 14-foot-long therapy pool comes standard with a fully integrated variable-speed underwater treadmill. Additional standard features include high-powered resistance jets for resistance training and deep-tissue massage. Patients can also utilize the pool's rear platform for water therapy exercises where additional body-weight loading is desired.
HydroWorx, (800) 753-9633; www.hydroworx.com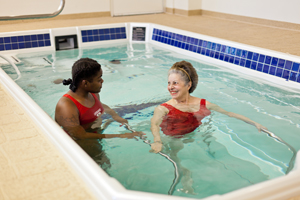 Pool Aqua Band
Pool Aqua Band, one of the newest products from StrechCordz, a brand of NZ Manufacturing Inc, Tallmadge, Ohio, was recently introduced into the aquatic market. Developed with input from Ann Anthony, a certified aquatic trainer and creator of Hydro-Pilates, it features exercise tubing with a cuff attached to one end and a handle to the other end. It is designed for applications in aquatic therapy and rehabilitation, water aerobics and aqua fitness programs, and dry-land resistance exercise programs. Pool Aqua is made for public, private, and home swimming pool use, and is available in multiple levels of resistance distinguished by color-coded handles: blue – heavy; red – medium heavy; green – medium; yellow – light medium; and silver – light. It is sold through an international network of dealers and at many retail and online sporting goods stores, as well as online.
NZ Manufacturing Inc, (800) 886-6621; www.nzmfg.com