Electro-modalities and clinic-based pain management technologies have provided therapists with reliable tools for treating pain for decades; and still do. Times change, however, and the coronavirus pandemic has challenged physical therapy practices in the way they approach pain treatment in the clinic and via telehealth. Therapists have responded by finding creative ways to manage their patients' pain—in some cases—without an office visit.
Regardless of whether therapists are treating in-person or via telehealth, there are still a myriad of noninvasive pain relief options on the market to help them get the job done, including electromedical tools, hot and cold therapies, and topical analgesics. Physical Therapy Products shines a spotlight on these products and others from manufacturers across the country. These brief profiles spotlight the products' highlights, with more detailed information available by visiting the manufacturers' websites.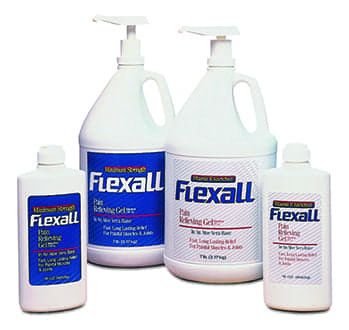 TOPICAL PAIN-RELIEVING GELS WITH ALOE VERA
Flexall topical pain-relieving gels from Ari-Med Pharmaceuticals, Tempe, Ariz, are formulated to be an invaluable tool for clinical and training room settings by helping increase patient compliance while augmenting ultrasound, cryotherapy, TENS, and massage therapies. According to the company, recent studies report that a 25:75 Flexall and ultrasound gel mixture delivers heating results equal to 100% ultrasound coupling gel with the enhanced analgesic benefit of warmth. Flexall (7% menthol) and Maximum Strength Flexall (16% menthol) are aloe vera gel formulas that aim to provide fast, long-lasting relief from arthritis, backache, bursitis, tendonitis, muscle strains and sprains, bruises, and cramps. Flexall gels are made to absorb quickly and completely. They are greaseless, non-staining, and formulated to be gentle on the skin. Professional sizes are available.
For more information, contact Ari-Med Pharmaceuticals, (800) 527-4923; www.ari-med.com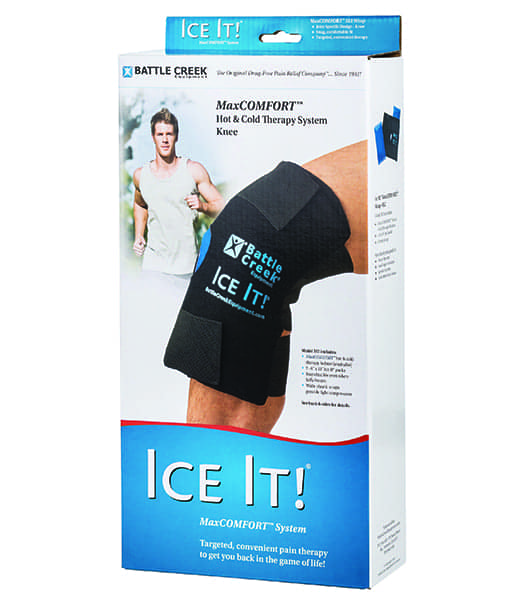 PAIN RELIEF FOR THE KNEE
Battle Creek Equipment Co, Fremont, Ind, is the manufacturer of Ice It! MaxCOMFORT System for the Knee, which features an articulated design that surrounds the entire knee for maximum therapeutic benefit. A comfortable, secure fit can allow the user to relax or continue performing activities during therapy sessions. Each product is sold in a box that contains two 6-inch x 12-inch cold packs, a holster, and three hook and loop straps. The company offers Ice It! MaxCOMFORT Systems designed for use on virtually any joint or area of the body.
For more information, contact Battle Creek Equipment Co, (800) 253-0854; www.BattleCreekEquipment.com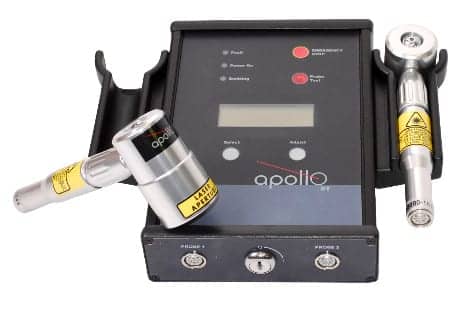 DESKTOP LASER UNIT
Watertown, SD-based Pivotal Health Solutions' two-channel Apollo Desktop Laser unit is built for the busy office and clinic and offers both convenience and power. The Apollo's two probes allow clinicians to work on two patients at the same time or two areas on the same patient at one time. The unit can also be customized with a variety of powerful probes for deep tissue or more delicate treatment. The Apollo is made to be used for the treatment of pain, wound healing, and musculoskeletal problems. The desktop unit features a user-friendly LCD display with probe status and treatment times, built-in safety and fault-detection software, a built-in power test to assess probe output, and a warranty.
For more information, contact Pivotal Health Solutions, (800) 743-7738; www.phsmedicalsolutions.com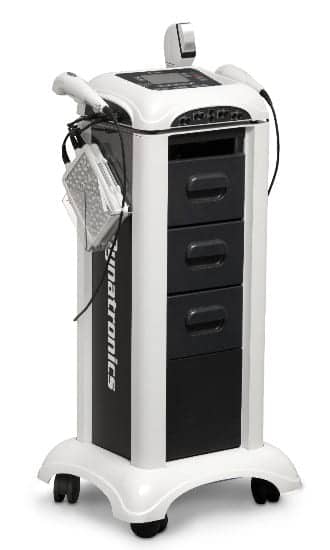 WORKHORSE UNIT FOR PAIN RELIEF
The Dynatron Solaris Plus, available from Dynatronics, Salt Lake City, is engineered to provide workhorse performance with its ability to deliver six Stim waveforms—IFC, Premod, Biphasic, Russian, High Volt, Microcurrent, Fixed Frequency IFC/Premod, and three-frequency ultrasound. Additional options include the ThermoStim soft-tissue mobilization probe that treats with cold, heat, and electrical stimulation—all in one tool—and TriWave Light Therapy that provides red, infrared, and blue light treatments, delivered individually or in any combination.
For more information, contact Dynatronics, (800) 874-6251; www.dynatronics.com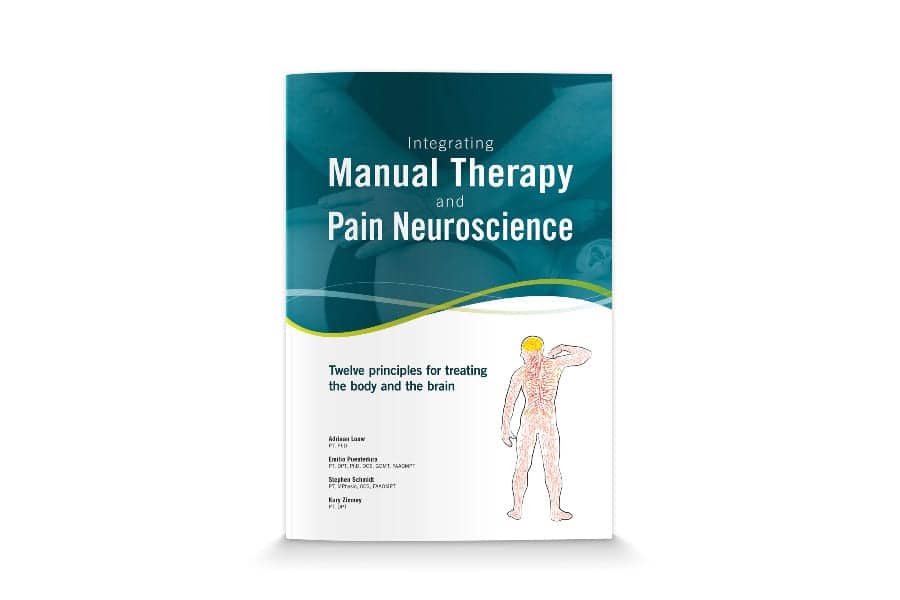 MANUAL THERAPY AND PAIN NEUROSCIENCE BOOK
Integrating Manual Therapy and Pain Neuroscience: Twelve Principles for Treating the Body and the Brain, from OPTP, Minneapolis, is a new, first-of-its-kind text that shows how the integration of manual therapy and pain science can help clinicians provide better treatment and improve patient outcomes. Complete with current research, this book uses 12 principles of treatment to show how concepts like placebo, neuroplasticity, sensory discrimination and body schema can powerfully influence the outcome of manual techniques. Written by renowned physical therapists and pain neuroscientists Adriaan Louw, Emilio Puentedura, Stephen Schmidt and Kory Zimney, this text is for students and practicing clinicians alike.
For more information, contact OPTP, (888) 819-0121; www.optp.com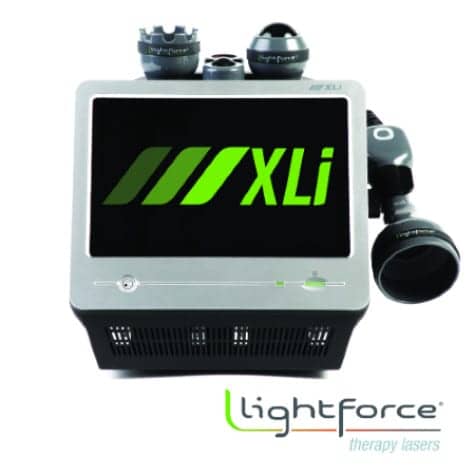 DEEP TISSUE LASER THERAPY
LightForce Therapy Lasers, New Castle, Del, is the leader in therapeutic laser science and technology. With more than 1 million treatments per month worldwide, LightForce patients attest to the fast pain relief and drive demand for these effective therapy lasers. Serving physical therapists, athletic trainers, chiropractors, and medical professionals, LightForce Therapy Lasers offers up to 40W of power to reduce treatment time and allow clinicians to treat larger areas and deeper structures with accuracy. LightForce Therapy Lasers can be found in more than 250 professional and college sports training rooms and in 29 countries around the globe.
For more information, contact LightForce Therapy Lasers, (877) 627-3858; www.lightforcelasers.com

REUSABLE HOT/COLD THERAPY
Southwest Technologies Inc, North Kansas City, Mo, manufactures Elasto-Gel hot and cold therapy products, which consist of more than 40 different shapes and sizes to provide the best fit for a person's individualized needs. Elasto-Gel products may be used for either hot or cold therapy, and are manufactured so they will not leak if punctured. When heated, the products provide moist therapy heat, and when used cold, the products provide soothing cold.
For more information, contact Southwest Technologies Inc, (800) 247-9951; www.elastogel.com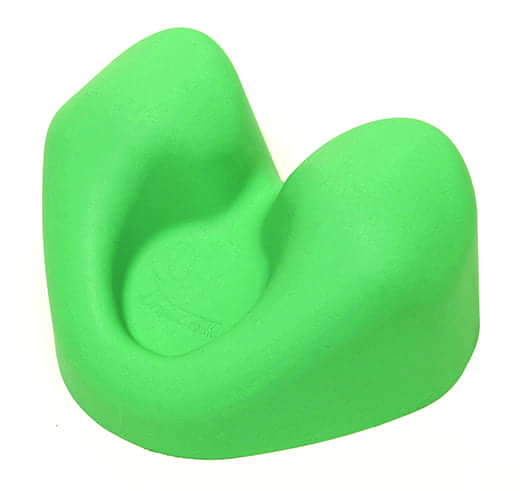 HOME THERAPY SYSTEM FOR PAIN RELIEF
The CranioCradle from Kiss Life LLC is an easy-to-use therapy tool that effectively releases muscle aches and pains related to whiplash, TMJ, and chronic head, neck, and spine issues. Versatile, the CranioCradle can be used under occipitals, rhomboids, thoracic, lumbar, and/or sacrum to encourage joints to decompress and cramped, tense muscles to gently release. Based on osteopathy, craniosacral, and massage therapy techniques, the CranioCradle's unique foam formulation and specialized design create the sensation of skilled therapeutic hands underneath the body. Use in treatment; recommend for home use.
For more information, contact CranioCradle, (888) 380-6748; www.craniocradle.com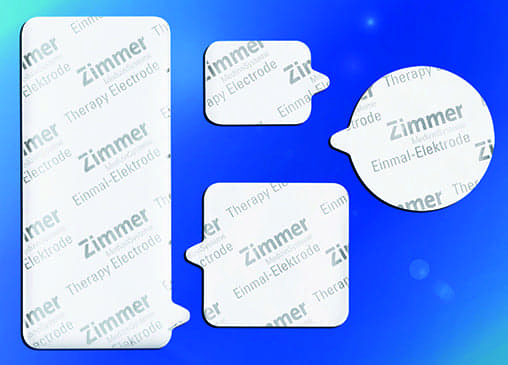 SINGLE-USE ELECTRODES
Z Trodes single-use, self-adhering electrodes from Zimmer MedizinSystems, Irvine, Calif, are available in four sizes and reported to be 98% biodegradable. Their Glycerol coating helps reduce skin irritation and maximize patient comfort. Z Trodes are designed to help improve the practitioner's productivity by eliminating repetitive tasks such as filing and storing reusable patient-dedicated electrodes, applying gel, straps, etc.
For more information, contact Zimmer MedizinSystems, (800) 327-3576; www.zimmerusa.com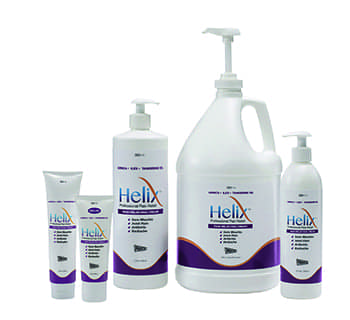 TOPICAL ANALGESIC
Helix Professional Pain Relief, a topical analgesic from Parker Laboratories, Fairfield, NJ, is formulated to deliver cooling pain relief from sore muscles, joint pain, arthritis, and backache. It contains 7.4% menthol, arnica, ilex, and aloe, as well as tangerine oil for a fresh citrus fragrance. The Paraben-free, fast-acting, and aesthetically pleasing formula is available in 5 g pouch, 3 fl oz roll-on, 4 fl oz tube, 12 and 32 fl oz pump bottle, and 1 gallon sizes.
For more information, contact Parker Laboratories, (800) 631-8888; www.parkerlabs.com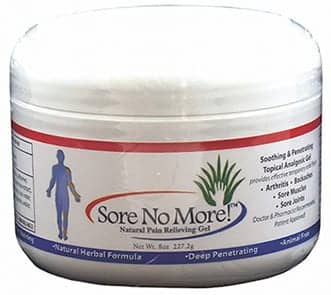 FAST-ACTING TOPICAL
Sore No More from Moab, Utah-based Sore No More provides a blend of plant extracts engineered to offer effective relief for muscle aches, soreness, and more. The topical anesthetic effect of Sore No More depresses cutaneous sensory receptors. The formula is made to absorb quickly and deeply, producing a synergistic effect that detoxifies tissues, relieves tight and tender joints, soothes muscle soreness, and reduces inflammation. Sore No More can provide effective pain relief for a variety of conditions, including rheumatoid arthritis, fibromyalgia, migraines, muscle aches and pains, muscle spasms, overexertion, fatigue, tendinitis, and diabetic neuropathy.
For more information, contact Sore No More, (800) 842-6622; www.sorenomore.com