Compiled by Steven Martinez
Physical Therapy Products put together this pain management showcase of solutions from manufacturers across the country designed to help relieve and manage pain. Highlighted products are aimed at physical therapists, and detailed information and pricing are available from manufacturers through company contacts.
Smart Therapy Laser for Pain Management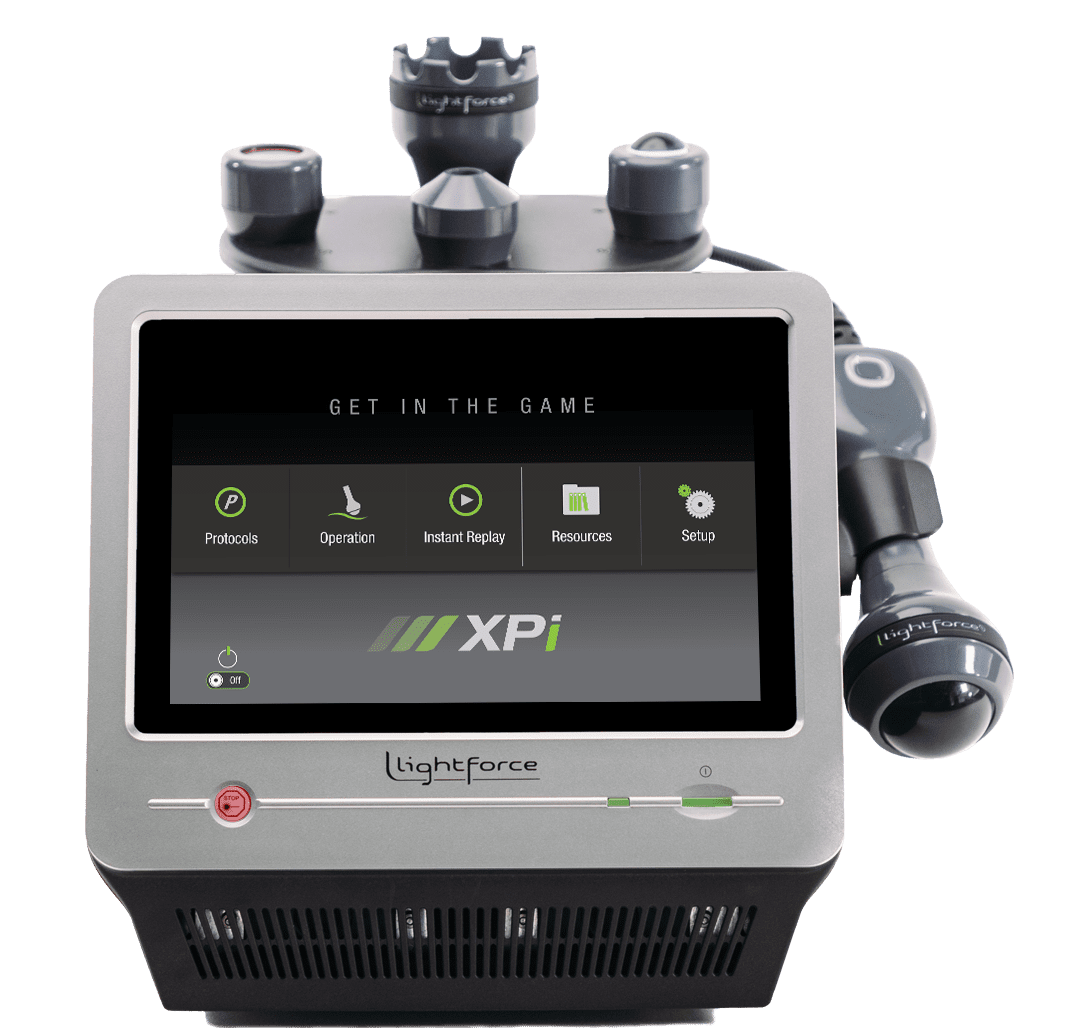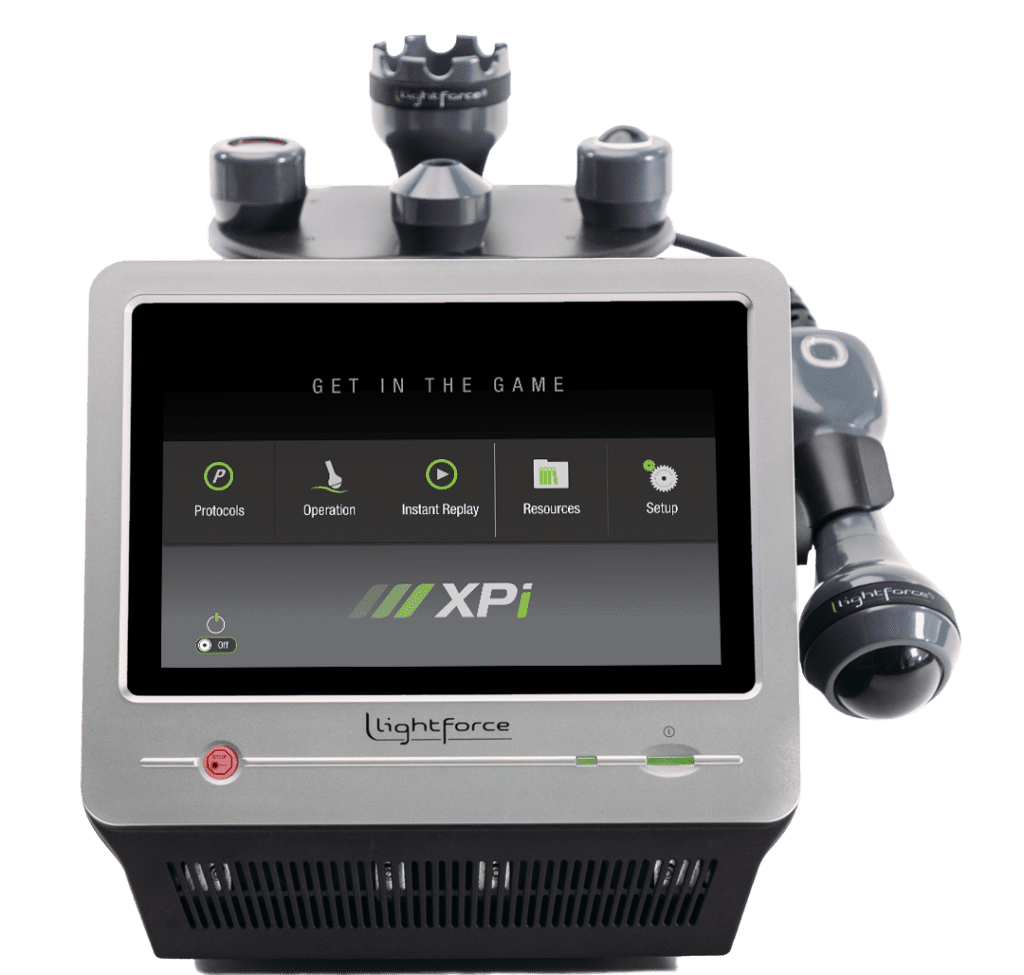 LightForce Therapy Lasers, a division of LiteCure Medical, New Castle, Del, offers advanced rehabilitation solutions to healthcare providers. The LightForce 25W XPi Therapy Laser's technology is designed to be smart enough to give real-time visual and haptic feedback on dosing speed to help provide the most effective patient treatments. LightForce's built-in protocols recommend which treatment heads are acceptable or not recommended for different power levels. The smart handpiece recognizes which of five interchangeable heads is in use and recommends the appropriate power level based on the selected head.
For more information, contact LightForce Therapy Lasers, (877) 627-3858; www.lightforcemedical.com
Pain Relief for the Knee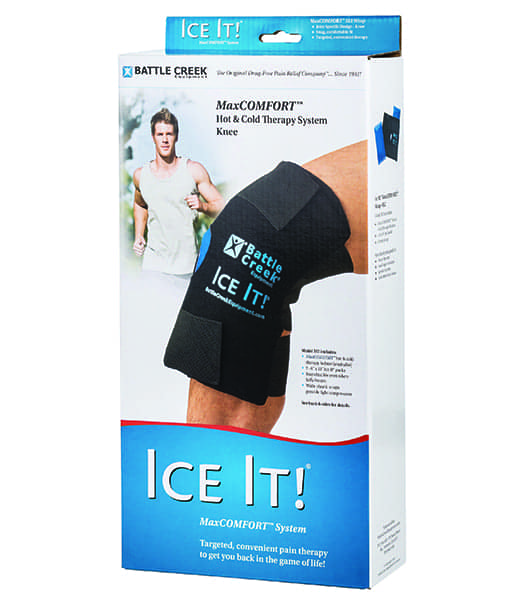 Battle Creek Equipment Co, Fremont, Ind, is the manufacturer of Ice It! MaxCOMFORT System for the Knee, which features an articulated design that surrounds the entire knee for maximum therapeutic benefit. A comfortable, secure fit can allow the user to relax or continue performing activities during therapy sessions. The company offers Ice It! MaxCOMFORT Systems for use on virtually any joint or area of the body. Each product is sold in a box that contains two 6-inch x 12-inch cold packs, a holster, and three hook-and-loop straps.
For more information, contact Battle Creek Equipment Co, (800) 253-0854; www.BattleCreekEquipment.com
Pain Cream for Recovery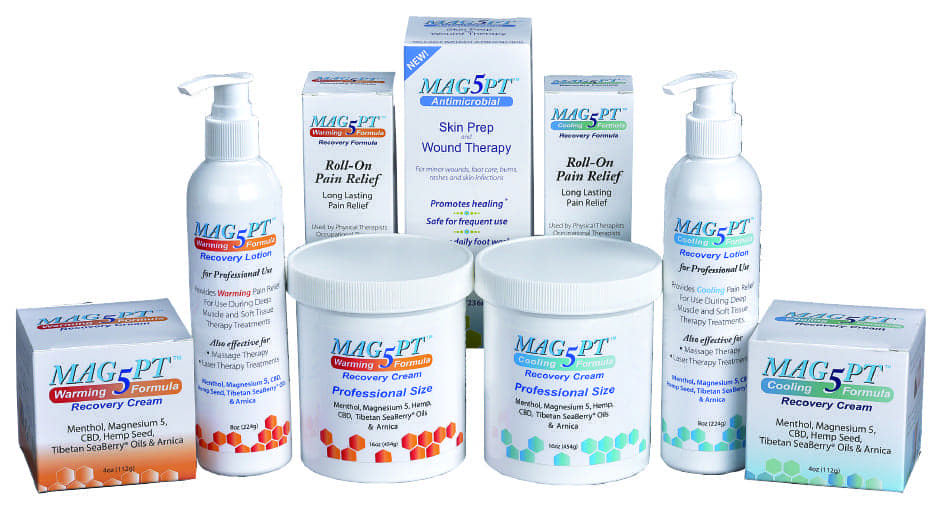 Mag5PT is a line of pain relief products formulated for physical therapy professionals and available from Elrt Technologies, Warminster, Pa. Mag5PT professional products are manufactured to provide excellent glide for soft tissue mobilization, deep tissue treatments, sports massages, and other physical therapy treatments. They are formulated for easy absorption to provide quick pain relief and increase circulation during treatment. The non-greasy formula leaves hands feeling moisturized. The company reports that Mag5PT topical therapy products are sold only to physical therapy professionals for use in the office and may also be offered to clients for continued home therapy.
For more information, contact Elrt Technologies, (215) 675-6447; www.mag5pt.com
Analgesic Pain Relief for Joints and Muscles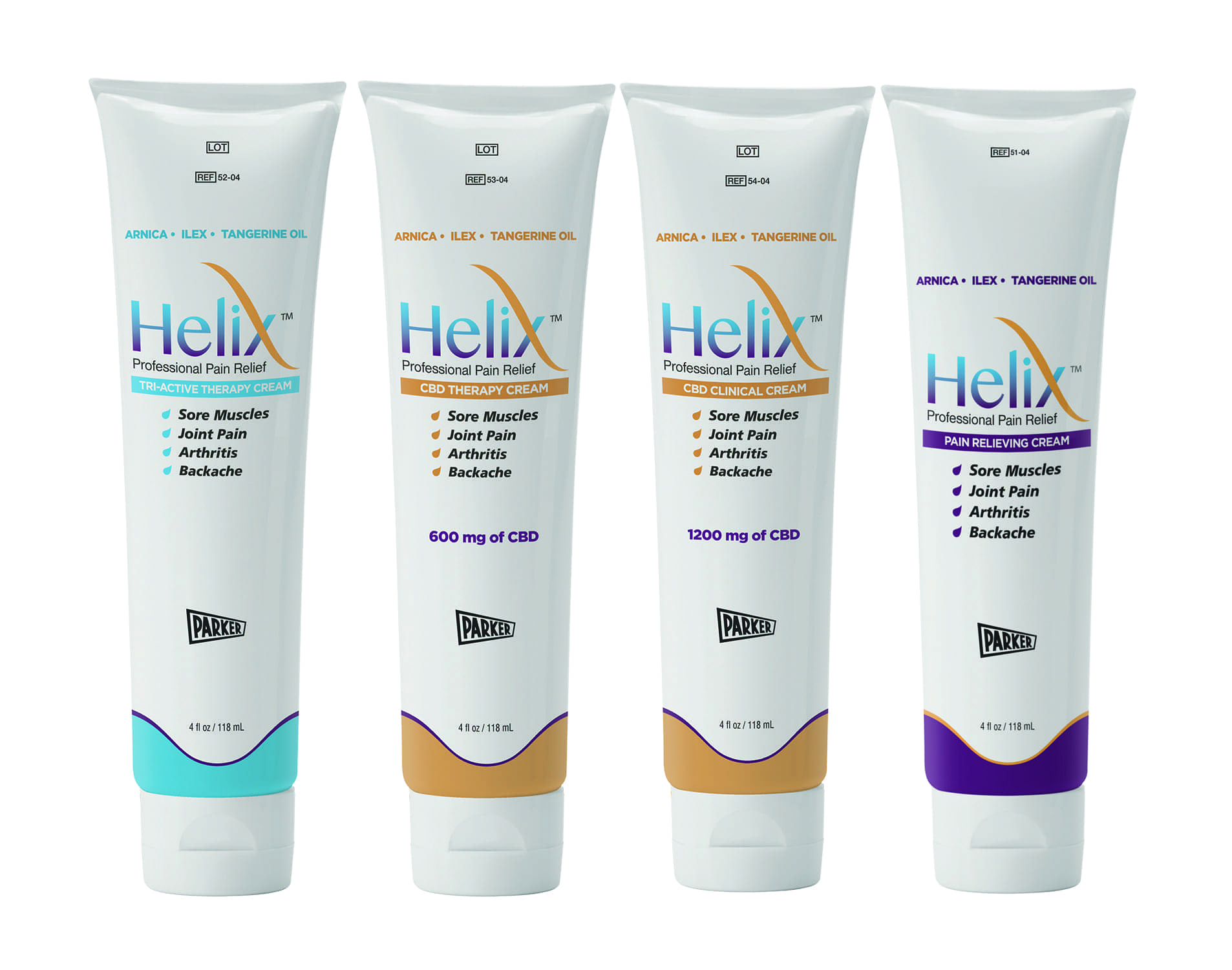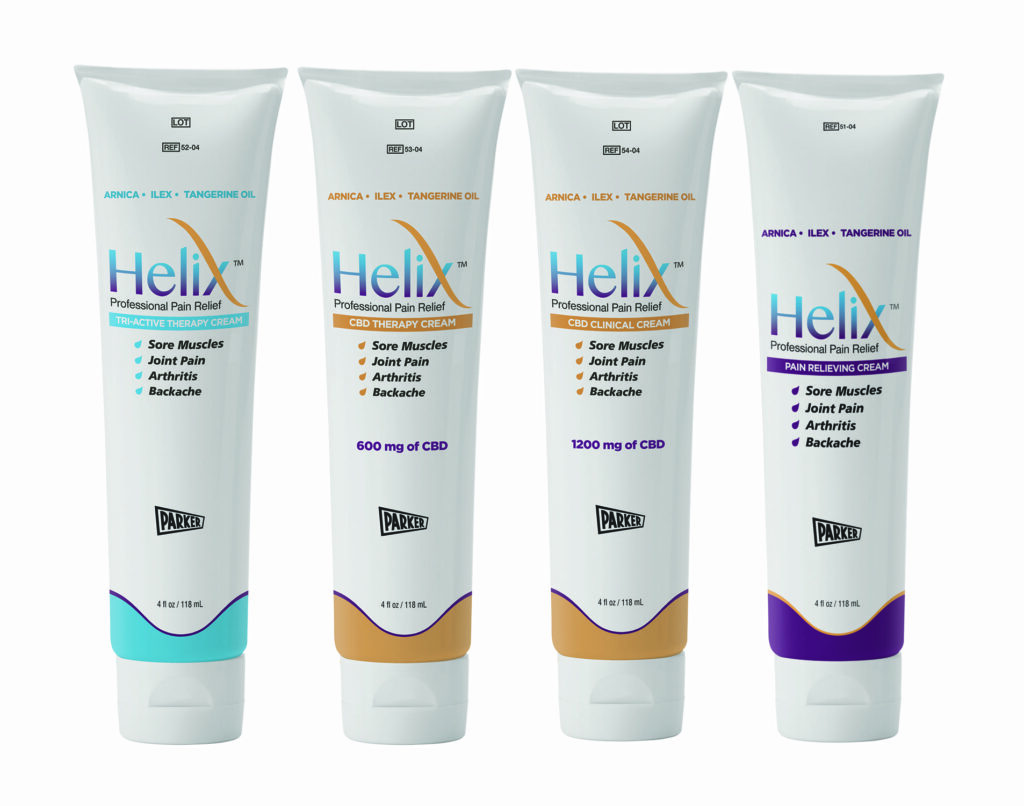 The Helix Pain Relief line of topical analgesics from Parker Laboratories, Fairfield, NJ, temporarily treats minor joint and muscle pains. Using topical analgesics with hands-on therapy to treat pain is becoming more common. Together, they help provide the temporary relief patients need to back to living their lives. It's available in three distinctive formulations—pain relieving cream, tri-active therapy cream, and CBD creams—and is sold exclusively to professionals for in-practice use and point-of-service sale.
For more information, contact Parker Laboratories, (973) 276-9500; [email protected]; www.helix4pain.com
Fast-Acting Topical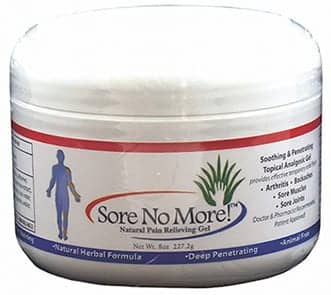 Sore No More from Moab, Utah-based Sore No More provides a blend of plant extracts engineered to offer effective relief for muscle aches, soreness, and more. The topical anesthetic effect of Sore No More depresses subcutaneous sensory receptors. The formula is made to absorb quickly and deeply, producing a synergistic effect that detoxifies tissues, relieves tight and tender joints, soothes muscle soreness, and reduces inflammation. Sore No More can provide effective pain relief for a variety of conditions, including rheumatoid arthritis, fibromyalgia, migraines, muscle aches and pains, muscle spasms, overexertion, fatigue, tendinitis, and diabetic neuropathy.
For more information, contact Sore No More, (800) 842-6622; www.sorenomore.com
Shockwave Therapy for Chronic Soft Tissue Pain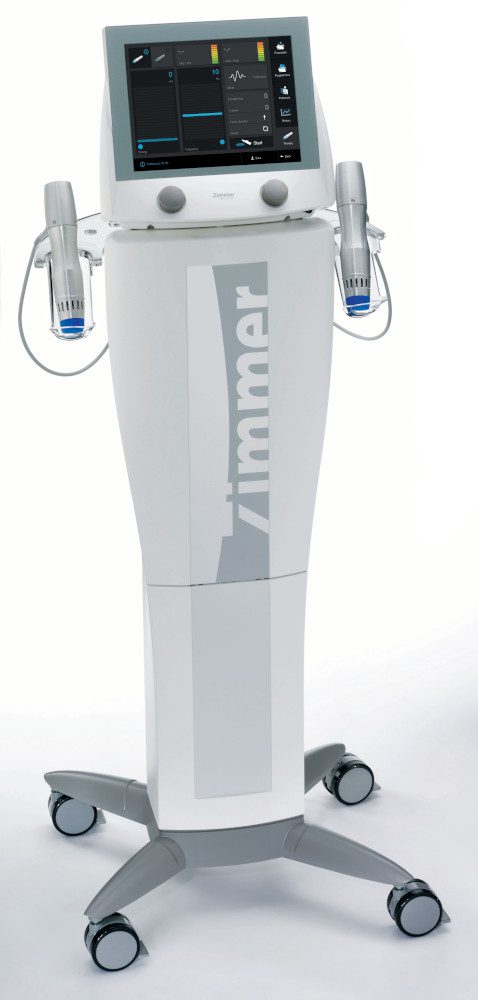 enPulsPro by Zimmer MedizinSystems, Irvine, Calif, transmits powerful radial pulse therapy (shockwave therapy) to treat chronic soft tissue pain. In physical therapy it's used as a non-pharmacological, non-invasive, highly effective treatment alternative for chronic soft tissue pain. enPulsPro delivers energy into the target tissue, treating muscle pain and increasing circulation. The ergonomic design protects the therapist's hands, while Zimmer MedizinSystems' unique Softshot technology keeps the patient comfortable. Softshot is designed to deliver energy to the patient's body more gently than other systems, eliminating unpleasant high peak pressure amplitudes. It minimizes the stinging, painful sensation that is usually associated with this type of therapy. Increased patient comfort enables easier treatments at higher energy levels to achieve better results. Gentler delivery means practitioners can take treatment farther, longer, and deeper. A 2 million-pulse warranty ensures extended product life and long-term reliability.
For more information, contact Zimmer MedizinSystems, (800) 327-3576; [email protected]; www.zimmerusa.com
Pelvic Pain Management Book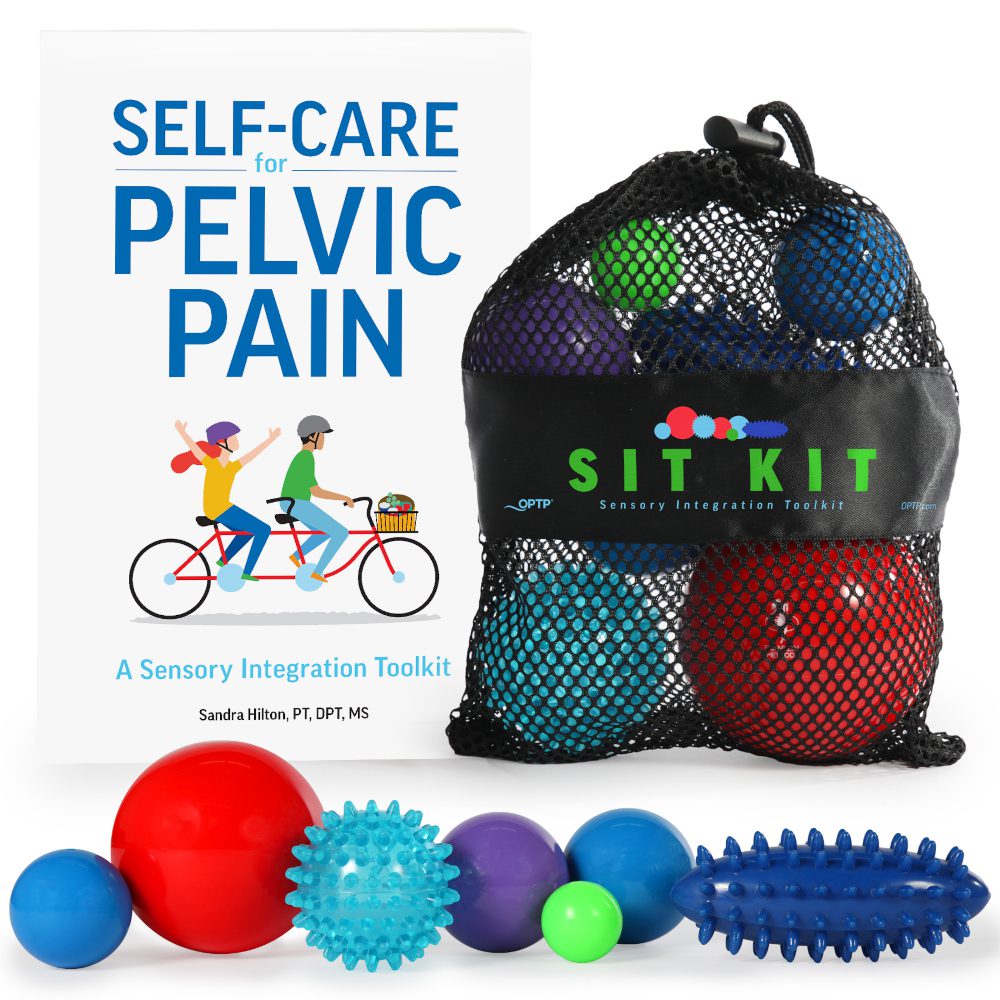 Self-Care for Pelvic Pain, available from Minneapolis-based OPTP, is an excellent resource for people experiencing pelvic pain and the practitioners who treat them. Written by pelvic health specialist Sandra Hilton, PT, DPT, MS, the book is for people experiencing groin pain, genital pain, or pain while sitting, riding a bike, or having sex. After explaining the different types of pain and common pelvic conditions, the book introduces sensory integration to gently retrain the system, including the painful areas, the nervous system, and the brain. The clear, straightforward guide includes step-by-step sensory integration exercises, guidelines for performing them, and guidance for choosing the right sensory integration tool for each technique. The book comes with a Sensory Integration Toolkit (SIT KIT), which includes seven balls of varying sizes and densities used to perform the sensory integration techniques introduced in the book.
For more information, contact OPTP, (800) 367-7393; [email protected]; www.optp.com
Handheld Biofeedback and Electrostimulation Unit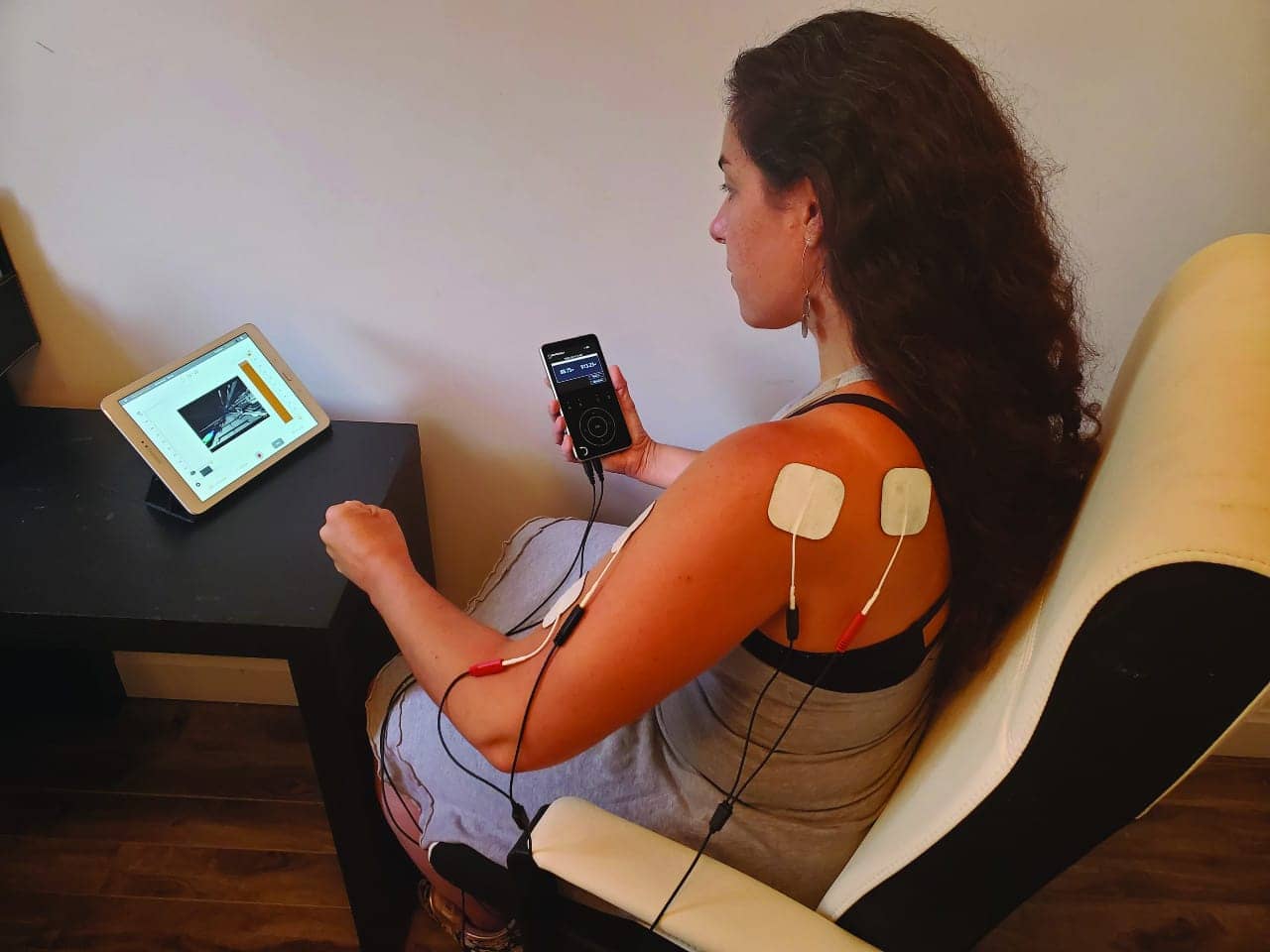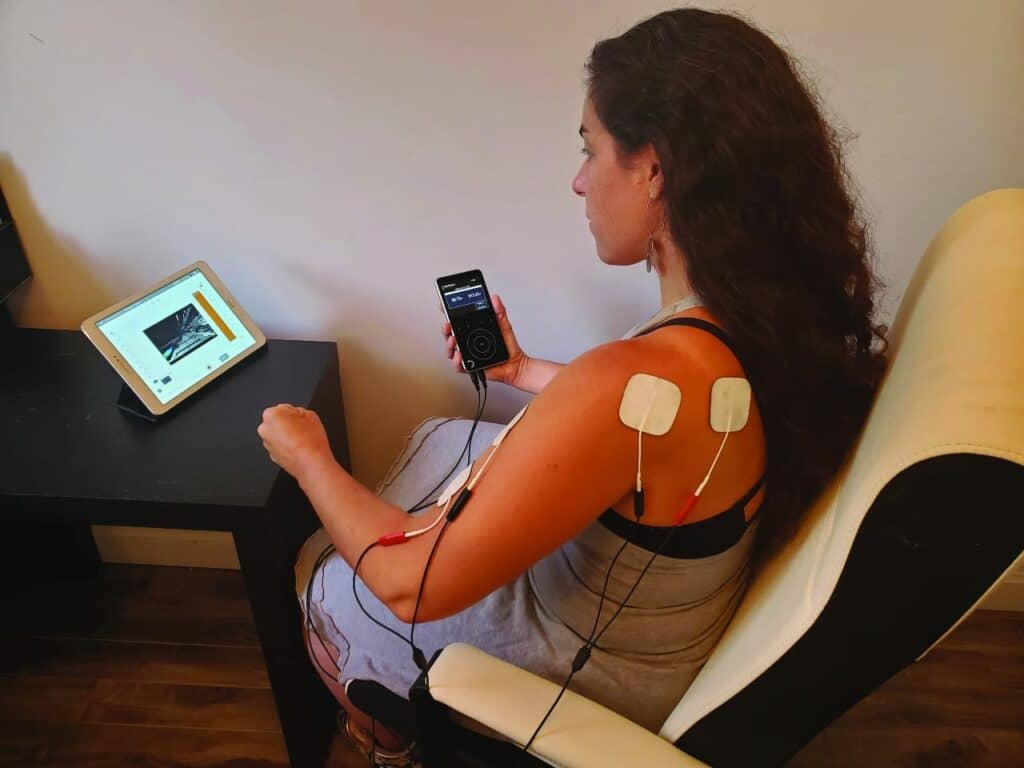 MyOnyx from Thought Technology, Montreal, is a handheld device designed for biofeedback and electrostimulation. The portable, rechargeable, and wireless device is equipped with NMES with fully customizable settings and quick protocols for e-STIM, surface EMG and pressure, advanced threshold features for biofeedback, and EMG-triggered stimulation. The MyOnyx Android app includes engaging and informative feedback options. Therapists can create, adjust, and run assessments and training sessions, then review, save, or generate reports using the gesture-based, intuitive interface.
For more information, contact Thought Technology, (800) 361-3651; [email protected]; www.thoughttechnology.com
Laser Therapy for Pain Management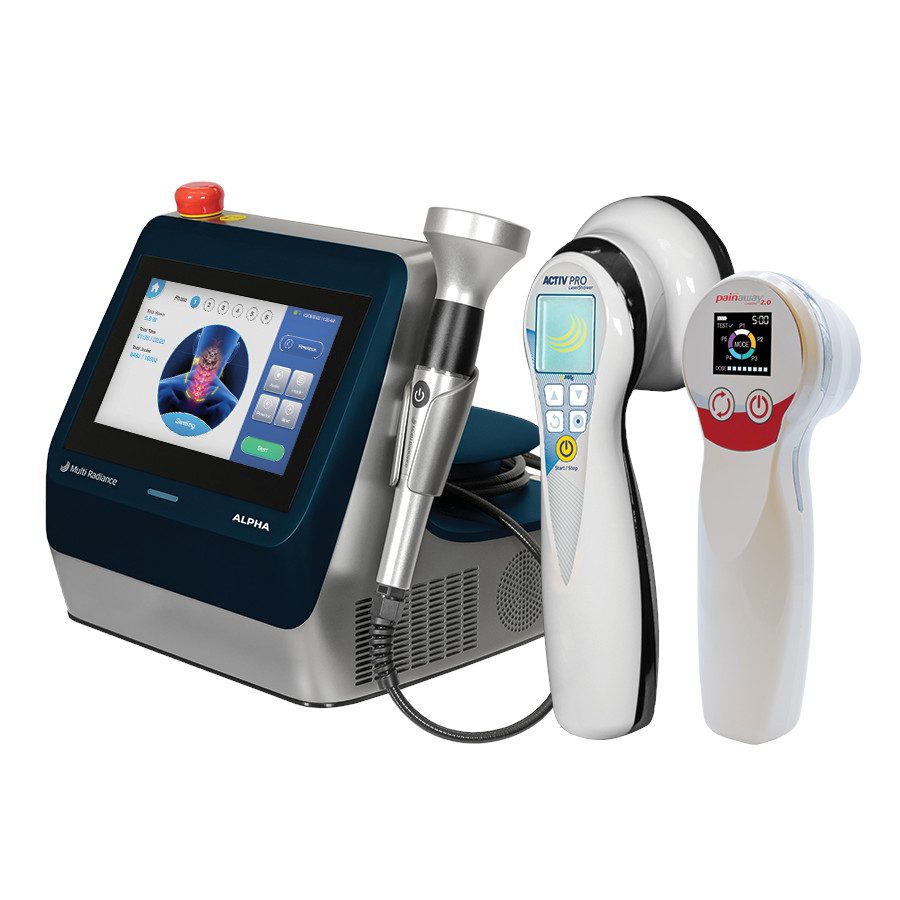 Multi Radiance Medical, Solon, Ohio, manufactures evidence-based laser therapy devices that provide physical therapists with a non-invasive, photoceutical approach to managing pain and accelerating patient recovery. With over 40 peer-reviewed, published studies on Multi Radiance Medical technology, the light-based approach to care allows therapists to effectively manage pain and stiffness and move patients to therapeutic exercises faster. Offering in-clinic and take-home models, including the new Class 4 ALPHA, Multi Radiance Medical's therapeutic lasers help therapists meet clinical goals in every step of care, from acute pain to rehab to long-term maintenance. Multi Radiance's new FibroLux is the first FDA-cleared therapy laser for pain relief for fibromyalgia. Contact Multi Radiance Medical to learn more and schedule a demonstration.
For more information, contact Multi Radiance Medical, (800)-373-0955; [email protected]; www.multiradiance.com
E-Stim and Ultrasound Combination Units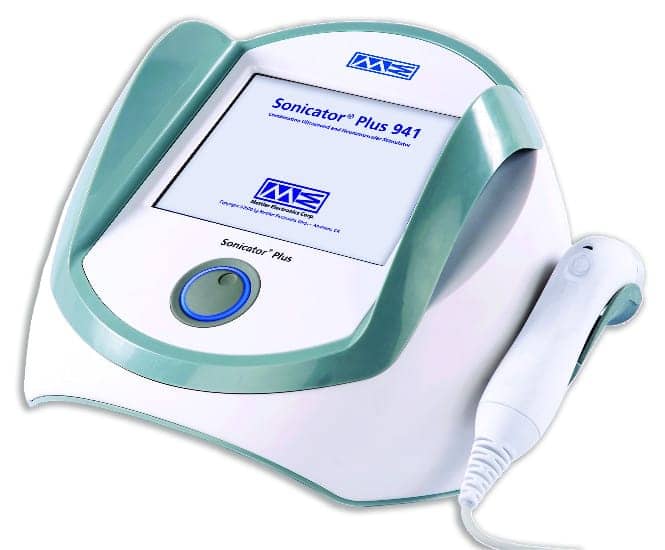 Mettler Electronics Corp, Anaheim, Calif, introduces the new Sonicator Plus 921 and 941, two- and four-channel combination units. They feature neuromuscular stimulation and therapeutic ultrasound with color touchscreens with quick and easy treatment setups. Both products have six unique waveforms: Interferential (IF-4), Premodulated (IF-2), EMS, Russian, TENS, and High Voltage (HV). The Sonicator Plus 921 and 941 have an anatomical library with electrode placement and treatment recommendations. There is memory for the clinician to store and use treatment protocols along with a description for each. It is designed to be a tremendous combination device for any practice, with six stimulation waveforms and 1 MHz and 3 MHz frequency ultrasound.
For more information, contact Mettler Electronics Corp, (800) 854-9305; www.mettlerelectronics.com
Positional Aid for Relaxing Tense Muscles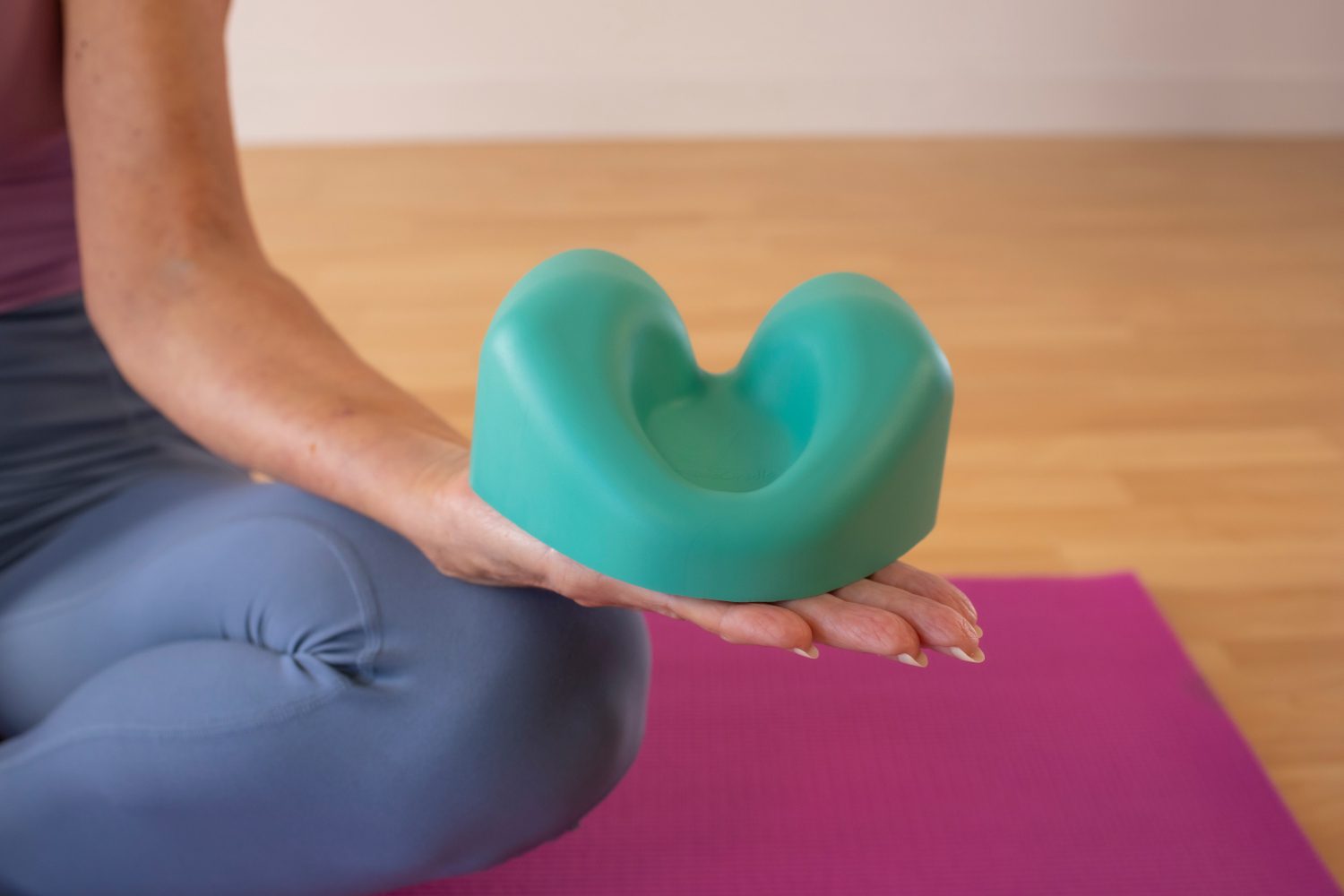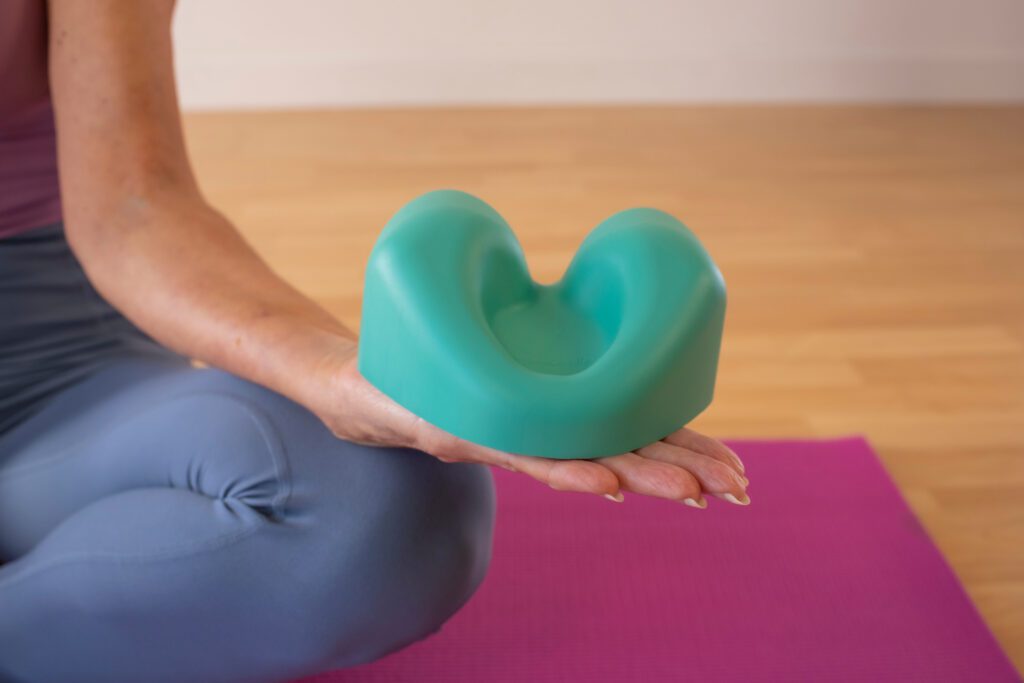 Based on osteopathy, craniosacral, and massage therapy techniques, the CranioCradle is a gentle positional aid that acts to relax tight, tense muscles and ease soft tissue, providing pain relief from chronic head and neck pain, headaches, and migraines, TMJ, and whiplash. Use it under the occipitals, rhomboids, thoracic, lumbar, sacrum, and along the paraspinal muscles to encourage cramped tense muscles to gently release. Using the CranioCradle during treatments allows clients to enjoy a deep sense of relaxation and relief, enabling the clinician to work with ease.
For more information, contact CranioCradle, (888) 380-6748; [email protected]; www.craniocradle.com
Apollo Cold Laser System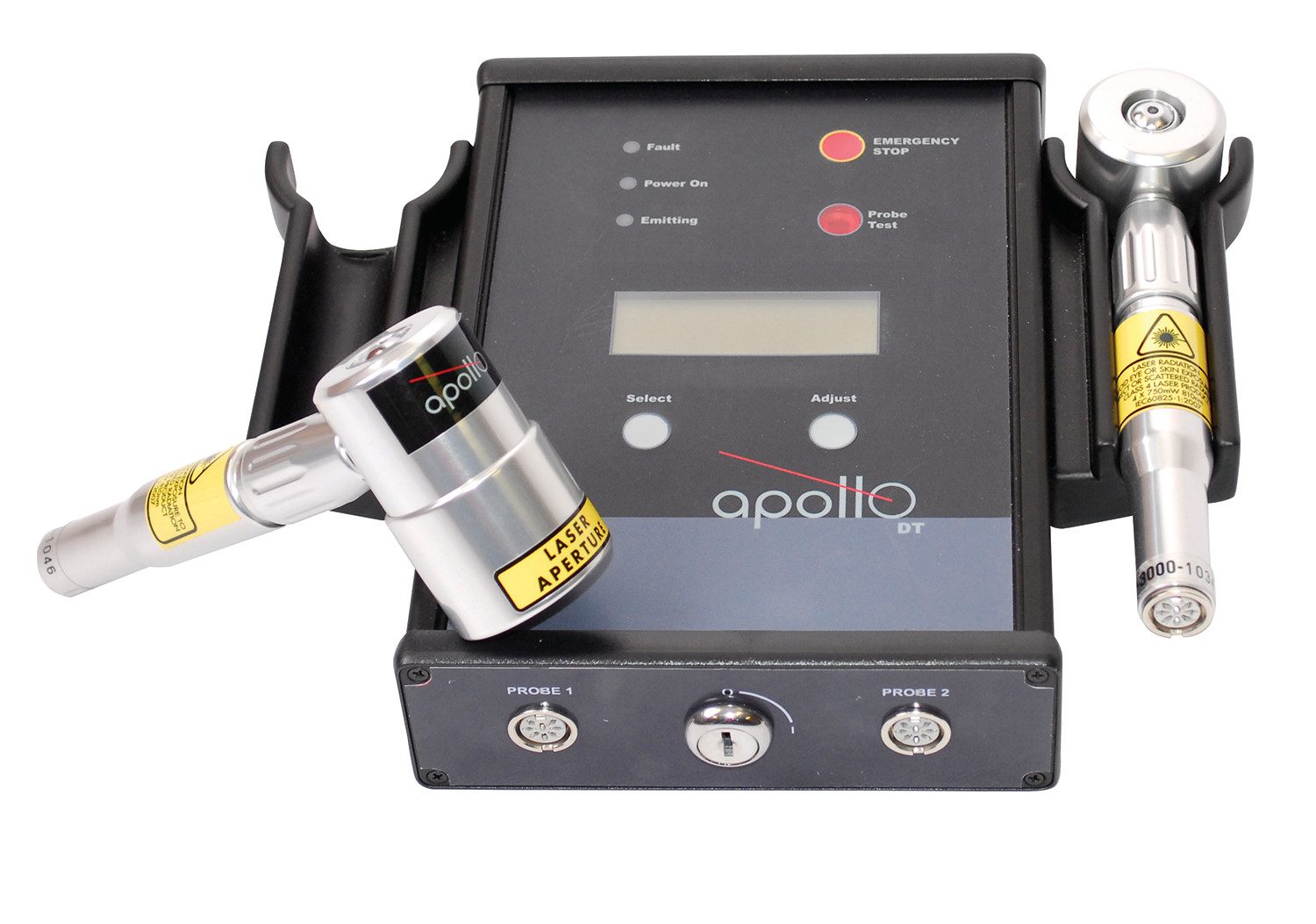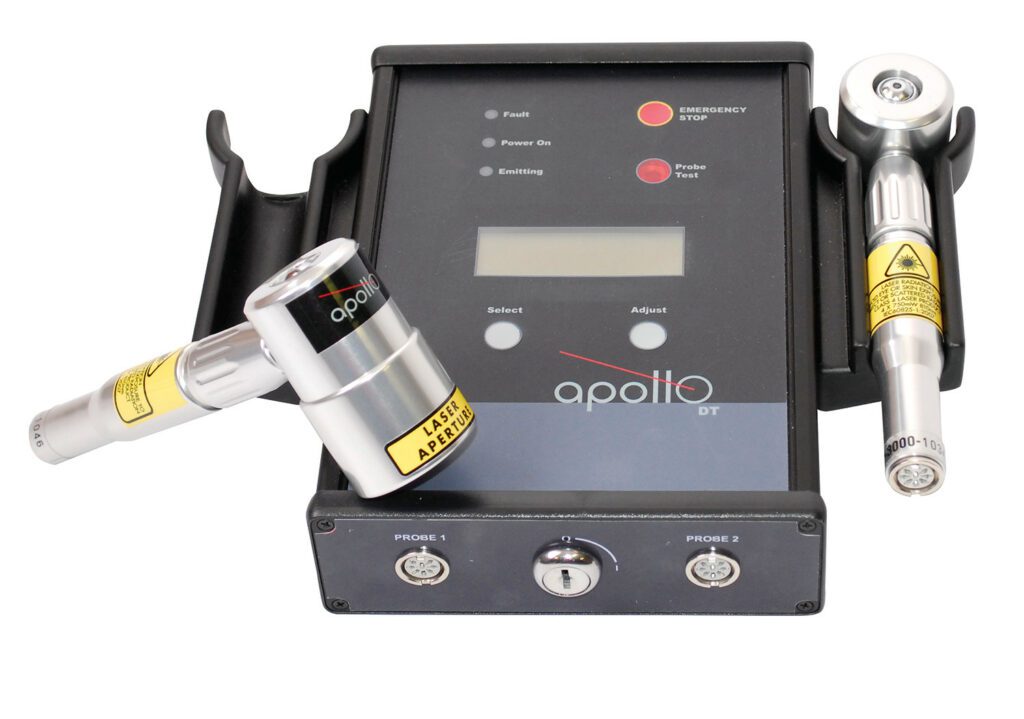 The two-channel Apollo Desktop Laser Unit from Pivotal Health Solutions, Watertown, SD, features two probes, enabling clinicians to work on two patients at the same time or two areas on the same patient at one time. The unit can also be customized with a variety of probes for deep tissue or more delicate treatment. The Apollo is used to treat pain, wound healing, and musculoskeletal problems. The desktop unit features a user-friendly LCD display with probe status and treatment times, built-in safety and fault detection software, and a built-in power test to assess probe output.
For more information, contact Pivotal Health Solutions, (800) 743-7738; www.pivotalhealthsolutions.com
Reusable Hot/Cold Therapy

Southwest Technologies Inc, North Kansas City, Mo, manufactures Elasto-Gel hot and cold therapy products, which consist of more than 40 different shapes and sizes to provide the best fit for a person's individualized needs. Elasto-Gel products may be used for either hot or cold therapy and are manufactured to not leak if punctured. When heated, the products provide moist therapy heat, and when used cold, the products provide soothing cold.
For more information, contact Southwest Technologies Inc, (800) 247-9951; www.elastogel.com