Compiled by Physical Therapy Products staff
Necessity is not always the mother of invention. Sometimes the inventive spirit is driven by a simple desire for creature comforts, convenience, or affordability. These qualities move front and center as this issue looks at inventive approaches used to update technologies for the physical therapy clinic. As a result of this approach, the marketplace has expanded with pain management tools that work more efficiently, treatment tables with expanded versatility, and treadmills that have become a whole lot smarter.
These are just a few examples of how manufacturers are envisioning outcomes first, then building in performance and design that help redefine categories. For clinics that want to see how the spirit of invention might benefit their corner of healthcare, the journey begins here.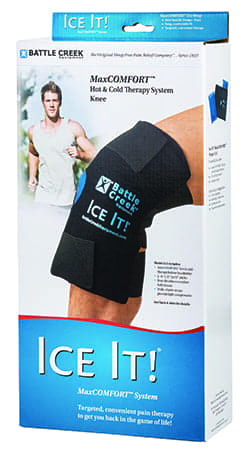 Pain Relief for the Knee
Battle Creek Equipment Co, Fremont, Ind, is the manufacturer of the Ice It! MaxCOMFORT System for the Knee, which features an articulated design that surrounds the entire knee for maximum therapeutic benefit. A comfortable, secure fit can allow the user to relax or continue performing activities during therapy sessions. Each product is sold in a box that contains two 6-inch x 12-inch cold packs, a holster, and three hook and loop straps. The company offers Ice It! MaxCOMFORT Systems designed for use on virtually any joint or area of the body.
For more information, contact (800) 253-0854; www.BattleCreekEquipment.com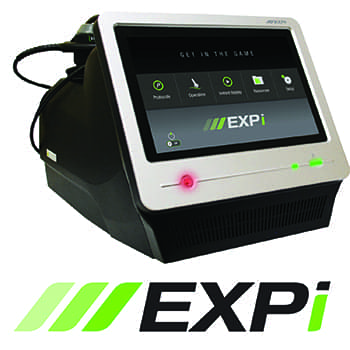 Deep Tissue Therapy Laser
LightForce Therapy Lasers, Newark, Del, is a therapeutic laser manufacturer that offers advanced rehabilitation solutions to healthcare providers. The company reports that its focus on providing exceptional customer service, along with a commitment to making ongoing investment in research, is key in helping it deliver superior products designed to improve therapeutic outcomes. The EXPi Therapy Laser is a high-power device (0.5 W to 25 W) built to allow clinicians to deliver treatments quickly and efficiently. Optimized for outcome improvement, the included influence Technology was developed to offer the flexibility of custom treatment options (both on and off contact) while ensuring consistent results.
For more information, contact (877) 627-3858; www.lightforcelasers.com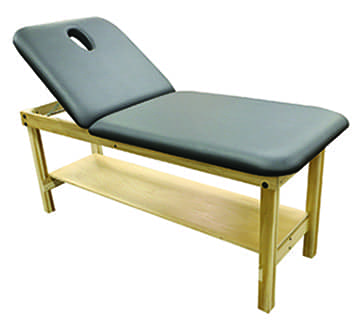 Essential Wood Treatment Table
Available from Pivotal Health Solutions, Watertown, SD, the Essential Wood Treatment Table was developed with many available options so it could meet the specific needs of today's busy practices. Each table comes standard with a poplar hardwood frame, H-brace construction, comfortable 2-inch high-density foam cushion, softly rounded corners and dual-bolted folding leg assembly for easy shipping. This treatment table can be customized to a practice's needs by adding length, width, shelves or a cabinet that can be mounted on either end. Other options available include patient-friendly customizations consisting of a nose hole cushion and a 70º manual lift back with 6-position elevation.
For more information, contact (800) 743-7738; www.pivotalhealthsolutions.com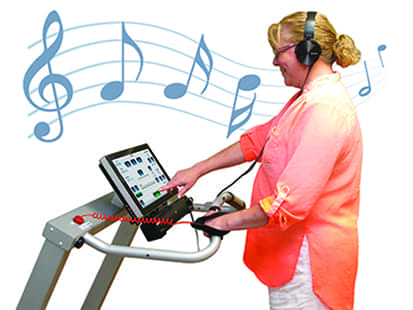 Gait Trainer 3 with Music-Assisted Therapy
In collaboration with physical therapists and music therapists, Biodex Medical Systems Inc, Shirley, NY, brings sensorimotor music enhancements to its Gait Trainer 3 treadmill, which hosts a library of tempo-to-cadence matched music selections designed to inspire correct movement. The instrumented track detects where each foot strikes as a patient walks, and displays those footsteps on an LCD screen. The track of the Gait Trainer records and analyzes step length, step speed, and step symmetry, documenting the effectiveness of gait therapy. This combination of music, biofeedback, and gait repetition aims to enhance neuroplasticity and recover lost movement.
For more information, contact (800) 224-6339; www.biodex.com/rehab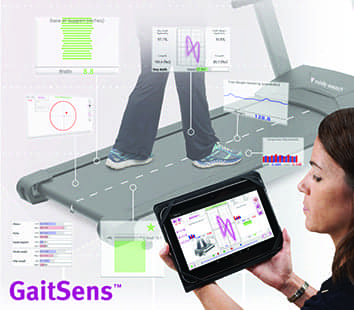 Treadmill for Spatiotemporal Gait Analysis
GaitSens, designed by Mobility Research, Tempe, Ariz, is an instrumented treadmill with Android tablet that performs spatiotemporal gait analysis in real-time as users walk on the treadmill. This real-time analysis delivers feedback for treatment while collecting data beneficial for tracking progress. Sensors installed in GaitKeeper Treadmill walking surface wirelessly measures gait parameters including stride/step time, stride/step length, percent swing, stance and double support phase as well as balance measures of sway and reaching toward a target. It is designed for ease of use so that therapists can learn to use it in minutes without reading extensive manuals to become proficient. There are no sensors to attach, no calibration to perform, and no wires to get in the way. GaitSens is built to be a practical gait analysis tool that is accessible and affordable.
For more information, contact (800) 332-9255; www.litegait.com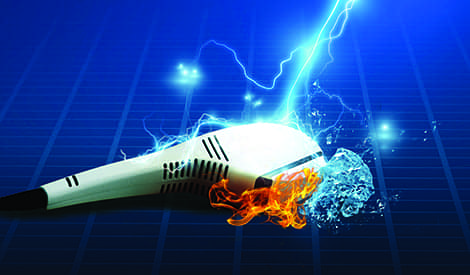 Dynatron ThermoStim Probe
Dynatronics, Salt Lake City, developed the ThermoStim Probe as a tool to deliver exceptional performance in soft-tissue mobilization with stim, heat, and cold. The Dynatron ThermoStim Probe, an optional accessory to the Solaris Plus, is a soft-tissue mobilization tool that also allows a practitioner to deliver heat to enhance the effects of warming the fascia and soft tissue during treatment or—if cold therapy is needed—the ThermoStim Probe offers cold therapy in combination with electrical stimulation to provide desensitization and increase comfort to the patient. The device is engineered to do all this while significantly reducing treatment times. The company reports that target temperatures can be reached in less than 60 seconds; heat (112 degrees max) or cold (35 degrees max).
For more information, contact (800) 874-6251; www.dynatronics.com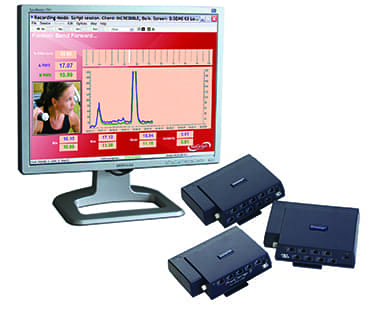 Assessment and Biofeedback Instrumentation
Thought Technology, Montreal West, Quebec, Canada, manufactures medical equipment that measures and provides biofeedback training on surface electromyography (SEMG), range of motion (ROM), muscle testing, algometry, respiration, heart rate variability (HRV), skin conductance, and peripheral temperature. The system includes BioGraph Infiniti software, Rehab Suite Add-on and a comprehensive clinical guide, and offers the following options: interface to isokinetic machines such as Biodex System; wireless transmission with Tele-Infiniti CF Bluetooth Card; MyoScan-Z sensor, a unique EMG sensor with built-in impedance checking.
For more information, contact (800) 361-3651; www.thoughttechnology.com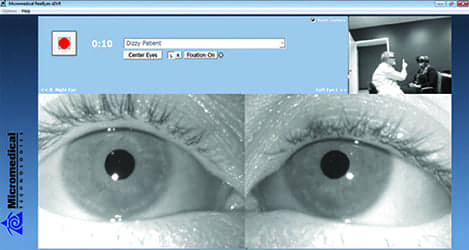 Video Recording Goggles
Observe and record one or both eyes during assessment of a dizzy patient or while performing vestibular rehabilitation therapy with Chatham, Ill-based Micromedical Technologies Inc's RealEyes xDVR. The company has written special software for this product to allow clinicians to input patient demographics and digitally record eye movement videos. Available in monocular and binocular configurations, RealEyes xDVR video goggles are designed to be ideal for eye movement observation and recording during Canalith Repositioning maneuvers or BPPV Therapy. The software also controls the built-in fixation light and allows single-click centering of the eyes while a room camera provides a picture-in-picture display.
For more information, contact (800) 334-4154 or (217) 483-2122; www.micromedical.com