By Rachel Doucet, MSc PT, BSc KINE, and Amy Wallace McDevitt, PT, DPT, OCS, FAAOMPT
Lower extremity orthotic braces have been in existence for years. And, as technology has improved, individuals have more bracing options to choose from—including ankle-foot orthosis (AFO), knee ankle-foot orthosis (KAFO), functional electrical stimulation (FES), and knee-extension assist (KEA) devices. It is critical for physical therapists to stay up-to-date about orthotic bracing technology, and this article highlights some of the notable features found currently in the market.
A multitude of factors can compromise joint function, including orthopedic conditions such as fractures, severe sprains, and arthritis, as well as neurological conditions such as stroke, cerebral palsy, and spinal cord injury. When dealing with these types of conditions, traditional physical therapy is often warranted and interventions often include pain control, manual therapy, muscle re-education and strengthening, gait retraining, and more. In some cases, physical therapy two to three times per week is simply not enough to progress an individual through a plan of care. Individuals need to function and participate in the real world with obstacles and challenges around every corner, and they often require physical aids to assist them through their daily activities or return-to-sport activities. Occasionally, these aids are temporary supports that will not be necessary once the rehabilitation process is completed. For others, however, these aids will be lifelong supports, and it is therefore important for physical therapists to be abreast of the spectrum of solutions available.
So what are the latest tried-and-true physical aids available today?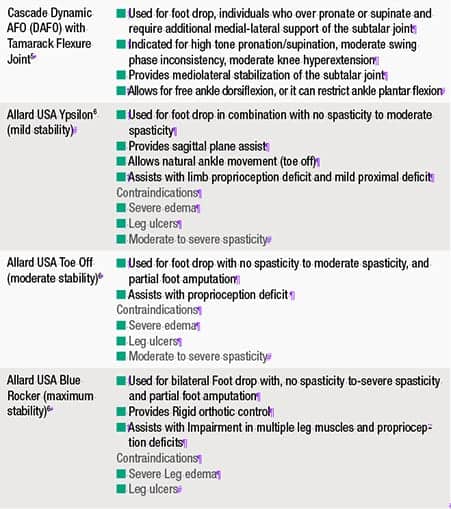 An AFO is a device that supports the ankle and foot, extending from below the knee down through the sole of the foot. The AFO device is used to control instabilities in the lower limb by maintaining proper alignment and controlling motion to help compensate for muscle weakness or impairment (ie, foot drop or spasticity). These devices can also reduce energy expenditure during gait, which is especially important for individuals with neurological conditions such as cerebral palsy. Generally, AFOs are custom-fabricated using moldable plastic with or without ankle motion. Recently 3D printing technology has been used to fabricate AFOs. While made primarily for walking, AFOs can be designed to stop, limit, or guide foot and ankle joint motion based on the individual's needs. This device can also assist with ankle dorsiflexion (DF) and assist with managing spasticity.1
Individuals who are dealing with orthopedic and postural conditions of the knee (ie, broken bones, arthritic joints, bowleg, knock-knee, and knee hyperextension) or neurological conditions causing muscular weakness and/or paralysis, may require a more extensive physical aid. Similar to the AFO, the KAFO extends from the thigh to the foot to provide stability by maintaining alignment while controlling motion. Generally, there are two categories of KAFOs: metal designs with leather band cuffs and plastic and metal designs. The plastic and metal design is the most frequently encountered and is usually a plastic device custom molded to the individual's body with metal components in key structural areas only. The reason for the increased use of the plastic combined with metal components is that it is lighter in weight and considered to be more cosmetically appealing. Among some sources, 3D printing has also been utilized for KAFO production.
[sidebar float="right" width="250″]Product Resources
The following companies provide braces and orthoses for the physical therapy market:
Allard USA
www.allardusa.com
Bioness
www.bioness.com
Cascade
www.cascadedafo.com
Donjoy
www.donjoyperformance.com
Ottobock
www.ottobockus.com
Spring Loaded Technology
www.springloadedtechnology.com[/sidebar]
The above-mentioned physical aids have been around for some time and have been improved upon and altered to fit individuals' needs and address various impairment-related issues. Many braces on the market primarily offer support through structural design, yet few also respond to user input to provide assistance for knee joint movement. One category of augmented knee enhancement is the passive knee extensor assist (KEA) design. While passive KEA technology offers muscular assistance not provided by other braces, today's elastic and metal spring-based KEA designs can be limited in their ability to produce force. Weight of these braces may be an issue with elastic and metal spring-based KEA designs. By enhancing the muscles' abilities, KEA bracing technology also offers the possibility of reducing wearer fatigue. An active KEA knee brace recently came to market that is designed to augment strength and enhance mobility for those managing conditions such as knee osteoarthritis or ligament injuries, as well as enhance performance in sport, high-performance training, or high-intensity workplaces. The Canadian maker, Spring Loaded Technology,11 has developed a liquid spring technology that has been integrated into its rigid shell KEA device to increase the brace's force output capabilities and reduce weight.
The need to treat chronic pain and disease, prevent injury, improve mobility, and speed up recovery (as well as the desire to push the boundaries of physical and athletic performance) has led to an increased use of common lower extremity orthotic braces. These braces have been around in substantively the same form for a long time, yet with advances in engineering, lower extremity orthotic devices can now do more than just support leg joints. Patients and their doctors have the opportunity to discuss a wide variety of technologies to decide together which brace is best suited for their individual needs. For some individuals, these advances in bracing technology may mean a reduction in joint pain and disability, a delay and/or avoidance of costly surgical procedures, and potential improvement in mobility, health, and quality of life. With more choices, patients are more likely to find a solution tailored to their specific treatment plan that enables them to live a more mobile life. PTP
Rachel Doucet, MSc PT, BSc KINE, a 2010 Dalhousie University graduate, now serves as a registered physiotherapist at ACCEL Physiotherapy & Sport Performance Centre in Halifax, Nova Scotia. She has provided medical coverage and training for high-level sporting events such as 2011 Canada Games, Elite Gymnastics, and Skate Canada Nationals. Her areas of expertise are orthopedics, injury management, and strength & conditioning. Before becoming a physiotherapist, Rachel worked as a CSEP-certified personal trainer for the Canadian Forces (PSP).
Amy Wallace McDevitt, PT, DPT, OCS, FAAOMPT, is an assistant professor in the Physical Therapy Program at the University of Colorado School of Medicine. McDevitt completed her Masters and transitional Doctorate degrees in physical therapy from the University of St. Augustine in 2000 and 2004, respectively. She completed her fellowship training in manual therapy through the North American Institute of Orthopaedic Manual Therapy (NAIOMT). McDevitt is a board-certified Orthopaedic Clinical Specialist and a Fellow in the American Academy of Orthopaedic and Manual Physical Therapists. For more information, contact [email protected].
References
1. Stern K. Cerebral Palsy Orthotic Devices. http://www.cerebralpalsy.org/information/mobility/orthotics. Accessed February 18, 2017.
2. Ankle Foot Orthosis Rigid (AFO). https://www.activeforever.com/ankle-foot-orthosis-rigid-afo. Accessed March 1, 2017.
3. DJO Global Posterior Leaf Splint (AFO). http://www.djoglobal.com/products/procare/posterior-leaf-splint-afo. Accessed February 28, 2017.
4. Lehneis HR. Plastic spiralnkle-foot orthoses. Orthotics and Prosthetics. 1974;28(2):3-13.
5. Cascade DAFO Tami-2. https://www.cascadedafo.com/products/dafo-tami2. Accessed March 2, 2017.
6. Allard USA Foot Drop AFO website. https://www.allardusa.com/foot-drop-afos/ypsilonr.html. Accessed March 1, 2017.
7. Bioness L300 website. 2017; http://www.bioness.com/Products/L300_for_Foot_Drop/How_Does_It_Work.php. Accessed March 1, 2017.
8. WalkAide System for Foot Drop website. http://www.walkaide.com/Pages/default.aspx. Accessed February 28, 2017.
9. 3D Print website. 2017; https://3dprint.com/69887/leg-brace-3d-printing/. Accessed March 1, 2017.
10. Ottobock website. 2017; http://www.ottobockus.com/orthotics/solution-overview/orthotronic-mobility-system-c-brace/. Accessed March 1, 2017.
11. Springloaded Technology website. https://springloadedtechnology.com/. Accessed March 15, 2017.