Results of a randomized, double blind placebo study suggesting significant pain reduction after use of the Oska Pulse have been published in the Practical Pain Management Journal.
The trial was conducted at two San Diego-area chronic pain clinics and included 30 patients diagnosed with chronic knee, shoulder, or back pain, according to a media release from Carlsbad, Calif-based Oska Wellness, manufacturer of the Oska Pulse.
Each participant was sent home with either an Oska Pulse or a placebo device, as well as a daily log to report their pain, stress and device use. Both patients and investigators were blinded as to which device each participant received.
The pain and stress scores in the daily logs were based on a 10-point scale.
Patients were instructed to use their device for 2 weeks. For the first 7 days, all participants were instructed to use the device four to six times per day for 30 minutes at a time. Participants in the second week were asked to use the device only two to four times per day for 30 minutes at a time.
Upon completion of the trial, participants returned their devices and daily logs to the clinical trial coordinator.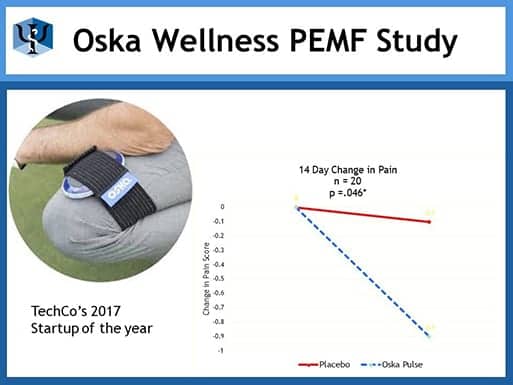 According to the results, per the release, the majority of patients who used the actual Oska Pulse experienced a significant decrease in their pain levels, and no increase in their pain. In addition, some patients also had a corresponding decrease in their stress.
Those who used the placebo device, however, experienced an increase in their pain, the study suggests, per the release.
"We were very encouraged with this trial, and it has provided valuable information on how [Pulsed Electromagnetic Field, or PEMF] therapy can treat chronic pain," says Dr Brenda Wiederhold, in the release. "With the opioid epidemic, it is really timely to find other non-narcotic pain relief solutions for patients."
"I am very excited as the study confirms that using the Oska Pulse is a true pain relief device regardless of the user(s) background," shares Greg Houlgate, president and CEO of Oska Wellness.
"Oska Pulse is providing relief for many early users of the product by helping to reduce back, shoulder, knee, ankle, and foot pain, as well as chronic pain issues. The feedback from this double-blind study confirms that Oska Pulse can really help people dealing with pain."
[Source(s): Oska Wellness, PR Newswire]