By Frank Long
Physical therapists from across the United States sounded off about their plans for making purchases of equipment valued at $500 or more in Physical Therapy Products' 2017 Facility-Based Equipment Survey. The results of this nationwide poll indicate that outpatient therapy clinics are again flexing their purchasing muscle for big ticket items such as treatment tables, fitness equipment, pain management tools, gait and balance technologies, and more. Another indicator of vibrancy that has returned to the outpatient PT clinic purchasing environment is a data point that shows a majority of purchases were made to upgrade current equipment. The survey also suggests there will be more purchasing ahead for 2017 as therapists who completed the survey identified specific PT products that remain at the top of their wish lists.


[sidebar float="right" width="250″]Product Resources
The following companies offer a range of products for capital expenditure purchases:
Aquatic Access
www.aquaticaccess.com
Aretech LLC
www.aretechllc.com
Bailey Manufacturing Company
www.baileymfg.com
Battle Creek Equipment
www.battlecreekequipment.com
Biodex Medical Systems Inc
www.biodex.com
BTE
www.btetech.com
Bioness Inc
www.bioness.com
Brookdale Medical Specialties Ltd
www.brookdalemedical.com
Chattanooga, a DJO Global Company
www.djoglobal.com/our-brands/chattanooga
Clarke Health Care Products
www.clarkehealthcare.com
Endless Pools
www.endlesspools.com
GAITRite – CIR Systems Inc
www.gaitrite.com
Gorbel Medical/Safegait
www.safegait.com
Hausmann Industries Inc
www.hausmann.com
HydroWorx
www.hydroworx.com
JTECH Medical
www.jtechmedical.com
Micromedical Technologies Inc
www.micromedical.com
Pivotal Health Solutions
www.pivotalhealthsolutions.com
ProtoKinetics
www.protokinetics.com
Richmar
www.richmarweb.com
Solo-Step Inc
www.solostep.com
Sprint Aquatics
www.sprintaquatics.com
SwimEx Inc
www.swimex.com
SureHands Lift & Care Systems
www.surehands.com
Tekscan Inc
www.tekscan.com
Thought Technology
www.thoughttechnology.com
Tri W-G Inc
www.triwg.com
Vonco Medical
www.voncomed.com
WorkWell
www.workwell.com[/sidebar]
Budget Basics
Results gathered from the survey confirm that the purchase process for facility-based equipment remains one that is well-thought out and for which budget planning continues to be an integral part. This is confirmed by the strong majority of survey respondents (77.8%) who indicated they had budgeted for facility-based equipment in 2017. Among those same survey respondents 74.1% indicated their budgets had been approved. With regard to those figures many clinics, it seems, are amenable to reinvestment for the purpose of upgrading, replacing, or making new equipment purchases.
A considerable range of budgeted dollars was allotted for facility-based equipment purchases in 2017, according to the survey. Those budgets varied from $500 to more than $10,000. While the total budget range most frequently indicated was $500 to $2,000 (44.4%), more than one-fifth of all survey takers (22.2%) reported a total budget amount of $10,000 or more.
Products in Demand
While strong purchasing activity or purchase planning was shown for nearly every category of facility-based equipment, two categories showed significant increases over what was reported in 2016. Treatment tables accounted for one of those categories. For this year 25.9% of those who completed the survey reported that treatment tables were among the facility-based equipment they had purchased so far in 2017. That figure marked a clear increase from the 18% of respondents in 2016 who reported that treatment tables were part of their facility-based equipment purchases.
Purchasing was strong as well for rehab and fitness equipment, pain modalities, and gait and balance equipment, which accounted for 55.6%, 40.7%, and 37%, respectively, of facility-based equipment purchased in 2017. Software purchases also reflected an increase over the previous year, jumping from 9% of respondents in 2016 to 14.8% in 2017. Also for this year, safe patient handling equipment was purchased by 7.4% of survey takers while beds/mattresses were purchased by 3.7%, according to the survey data.
Purchasing for 2017 may yet have a long way to go since many survey respondents indicated that several types of facility-based equipment are still on their "wish lists." Among those, more than half (55.6%) noted gait and balance equipment as items they would still like to have, while 48.1% specified rehab and fitness equipment and 33.3% called out treatment tables as the items they still want to acquire. Software was reported by 29.6% of survey respondents as an item they would ideally like to have this year, while 25.9% indicated pain modalities. Among all survey takers 40.7% specified gait analysis systems as technology that is still on their wish lists for 2017.
Purpose and ROI
The majority of survey respondents (44.4%) reported that the purpose of their purchases and purchasing goals for 2016 is to upgrade equipment, while 33% reported first-time purchases as the reason for their spending. The survey results also showed that 22.2% intended to replace existing equipment.
It perhaps goes without saying that one of the purposes behind most equipment purchases is to capture a favorable return on investment (ROI). Among the survey respondents, 40.7% indicated that equipment related to fitness or rehabilitation provides them with the best ROI. These products included exercise equipment, resistance equipment, recumbent bikes, and stationary bikes. More than one-fifth (22.2%) of respondents specified technologies for managing pain as the purchases that provided the highest level of ROI.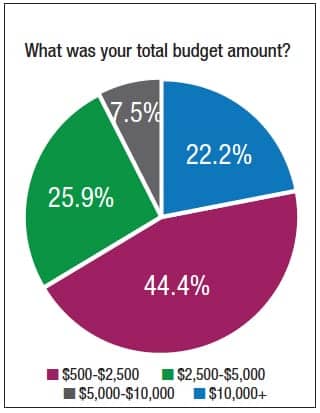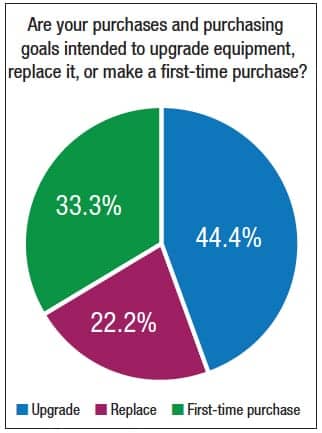 Making Informed Purchases
Research and development of new technologies and the improvement of existing technologies keep the marketplace for PT products moving along quickly, which can make staying up to date about product advances a challenge. According to the survey results, the PT profession has several preferred sources that clinicians use to stay on top of technology developments. Survey respondents could select multiple answers for this question. Magazines/digital editions/media emerged as the clear leader among the sources clinicians use to search for product information with 77.8% of respondents choosing this source. Websites were the second most-used source reported by survey takers at 70.4%, followed by newsletters (40.7%), trade shows (37%), and referrals (37%). PTP