Baylor Scott & White Sports Therapy & Research at The Star in Frisco has published new findings from a study designed to determine the effects of wearing a cloth mask on sports performance.
The data from this randomized controlled trial, conducted through Baylor Scott & White Research Institute, published in the British Journal of Sports Medicine, suggests that participants who wore cloth masks during exercise experienced a reduction in performance as intensity levels increased, according to a media release from Baylor Scott & White Health.
"All across the world during the COVID-19 pandemic, although many people are wearing masks during exercise, we have limited knowledge of the impact of mask wearing on sports performance. We wanted to contribute to the scientific evidence base, and our data suggests that while exercising with the mask, participants were working harder, breathing harder, and their bodies were getting less oxygen – leading to fatigue quicker."

— Simon Driver, PhD, principal investigator and research center director at Baylor Scott & White Sports Therapy & Research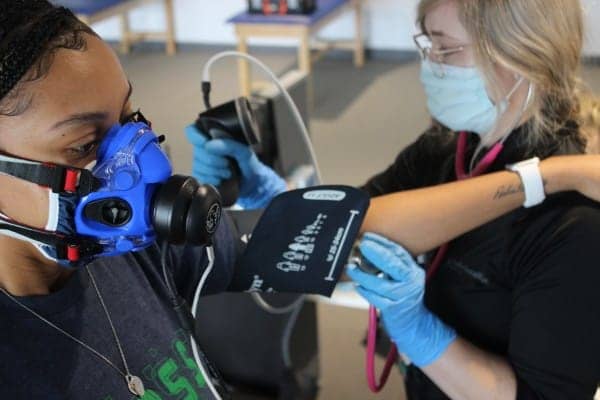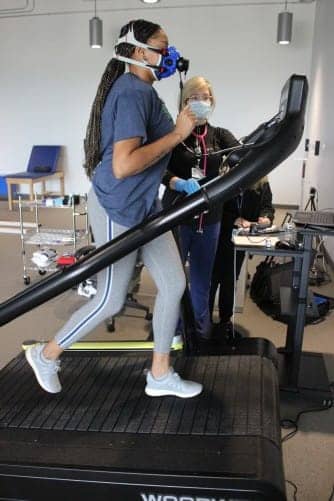 Treadmill Test
Participants completed a graded-treadmill test which increased in speed and incline every 3 minutes while wearing a performance assessment device that measured metabolic parameters such as oxygen uptake, carbon dioxide production, and energy expenditure. This device recorded participants' respiratory and cardiac parameters during and after the test. The sample consisted of 32 young and healthy participants (55% male; mean age of 23 years) who completed two cardiopulmonary exercise tests on the treadmill approximately 8 days apart, one of which was conducted wearing a two-layer polyester/elastane cloth mask and one conducted without a mask.
The study's key findings determined:
Cloth face masks reduced time to exhaustion by 15% and VO2max (oxygen consumption) by 29%.
Compared to no mask, participants reported feeling increasingly short of breath and claustrophobic at higher exercise intensities while wearing a cloth face mask.
Coaches, trainers, and athletes should consider modifying the frequency, intensity, time, and type of exercise when wearing a cloth face mask.
Athlete goals should be modified to reflect the reduced performance and account for the psychological impact of wearing a cloth face mask while exercising.
"We know that mental focus and mindset can help athletes push themselves when training or while participating in a competitive sport. In this study, participants noted they were not necessarily tired physically, but mentally they were not able to overcome the physical barriers they experienced due to wearing the mask."

— Erin Reynolds, PsyD, program director of the Baylor Scott & White Sports Concussion Program
The research team believes that future investigation is warranted to understand the impact of wearing a face mask on patients and healthcare workers as well the impact on face masks on athletes' cognitive performance at different intensities of exercise, per the release.
[Source(s): Baylor Scott & White Health, Newswise]
---
Related Content:
Wearing a Mask Shouldn't Stink. Here's How
Masks Kill Thousands of Surgeons Each Day
The Jockstrap Facemask and Other DIY Infection Control