A news release issued by Appalachian State University spotlights the award-winning project of two industrial design majors engineered to assist individuals rehabilitating from knee injuries.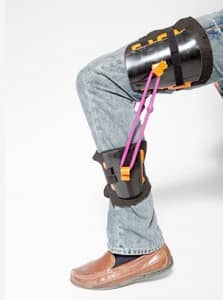 Seniors Sean Smith and Zach Starin, industrial design majors in the Department of Technology and Environmental Design, placed second at the annual Retail & Health Innovation Challenge, held at Wake Forest University.
The design is called MyO'Bility. Its concept, prototype, design, and business plan was reportedly created by Smith and Starin in less than 3 weeks.
Starin explains in the release that the competition called for designs "for an innovative medical product."
Smith adds that inspiration for the device stems from his own experience in rehabilitation after breaking his leg last year.
To this end Starin, who has also had family members undergo rehabilitation post-knee injury and surgery, says, "We wanted some way we could tell our story and design a product that went along with that. When Sean started talking about his experience, it clicked with me and we just took off designing our product."
The device features Polystyrene pads that attach above and below the knee with Velcro and have rubber tubing, such as exercise bands, that attaches to each piece. The release notes that this provides resistance when engaging in leg extension exercise.
Smith adds that the device can be used "in the comfort of your home. The bands provide resistance when extending and contracting the knee, strengthening the muscles that support the joint."
Once exercises become easier, the release says, the bands can be adjusted to provide additional resistance.
Erich Schlenker, managing director of the Transportation Insight Center for Entrepreneurship in the Walker College of Business, helped the students develop their business plan. Schlenker points out that all the university's competitors had great designs "and put a lot of thought into their target markets."
With feedback from the competition's judges and their cash prize of $10,000, the release notes that Smith and Starin are planning to patent the prototype with assistance from the entrepreneurship center and the Womble Carlyle law firm.
[Photo Credit: Marie Freeman]
[Source: Appalachian State University]