Good therapy often may hinge on assessment of function that is informed by accurate and objective measurement. The products that provide this data must not only offer exceptional accuracy, but they must also provide user-friendly operation. Therapists can use this category to become informed about the important details of systems used for impairment testing and functional capacity evaluation, as well as to deliver intensive motor therapy, measure leg length, and provide surface EMG biofeedback and electrostimulation. Consult this section to guide upcoming purchases for measurement and assessment equipment.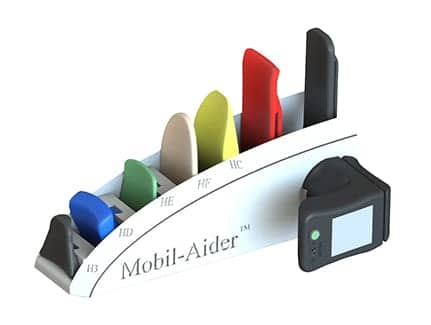 Mobil-Aider
The Mobil-Aider from iOrtho was created to be an innovative device that clinicians can use to quantify joint mobility. The Mobil-Aider is a 13-ounce, portable device designed to contour to five joints (shoulder, elbow, wrist, knee, ankle) and provide quantitative information about joint mobility without deviating from standardized manual techniques. The device's display provides maximal and real-time measures in millimeters of motion. The deluxe kit includes a docking station/charging port.
For more information, contact iOrtho; https://iortho.xyz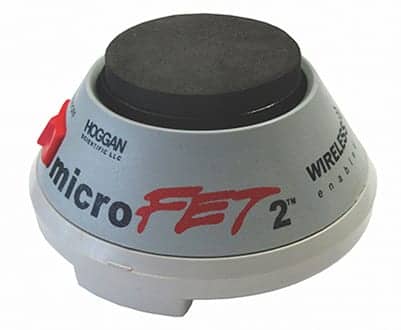 microFET2 Muscle Tester
The microFET2 digital handheld dynamometer by Hoggan Scientific, Salt Lake City, is a handheld ergonomic device designed to objectively quantify muscle strength. The microFET2 fits comfortably in the palm of the hand, features a maximum force capacity of 300 lbs, and can be used as a standalone device or with available clinical or data collection software. Easy-to-read displays show peak force and duration/time; selectable units of measure in lbs, Newtons, or KGF; low and high threshold settings; and saved/recalled tests. It uses a rechargeable lithium-ion battery and includes three test attachments. Hoggan also offers digital handgrip strength and range of motion measurement devices, and push pull force gauges.
For more information, contact Hoggan Scientific, (800) 678-7888; www.hogganscientific.com

Leg Inequality Measuring Pad
Designed specifically for healthcare professionals, the LIMP—available from G&W Heel Lift Inc, Cuba, Mo—is an easy-to-use device for determining leg length deficiency when using the indirect method of measuring. The LIMP consists of eight layers of tinted vinyl measuring 3mm per layer. Each layer is easily separated at the toe and reattached using static electricity. The device is placed under the patient's short leg with layers added or removed until therapists determine that the pelvis is level. The material does not absorb moisture or support bacterial growth, and each layer is easily cleaned with soap and water.
For more information, contact G&W Heel Lift Inc, (800) 235-4387; https://gwheellift.com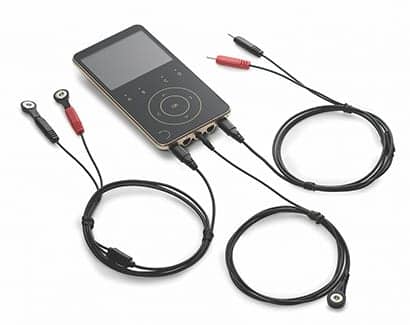 Portable Biofeedback
Thought Technology, Montreal, Quebec, Canada, a manufacturer of biofeedback instrumentation, introduces MyOnyx as the modern physical therapist's complete solution for surface EMG biofeedback and electrostimulation. The portable and rechargeable device offers wireless connectivity to tablets and PCs. Its powerful electrostimulation (TENS, NMES, and Microcurrent) tools include preconfigured scripts and customizable protocols with full waveform and timing adjustability. Its advanced muscle rehabilitation functionality includes SEMG, EMG triggered stim, and pressure sensor biofeedback for muscle re-education and continence training. The MyOnyx app offers full screen session viewing with multiple feedback options (graphs, patterns, animations) audio prompts, and music. Its intuitive interface provides fast access to settings and advanced features. Create, adjust, and run baseline assessments and training sessions, then review saved data and generate detailed reports with one-touch operation.
For more information, contact Thought Technology Ltd, (800) 361-3651; www.thoughttechnology.com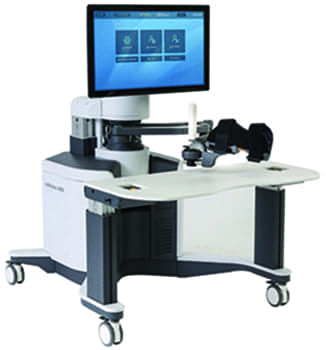 InMotion ARM Robotic Arm Therapy
Bionik Inc, Watertown, Mass, offers the InMotion ARM, a versatile robotic technology developed to help improve arm therapy in all stages of neuro rehabilitation. With an intuitive interface, a compact, modular design, and data-driven reporting, the InMotion ARM empowers both clinician and patient alike with optimal therapy solutions, treatment intensity, and hope-inspiring results.
For more information, contact Bionik Inc, (617) 926-4800; www.bioniklabs.com