Physical therapists sometimes must think "outside the clinic," to help provide solutions that assist with the activities of daily living for patients who are affected by a range of disabilities. For people who use wheelchairs, mobility is a critical aspect of their independence at home and in their interaction with the community. To make sure these individuals are able to participate comfortably in their desired daily activities, a range of home modification equipment and accessories for mobility devices may help facilitate these activities. This section spotlights products that can help therapists provide personalized solutions for individual mobility device users.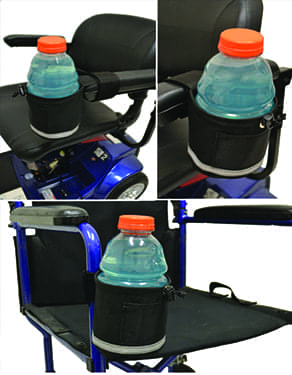 Cup Holder
The Unbreakable Cup holder from DIESTCO Manufacturing Corp, Chico, Calif, is designed to make everyday life easier for people affected by disabilities. These cup holders are made from high-quality 600 x 300 polyester, with a 300-yard reflective safety tape affixed to the front. They fit drink containers ranging from 1-inch circumference all the way up to a 32-ounce beverage. Users can enjoy a drink on the go with these cup holders.
For more information, contact DIESTCO Manufacturing Corp, (800) 795-2392; www.diestco.com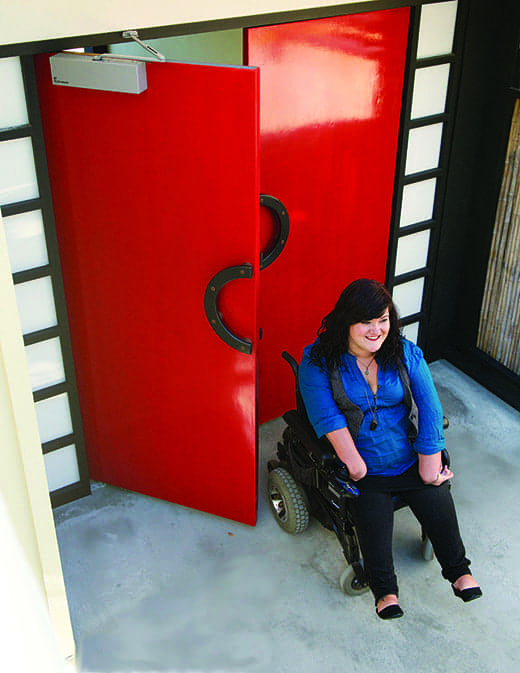 Door-Operating System
Manufactured by Open Sesame Door Systems Inc, San Leandro, Calif, the Open Sesame automatic door opener is engineered to easily attach to an existing interior or exterior residential door. The system is low voltage and uses a plug-in 24-volt transformer. The device can be operated from a wheelchair-mounted remote control for easy entry and exit. Special activation devices are also available for individuals who have little hand function. The door remains locked and secure, and no change of door hardware or keys is necessary. Attendants may use an exterior keypad (optional) or existing keys. For safety, the system continues to operate during a power outage on internal battery backup for several hours.
For more information, contact Open Sesame Door Systems Inc, (888) 973-7263; www.opensesamedoor.com