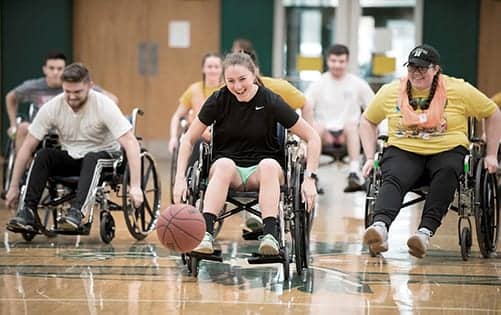 The Organization of Physical Therapy Students (OPTS) at Husson University recently hosted the 21st Annual Wheelchair Basketball Tournament, featuring teams of physical therapy and occupational therapy students and alumni.
The tournament, which took place March 30 at Newman Gymnasium at One College Circle in Bangor, Maine, was organized to raise money for a local charity and to create a scholarship fund.
"This tournament raised $400. Half of the money went to Alpha One, an organization in Bangor that advocates for and helps physically and mentally challenged individuals overcome the barriers that prevent them from living ordinary lives," says Maxell Post, a Husson University physical therapy student and the president of OPTS, in a media release.
"The other half of the money is being used to help create a scholarship for physical therapy graduate students at Husson University. Once it is fully funded, the scholarship will provide graduate students with financial support to attend professional and educational conferences."
Teams comprised of Husson University physical therapy and occupational therapy students participated in this event. Also participating were a team of alumni and staff members from Husson University's Advancement department.
"For Husson University alumni, like myself, being a part of a wheelchair basketball team is a lot of fun," states Readell Orff, DPT, a physical therapist in the rehabilitation department at Northern Light Health in Bucksport. "Not only do I get to rekindle relationships with my fellow graduates, I get to meet current students."
"Usually, I only see current students in a clinical setting," Orff adds. "As wheelchair basketball competitors, we all get to know each other. This informal networking opportunity with alumni can sometimes lead to enhanced career direction and future employment opportunities for participating Husson students."
Performance Physical Therapy and Kidz in Motion sponsored the alumni team. Brad Libbey, DPT, Class of 2013 owns Performance Physical Therapy. Karen Huhn, PT, PhD, chair of Husson University's School of Physical Therapy, owns Kidz in Motion.
The event was free and open to the public. Those in attendance enjoyed multiple games of wheelchair basketball. Purchases of food, drink and raffle tickets supported Alpha One and the scholarship fund for PT students. Local area businesses donated the raffle prizes.
In addition to being fun, this competition served an important educational purpose by providing Husson physical therapy and occupational therapy students with a greater appreciation of the mobility challenges confronting the physically disabled. Persons with mobility issues will someday be the future clients of these Husson PT and OT students, the release continues.
"Physical therapy is all about helping people live their lives to the fullest," Post comments. "My peers and I may be treating patients in the future who'll want to continue to be active even though they have a mobility issue.
"If wheelchair basketball has taught me anything, it's that having a mobility issue doesn't mean you can't be an athlete. Anyone who experiences wheelchair basketball quickly realizes it's not an easy sport. It requires a lot of upper body strength. I think this tournament will give everyone who participates a greater appreciation for the athleticism required to play wheelchair basketball."
[Source: Husson University]