Whether in the exam room or out on the gym floor, the platforms therapists use to deliver patient care must provide safety, comfort, and reliability
Compiled by the Physical Therapy Products staff
When physical therapy practices outfit a clinic for operation, one of the central investments owners and managers make is for surfaces where patients can be examined and treated, as well as where gait activities can be practiced. Among the key qualities buyers look for in these surfaces, safety is essential. Likewise, factors such as reliability and a satisfactory level of comfort are must-haves in purchase decisions. And, since most of a clinic's clientele come into contact with one or more of these surfaces at some point during the course of care, product durability is also essential.
These factors and others move front and center as clinics across the nation begin to develop budgets for equipment they will purchase throughout the coming year. To help inform those decisions, Physical Therapy Products has compiled this comparison of some of the latest treatment tables, exam tables, traction tables, and powered adjustable parallel bars available to the market. Read on to learn more about the features engineered into these products by manufacturers who serve the physical therapy profession, and who understand the needs of physical therapists and the populations they treat.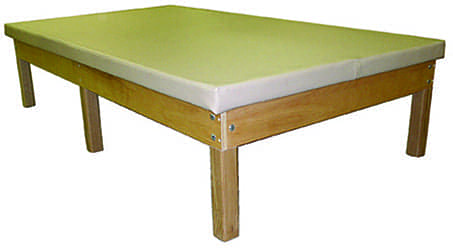 Bariatric Mat Table
Bailey Manufacturing Company
(800) 321-8372
[email protected]
www.BaileyMfg.com
Bailey Manufacturing Company, Lodi, Ohio, manufactures a range of mat tables, both manual and electric, that are built to fulfill the varied demands of today's clinical facilities. A special need is filled by the Bariatric Mat Table Model #4520, which has been specially designed with six legs and a special frame to accommodate a capacity of up to 1,000 pounds of patient weight. It provides an ample exercise area at the height most convenient for wheelchair users and ambulatory people to be treated easily and comfortably. Model #4520 is 4 feet wide x 7 feet long x 18 inches high, with upholstered top US 387 Camel, standard. A choice of optional Bailey upholstery colors is available. Natural wood finish is standard, and walnut wood finish is available. More information can be found on the company's website.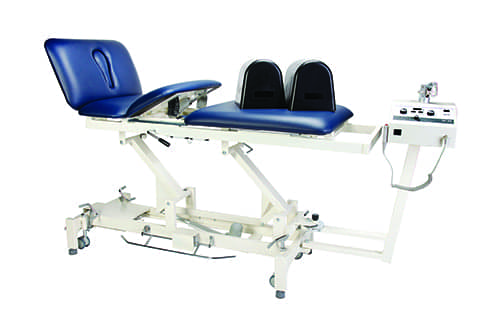 Traction Table
Everyway4all
(909) 606-8889
[email protected]
www.everyway4all.com
The EU300 Traction Table, offered by Chino, Calif-based Everyway4All, can be used by physiotherapists to perform traction and decompression therapy as a way to treat patients who are experiencing pain and limited function due to lower back and neck conditions. The EU300 Traction Table standard package is equipped with an extension cord, 2 x Bolsters, and (L) 60° + (R) 60° swivel arm of various angle pulls. The optional CT850 Cervical Traction Unit and optional Thoracic & Lumbar Traction Belts are designed to help perform lumbar and cervical traction. All four corners of the EU300 are supported by 3-inch swivel castors, one at each corner. Additional features include twin "Oversized" pillars for increased stability, individual "leveling foot" on all four corners, and retractable castors at both ends. Also, the EU300 Traction Table is equipped with the all new "center arching mechanism" for motorized lumbar elevation. This feature is designed to facilitate any pulling traction force on the lumbar area with a slight upward lifting support (up to 26° rise), especially when the patient is lying in the prone position or facing down.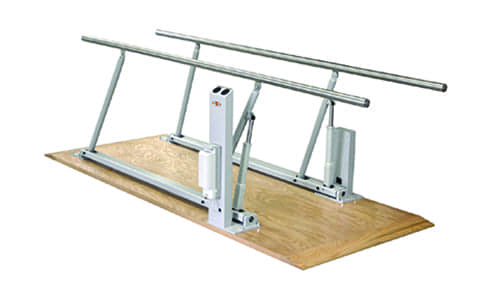 Electric Height & Width Parallel Bars
Hausmann Industries Inc
(888) HAUSMANN
[email protected]
www.hausmann.com
The new model 1357 Electric Height & Width Parallel Bars from Hausmann Industries Inc, Northvale, NJ, are designed to provide exceptional innovation for parallel bars. The design allows the bars to lower off the end of the platform to assist a patient standing from a wheelchair. The large range of adjustability makes the bars useful for both adult and pediatric patients for a variety of activities including walking, gait training, side stepping, and sit to stand activities. Another feature of the model 1357 Electric Height & Width Parallel Bars are individual digital controls for both height and width. The battery power eliminates the need for floor outlets or placement near a wall and also eliminates trip hazards seen with corded products. An extra battery and charging cradle are included. Model 1357 Electric Height & Width Parallel Bars have a capacity of 600 pounds.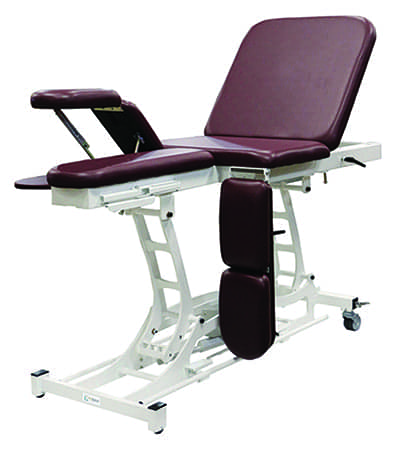 Leg and Shoulder Therapy Table
Pivotal Health Solutions
(800) 743-7738
[email protected]
www.phsmedicalsolutions.com
To maximize the efforts of physical therapists, Pivotal Health Solutions, Watertown, SD, developed the Leg and Shoulder Therapy (LAST) Table as a must for therapy and rehabilitation facilities. Ergonomically designed, the LAST Table supports bilateral training/treatment and specific anatomical positioning to achieve the desired results for patients. The electric Hi-Lo elevating base and manual lift back ensure that patients and athletes with limited mobility have easy access in any setting. Where standard treatment tables may limit range of motion, the modern design of the LAST table allows for specific patient positioning and range of motion to perform a wider range of exercises and treatments using one stable platform.
Standard features include a white powder coat base, an extremely quiet lift system, height adjustment from  19 inches to 37 inches, and single foot pedal control. Other features of the LAST Table include an elevating back 0º to 70º, elevating and drop legs 0º to 90º, 2-inch high-density foam cushions with rounded corners, low profile locking casters, and a load capacity of 400 lbs. There are six custom branding kits to choose from, and other options are available.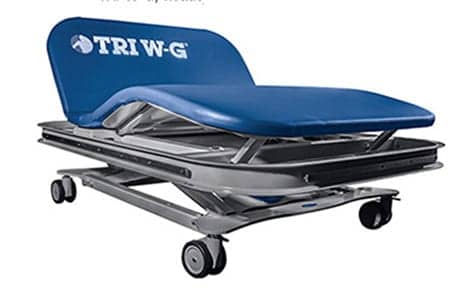 Mat Tables
TRI W-G
(800) 437-8011
[email protected]; [email protected]
www.triwg.com
TRI W-G, headquartered in Valley City, ND, strives to bring its products to the forefront of risk management. The company has worked to ensure that products such as its motorized MAT table are capable of withstanding 1,000 pounds of weight to meet bariatric capacities. Risk management standard ISO 14971 is now recognized by the FDA; this standard could potentially affect several facilities and their patients. Among TRI W-G's bariatric products are the TWG9100.BM 1-section table, TWG9200.BM 2-section table, and TWG9300.BM 3-section table: all are motorized hi-lo mat tables with 1,000-pound capacities and height ranges of 18 inches to 38 inches.The company also offers its TG1600S Series with a fixed height and a 1,000-pound weight capacity.
Additionally, TRI W-G manufactures a line of hi-lo treatment tables with weight capacities of up to 750 pounds; designed to make adjusting a patient's position simple and safe. Available treatment table features include raised back and leg sections (motorized), hand switches, four corner stability, and generous storage areas. Many of TRI W-G's tables include a 10-year limited warranty.