The new TheraScoop mini lateral trainer was designed specifically for use in physical therapy.
Ten years ago, Boston-based therapeutic fitness company Helix introduced a proprietary technology called lateral training that has been shown to dramatically reduce knee and hip pain while improving mobility, function, hip flexibility, and balance, even in highly deconditioned users. Now, responding largely to demand from both consumers and healthcare professionals, Helix has launched TheraScoop.
TheraScoop is a professional upgrade to its bestselling Scoop Lateral Trainer, a therapeutic device designed to address chronic knee and hip pain at home. According to the company, the original Scoop has been America's #1 bestselling such product since its introduction in 2019.
The new TheraScoop Lateral Trainer was introduced at the APTA Combined Sections Meeting in February. A compact lateral trainer designed specifically for physical therapists, PTAs, occupational therapists, and OTAs with clinic-based or travel-based practices, the non-impact device retails for $499, weighs 28 pounds, and measures just 13 inches tall, allowing for use under a desk for most people.
Helix introduced the first lateral trainers in 2010. They were originally designed to provide a superior cardio workout and were quickly adopted by fitness trainers, gyms, and professional sports franchises such as the Los Angeles Lakers, Cleveland Cavaliers, and New England Patriots. The same qualities that make lateral trainers superior to traditional cardio such as ellipticals also make them ideal therapeutic tools, particularly as pre-hab/rehab for hip or knee arthroplasties, for patients with impaired balance, or for those suffering from chronic knee, hip, or sciatica pain.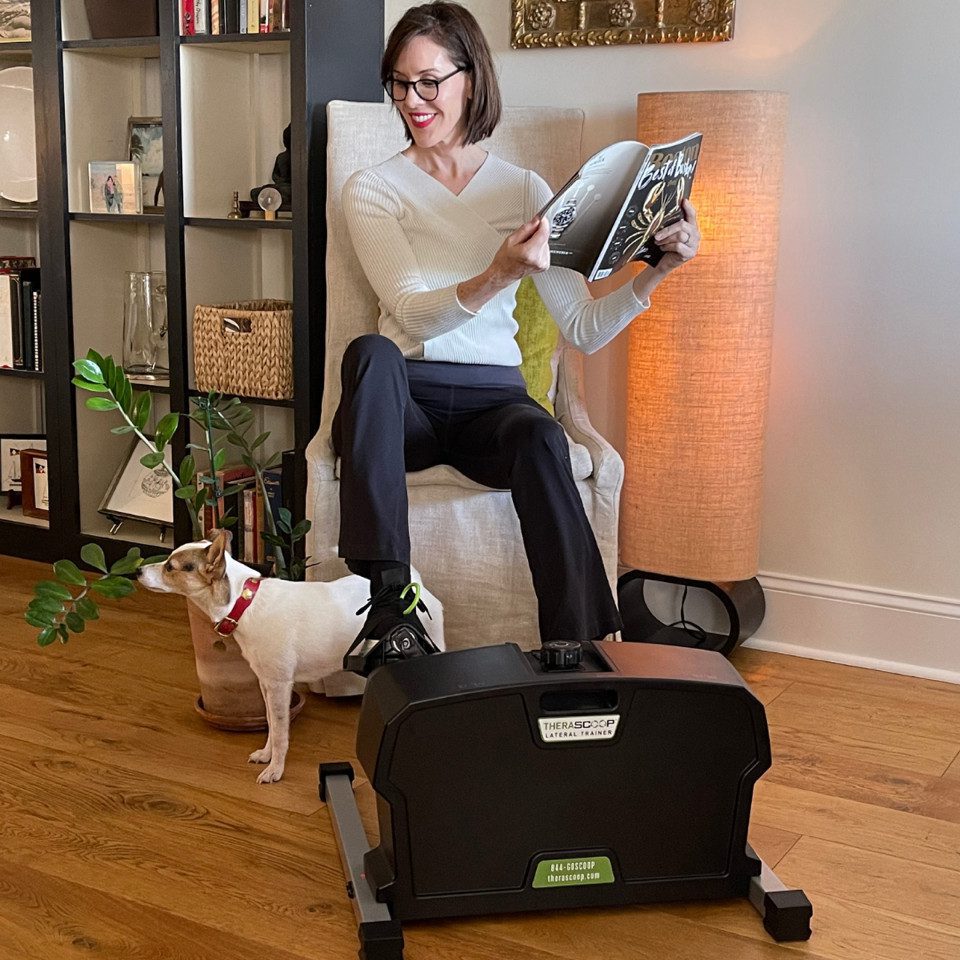 Lateral trainers like the new TheraScoop are reportedly the only cardio modality to work the body in all three planes of human motion, thereby recruiting muscles other methods ignore, including those crucial to balance and knee support and stability. Indeed, Helix has undertaken a decade of scientific studies on lateral training with clinical results revealing that lateral trainers provide greater activation of key muscles such as the obliques (55% more), the gluteus medius (39% more), the adductors (37% more), and the abductors (50% more). A 2015 study involving elderly patients with balance disorders also showed a 59% average improvement in strength-related balance after just 12 twenty-minute sessions.
"The results our customers have seen have been truly extraordinary. We hear almost daily from people whose pain is reduced to the point that they're living normal lives again or doing things they'd given up, like walking their dogs, playing pickleball, or just taking the stairs," says Lenny Snyderman, CEO of Helix and inventor of the technology. "They also note major improvements to their balance, and that they no longer feel like a fall risk. One man wrote recently that he's proud that he no longer needs to sit down to get dressed in the morning. We knew that a professional product in the hands of trained PTs could be a game changer for so many people. That's why we launched TheraScoop."
TheraScoop is now available to consumers via online sales, but the company also has wholesale and retail programs designed for healthcare professionals.