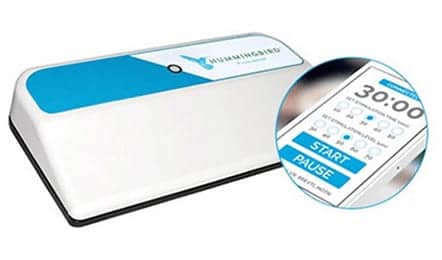 Hummingbird for Fibromyalgia Relief
The Hummingbird device, from North Carolina-based Vital Motion, is designed to apply a gentle micro-mechanical vibration which is placed under the plantar (or front part) of the feet. This vibration in turn activates the calf muscles, increasing blood flow throughout the body and significantly relieving the pain and "symptoms associated with diseases such as fibromyalgia, orthostatic hypotension (posture-related dizziness), and poor circulation. A Hummingbird App can be installed on any smartphone or tablet to allow the patient to control the stimulation time and vibration levels throughout the treatment period.
For more information, contact Vital Motion, (888) 885-6856; www.vitalmotion.com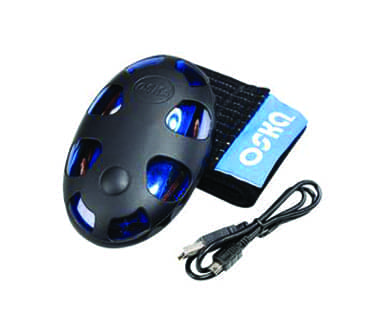 Next-Generation Oska Pulse for Pain Relief
Oska Wellness, Carlsbad, Calif, introduces the next generation of its Oska Pulse wearable and portable device designed to use Pulsed Electromagnetic Field (PEMF) technology to help provide drug-free pain relief. According to the company, key advancements to the device are the ability to provide sessions that last three times longer, up to 90 minutes; and a 50% longer battery life for a 15-hour total run time.
For more information, contact Oska Wellness, (844) 630-9932; www.oskawellness.com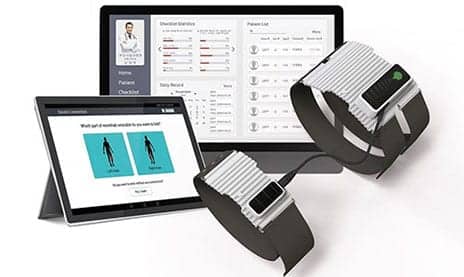 exoRehab Provides Personalized Guidance
exoRehab, from South Korea-based healthcare wearables maker Exosystems, is a gamified physical therapy technology device developed based on AI technology. Rather than performing exercises repeatedly, which can become tedious, the device is designed to give patients "Personalized Rehabilitation Guidance" that includes personalized physical and electrical stimulation programs based on the user's musculoskeletal data, which are performed through a gamified treatment program. The program also allows users to execute rehab training exercises based on their own body data, all while monitoring the rehabilitation progress of their affected body part, the company explains.
For more information, contact Exosystems, (031) 5182-9088; www.exosystems.io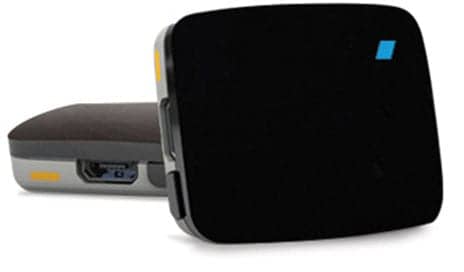 dorsaVi Wearable Technology
dorsaVi provides wearable technology that features a medical-grade motion sensor designed to gather lab-quality data without the need for a laboratory environment and to help individuals to move better. In the workplace, dorsaVi employs its objective motion sensor technology to improve safety and reduce injury risk. In the clinical market, dorsaVi's FDA-cleared solutions are used by physical therapists to analyze patient movement, boost engagement, and create personalized treatment. Demos and case studies are available on the company website.
For more information, contact dorsaVi, www.dorsavi.com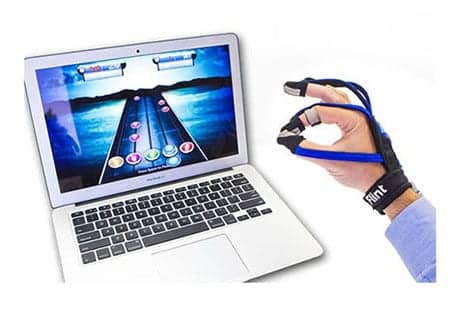 Hand Therapy Glove
Flint Rehab, based in Southern California, offers the MusicGlove, a rehabilitation tool designed to improve hand function. While wearing the device, users perform hand and finger exercises while playing along with a musical game. Simply place the device on the hand, plug it into a personal laptop or Flint tablet, and press play. Then make pinching movements as the musical notes move along the screen. According to the company, MusicGlove Therapy can be billed as neuromuscular reeductation or as a therapeutic procedure/exercise.
For more information, contact Flint Rehab, (800) 593-5468; www.flintrehab.com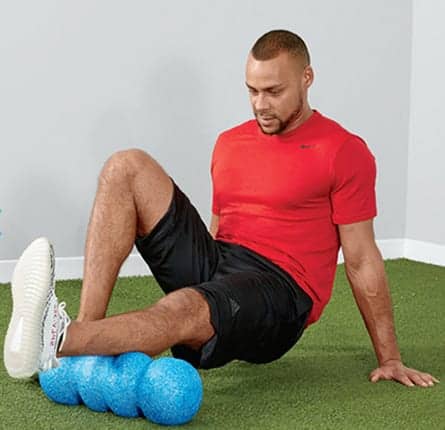 Foam Rollers to Aid Recovery
Omni-directional Rollga Foam Rollers, from Perform Better, West Warwick, RI, are designed to stabilize the hips, align the back, and increase range of motion, and are available in moderate, firm, and extra firm densities. Each Rollga Roller has a unique shape featuring a patented design contoured to fit one's body that helps it to penetrate muscle tissues and reach trigger points that are difficult to reach with an ordinary roller. It can be used to perform connective tissue therapy as well as spinal alignment to help speed up recovery and eliminate unnecessary stiffness.
For more information, contact Perform Better, (888) 556-7464; www.performbetter.com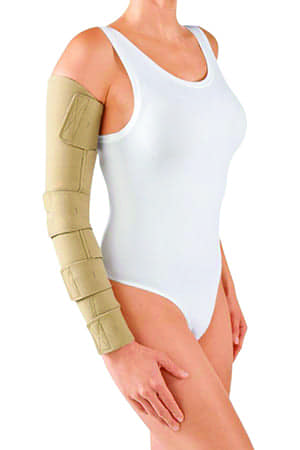 Compression Wrap
The Circaid Juxtafit Essentials Armsleeve, from medi USA, is designed to apply graduated compression from the wrist to the upper arm to help manage lymphedema and lipedema. It is made with a soft and breathable fabric that contains silver to prevent odor and the spread of bacteria to the garment. Features include an adjustable juxtaposing band technology as well as a Built-In Pressure System to enable multiple, measurable, targeted compression ranges. The armsleeve is available in left and right variants, three lengths and six sizes, as well as in ready-to-wear and custom options for hand compression.
For more information, contact medi USA, (800) 633-6334; www.mediusa.com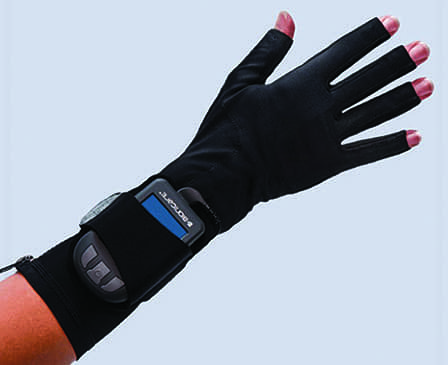 Hand System for Arthritis Relief
VQ OrthoCare offers the BioniCare Hand System, designed to help reduce the pain and symptoms of arthritis and help improve function without the risks from drugs or surgery. The BioniCare Hand System features the BIO-2000, a touch screen signal generator with a Bluetooth tracking option that uploads the patient's usage information to the BioniCare Patient Portal where they can track their treatment progress and print records for their physician. The system also includes a form-fitting, stretchable conductive glove with adhesive fingertip conductors and a rechargeable battery. The electrical signal, specifically designed for arthritis, is delivered via electrodes and the conductive glove.
For more information, contact VQ OrthoCare, (800) 444-1456; www.bionicare.com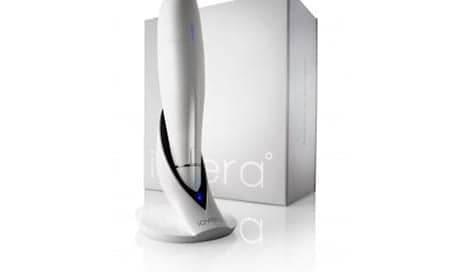 iovera System with Smart Tip
The Nerve Stim Enabled Smart Tip 1x90mm, which received FDA 510(k) clearance in early 2018, is the latest addition to the iovera° system from Myoscience Inc. The iovera° system is a non-opioid platform technology engineered to help alleviate pain by applying intense cold to targeted nerves via a process called cryoneurolysis. The pain relief is immediate and lasts up to 90 days, the company suggests. The iovera° system includes Smart Tips of different configurations to target both superficial and deep nerves. The new Nerve Stim Enabled Smart Tip can be used with most commercially available nerve stimulators to help enhance accuracy in nerve targeting.
For more information, contact Myoscience Inc, (800) 442-0989; https://iovera.com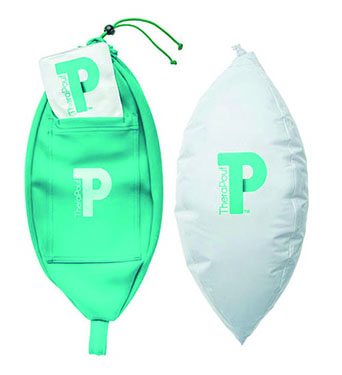 TheraPouf Support Pillow
The TheraPouf support pillow from TheraPouf, is designed to apply counter pressure to support the spine to help it achieve a neutral position. It features a gel pack that can be frozen or microwaved to provide cold or heat therapy to relieve pain. In addition, it can be inflated to the user's desired pressure to help treat their aches and pains. The company reports that TheraPouf is appropriate for chronic back pain sufferers, surgical patients, athletes, people who sit for long periods of time, and anyone who suffers from day-to-day aches and pains.
For more information, contact TheraPouf, (239) 221-6163; https://therapouf.com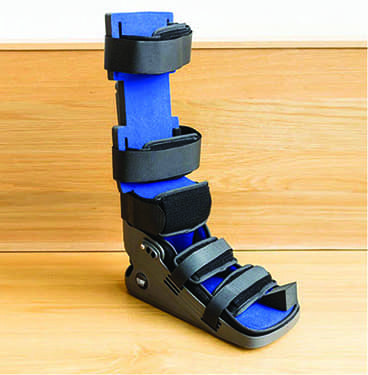 Equinus Brace to Aid Tibial Tendinitis
The Equinus Brace, from IQ Med LLC, Carmel, Ind, is designed to stretch the two calf muscles—the gastrocnemius and soleus—to help alleviate posterior tibial tendinitis as well as aid people with Achilles tendonitis, plantar fasciitis, and various other foot and ankle disorders. Unlike night splints, The Equinus Brace needs only to be worn 1 hour per day, according to the company. It features above the knee extension, a toe wedge, and an adjustable ankle hinge.
For more information, contact IQ Med LLC, (855) 462-7223; www.fixequinus.com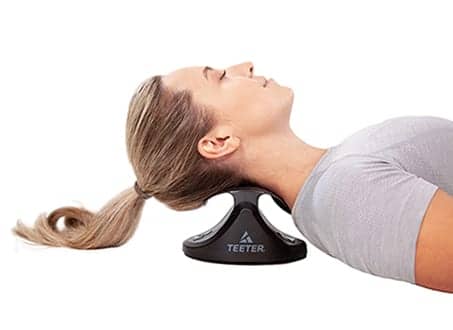 Neck Restore for Neck Pain Relief
Teeter, Puyallup, Wash, offers the Neck Relax & Restore Duo, which features interchangeable inserts depending on the desired type of support. The Flexible Arch Insert is designed to stretch the neck and help restore its natural curve. The Textured Rubber Insert offers a deep-tissue suboccipital release, helping to relieve muscle tension and ease tension headaches. The Neck Relax & Restore Duo can be used statically or rotated to create side-to-side movement, targeting trouble areas and enhancing cervical decompression. It also can be utilized as a stand-alone piece on a flat surface or easily attached to any Teeter Inversion Table.
For more information, contact Teeter, (800) 847-0143; https://teeter.com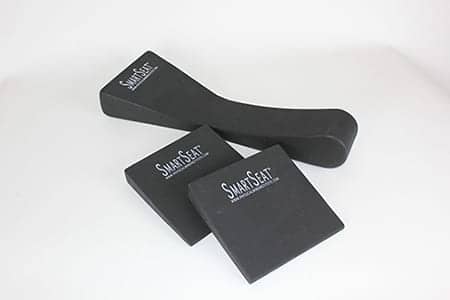 SmartSeat Cushion to Aid Posture
The SmartSeat, from Physical Mind Institute, New York City, features a special slope designed to help combat lower back and sciatica pain resulting from poor seating posture. Made from a suede-like foam, it acts as a posture corrector by substituting a biomechanically correct posture to retrain a sitter's body to be able to sit comfortably with legs uncrossed. The cushion could also improve standing posture, lift and lighten the upper body, energize the breathing, and activate the core abdominals, according to the company. SmartSeat weighs 3 ounces and is 19 inches long with a 3-inch pommel at the front and flares to 7 inches at the back. Wedges are 7 inches by 7 inches.
For more information, contact Physical Mind Institute, (212) 343-2150; www.physicalmindinstitute.com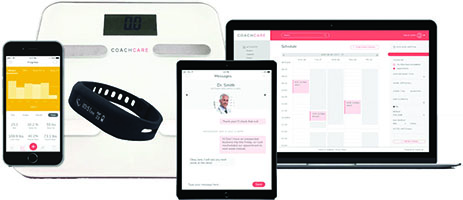 Digital Pain Management Solution
CoachCare, a digital healthcare solution from New York City-based CoachCare, is engineered to help pain management practitioners to gain 24/7 insights into their patients' lives outside of the clinic. It features a custom-branded patient mobile app, clinical dashboard, and connected proprietary trackers and scales to help monitor a patient's unique protocol and progress. Its benefits include the ability to monitor personalized patient programs in real time, including 3D pain tracking, pain levels and trends, weight fluctuations, nutrition, sleep habits, and more. In addition, physicians and patients can stay connected and engaged throughout their programs, and physicians can intervene when needed to offer encouragement or changes to patient programs.
For more information, contact CoachCare, (512) 820-4888; www.coachcare.com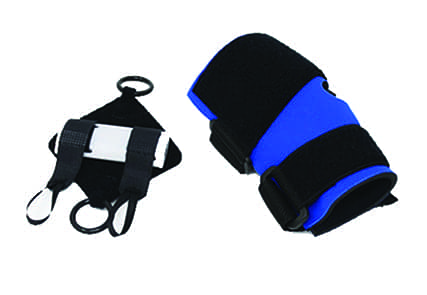 Small Items Gripping Aid
The Small Items gripping aid, available from UK-based Active Hands, is designed to enable users with reduced hand function or little or no finger strength to grip small items such as toothbrushes, pens, art items, razors, and makeup brushes with ease. It consists of two parts: a neoprene glove and a Velcro-backed palm pad with clamp. Items clamped in the palm pad can be placed into the glove at any angle, making a wide range of activities accessible, according to the company. The clamp mechanism can be easily opened and closed to switch between items. Additional palm pads can also be purchased, enabling users to preload commonly used items.
For more information, contact Active Hands, +44 (0) 1564 702255; www.activehands.com