Mueller Sports Medicine, in partnership with Zenith Technical Innovations, announce Therm-X, an all-in-one portable device designed to provide heat, cold, compression and contrast therapy.
Therm-X, which stands for "Thermal to the Extreme," is a self-contained, self-cleaning device which provides temperatures ranging from 34 degrees to 110 degrees, to enable therapeutic benefits without the risk of burning or freezing.
"As athletes and athletic trainers are looking for the latest technology in cold and heat treatments, new innovations are coming to market. This is the next generation of cryotherapy and thermotherapy."

— John Cayer, President of Mueller Sports Medicine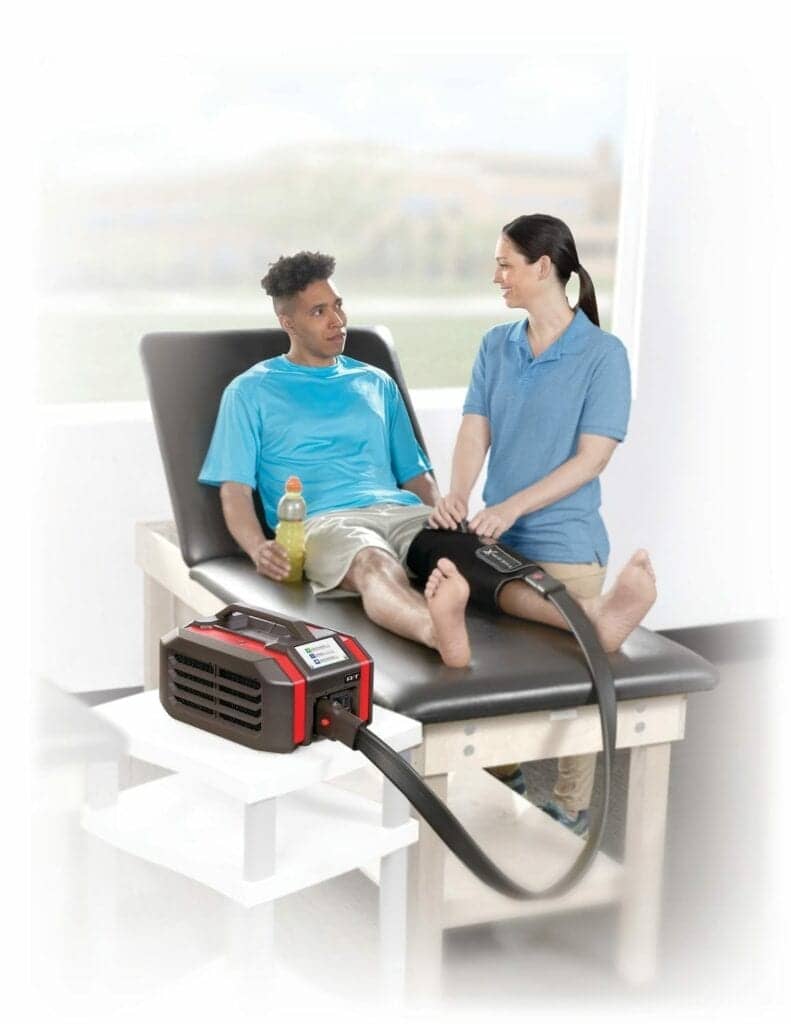 Features and Options
Therm-X features an intuitive touch screen with pre-programmed or customized protocols. With its digital control, the Therm-X circulates a coolant that can maintain a specific temperature for the entire treatment cycle. This provides a distinct advantage to heat packs or ice packs that can lose temperature once they're applied.
The easy-fill tank uses distilled water and isopropyl alcohol as a coolant solution that does not require constant refilling and cleaning. The fluid passes through a garment with a tailored treatment area to concentrate the cold or heat where it is needed most.
Six separate garment compression options ensure full contact for optimal thermal transfer. Designed specifically for the knee, back, elbow, ankle, shoulder and hip, these Therm-X garments are bilateral so "left" and "right" purchases don't need to be made. They're also one-size-fits-all for additional flexibility.
The garments have high-end Velcro to last the life of the garment. The inner face uses a ripstop nylon with a waterproof backing to prevent buildup of mold and mildew after cleaning.
Therm-X is easy to store, travel with, set up, and maintain. It is quiet and even includes a USB port to charge phones during treatment sessions.
"We are excited to launch this strategic partnership with Mueller Sports Medicine. Mueller's strong brand and customer relationships are a perfect match for the innovative Therm-X technology."

— Gene Gutman, Chairman and President of Zenith Technical Innovations
[Source(s): Mueller Sports Medicine, PR Newswire]