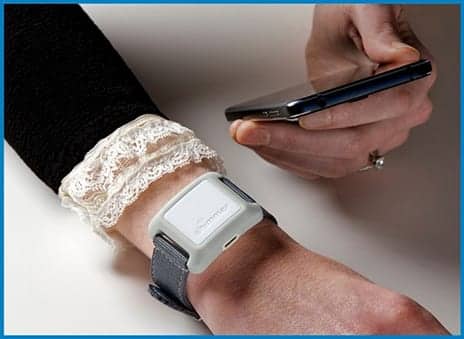 Shimmer Research and ClearSky Medical Diagnostics announce they are partnering to bring a new level of analytic capabilities to the use of wearable sensors in clinical research.
This partnership will employ the Verisense wearable sensors platform, which has been designed specifically for use in clinical research, with ClearSky algorithms and machine learning to transform wearables data into actionable insights for central nervous system (CNS) diseases.
Worn on the wrist, the Verisense Inertial Measurement Unit (IMU) sensor is designed to capture biometric data, such as activity and sleep. It can be used for any IMU application with up to seven sensors worn on different parts of a participant's body to aid researchers in studying complex musculoskeletal or neurological conditions, such as dystonia or epilepsy.
ClearSky Medical Diagnostics specializes in developing technologies for the diagnosis and monitoring of Parkinson's disease, Alzheimer's disease, and other neurodegenerative conditions. Its clinically validated medical devices have been used in medical centers worldwide and in clinical trials to demonstrate the efficacy of new drugs.
For example, ClearSky's LID-Monitor can distinguish Levodopa-induced dyskinesia from Parkinson's tremors, allowing doctors to optimize Levodopa dosage. This approach significantly improves patients' quality of life and also saves time and money due to the reduction in consultations required, a media release from RANA Healthcare Solutions explains.
"The Verisense platform is truly a breakthrough for conducting clinical research," says Dr Stephen Smith, co-founder of ClearSky Medical Diagnostics, York, England, in the release. "It can provide the continuous raw data from wearables needed for sophisticated algorithms, yet places almost no burden on the participant or the clinical site. It has multiple layers of redundancy and quality checking to ensure that high-quality data are collected without interruption."
"ClearSky's algorithms can be used with Verisense data right away," states Geoff Gill, president of Shimmer Americas, Cambridge, Mass, "but what we are really excited about is the potential for our clinical research customers to leverage ClearSky's experience and datasets to develop endpoints for a wide variety of CNS disorders based on Verisense data.
"ClearSky has taken raw motion data and transformed it with machine learning into actionable insights for physicians in a wide range of applications. This experience is ideally suited to develop endpoints for diseases like Parkinson's, multiple sclerosis, Huntington's, and many others using real-world data," he adds, in the release.
[Source: RANA Healthcare Solutions]