By Mary van der Meer, PT, DPT, and Lauren Wright, PT, DPT
The Rise of High-Intensity Gait Training
Research has shown that high-intensity gait training—walking practice at intensities of 75% to 85% maximum heart rate—is the best way to promote neuroplasticity and optimize walking recovery after a neurological injury. High-intensity gait training has been shown to improve gait speed, walking distance, and balance. In acute inpatient rehabilitation, a patient walks, on average, fewer than 300 steps a day.1 After implementing a high-intensity gait training program, daily stepping increased to approximately 1,500 steps a day, which was also positively correlated to improved 6-minute walk test scores, improved Berg Balance Scores, improved gait speed, and decreased levels of assistance required at discharge.1 As more research is published, it is clear: we need to really push our patients for the best recovery after a neurological injury.
Physical Demands of a Physical Therapist
We also know that our job as physical therapists is very physically demanding. In a survey completed on physical therapists and physical therapist assistants, 32% experienced a work-related injury within the past year.2 Of the work-related injuries, 50% involved the low back, 21% involved the wrist, 14% involved the shoulder, and 15% involved the head/neck.2 The most common causes of work-related injuries are not surprising: 53% of injuries were from transfers/lifting, 9% from functional activities, 7% from patient falls, and 7% from manual therapy.3 Manual facilitation and hands-on assistance throughout a day of work can result in long periods of awkward postures, heavy lifting, and repetitive forceful tasks. Work-related injuries are also very expensive. On average, a worker's compensation claim related to patient handling costs $15,600,4 and this number does not account for employee turnover and training, productivity impacts, and effects on morale.
As our practice shifts to include high-intensity gait training, and as our acute care hospital lengths of stays continue to decrease, physical therapists are expected to push more-involved patients harder than ever before. At the same time, physical therapists are already at higher risk for work-related injuries due to the very physically demanding nature of the job. How can physical therapists stay safe, yet be able to effectively do their jobs of pushing high-intensity gait training on more involved and complex patients?
Product Resources
The following companies provide technologies that can be useful in the treatment of stroke and neurological conditions:
Allard USA Inc
www.allardusa.com
Biodex
www.biodex.com
DIH Technology
www.dih.com
CIR Systems Inc/GAITRite
www.gaitrite.com
Mobility Research Inc
www.litegait.com
ProtoKinetics
www.protokinetics.com
Vista Medical
www.boditrak.com
Different Gait Training Devices
Overhead harness systems inherently increase patient and provider safety, as the patient's body weight is supported by the machine, allowing the patient increased freedom of movement while minimizing the risk of injury to patient and therapist. This allows the therapist to provide hands-on assistance and facilitation as needed to support limb advancement, stance stability, and lateral weight shifting. In addition, the patient is not reliant on the therapist's ability to support their body weight, allowing for increased opportunities to practice stepping at the recommended intensity. A variety of overhead harness systems are available for clinic use and vary in design, cost, size, height-weight capacities, degrees of vertical displacement, and environmental requirements.
For example, the LiteGait from Mobility Research Inc, Tempe, Ariz, and Biodex NxStep Unweighting System from Shirley, NY-based Biodex are freestanding harness systems with four wheels that offer bilateral upper extremity support if needed that can be pushed or pulled by the patient or therapist overground. The ZeroG Gait and Balance System from Aretech, Ashburn, Va, is a single-point harness that uses a ceiling track, which makes it a more versatile harness system, as it can be used over virtually any surface. The Andago from Minneapolis-based DIH Technology is a robotic harness system that is used only overground where the speed and direction can be controlled with a remote by the therapist or the patient through detection of their movement. As compared to other systems, the Andago and the ZeroG have an increased vertical displacement range, allowing the patient to be more dynamic in a safe environment.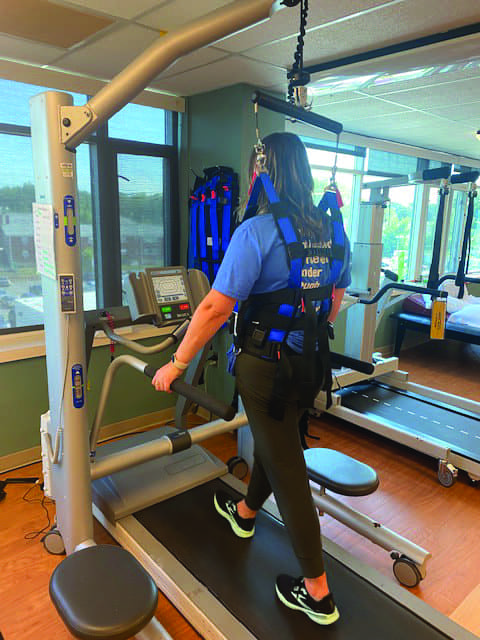 Environmental Considerations
An important factor in device selection includes the gym set-up and design, as some overhead systems utilize a ceiling track, whereas others are freestanding. The height of the gym ceilings and doorways are important to assess, as some of the devices are able to accommodate changes in ceiling height, whereas others are at a fixed height.
The Litegait, Biodex NxStep, and the ZeroG can be utilized overground and over a treadmill, whereas the Andago is utilized only overground due to the robotic technology that allows the therapist to control the speed and direction of the device with a remote. All of the devices mentioned can be used for gait training, obstacle negotiation, and pre-stair training. The number of clinicians and support staff required for the treatment session will vary for each device depending upon the level of assistance the patient requires, which is an additional consideration when selecting a device.
Single-Point vs 4-Point
When evaluating which device to utilize, it is important to consider how much support the patient will need from the harness system, as the harness design and how the body weight is supported will influence the amount of available trunk support and available degrees of freedom. A single-point harness system, such as the Biodex NxStep Unweighting System or the ZeroG, allows for increased degrees of freedom, as the patient can turn 360 degrees in the harness, allowing for dynamic turns and multi-directional stepping.
A four-point harness, such as the LiteGait or the Andago, allows for increased stability and asymmetrical unweighting. Asymmetrical unweighting is useful for treating patients who present with decreased weight-bearing through a lower extremity due to pain or weakness, impaired lateral weight-shifting abilities, impaired midline, or contraversive pushing behaviors.
Considerations
It is important to note that although overhead bodyweight support harness systems are beneficial for most patients, not all patients are appropriate for harness use. Some contraindications include pregnancy, rib fractures, graft sites, and wounds that would be directly impacted by harness placement.5 Precautions should be taken for PEG tubes, baclofen pumps, catheters, colostomy bags, and uncontrolled orthostatic hypotension.5
Therapists can use towels or foam padding to off-load any area of potential concern. However, it is important to reference each device manual for specific contraindications and precautions prior to initial use. When new to an overhead harness system, it may take increased time or additional assistance for set-up, but with time and experience, set-up time will become more efficient.
Conclusion
These overhead systems are expensive, but in our opinion a worthy investment when factoring in patient and therapist safety, as the patient's ability to participate in high-intensity gait training is not solely dependent on the therapist for physical support. Additionally, these devices can increase patient confidence and their willingness to try challenging activities that otherwise might induce fear due to risk of falling. These devices help to prevent injury to patients and therapists. They also allow for the patient to participate in upright activities for longer periods of time and relearn how to regain their mobility as they progress and achieve their goals. PTP
Mary van der Meer, PT, DPT, and Lauren Wright, PT, DPT, are both Board-Certified Clinical Specialists in Neurologic Physical Therapy at the Kessler Institute for Rehabilitation, Saddle Brook Campus. For more information, contact [email protected].
References
Hornby TG, Holleran CL, Leddy AL, et al. Feasibility of Focused Stepping Practice During Inpatient Rehabilitation Poststroke and Potential Contributions to Mobility Outcomes. Neurorehabil Neural Repair. 2015;29(10):923-932. doi:10.1177/1545968315572390
McCrory, B, Burnfield, J Darragh, A, et al. (2014). Work Injuries Among Therapists In Physical Rehabilitation. Proceedings of the Human Factors and Ergonomics Society Annual Meeting. 58. 1072-1076. 10.1177/1541931214581224.
Darragh AR, Campo M, King P. Work-related activities associated with injury in occupational and physical therapists. Work. 2012;42(3):373-384. doi:10.3233/WOR-2012-1430
FEATURED IMAGE CAPTION: A four-point harness, such as the Andago from DIH Technology, allows for increased stability and asymmetrical unweighting. Asymmetrical unweighting is useful for treating patients who present with decreased weight-bearing through a lower extremity This system is made to be used overground.
Related Content:
Gait Training to Music Offers Practice a Clinical and Competitive Advantage